USCG CABLE SHIP PEQUOT
UNITED STATES HARBOR DEFENCES

These pages tell the story of the U.S. Coast Guard Cable ship Pequot during World War II as a harbor defense cable-laying and repair ship under direction of the US Navy. This site presents details of the ship's Top Secret mission of laying anti-submarine indicator loop cables and the history of the ship during the Battle of the Atlantic. Extensive photos and text have been provided by the sailors who served on the Pequot and their families, and many of their personal stories are included. Also available are pages from the Harbor Defense Manual describing the duties of the Pequot. There are links to indicator loop technical pages, the construction of the ship in 1909, and to the personal story of the Pequot's Captain.
click
image
to
enlarge

click
image
twice to
zoom in

1. The US Coast Guard Pequot (WARC-58). During WWII this cable ship laid top secret Indicator Loop cables to protect harbors from German U-boats. Her mission ranged from the ports of Virginia up to Argentia, Newfoundland. (Calamaio family).


The Pequot was built in 1909 by the New York Shipbuilding Company in Camden, New Jersey with the name General Samuel M. Mills and first commissioned as an Army mine layer. She was driven by two compound-expansion 2-cylinder coal fired steam-reciprocal engines which generated 900 horsepower. The Pequot had a fuel capacity of 128 tons of bunker coal. As a twin screw ship she was able to conduct the critical manoeuvring required for precise cable laying operations. The Pequot had a length of 166' and a beam of 32'. With a draft of 13' she displaced 1106 tons. During wartime the crew consisted of 6 officers and 63 enlisted men. The ship was armed with two 20mm automatic fire cannons. On top of the rear cabin her signal letters and radio call sign, NRFQ, was painted so aircraft could raise the ship on the radio.

The Pequot's official visual call sign as designated by the Chief of Naval Operations was W58 and was indicated by the the W 5 and 8 signal flags.

FEEDBACK
If you can help us identify any of the Pequot sailors on this website please contact Chip Calamaio.


Richard Walding

If you any feedback about indicator loops please email:

Dr Richard Walding, Research Fellow - School of Science, Griffith University, Brisbane, Australia. Email: waldingr49@yahoo.com.au

If you have comments or queries specifically about the Pequot, please contact Chip Calamaio chipaz@cox.net Phoenix, Arizona, USA. (H) 602-279-4505.



Chip Calamaio
---
LINKS TO RELATED PAGES
United States Navy Loop Receiving Stations
Museum Display

Click the image to the left to see a museum display that features the Pequot Website.

About this Website

Click the image to the right to learn about the Code of Silence among Pequot Veterans and How This Website Came To Be.
---
MAIN TOPIC SECTIONS (Click to Jump There)
---
What's new?
---
A Museum Quality Model of The General Samuel M. Mills
| | |
| --- | --- |
| | Model builder Svein-Erik Eriksen of Sola, Norway has completed his large-scale model of the US Army Mine Planter the General Samuel M. Mills using the original 1908 construction drawings provided on this website. CLICK HERE for a detailed look at this amazing reproduction of the ship that became the Coast Guard Cable Ship Pequot. |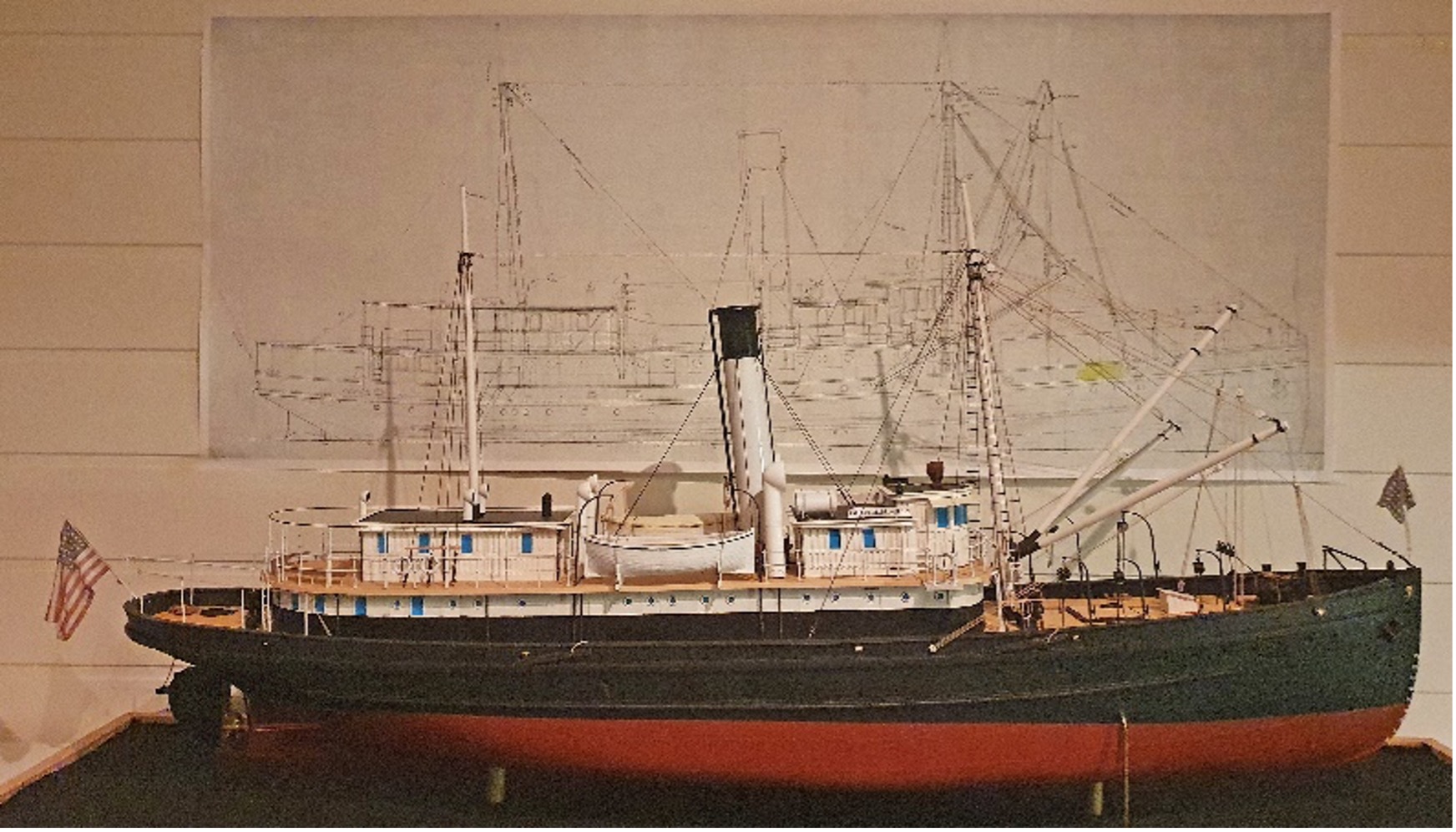 2. From the Union Jack on the bow to Old Glory flying on the stern, Svein's model is wonderful tribute to the Army Mine Planter that became the Coast Guard cable ship Pequot (comparison view, below).
---
Stephen Vozar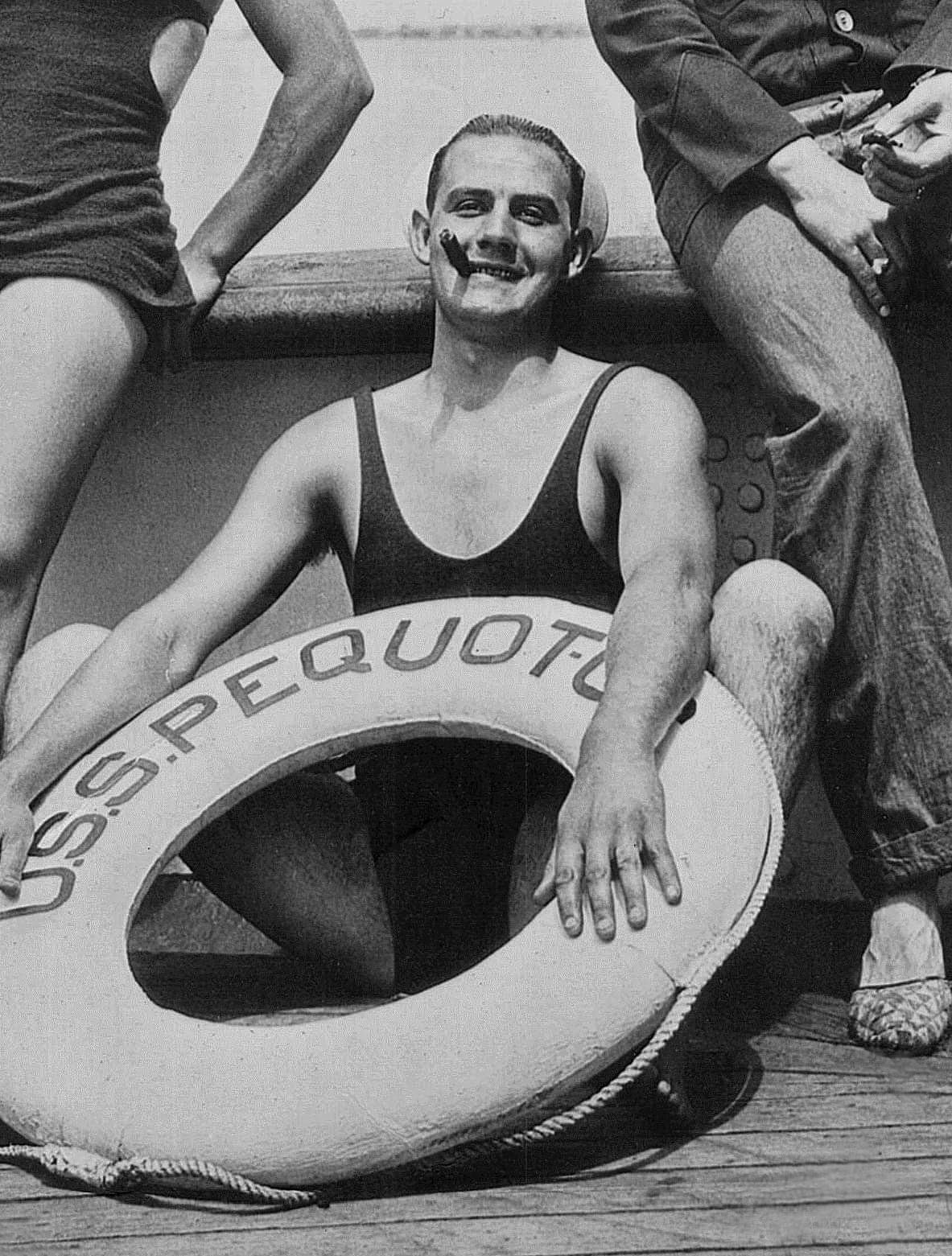 In November of 2022 we were contacted by Mike Vozar who sent us this photo of his father Motor Machinist Stephan Vozar Jr. who served aboard the Pequot in the 1930s. Thanks Mike!
---
Million Dollar Pier
When a mysterious 100-year old photo album showed up at auction we learned about some Pequot sailors who tied up at a Million Dollar Pier in their Crackerjacks and played Hoover Ball. And we got a rare glimpse of the Pequot from the 1920s in one of earliest photos of the ship as a cable layer we've ever seen!
---
Farewell Mike Luongo
The Pequot research project has learned that Seaman 1st Class Mike Luongo passed away on March 30th 2018 at the age of 95.
| | |
| --- | --- |
| | |
| Mike in the 1940s during his time aboard the Pequot | Mike, at Oak Island, North Carolina in 2011 |
Mike was a driving force in helping us first create this website almost 10 years ago. He donated all of his WWII era photos and spent many hours helping identify the officers and men in other photos we were able to locate. We interviewed Mike at length about his years on the Pequot and his Coast Guard service. His recollections, stories, and details of day-to-day life during WWII greatly added to the authenticity of our Pequot story and provided an invaluable oral history record. You will find information from Mike throughout many of our webpages and his bio-sketch here: http://indicatorloops.com/usn_pequot_luongo.htm
We were honored to have known him and send our heartfelt condolences to his family. When we asked Mike what his favorite memory was of his time aboard the Pequot and his Coast Guard service during World War II, he told us:
On Labor Day weekend 1945 we were bringing the Pequot up to New York. When we came in I ended up on the helm in the wheelhouse and could start to see the New York skyline. I was told to put the bow right on the Statue of Liberty. That was the biggest thrill of my World War II years, being on the wheel and steering the Pequot into New York - straight at the Statue of Liberty.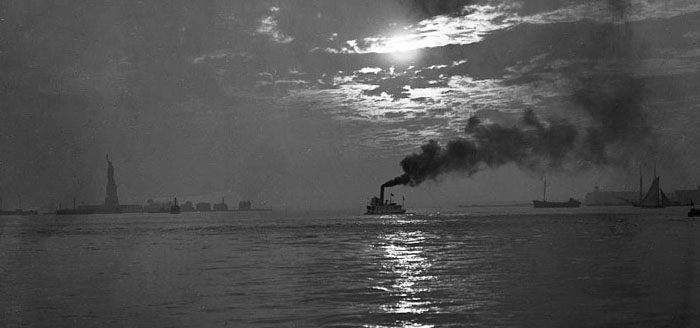 Rest in Peace, Sailor ...
---
Presentation of Pequot model
Researcher Chip Calamaio was honored with the presentation of a wonderful model of the Pequot built by "Captain Bob" Thommen using the original drawings and photographs he obtained from this website. Bob Thommen recently passed away and it was his wish that Chip be given his model. "Although we never met," Chip tells us, "I worked with Bob since 2015 getting him details on the ship, additional photographs, and our 1908 construction drawings. I am amazed at the fine attention to detail in the model and will treasure it always!"
The August 1st 2017 presentation by the Thommen family in Prescott, Arizona was at the Yavapai Scale Modelers Club meeting.
| | |
| --- | --- |
| | |
| Chip Calamaio with the Pequot model | Yavapai Scale Modelers Club President Al Weiss (on the left) and on behalf of the Thommen family, Bob's brother-in-law Al Petroff (on the right). |
| | |
| --- | --- |
| | |
| Pequot model | Digital rendering of the Pequot by 3D modeler and texture artist Edoardo Siano. |
For additional photos of the model and to see beautiful high-quality digital renderings of the Pequot by 3D modeler and texture artist Edoardo Siano visit our new "Models, Artwork and Animation" page.

---
The Pequot's Contribution is Recorded in History
Author and historian Gerald W. Butler's latest book, "Nahant's Naval Secrets" chronicles the colorful history of military activities on and around the Nahant Peninsula of Massachusetts from World War I until the post World War II era. Jerry's painstakingly researched and illustrated work tells the story of the how indicator loops were installed by the Pequot from the tip of the Nahant Peninsula to form the Northernmost defensive perimeter around Boston Harbor. Those loops were a key component of the extensive defenses put in place to protect the vital WWII naval and shipping operations out of Boston throughout the war years. In researching this book Jerry collaborated with the Pequot website and included numerous photographs of the ship during cable laying operations. The text includes personal recollections of Pequot veterans and details on the methodical process involved by the Pequot's officers and men to properly lay down indicator loops. To obtain a copy of this 195 page book from the Nahant Historical Society just click here or on the thumbnail of the cover below.
---
AWARDS
Some of the awards this website has been given:
Coast Guard Sea Veterans of America Award
USCG Sea Veterans Website

Click image to view certificate.
Maritime Award Website

Yankee Station Award
Yankee Station Website
Award #64
Golden Griffin Award
Griffin Website
The Patriot Award.
Patriot Website
---
The Army Mine Planter General Samuel M. Mills becomes the US Coast Guard Cable Ship Pequot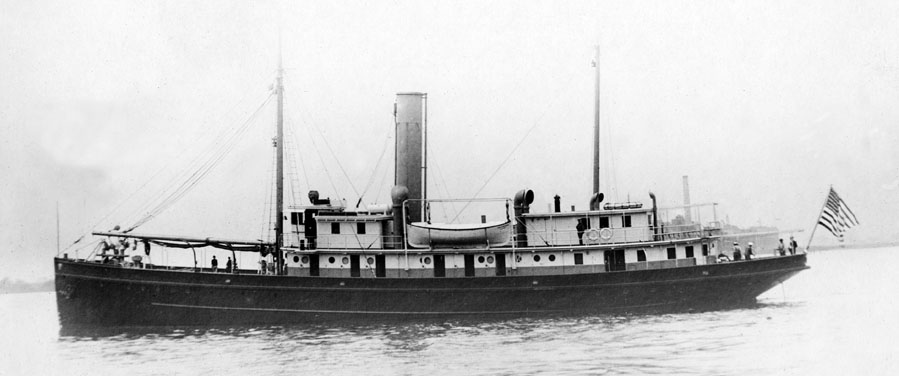 4. The General Samuel M. Mills - later the USCG Pequot - during sea trials in 1909. (Independence Seaport Museum Archives)
In April 1922, the Army minelayer General Samuel M. Mills was decommissioned and acquired by the Coast Guard - and renamed as The Pequot. The General Samuel M Mills, was constructed for $300,000 in 1908 at the New York Shipbuilding Company in Camden, New Jersey under a contract with the Submarine Mine Service of the US Coast Artillery Corps which was under the War Department, US Army, Office of the Quartermaster General. The ship was named after Brigadier General Samuel Meyers Mills, Jr. who was the U.S. Army's Chief of Artillery 1905-1906 (see photo below). She was converted to a cable laying ship by the American Brown Boveri Electrical Corporation of Camden, New Jersey and renamed Pequot (WARC-58). The fact that an "electrical" company did the conversion indicates the addition of the motorized winches and other specialty equipment required to modify the ship to conduct general cable laying and repair work.

5. The General Samuel M. Mills (March 11, 1927) - later the Pequot. Note the absence of the cable wheel on the bow of the ship. (Photo supplied Jim Flynn)

6. A later photo of the Pequot shows the cable wheel on the bow. Called a "sheave" this pulley was used when laying and salvaging cable.
(US Coast Guard Photo)

7. 1st Lt Samuel M. Mills, Jr in 1877 with the Department of Tactics.
(Special Collections, US Military Academy Library, West Point)
(Click to enlarge).
Now renamed as
The Pequot
, the former mine planter
Mills
was commissioned as a US Coast Guard cable ship and special craft on April 29th 1922. She replaced an
earlier Coast Guard cable ship also named Pequot
. Beginning on March 4th 1923 the new
Pequot
(ex-
Mills
) was assigned to the Coast Guard's New York District Office and operated out of New London, Connecticut. On March 27th 1929 she was transferred to the Norfolk, Virginia Coast Guard Depot and was stationed at the port at Norfolk until June 15th 1932 when the ship was assigned to the Boston, Massachusetts Coast Guard Office.
The Pequot
was temporarily assigned to the Commander-In-Chief of the Atlantic Fleet on August 5th 1941 then shortly before the attack on Pearl Harbor, on November 1st 1941, she was officially transferred from the Coast Guard to the Navy and assigned as a cable laying and repair ship out of New London, Connecticut. From her home port of Boston she was responsible for laying and repairing indicator loop and communications cables for the remainder of World War II.
8. Flag from the US Mine Planter General Samuel M. Mills. In 1909 the term "Submarine" on the flag meant "underwater" defense as in sea mines and not the anti U-boat submarine defense which came decades later.

9. A close-up of the note written on the flag

(A Place Called Yorkship / yorkship.us)

For a detailed look at the design plans, cabin details, and construction photos of the General Samuel M. Mills 1908-09 click here

The original construction drawings reveal how the ship's crew and the Army troops involved in mine laying operations were provided with completely separate quarters, galleys, and bathrooms. It is also clear that accommodations for the ship's officers were much nicer than the quarters for sailors and soldiers when the Mills first put to sea in 1909. Click image to enlarge.
Part Two of our ship construction section presents information on five of the Pequot's Sister Ships.

To learn about their history and see them under construction,
click here
---
THE TOP SECRET WWII MISSION - INSTALLING ANTI-SUBMARINE INDICATOR LOOPS
Anti-submarine Indicator Loops


Indicator Loops - an overview (YouTube, 70 minutes)
Indicator Loops
are long lengths of armoured cable laid on the seafloor of harbors to detect enemy submarines. They were developed by the Royal Navy in the early 1900s and first trialled at the end of WW1. They were successfully deployed in WW2 in British ports and other Commonwealth countries such as Australia, Canada, New Zealand, South Africa, Kenya, Ceylon, Penang, and in allied harbours (Iceland, Holland, Dardanelles). By 1942 the United States had adapted this technology for its own needs and a dozen
United States Navy "loop receiving stations"
were established along the eastern seaboard of mainland USA particularly at the ports of Boston and Portland. The
Pequot
was the main cablelayer for the USN's indicator loop harbor defense. The deployment of indicator loops was highly secret and hardly any of the men knew the purpose of the cables; most thought they were underwater communications cables. The words
indicator loop
were not used - just
cable
.
| | |
| --- | --- |
| | |
| 10. This diagram shows the arrangement of the cables in the loop ("3-legged") and the tail cable connecting them to the shore station. The Pequot crew laid the loop cable in the correct position and joined it to the tail cable using waterproof splices and junction boxes. | Sample of indicator loop paper recording chart from the inbound crossing of a loop at Portland Maine on July 14th 1942 by USS Massachusetts. Click the image above to see more examples of the Pequot's Indicator Loops in Action. |
| | |
| --- | --- |
| | |
| 11. Longitudinal drawing of indicator loop cable recovered from Mediterranean waters. It has a diameter of 30 mm (1¼") and the section labeled "6" is the lead wire. The steel armor wires (#10) also has a lead coating. After the war this type of valuable lead loaded cable was pulled back up and salvaged by the Pequot and other ships. To date no sample of harbor defense loop cable from the US has been located, although many miles of tail cable has been found. A full description of this cable can be found on the Cablemakers webpage. | 12. Cross section of indicator loop cable to the left. |
---
NAHANT'S NAVAL SECRETS - A PEQUOT CASE STUDY
The August 2012 Coast Defense Journal published by the Coast Defense Study Group features a detailed article by author and historian Gerald W. Butler on the indicator loop defenses installed by the Pequot at Nahant, Massachusetts in 1942 as part of the comprehensive installations put in place to protect Boston Harbor.
The 30-page article by Gerry Butler on Nahant's Loop Station was published in the August 2012 issue of Coast Defence Journal
"Naval Unit 1D - East Point, Nahant, Massachusetts, in World War II, 1942-1945" provides an excellent case study on one of the indicator loop defense systems laid down by the Pequot and details the history of this top secret underwater detection installation from the initial planning stages through the end of the war when the indicator loop station was closed in May of 1945. Click here to go to our webpage about Gerry Butler which includes a copy of his 30-page article from the Coast Defense Journal.
---
Beginning less than four months after the attack on Pearl Harbor the Pequot joined the intense efforts of the Army, Navy, and civilian agencies to get a viable harbor defense system installed and operational. This was during the period when U-boat attacks where at their peak and the overall situation along the entire Atlantic seaboard was very grim. The Pequot and its crew responded and played a vital role in establishing the initial indicator loop defenses at entrances to major US ports. Her outstanding efforts did not go unnoticed. On March 24th 1942 the Chief of Naval Operations provided the following formal Commendation to The Commandant of the US Coast Guard and the Pequot's Commanding Officer:
During the past ten months the Pequot has laid over fifty miles of armored cable for establishing magnetic indicator loop systems in four widely separated areas of the Atlantic Coast. This special work has been accomplished in addition to many varied demands for her normal service and has been done often under the most adverse conditions of weather. It is considered that the Commanding Officer of the Pequot, her other officers, and her crew deserve special commendation for their manifest efficiency in performance of duty.
In addition to this major push at the outbreak of hostilities, the Pequot would continue to install indicator loop cables at ports and harbors along the Atlantic coast as far North as Argentia, Newfoundland, as well as service and repair damaged cables throughout the war. When not working on indicator loop cables, the Pequot was kept very busy laying and servicing coastal communication and teletype cables along the Atlantic seaboard between Coast Guard lifesaving stations and lighthouses. She also pulled up and salvaged cable no longer in use and ran electrical power cable to isolated light stations. A sailing list of officers and men is at the end of this webpage. Also included is a section from the USN Harbor Defense Manual dealing with laying and repair of indicator loops.
| | |
| --- | --- |
| | |
| 13. USCG Pequot fully underway in the North Atlantic - circa 1940 (Courtesy the John McCormack family) | 14. The USCG Pequot tied up along Constitution Wharf at her Boston Coast Guard Base home berth, circa 1945. Here we can clearly see the wear and tear on her bow and hull from hard years at sea during World War II. (Lou Carhart). Click to enlarge. |
Just before the end of hostilities, the Pequot was reassigned to Norfolk, Virginia and she officially was returned to the Coast Guard on January 1st 1946. According to her ship movement logs the Pequot's last duty assignments during 1946-47 involved cable work off of Cape Henry, Virginia and while operating out of Little Creek and Norfolk, Virginia and Portsmouth, New Hampshire her crew salvaged many miles of undersea cable which was re-used for telephone and telegraph purposes. At one point in June of 1946 she was laid up in Portsmouth and unable to go to sea due to a "personnel shortage." So after many of her Reservist sailors were discharged after the war it appears she was operating with a much smaller crew.
The ship's last cruise under her own power took her from Philadelphia to New York, through Long Island Sound and then to St George, New York on the tip of Staten Island, then she steamed through the Cape Cod Canal to Boston where she arrived on September 13th 1946.
The US Coast Guard cable ship Pequot was decommissioned on November 8th 1946 at her historic WWII home berth of Constitution Wharf in Boston, Massachusetts. Three months later on February 12th 1947 she was towed by the US Coast Guard Cutter Cherokee to joint the "nest" of other decommissioned Navy and Coast Guard ships of the Atlantic Reserve Fleet berthed on the Wando River near the Naval Base at Charleston, South Carolina.
| | |
| --- | --- |
| | |
| The US Coast Guard Cutter Cherokee (AT-66) was the Navajo Class ocean going tug that towed the decommissioned Pequot from Boston to the Atlantic Reserve Fleet storage site on the Wando River. (USCG photo) | Decommissioned ships of the Atlantic Reserve Fleet on the Wando River in South Carolina 1946. The Pequot joined this "Ghost Fleet" until she was sold for scrap in 1947. (NavSource Naval History Collection) |
After more than 35 years at sea serving the Army, Coast Guard, and Navy she was sold for scrap by the US Maritime Commission on September 5th 1947 to Potomac Shipwrecking Company, Inc. of Popes Creek, Maryland and delivered the same day.
As early as 1944, based upon engineering reports of the Pequot's deteriorating mechanical condition, the Coast Guard started looking around for a replacement ship. The US Navy's Walnut (YN-31) was considered but she was stationed in Honolulu and would require a long transfer. Based upon recommendations from the Pequot's Captain Lars Sande, and the office of Coast Guard Admiral Park, "that an Army Mine Planter would be suited seems to have considerable merit." But the decision on a good replacement for Pequot didn't happen until after the war when in June of 1946 the Navy's Chimo Class mine layer, Trapper (ACM-9), was obtained by the Coast Guard, converted for cable work, and renamed the Yamacraw (WARC-333). She was originally built to plant and tend controlled defensive minefields for the Army's Coast Artillery Corps. While the Pequot was with the Atlantic Reserve Fleet she was taken from the Wando River storage site to the Charleston Naval Shipyard where her forward cable engine and winch were removed and installed on the Yamacraw.
After more than 10 years of Coast Guard service she was returned to the Navy in 1959 who operated her as the cable repair and research ship Yamacraw (ARC-5) until she was decommissioned in July 1965 and sold for scrap in 1969.
15. The USS Trapper (ACM-9) in 1945. The raised 40mm gun position on the foredeck superstructure, the two 20mm gun positions above the bridge, and the side and fantail mounted 20mm gun tubs, were all removed during conversion to a cable ship.
(National Archives photo 19-N-79421)
16. The Pequot's replacement USCG Yamacraw (WARC-333). Notice the cable wheels now built into the ship's bow.
(Naval Historical Center)
17. By 1964 Yamacraw's bow had three large cable pulley sheaves. (Photo Victor G. Edens)
---
---
18. The Original Sheet Music of the Official US Coast Guard Theme Song, "Semper Paratus." (Sam Fox Music Publishing, Cleveland, Ohio)


19. Old Glory waving proudly up in the rigging. For the American men and women of World War II the Stars and Stripes symbolized everything they were sacrificing and fighting for.
(Freiermuth family)

20. Since basic training the men of the Pequot were galvanized by this song into the spirit and camaraderie of their Coast Guard service. (Semper Paratus Lyrics by Captain Francis Saltus Van Boskerck USCG, 1927)

(Click To Enlarge)

21. (Office of War Information 1943)

22. World War II Era Coast Guard Patch. In the best tradition of the service's Latin Motto Semper Paratus the Pequot crew was "Always Ready".
(Calamaio family)
23. (Government Printing Office)

"United States Coast Guard - Its Purpose and Activities in War and Peace"


One month before Pearl Harbor, in November of 1941, President Roosevelt transferred the entire U.S. Coast Guard and all of its responsibilities to the U.S. Navy under Executive Order #8929. That administrative act to put the Coast Guard under the jurisdiction of the Secretary of the Navy, along with the 1941 creation of the Coast Guard Reserve and the Coast Guard Auxiliary, proved confusing to many. To help clarify for the American public the many duties and far reaching mission of the U.S. Coast Guard during the war, the government distributed the booklet "United States Coast Guard - Its Purpose and Activities in War and Peace (publication 16-29848-1).

In addition to detailing the Pequot's activities and cable laying duties during World War II, much of the material presented on this website, and the stories of the men who served aboard the Pequot during the 1940s, touch on other aspects of the Coast Guard's mission. The specifics presented in this booklet help set the larger context for much of the information and oral histories that are presented here.

Click on the images of the pages above to see an enlargement.

Click here to see the full 32 page booklet. Warning - 6.26 MB Adobe pdf file.
(Catherine Calamaio WWII Scrapbook)
---
In the image below we can spot the large warehouse with its distinctive raised center roof on the wharf were Pequot was tied up when in port (see photo #30 below). Located in Boston's historic North End this area of piers and docks, which became the Coast Guard base, is known as Constitution Wharf, since this was where the USS Constitution "Old Ironsides" was built and launched in 1797.

---
George Simmons - Pequot Photographer
| | | |
| --- | --- | --- |
| | | |
| | 25. George G. Simmons Pequot Quartermaster & Photographer | |
A native of Rhode Island, George Simmons served as a Quartermaster on the Pequot from late 1942 to the spring of 1945. George's photographs appear throughout this website, most of them donated by other crew members or their families. In a 1988 letter to Chief Yeoman Jim Hudow George explained, "I was the guy that had the camera. Getting the materials to develop pictures during war time was difficult for civilians, but I had a friend back home, who enjoyed doing it. He felt he was helping the war effort somehow, and that's how I was able to get so many pictures made." George got married while he was still aboard ship on April 22, 1944. George and his wife Edna settled back in Warwick, Rhode Island and raised 6 children and had 16 grandchildren.
---
One of the crew members aboard the Pequot during the war was Gunners Mate Roger Calamaio - then about 22 years old. These are his photos supplied by his son Chip who wrote, "My family thought Dad's habit of writing all over photographs was very annoying. Now I'm so glad he did! It's enabled us to identify so many Pequot sailors." A short memorial page to Roger's life and Coast Guard career is at: Sailor Roger Calamaio.

| | | |
| --- | --- | --- |
| | | |
| 26. Roger Calamaio aboard USCG Pequot in Boston Harbor - May 1944 | 27. Pequot Gun Crew, Boston Harbor - May 1944: Moore, McElmoyl, Jusek, Quin, McConnell, Fleming | 28. In Boston Harbor - May 1944: sailors Livingston, Cidoni and Simmons. |
| | |
| --- | --- |
| | |
| 29. In Boston Harbor - May 1944: sailors Cidoni, Jenkins and Livingston. | 30. Pequot in Boston Harbor - May 1944 |
| | | |
| --- | --- | --- |
| | | |
| 31. Sailor Jenkins - May '44, Boston Harbor | 32. Sailors McCormack and Cidoni practicing Hand-to-Hand, Boston Harbor, May 1944: | 33. Roger Calamaio - "ready for anything" - September '44 Boston |
| | | |
| --- | --- | --- |
| | | |
| 34. Sailors Coppo, Jenkins, Livingston, Cidoni and Carhart of the Pequot - May 1944 | 35. Crew on spar - May 1944: Sailors Cidoni, Jenkins, Coppo, Livingston, Fleming and Weber. | 36. Gun crew (L to R): Theodore Cline, Steven Cedoni on the 20mm deck gun, George Simmons, John McCormack. See note below about the Pequot's deck gun. |
The Pequot's two fantail mounted deck guns were manually operated 20mm anti-aircraft weapons originally designed in Switzerland by the Oerlikon Corporation. It was mounted on a pedestal and could be trained through 360° and elevated from minus 5° to plus 87°. Considered a close range, high angle weapon, it was a recoiling, air cooled automatic AA gun which fired an explosive shell, including a "tracer" which glowed as it traveled towards its target and indicated the direction of fire. Manned generally by a three or four man crew it was capable of firing 450 rounds per minute, at 36° of elevation. Each magazine carried 60 rounds. Deck mounted ammunition lockers or "ready boxes" stored pre-loaded 20mm magazines and were located next to both gun positions for fast reloading. The 20mm AA gun had a maximum range of 5,500 yards.
The Irony
The historical irony is that the Oerlikon Corporation almost went bankrupt in 1935 when the US Navy rejected one of their guns in 1934 due to its low rate of fire. However, the Japanese Navy's purchase of that weapon saved the Swiss company, which allowed them further development work in conjunction with the British, resulting in the more successful model used extensively by the US military during WWII - and this 20mm auto-fire cannon was based upon an original design for Oerlikon by Reinhold Becker - a German!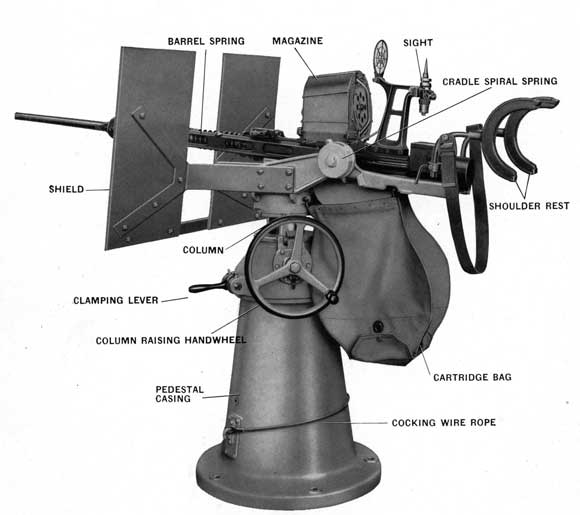 37. 20mm anti-aircraft Oerlikon
(US Navy Bureau of Ordinance, 20 mm A.A. Gun, Pamphlet No. 911, March 1943)
The Pequot Connection
The fascinating Pequot connection is that Steuart Mitchell (later Sir Steuart), the son of Professor Alexander Crichton Mitchell, the scientist who first invented the indicator loop in WWI, is the one who sold Oerlikon's design to the US. In 1939 he was the Inspector of Naval Ordnance, in charge of British Admiralty Ordnance contracts in Switzerland, mostly at the Oerlikon works in Zurich. He quickly made himself familiar with all aspects of the gun and made various improvements. By June of 1940, when France fell and Italy entered the war, Oerlikons could no longer be supplied from the Swiss, so Mitchell grabbed all the gun drawings and parts he could lay his hands on and escaped, with the Nazis hot on his tail. He went through the Balkans to Istanbul and finally down through Palestine to Egypt, where he caught a plane back to London. Soon manufacture of the 20mm began in England based on his Oerlikon drawings. In late 1940 Mitchell went to the states and sold the gun to the Americans. It should be noted that Sir Charles Goodeve, who also developed magnetic deperming techniques used on the Pequot and other allied ships to reduce the threat of sea mines, worked with Mitchell on the manufacture of the Oerlikon in England. Through determination, cunning and sheer trickery he was able to acquire some railway sheds and machine tools to get an operational Oerlikon factory up and running in the town of Ruislip. His bulldog efforts had 20mms coming off the assembly line within 7 months, instead of the two years originally projected by the complacent Admiralty. The rest is history.
| | |
| --- | --- |
| | So the men of the Pequot were equipped to defend their indicator loop mission with a gun made possible by the son of the man who invented the indicator loops! |
38. Gun Crew - May 1944
Sailors Clive, Jenkins, Cidoni, McCormack and Bob Livingston on the
20 mm anti-aircraft deck gun.

39. 20mm Oerlikons during target practice aboard a Coast Guard Cutter off Block Island, Rhode Island April 18th 1944. (US Coast Guard Photo)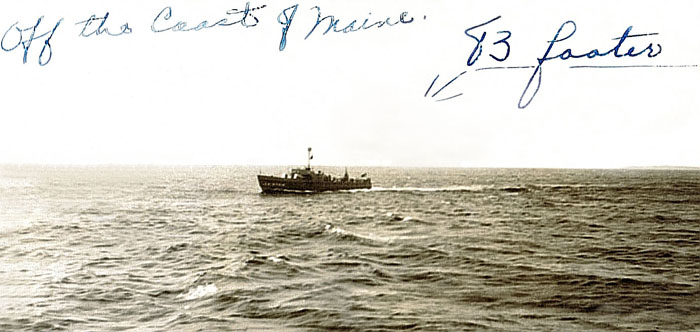 40. A Coast Guard "83 Footer" patrol boat protects the Pequot off the shores of Maine in August of 1944.
To see more about the 83 Footers and the many other types of ships that escorted and guarded the Pequot throughout the war Click Pequot's Escort Page.
| | | |
| --- | --- | --- |
| | | |
| 41. Boston Harbor - May 1944. | 42. Sailors Livingston and Simmons - Boston Harbor - May 1944 | 43. Sailors McConnell, McElmoyl, Jenkins, Luongo, Campbell and Barnett on deck - Sept 1944 |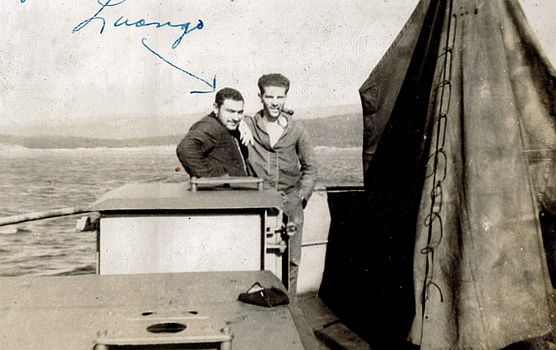 44. Sailors Mike Luongo and Roger Calamaio - off the coast of Maine - August 1944. Notice the quick release lashing on the tarp next to them which covered the 20mm guns and protected them from the elements. In front of them we see two of the weather sealed ready-boxes which held the pre-loaded magazines for the deck guns.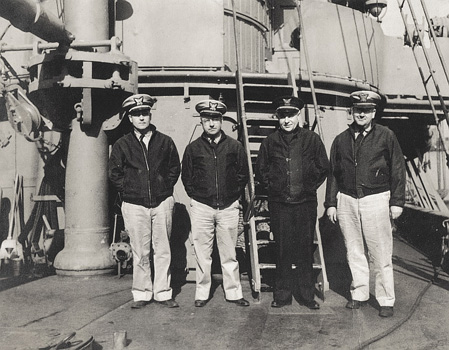 45. Officers of the USCG Pequot - March 1945 The Pequot's skipper during WWII was Captain Lars Anton Sande (2nd from the right).
| | |
| --- | --- |
| | The Scuttlebutt: According to Quartermaster Lou Carhart, the scuttlebutt among the Pequot crew was that Sande had served his entire Coast Guard career aboard the Pequot having first come aboard as a young seaman. That couldn't be further from the truth. We've learned from the skipper's son, Ted Sande, that his father had a very long and colorful career on a variety of Coast Guard and merchant ships. |
46, 47. Ted Sande, who was able to see his dad Lars Sande (shown above) several times during the war, actually stayed aboard the Pequot as a 10 year old boy. See our webpage "The Captain's Corner" for his recollections of life below decks during WWII, how his father chased Rum Runners during Prohibition, and the story of Sande's life at sea. (Ted Sande)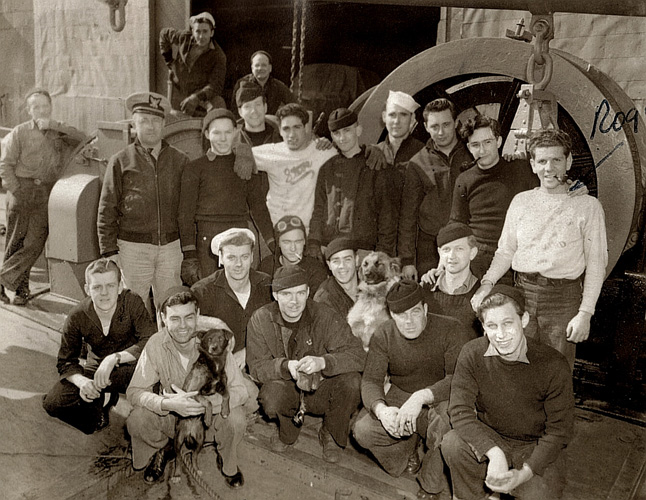 50. Officers, dogs and crew - March 1945. Click on photo to see names.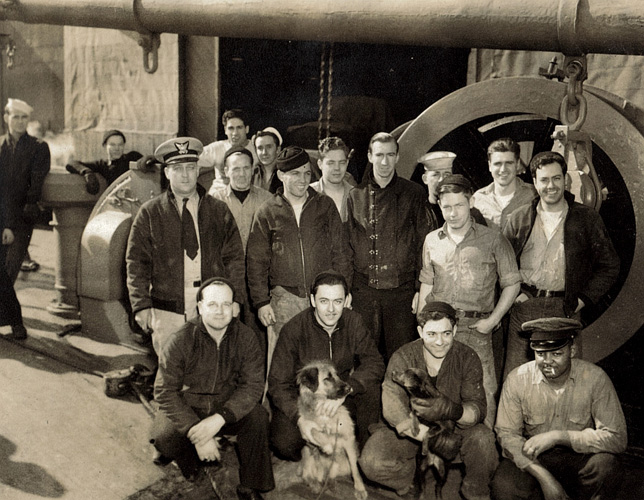 51. Crew on deck with officers and dogs - March 1945. Seaman Mike Luongo tells us that the dogs did go to sea with the Pequot's crew and that they weren't just fair weather home port mascots.
Click on photo to see names.
| | | |
| --- | --- | --- |
| | | |
| 52. Storekeeper 1st Class Bill Moore in front of a 20mm, September 1944. According to George Simmons, Moore conducted church services aboard the Pequot every Sunday morning. | 53. Roger Calamaio and Norman Zinner ashore in their regulation Pea Coats 1943. Roger loved that thick wool coat. He said it made him feel "snug as a bug in a rug." We believe that Roger and Norm often ran errands together in the Boston area when the Pequot was in port. | 54. As seen here in Buzzard's Bay, Massachusetts during 1943, right before Roger shipped aboard the Pequot he served as a Coast Guard jeep driver shuttling ship pilots along the Cape Cod Canal when convoys were forming up for the dangerous runs to Europe. |
55. Roger in April 1943 on guard duty at the Coast Guard station at Buzzard's Bay, MA.

56, 57. After their discharge from the Coast Guard Roger Calamaio (right) and friend had a train-station-booth photo taken in Detroit Michigan - in Oct 1945 ... "and that is why they are so damned happy". Well, a few beers may have helped. Note: You can see the "ruptured duck" insignia on his uniform that was given when
sailors were discharged.
Many of the photos from Roger Calamaio's album were removed and destroyed. His son sums up what is a rather poignant reminder of the lasting effect of war:
"There used to be other great pictures in that old photo album including some shots of the crew repairing and splicing cable, but it appears that after Alzheimer's started to take its toll, my Dad must have torn them all out. Perhaps what was going on in his befuddled mind was he thought it was all still Top Secret so he had to destroy those pictures. We will never know. There were two pages cut out of the album entirely. But I distinctly remember a number of pictures that were just not there any longer." Chip.
---


Radio Wars

Click the image to the left to learn about the Radio Wars between allied ships and German U-boats.
Communications

Click the image to the right to see all the different ways Pequot could communicate without using radio transmissions.


Magnetic Deviation

Click the image to the left to learn how the Pequot's compass binnacles had to be calibrated to account for magnetic deviations at different latitudes.
Navigation

Click the image to the right to see how the Pequot navigated the costal waters of New England in the 1940s without the aid of GPS or other satellite technologies.



Between The Wars

Click the image to the left to learn about the Pequot's cable laying mission before WWII and all the trouble some worms could cause.

Magnetic Camouflage

Click the image to the right to see how the ship was protected against German sea mines by a clever magnetic trick.

The Battle of the Atlantic

Click the image to the left to learn about the Pequot's home port of Boston, the Battle of the Atlantic, and what some dogs did.

The 1944 Hurricane

Click the image to the right hear how the Pequot rode out a viscous hurricane that claimed 5 ships and the lives of hundreds of sailors.
---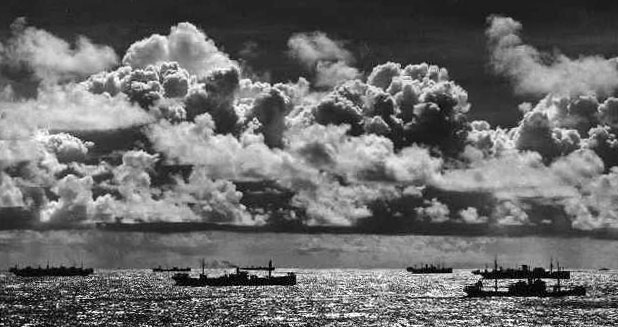 60. Convoy ONS 154, seen here steaming towards Europe, was a slow moving northbound convoy of 45 ships which was attacked for four days in December of 1942 by a 10 U-boat Wolfpack resulting in the sinking of 16 ships, damage to another 10, and a great loss of life and vital war supplies. This is just one example of the carnage wreaked upon Allied shipping by U-boats in the early years of the war, and it underscores the Pequot's vital U-boat detection and harbor defense mission.
(American Veteran's Center - Convoy ONS 154)
---
We've been able to learn more about many of the Pequot's WWII era crew.
A special thanks to the crewmen and family members who worked with us to honor these men and helped develop their biographies. To see each sailor's story click on their photo.
John J. McCormack - Radioman 1st Class

Growing up in New York State John was a Sea Scout as a boy and started tinkering with radios in high school. In addition to his war time service, being a Radioman became a life long hobby.

To see the sailor's story click on their name or photo.
Martin A. Coppo - Boatswain's Mate 1st Class

Growing up in Northern Michigan with the chilly waters of Lake Superior as his swimming hole helped prepare Martin for his time on the Pequot.

To see the sailor's story click on their name or photo.
Louis A. Carhart - Quartermaster 1st Class

Lou tells of his once in a lifetime experience when the Pequot escorted a captured German weather ship into Boston Harbor.

To see the sailor's story click on their name or photo.
Robert L. Livingston - Quartermaster 2nd Class

The Pequot sailors Bob served with during the war held a special place in his heart and he kept in contact with many of them for years after VJ Day.

To see the sailor's story click on their name or photo.
Roger "Guns" Calamaio - Gunner's Mate 2nd Class

Living off the land as a young boy in Oklahoma helped prepare Roger to serve as Pequot's Gunner's Mate. Read what happened to this kid from the Ozarks when he went to New York City by himself on his first liberty after basic training.


To see the sailor's story click on their name or photo.
Clarke Straight - Chief Yeoman

Before the war Clarke put himself through college and earned a business degree which made him a natural to serve as the Pequot's Yeoman.

To see the sailor's story click on their name or photo.
Michael Luongo - Seaman 1st Class

When asked why he joined the Coast Guard during World War II instead of the Army or the Marines, Mike said "I figured why walk when you can ride!"

To see the sailor's story click on their name or photo.
Adolph H. "Ozzie" Frontel - Quartermaster

In addition to his time on the Pequot in the North Atlantic Ozzie also served in the Pacific theatre and traveled as far as China.

To see the sailor's story click on their name or photo.
Paul Freiermuth - Seaman 1st Class

Before shipping aboard the Pequot Paul "pounded the beaches" of wind swept Gloucester, Massachusetts on shore patrol which resulted in a hospitalization, an encounter with some MPs in Grand Central Station, and eventually his wedding.

To see the sailor's story click on their name or photo.
John J. Jusek - Seaman 1st Class

When John Jusek went off to war he made a point of having a clarinet stashed in the bottom of his sea bag.

To see the sailor's story click on their name or photo.
Jim Hudlow - Chief Yeoman

Jim served aboard the Pequot for 9 months and he tells us, that like most of his shipmates, had no idea the cable they were laying was part of a secret U-boat detection system.

To see the sailor's story click on their name or photo.
Norm M. Zinner - Yeoman 1st Class

Except for what he might have picked-up aboard the Pequot, Norm had no basic gunnery instruction and probably never fired a shot, since he didn't even go through basic training after he enlisted and went on active duty.

To see the sailor's story click on their name or photo.
William Moore - Storekeeper 1st Class

The industrious Bill Moore started his own business only two years after he graduated from high school, so when he signed up for the Coast Guard he already had many of the skills he needed to serve as the Pequot's top-notch Storekeeper.

To see the sailor's story click on their name or photo.

Stories in Development: Seaman Steve Cidoni, Steward Mate Lester H.Simmons, and Chief Machinist Roger W. Schaus Sr.
| | | |
| --- | --- | --- |
| | My Favorite Memory - Seaman Mike Luongo | |
| | | (New York Harbor, Library of Congress) |
| | | |
| --- | --- | --- |
| | Keeping 'em Fed! - Lester H. Simmons - Pequot Stewards Mate | |
| | | |
| | | |
| --- | --- | --- |
| | The Weekend At York Beach | |
| | | |
| | | |
| --- | --- | --- |
| | The Bachelor Party | |
| | | (LoneSentry.com) |
Ruined Whites

Pequot Gunners Mate Roger Calamaio used to tell the story of when he was "drunker than a hoot owl" on liberty in New York City and along with some of his Coast Guard pals found themselves in front of a club where the owner had sexy girls dancing up against the windows of the 2nd floor to entice customers into the place. Apparently he was quite enamoured by the sight of it all and spent a great deal of time slipping and sliding about off the sidewalk onto the sloping front lawn of the place. He admitted that, "I was pretty much laying there full front looking up and ogling those girls." When he got himself pulled together and back to the Pequot he discovered that the knees, elbows, and front of his white uniform was completely ruined and covered in bright green grass stains.

Roger in his whites at Fort Phoenix Massachusetts May 1944
<

Lou contributed greatly to the

Pequot

website project and spent many hours with researcher Chip Calamaio.

"Lou was the very first person to contact me back in 2009 when we started searching for crew members. We spent a lot of time on the phone and even got together twice in Phoenix. Many of the details about life aboard the Pequot which are presented throughout the website came from Lou and he donated some wonderful photos of cable operations. It was also a lot of fun to talk to somebody who knew my Dad back when he was 20 years old."



We have updated

Lou's Biography

based on material from our most recent conversations with him.

---
During the first year of the war when all resources were stretched to the limit, Coast Guard commanders had to use every asset at their disposal to solve logistical problems, and the Pequot was no exception. In June of 1941 while laying loop cable near Norfolk Virginia the Pequot received orders to distribute depth charges to Coast Guard cutters who were actively engaged in convoy escort duty and battles against U-boats.
The Commander of the Norfolk District ordered Pequot to:

Proceed to Boston Massachusetts, via the Naval Mine Dept, Yorktown, Virginia. Obtain 4 Y-gun depth charges for delivery to the Icarus at Stapleton, 3.I. N.Y., 6 Y-gun depth charges and 10 release track depth charges for delivery to the Algonquin at Boston, Massachusetts, from the Naval Mine Depot. This office will obtain and deliver 18 Y-gun propellant charges from the Naval Ammunition Depot, St. Juliens Creek, Portsmouth, Virginia, to the Pequot prior to her departure for Boston, also for delivery to the Algonquin.
| | | |
| --- | --- | --- |
| | | |
| 61. British sailors loading a Mk VII depth charge on to a Mk IV depth charge thrower with a block and tackle, 14 August 1942. Depth charges of the era could hold as much as 600 pounds of high explosives. (Royal Navy, Imperial War Museum Collection) | 62. USCGC Icaraus (WPC-110) in Charleston Navy Yard May 10th 1942 unloading German prisoners from the U- 352 which she had just sunk off the coast of Florida. (US Navy Photo) | 63. Coast Guardsmen on the deck of the cutter Spencer (WPG-36) watch the explosion of a depth charge during the attack which sunk the U-175 on April 17, 1943. (US Coast Guard, Photo #1517 by Jack January) |
64. USCGC Algonquin (WPG-75) provided escort duty to numerous North Atlantic convoys and distinguished herself by picking up survivors from torpedoed ships in rough seas while placing herself in danger.
(US Coast Guard 1943 Photo #4287)
65. Y-Gun Depth charges were a WWI technology. They were shot into the air from both sides of a ship to propel them away from the launching ship to lay down a "pattern" of underwater explosions.
(U.S. Naval Historical Center)
66. A release rack depth charge exploding behind a Coast Guard cutter hunting U-boats. These charges were rolled off the stern or side of a cutter by gravity and exploded at a pre-determined depth.
(Life 1941)
| | |
| --- | --- |
| | Next Time Call Somebody Else! |
---
Photos from the John J. McCormack Photo Album
---
The indicator loop 'tail' cable was towed from the shore by the Pequot crew using a DUKW amphibious vehicle. The DUKW (popularly pronounced "duck") is a six-wheel-drive truck that was designed by General Motors Corporation during World War II for transporting goods and troops over land and water and for use approaching and crossing beaches in amphibious attacks. There are some good DUKW websites, and the USCG has two: the Ira Lewis Scrapbook is a good one; so to is the factsheet from the USCG Military History website.

The loop 'tail' cable was very heavy - weighing something like 3 tons per mile in air. The photos of the Pequot crew in the DUKW were taken during cable laying at the Peaks Hill Bar at the northern tip of Cape Cod near Provincetown, Mass.

| | |
| --- | --- |
| | |
| 90. The Pequot crew aboard the DUKW heading for shore to collect the indicator loop tail cable for joining aboard the Pequot. | 91. The heavy, armoured tail cable is being dragged from the beach by the crew. |
| | |
| --- | --- |
| | |
| 92. The indicator loop tail cable being dragged out to sea. It has 4 cores of 7 strand copper wire insulated with a rubber sheath and armoured with 20 galvanised steel wires, braided with hemp yarns and compounded with a tar preservative. | 93. In the name DUKW, the D indicates a vehicle designed in 1942, the U meant "utility (amphibious)", the K indicated all-wheel drive and the W indicated two powered rear axles. General Motors devised the acronym. |
| | |
| --- | --- |
| | |
| 94. The DUKW was powered by a GMC Straight-6 engine of 270 cu. in. (4.416 L). It weighed 7.5 tons and operated at 6.4 mph (10 km/h) on water and 50-55 mph (80 km/h) on land. The propeller can clearly be seen. | 95. The indicator loop 'tail' cable has been tied to the DUKW by the Pequot crew and will be dragged out to the Pequot ready for joining to the loop cables and sealed in a waterproof junction box. The shore-end of the tail cable is connected to the instruments in the shore "loop receiving station" higher up the beach. |
| | |
| --- | --- |
| | |
| 96. The DUKW's tire pressure could be varied from inside the cab. On beach sand the pressure was reduced. | 97. The building in the background may be the "Loop Receiving Station" (LRS) where the indicator loop is monitored. |
---
Additional Photos from LOU CARHART

98. Some of the Pequot crew on the main mast rigging.
Click on the photo to see an enlarged view with their names. Click again to enlarge more.
99. Pequot crew members below decks in the engine room. The below decks crew was called "The Black Gang" by the other sailors because of how dirty they got from shoveling coal into the Pequot's boilers. To the right we see the receiving "telegraph" which gave the crew engine speed and prop rotation directions from the Quartermaster in the wheel house
100. Seaman 1st Class Lester Jenkins with the Pequot dogs. Sailor Mike Luongo said the black dog's name was Midnight but he couldn't remember the other dog's name. "The dogs would hang around the docks and one of the crew would bring them on board."
---
Mike Luongo's PHOTOS
The following photographs were donated by Pequot Seaman 1st Class Mike Luongo.
Mike provided many of the images seen throughout this website and has helped us identify many of his shipmates.
| | | |
| --- | --- | --- |
| | | |
| 101. Through a hatch we see crew members with thousands of yards of indicator loop cable in the forward hold. | 102. Seaman Mike Luongo operating the Pequot's cable winch. | 103. Two seaman in the wooden launch during cable operations with the Pequot in the background. |
| | | |
| --- | --- | --- |
| | | |
| 104. The Pequot's deck was a very busy place during cable laying operations. | 105. From left to right three of the Pequot's Quartermasters up on the flying bridge; Frontel, Simmons & Livingston. Simmons is taking a bearing with a sextant. Note the deck compass in the foreground. | 106. A Pequot sailor up front with the cable winch gear. |
| | |
| --- | --- |
| | |
| 107. During cable laying operations crewmembers in the ship's launch. The Pequot is in the background. | 108. The Pequot during cable operations. Note all the crew up front playing cable over the ship's bow pulley. (if you look at this full screen you can faintly see the cable coming off the wheel). Click image to enlarge. |
| | |
| --- | --- |
| | That Dangerous Dangerous Smoke! |
| | |
| --- | --- |
| | "A Blanket of Soot" |
| | |
| --- | --- |
| | |
| The US Navy saw coal smoke as a serious problem in both the Atlantic and Pacific. | 109. In the ship's launch a sailor with his hand firmly on the rudder looks back towards the Pequot to position the launch crew during cable operations. |
| | |
| --- | --- |
| | "Working out in the launch could be dangerous." |
| | | |
| --- | --- | --- |
| | | |
| 110. Two sailors in the launch shove off to set cable positions with round marker buoys. Note two of the Pequot's life rafts lashed up on the right. For details on how the crew placed buoys to mark the loop cable positions see Page 54 of the Harbor Defense Manual (in the next section). | 111. In 1944 the Pequot's seaman on deck during cable laying operations. Notice the indicator loop cable in the foreground being spooled out of the hold and up to the bow wheel. (McCormack family) | 112. A launch crew with an indicator loop marker buoy in 1944. We can see them retrieving the end of a cable that has been tied off on the buoy. (McCormack family) |
Installing many of the indicator loops involved very long cable runs. It appears that the Pequot's cable hold was enlarged early in the war and probably widened to increase the capacity of cable she could carry. The bump out seen here, which is directly in line with the forward hatch to the cable hold, is evidence of a modification to the Pequot's hull, since we do not see this protrusion in earlier images of the ship. Photos show this change on both the port and starboard sides. Even for a small ship the Pequot could carry a great deal of cable. In a Confidential Report dated October 23rd 1944 the Pequot's Captain Lars Sande writes of taking aboard "4,498 feet type 15-strand, 18-conductor submarine cable". The tail cable had a weight of 3 tons per mile in air, and the lead lined (or "lead loaded") loop cable itself - just over 6 tons per mile.
| | |
| --- | --- |
| | |
| 113. Modification to Pequot's hull. (Calamaio family) | 114. Boston Harbor 1944. (Calamaio family) |
---
Published after WWII in 1946, The Harbor Defense Manual furnishes information about harbor defenses in the United States. During WW2 it became an instruction manual for Navy, Coast Guard and Army personnel given the responsibility of setting up and operating harbor defenses. After the war it was provided as general information to personnel not assigned permanently to the harbor defense work, and to capture the detailed technical knowledge obtained during the war years. It provides an overview of general harbor defenses (component training, planning, tactics, principles, teamwork and efficiency) and details the components in separate chapters: indicator loop, Herald (fixed sonar), and hydrophones; the role of the harbor control post; surface detection radar; patrol craft; smoke defenses; net and boom defenses; sneak craft, and passive defense. Below are excerpts from the manual that provide the technical principles, installation procedures, and the step-by-step process for laying indicator loops and how buoys were used to guide the positioning of cable laying (Pages 53-55). It also details the meticulous and time consuming step-by-step process for splicing various types of underwater cables (Pages 55-61). We must remember that Pequot's cable splicing work along the Eastern seaboard took place on bobbing and pitching decks, in small boats, and often in very foul weather. Many of the techniques perfected by the Pequot, and its crew during the war years, are captured in this manual.
Click on one of these page thumbnails to see an enlarged image of the page.
| | | | | | |
| --- | --- | --- | --- | --- | --- |
| | | | | | |
| page 50 | page 51 | page 52 | page 53 | page 54 | page 55 |
| | | | | | |
| page 56 | page 57 | page 58 | page 59 | page 60 | page 61 |
---

The Pequot Women on the Homefront


While their men were at sea, the Women of the Pequot did much to support the war effort.


To see how the wives, girlfriends, mothers, and sisters contributed, click on either of the Women's Posters

---
MIKE LUONGO'S PHOTOS
2. Life aboard the Pequot
Even though in many of these photos the crew is obviously horsing around for the camera, the grim reality was that the officers and men of the Pequot had to be ready for a fight in case they ended up in a surface battle with a U-boat and it's crew.

| | |
| --- | --- |
| | Sleepless Nights. |
| | | |
| --- | --- | --- |
| | | |
| 115. Hand to hand combat with the Germans could have become a reality. | 116. Bob Livingston in port on a summer day having fun for the camera. | 117. Coxwain Robert McElymol with fixed bayonet and helmet up by the bow. |
| | |
| --- | --- |
| | Standard Issue. |
| | | |
| --- | --- | --- |
| | | |
| 118. Radioman John J. McCormack. | 119. Sailor Simmons is armed and ready. | 120. Sailor Lester Jenkins - Remember Sailor, pull that trigger just once and it'll cost you 50 bucks! |
| | |
| --- | --- |
| | Hold Your Fire! The Pequot's officers didn't want crew members randomly discharging their weapons. Lou Carhart explains, 'Roger "Guns"Calamaio would checkout 45 caliber hand guns to the crew when they went on duty but they were warned not to fire. Unless it was an emergency it would cost you $50 for every bullet you fired. As our Gunner's Mate he would pick them up from us, exchange them, and keep them clean and loaded.' |
| | | |
| --- | --- | --- |
| | | |
| 122. Two crewmembers below the bridge. Notice the .45 caliber side arm issued while on watch. | 123. Seaman 1st Class Steve Cidoni with rifle and helmet up by the bow. | 124. Lester Jenkins and another sailor in the wheelhouse. The navigation gyrocompass is seen in front of the helm and in the foreground we see the ship's main "telegraph"which gave the engine room crew directions on the Pequot's speed and propeller rotation - forward or reverse." |
| | |
| --- | --- |
| | |
| 125. An axe helps relieve the tension. Sailors Luongo, Cline & Livingston. | 126. Helmets on and smiles: Cidoni, Livingston & Luongo |
| | |
| --- | --- |
| | Collision Drills - "We had collision drills so we were ready in case we got rammed or in case we hit another ship," Mike Luongo explains. "I was in charge of a big thick collision mat that was like a mattress. We'd have to practice quickly lashing it up against the hull with ropes to plug a hole in the ship." |
| | | |
| --- | --- | --- |
| | | |
| 127. In their GI Issue wool sweaters sailors Simmons, Jenkins and Frontle. | 128. Sailors Quinn, Cline & Livingston on work detail. | 129. Pequot Machinist Mate 1st class Anello J. Castaldi in his "undress blues." The hash mark on his sleeve indicates he already has served at least 4 years of active duty. |
| | |
| --- | --- |
| | |
| 150. Two Pequot Sailors in Port. | 151. With the Union Jack waving in the breeze up on the bow behind them we see Jusek, Benoit and their pals looking sharp in those dress blue uniforms for shore leave. |
Pequot Storekeeper Bill Moore grew up around Salem, Massachusetts just North of Boston and knew the area well. According to his son Gary, "My Dad said that when he was on shore leave during the war the waterfront recreation opportunities were limited and subject to blackout conditions at night. He told us of covert passages up and down the Danvers River to spend time at Salem Willows Seaside Park with its restaurants, arcades, and other fun things to do. Apparently, with no gas available, it was easier to paddle down the river and risk being arrested by the shore patrol. Dad told of several evasive tacks he and my Mom, Mary, took to avoid being mistaken for infiltrating Germans!"
Salem Willows Park
(yelp.com/Holly S)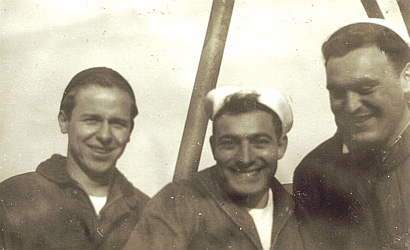 152. Machinist Mate Theodore Cline, Seaman Mike Luongo, and Quartermaster Livingston.
---
PHOTOS FROM THE JOHN JUSEK FAMILY ALBUM
| | |
| --- | --- |
| | |
| 153. John Jusek (right) aboard the Pequot. | 154. John (right) ashore with some of his friends. |
| | |
| --- | --- |
| | |
| 155. John with his good friend Norman Zinner in the dory. | 156. Zinner and Jusek on shore leave. |
Potato Vodka

Pequot Radioman John McCormack used to tell his son Mike how the Pequot galley crew would brew up some alcohol and home made hooch on the sly from potatoes and potato peelings. After a bit of research we've learned that was not an uncommon shipboard practice going back very deep into maritime history!

US sailors peeling potatoes 1942 (ipernity.com)
| | |
| --- | --- |
| | |
| 157. John standing in the back while his pals clown around for the camera. | 158. Hitting the road on liberty - somebody had a car! |
---
MIKE LUONGO'S PHOTOS
3. More Life aboard the Pequot
| | |
| --- | --- |
| | |
| 159. The best of pals - Sailors Cline, Luongo and Quinn | 160. 14 crew members on the Pequot's starboard side |
| | | |
| --- | --- | --- |
| | | |
| V for Victory or "V DISCS"such as this one by the Andrew Sisters were produced by the government and major recording companies exclusively for American solders, sailors, and airmen serving overseas. "(University of Missouri, Miller Nichols Library, Kansas City) | Judy Garland, Bing Crosby, and Jimmy Durrante recording a "Mail Call"segment for the May 17th 1944 Command Performance program. (AFRS photo) | Music Hall program #108, December 28th, 1944. In addition to live transmissions, AFRS sent records of programs all over the world to all branches of the military. (rand's esoteric otr) |
| | |
| --- | --- |
| | |
| 163. Officers & crew up at the bow. Notice the buoys in the foreground that were used to mark loop cable positions. | 164. A sailor at the Coast Guard base sawing lumber for use on the Pequot. |
| | | |
| --- | --- | --- |
| | | |
| 165. Mike Luongo with intercom system. One of the Pequot's 20mm guns is under the tarp. | 166. Boatswain's Mate Charles Miller by the forward winch equipment. | 167. Sailor Mike Luongo has a 'Corn on the Cob' break on the Starboard Gunwale. |
| | | |
| --- | --- | --- |
| | | |
| 168. Sailor Luongo (right) and friends in port. | 169. For centuries sailors have passed time aboard ship making intricate rope weavings. Here George Simmons shows off his rope mat down in the crew quarters in 1944. Notice how tightly spaced the bunks are stacked behind him. With more than 60 men aboard space was at a premium. | 170. Seaman 1st Class Mike Luongo ashore |
| | |
| --- | --- |
| | |
| 171. With Livingston, Frontel and Luongo we see Lester Jenkins on duty and armed with a regulation 45 caliber sidearm. | 172. Sailor Hoganson - Maintenance work on the Pequot was hard dirty work. |
| | |
| --- | --- |
| | |
| 173. Sailor Hoganson by the forward winch gear. | 174. Pequot Sailors against the port gunwale off the coast of New England. |
---
SOME PHOTOS FROM THE JAMES H. HUDLOW ALBUM
| | |
| --- | --- |
| | |
| 180. L to R: William D. Brooks, Signalman 3rd Class, Seaman Lester Jenkins, Sailor 'Gillian' (perhaps Elmer Gillenwater), Quartermaster Ozzie Frontle, Storekeeper William Moore. | 181. Photo day in the launch on what looks like a cool windy day. |
| | |
| --- | --- |
| | |
| 182. Here it looks like Chief Commissary Steward Henry Hathaway is fishing from the launch. | 183. Seaman Roland Benoit catching a few winks during a break in the action. |
The Bad Pie



US Marine Hospital Staten Island, NY
(Vintage Postcard - CowCard.com)

"Did you have any of the lemon meringue pie last night?"

"Yes, Sir. Two big pieces."

"OK now everybody, just hold it. You've got food poisoning, sailor."

"As it turned out the ambulances were just starting to bring in all these guys from my ship."Roger explained.Seaman Mike Luongo was aboard Pequot but luckily passed on the dinner meal and pie that night. "Since we'd made port in New York I had a liberty pass to go home back to Jersey, but the rules were you couldn't leave on shore leave until after the last chow call which was around 4:30 pm. So I waited until after they started serving dinner then I rushed out of there and ran home. By the time I got back to the Pequot most of the crew was already in the hospital. I went and visited those guys and really teased 'em and gave them a hard time, but after about two or three days they started sending them "home"to the Pequot because they were starting to chase the nurses."
| | | |
| --- | --- | --- |
| | | |
| 184. Back (L to R): Steven Cidoni and Mike Luongo. Front: Paul Quinn and Bob Livingston. | 185. Sailors Bob Livingston (left) and Mike Luongo. | 186. Back row (L to R): Bob Livingston, Lester Jenkins and William D. Brooks, Signalman 3rd Class. Front: George Simmons, Adolph (Ozzie) Frontel. |
| | | |
| --- | --- | --- |
| | | |
| 187. From the top down: William D Brooks, Quartermasters Simmons, Frontel, Jenkins and Livingston below. | 188. In the wheelhouse Seaman Lester Jenkins looks on as Ozzie Frontel keeps a steady hand on the helm of the Pequot. | 189. Pequot sailor on the ladder while in port |
| | | |
| --- | --- | --- |
| | | |
| 190. Chief Machinist, Roger W. Schaus in his new uniform right after his promotion to warrant officer. Schaus supervised the engine room "black gang"below decks and kept all mechanical systems functioning. | 191. At Boston's Constitution Wharf two Pequot sailors - Clyde J. McFarland and Kenneth M. Dowling - in their dress blue uniforms getting ready for shore leave. | 192. James F. Ryan Boatswain's Mate Mate 2nd Class, Boston, Massachusetts 1943. After the war Paul settled near Gary, Indiana. (Coppo family). |
---
SOME MORE PHOTOS FROM THE LUONGO ALBUM
| | |
| --- | --- |
| | |
| 193. Mike Luongo ashore, armed and ready. | 194. Quartermaster Bob Livingston, Carpenter's Mate Wallace Hoganson, and Seaman Mike Luongo |
195. Mike Luongo with his friend, George Corrino, and another sailor, in a Portland Maine photo booth while the Pequot was in port.

196, 197. Seaman Mike Luongo back home in Belleville, New Jersey on liberty with some of his old friends who were also serving their country.

---
The following photos from Gunner's Mate Roger Calamaio's photo album were taken in October 1945. His son Chip gives this perspective...
The war was over. The Pequot was out of harm's way. The ship and men were safely nestled in port at Staten Island, New York. They did it. They'd actually survived World War II. In these photos we see them goofing around and sense their elation and relief. It was suddenly a different world than the life they had been living with U-boats and the threat of death constantly around them. Now it wasn't fixed bayonets and gunnery practice, it was smiles, and hugs, and the ability to just be silly again. This was probably the last time they were all together - young boys from across America who came forward and quickly became men and became sailors. They put their lives on the line for America. Without realizing it they had just concluded the finest chapter of their generation.
They had served their country.
They were heroes.
Every one of them.

After all, they'd won the big one and they were all going home.
What a wonderful word.
Home.
| | |
| --- | --- |
| | |
| 202. | 203. |
| | |
| --- | --- |
| | |
| 204. | 205. |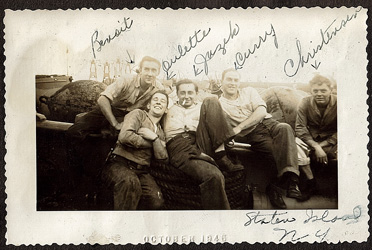 206.
| | | |
| --- | --- | --- |
| | | |
| 207. Sailors Joseph Davy, Leonard Elber, Clyde McFarland, Don McGrath, Fisher and Thornley - Staten Island - Oct 1945 | 208. Sailor Richard Christensen, Staten Island | 209. Sailor Alphonse Ouellette, Staten Island |

All the men who served aboard the Pequot were awarded the World War II Campaign Ribbon for the American Theater of Operations.

| | | |
| --- | --- | --- |
| | | |
| 210. Discharge buttons | 211. US Campaign Ribbon. (30th Infantry Division website) | 212. "Ruptured Duck" - awarded upon discharge |
---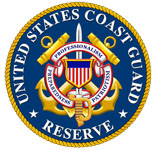 As evidenced by the "(R)" next to most crew names below, during World War II, the Coast Guard suspended regular enlistments and all of the approximately 115,000 men and women who signed-up served as Reservists. That figure includes 51,000 Temporary Reservists and 12,000 members of the Women's Reserve, called The Spars. Because everyone who joined during the war were Reservists, only 8% of the 214,000 Coast Guardsmen that served during WWII were non-Reservists. At the end of hostilities most Reservists were released to inactive duty or discharged. The Spars were disbanded in July of 1947.

L. A. SANDE, Lieutenant

BENJAMIN I. MIXON, Lieut.(j.g.)

CARL E. JENKINS, Chief Boatswain

JAMES A. SWEENEY, Chief Boatswain

JAMES M. BROWN, Chief Boatswain

WALTER W. BOND, Chief Machinist

ADAMCZYK, Joseph J. F.1c. (R)

APPLEBERRY, Evert.E. W.T. 2c.(R)

BAKER, Arthur G. F.1c(MoMM) (R)

BARNETT, Alonzo T. M.M. 3c. (R)

BENNETT, William F. W.T.3c. (R)

BENOIT, Roland A. Sea. 1c. (R)

BROOKS, William D. S.M. 3c.

BUCHHOLZER, David R. M.M. 2c. (R)

CALAMAIO, Roger G.M. 2c. (R)

CAMPBELL, Harry W. Sea. 1c. (R)

CARHART, Louis A. Sea 1c. R)

CARTER, Clarence J. St.M.3c(R)

CASTALDI, Anello J. M.M. 1c(R)

CHRISTENSEN, Richard R. Sea. 1c(R)

CIDONI, Steven T. Sea. 1c.(R)

CLINE, Theodore E. M.M. 3c.(R)

COPPO, Martin A. B.M. 1c

DAVY, Joseph A. F.1c.(R)

DOWLING, Kenneth M. R.M.3c

ELBER, Leonard Sea. 1c. (R)

EVANS, Russell D. Sea. 1c. (R)

FLEMING, Paul N. Q.M. 3c. (R)

FREIERMUTH, Paul R. Sea. 1c. (R)

FRONTLE [FRONTEL], Adolph H. Q.M. 3c. (R)

GILLENWATER, Elmer D. Sea. 1c. (R)

HATHAWAY, Henry M. C.C. Std.

HATHAWAY, Robert H. C.M.M.

HOGANSON, Wallace C.M. 3c. (R)

JACHEC, Theodore J. C.M.M.

JENKINS, Lester K. Sea. 1c. (R)

JUSEK, John J. Sea. 1c. (R)

KEEFE, Richard B. E.M. 1c(R)

LISA, John D. F.1c (MoMM) (R)

LIVINGSTON, Robert L. Q.M. 2c(R)

LOWRY, Eldon L. F.1c. (R)

LUONGO, Michael Sea. 1c(R)

McCLELLAN, Clarence E. M.M.3c. (R)

McCONNELL, Mervin O. Sea. 1c. (R)

McCORMACK, John J. R.M. 1c.

McELMOYL, Robert W. Cox. (R)

McFARLAND, Clyde J. Sea. 1c. (R)

McGRATH, Donald M. R.T. 3c. (R)

MOORE, William S. S.K. 1c. (R)

NELSON, Neil C. Sea. 1c. (R)

OUELLETTE, Alphonse J. Sea.1c. (R)

PALENSCAR, Arthur G. MoMM.1c. (R)

POUNDS, Wilbert W. Ph.M. 2c.

QUIN, Paul E. Sea. 1c. (R)

ROBERTS, Isiah St. M. 2c. (R)

RYAN, James F. B.M. 2c. (R)

SANDS, Harris A. S.C. 3c. (R)

SEALE, Leslie J. M.M. 2c. (R)

SHERLOCK, William H. B.M. 2c(R)

SIMMONS, George G. Q.M. 2c.

SIMMONS, Lester H. St. 1c. (R)

SULLIVAN, Patrick J. E.M.1c.(Tel)(R)

WIESE, Orris S.C. 1c.

ZINNER, Norman M. Y. 1c (R)
Three additional last names were hand written on the bottom of the shipping list, Pearce, Fisher, Campbell K.
It can be assumed they joined the crew after the Feb 6th [1945] list was typed up.
Paul Fleming's name was struck out in pen on the original, so he must have left the crew around Feb 6th.
---
Pequot Crew Occupational Abbreviations
B.M.
Boatswain's Mate
R.T.
Radio Technician
Cox.
Coxswain
S.C.
Ship's Cook
E.M.
Electrician's Mate
Sea.
Seaman
F.
Fireman
S.K.
Storekeeper
G.M.
Gunner's Mate
S.M.
Signalman
MM
Machinist's Mate
St. M.
Steward's Mate
MoMM
Motor Machinst's Mate
W.T.
Water Tender
Ph M
Pharmacist's Mate
Y.
Yeoman
Q.M.
Quartermaster
1c
1st Class
(R)
US Coast Guard Reserve
2c
2nd Class
R.M
Radioman
3c
3rd Class
See: http://www.history.navy.mil/books/OPNAV20-P1000/A.htm
---
Pequot Crew Members
Louis A. Carhart- Pequot Quartermaster
Jim H. Hudlow - Pequot Chief Yeoman
Mike Luongo - Pequot Seaman
Stephan T. Cidoni Sr. - Pequot Seaman

Family Members
Lee Coppo - Wife of Boatswain's Mate Martin A. Coppo
Carol Christensen - Daughter of Boatswain's Mate Martin A. Coppo
Lenny Luongo - Son of Seaman Mike Luongo
Robert Livingston - Son of Quartermaster Bob L. Livingston
Jean M. Monahan - Daughter of Seaman John J. Jusek
Michael McCormack - Son of Radioman John J. McCormack
Elaine Straight-Sanders - Daughter of Chief Yeoman John "Clarke"Straight
Elsie Straight - Wife of Chief Yeoman John "Clarke"Straight
Reba Freiermuth - Wife of Seaman Paul R. Freiermuth
Jan Herman - Daughter of Seaman Paul R. Freiermuth
Violet Frontel - Wife of Quartermaster Adolph "Ozzie"H. Frontel
Claudia Smith - Daughter of Quartermaster Adolph "Ozzie"H. Frontel
Marcia Zeil - Daughter of Quartermaster Adolph "Ozzie"H. Frontel
Phil Smith - Grandson of Quartermaster Adolph "Ozzie"H. Frontel
Ted Sande - Son of Pequot Captain, Lars A. Sande
Gary M. Moore - Son of Storekeeper William S. Moore
Stephan J. Cidoni Jr - Son of Seaman Steve Cidoni Sr
Lenore Zinner - Wife of Yeoman Norman M. Zinner
Joy Landis- Daughter of Yeoman Norman M. Zinner
Jeffrey A. Zinner - Son of Yeoman Norman M. Zinner
Dorothy Rudick - Sister of Yeoman Norman M. Zinner
Geralyn Murphy-Brousseau - Daughter of Seaman Gerald Joseph Murphy
Robert L McElmoyl - Nephew of Coxwain Robert W. McElmoyl
Marilyn Chapoton - Wife of Subchaser 1296 Pharmacist Mate Gene Chapoton
The John Hall Family
Stuart Palmer Cobb - Great Grandson of John A. Palmer
Roger W. Schaus Jr. - Son of Chief Machinist Roger W. Schaus Sr.
Dyann S. Williams - Daughter of Steward Lester H.Simmons
Romaine Foreman - Daughter of Steward Lester H. Simmons
Heather - Granddaughter of Seaman & Quartermaster Paul A Schlais of the CG-94001
Thomas Flanagan son of CG-83520 sailor Thomas J. Flanagan Jr.
Ralph Carhart – Son of Quartermaster Lou Carhart
Chip Calamaio - Son of Gunner's Mate Roger Calamaio
Mike Vozar – Son of Motor Machinist Stephen Vozar, Jr.

Contributors and Research Assistance
Dr Richard Walding - Griffith University, Brisbane, Australia
Christopher B. Havern - Commandant, US Coast Guard History Office
Jeffrey L. Bowdoin - US Coast Guard History Office
William H.Thiesen - Atlantic Area Historian, US Coast Guard History Office
Joanie Gearin, National Archives and Records Administration, Boston MA
Mark C. Mollan - National Archives and Records Administration, Washington DC
Matthew DiBiase - National Archives and Records Administration-Mid Atlantic Region
Kim Y. McKeithan - National Archives and Records Administration, Deck Logs
Daryl D. Bottoms - National Archives and Records Administration, Cartographic Section
James Konicek - National Archives and Records Administration, College Park, MD
Nathaniel S. Patch - National Archives and Records Administration, Textual Archives Services
Still Picture Reference Team - National Archives and Records Administration, College Park, MD
Ken Liden - 83 Footers and Auxiliary Fleet Escort Vessels
Lawrence Levine - 83 footers and PT Boats
Daniel Treadwell - Submarine Chaser SC-1296
Ted Treadwell - Submarine Chasers
Charlie Sproule - Officer on SC-699
Ramon Jackson - Army Mine Planters and USS Trapper
Carson Calamaio - Civil War Pequot and Sister Ships
Dale Sauter - Joyner Library, East Carolina University
Bill Burns - Cable Ship. Robert C. Clowry
Patrick Clancey - LST-692 History
Jim Flynn - General Samuel M. Mills Photo
Robert Hanshew - US Navy, Naval History and Heritage Command, Photo Curator
Dina G. Linn - U.S. Army Transportation Museum, Museum Technician
Janis Jorgensen - US Naval Institute, Heritage Collection Manager
Dick Levesque - The Sinking of the USCGC Jackson
Matt Herbison - Archives and Library Director, Independence Seaport Museum, Philadelphia PA
Jim Bauer - The sinking of the General Royal T. Frank
Remo - Naval Warfare Ship Photo Sources
Kreama Nut Company, Columbus, OH
Chris Whalen - Coastal Reclamation Co. - Cable Sample
Mike Rogers - Fort Miles, Delaware for the Army Mine Planter Service insignia
2nd Lt. Candace Rogers, Second Service Command Public Relations, Fort Miles, Delaware.
Mitch Williamson - Photos of Japanese KD6 submarine
Suzanne Christoff, Assoc. Director for Special Collections and Archives, US Military Academy Library, West Point
Casey Madrick - Archivist, US Military Academy Library, West Point
Stephen P. Carlson - Preservation Specialist, Boston National Historic Park, Charlestown Navy Yard
Gerald Butler - Author and Military Historian
Randy L. Goss, Coordinator of Accessioning and Processing, Delaware Public Archives
David J. Vecchioli - NPS Museum Curator, Boston National Historical Park, Charlestown Navy Yard
Mary Ellen Getchel - Three Frogs Collectibles LLC
Megan Good, Director, J. Welles Henderson Archives & Library Independence Seaport Museum
Randy Biddle, Windship Studios - Photographs of the Royal T. Frank & Joseph Henry
Bill Lee- The Joseph Henry
Marty Dwyer - The Joseph Henry & Indicator Loop Charts
Mike Dillard - Newport News Shipbuilding
Christine Miller - Huntington Ingalls Industries
Brian Harrison - Vintage Radio Equipment Photos
Bernadette MacInnes - General W. Graham mine planter WWII crew photos
Old Paper Studios, Derrick Alderman – 1920s Pequot Photos

A special thanks to Linda Walding and Carolyn Barbier for the support and encouragement.

Web hosting courtesy of Ben Walding

Bibliography

The Blue Jackets' Manual United States Navy, 11th Edition 1940.
United States Naval Institute, Annapolis, Maryland

Coast Guard Version of Bluejackets' Manual 1940, Chapters 18 to 22
United States Coast Guard, October 20, 1943

The U.S. Coast Guard in World War II, Malcolm E. Willoughby
Naval Institute Press, Annapolis, Maryland 1957

Bloodstained Sea, The U.S.Coast Guard in the Battle of the Atlantic, 1941-1944
Michael G. Walling, International Marine / McGraw-Hill 2005

Prints In The Sand, The U.S. Coast Guard Beach Patrol During World War II
Eleanor C. Bishop. Pictorial Histories Publishing Co. 1989

The Story of the U.S. Coast Guard, Eugene Rachlis
Landmark Books / Random House 1961

Smartest Ship Afloat!, Bill Reiche
Popular Mechanics Magazine April 1947

The United States Coast Guard - A Pictorial History
Gene Gurney, Crown Publishers, New York 1973

Splinter Fleet, Theodore R. Treadwell
Naval Institute Press, Annapolis, Maryland 2000

The Military History of Boston's Harbor Islands, Gerald Butler
Arcadia Publishing, Charleston, South Carolina 2000

Inventory of Historic Light Stations 1994
US Department of the Interior, National Park Service

Nautical Rules of the Road, US Coast Guard
United States Government Printing Office 1943

Annual Reports of the War Department for the Fiscal Year Ended June 30,1906
Volume IV Government Printing Office 1906

United States Coast Guard - Its Purpose and Activities in War and Peace
US Coast Guard, Government Printing Office, Publication 16-29848-1

The Military History of the Cape Cod Canal, Captain Gerald W. Butler
Arcadia Publishing, Charleston, South Carolina 2002

The Patrol, USCG Boston District
Volume 1 Number 2, January 1943

The Patrol, USCG Boston District
Volume 2 Number 2, January 1944

What Can I Do - The Citizen's Handbook For War
United States Office of Civilian Defense, Washington D.C. 1942

Cable Ships and Submarine Cables, Kenneth R. Haigh
United States Undersea Cable Corporation 1968
Western Union International and Simplex Wire and Cable Company

National Archives and Records Administration, College Park MD
Records of the U.S. Coast Guard, 1785 - 2005
ARC Identifier 355 / Record Group Number 26

20 mm A. A. Gun, Ordnance Pamphlet 911
US Department of the Navy, Ordnance Department 1943

U.S.A.T. Royal T. Frank - Requiescat in Pace, Ida Calhoun Burritt
US Army, Field Artillery Journal, December 1942

Radar Operators Manual, Radar Bulletin No.3 (RadThree)
United States Fleet Headquarters of the Commander In Chief
Navy Department, Washington 25, D.C. August 5,1944

Military Annals of Nahant Massachusetts, Gerald W. Butler
Nahant Historical Society, 1996

The War Journal of Juanita Vitousek, Women of World War II Hawaii Series
By Dorothea "Dee"Buckingham, November 30th 2009

History of Communications-Electronics in the United States Navy
Captain Linwood S. Howeth, USN (Retired).
Bureau of Ships and Office of Naval History, Washington DC 1963

Guarding The United States and Its Outposts
Stetson Conn, Rose C. Engelman, and Byron Fairchild
Center of Military History, US Army Washington DC 2000

The Arma Gyro Compass, Simplex Equipment MK. 7 MOD. 4
Arma Corporation, Brooklyn, New York, August 1944.

The Sperry Gyro Compass, Mark XIV Mod.1, Instructions 17-1400 D
Sperry Gyroscope Company, Inc., Brooklyn, New York June 1944

Introduction to Radio Equipment, Navy Training Course, NAVPERS 10172
Standards and Curriculum Division Training, Bureau of Naval Personnel 1946

Catalogue of Naval Electronic Equipment - NavShips 900,116
Bureau of Ships, Navy Department, October 1952

US Navy Visual Call Sign Book, DNC 4 (A)
Navy Department, Office of Chief of Naval Operations 1945

Ships of the United States Navy and Their Sponsors
Anne Martin Hall and Edith Hall Benham
The Plimton Press, Norwood MA 1925

The Ships and Aircraft of the United States Fleet, James C. Fahey
Herald Square Press, New York, NY 1941

U.S Army Ships and Watercraft of World War II, David H. Grover
Naval Institute Press 1987

U.S. Coast Guard Cutters and Craft of World War II, Robert L. Scheina
Naval Institute Press, Annapolis, MD 1982

Warships of the Civil War Navies, Paul Silverstone
Naval Institute Press, Annapolis, MD 1989

Allied Escort Ships of World War II, Peter Elliot
Naval Institute Press, Annapolis, MD 1977

Building the Navy's Bases in World War II
History of the Bureau of Yards and Docks & the Civil Engineer Corps, 1940-1946
Department of the Navy, Bureau of Yards and Docks

The United States Coast Guard in World War II, Thomas P. Ostrom
A History of Domestic and Overseas Actions
McFarland & Company, Inc. Jefferson, North Carolina 2009

Life With Our Fighting Coast Guard, F. Barrows Coltan
National Geographic Magazine, May 1943

The Men All Singing, The Story of Menhaden Fishing, John Frye
Donning Company Publishers, Second Edition 1999

Target Pearl Harbor by Michael Slackman
University of Hawaii Press 1990

Legend of The "Torpedo Gang"
By Karleen Chinen
Hawaii Herald, June 20,1986)

Japanese Eyes, American Heart: Personal Reflections of Hawaii's World War II Nisei.
By Hawaii Nikkei History Editorial Board
University of Hawaii Press 1998

A Careless Word...A Needless Sinking
Arthur R. Moore, American Merchant Marine Museum 1985

Controlled Mines: A History of Their Use By The United States
By Charles H Bogart, Merriam Press,1988

Outfield Fly: By Hap Rocketto Air & Space Magazine August/September 1993
(Go here and scroll down about 2/3rd of the way if you want to read the full details: http://www.valerosos.com/FrankfurtMission074.pdf)

The U.S. Army on Kaua'i, 1909 - 1942
The Hawaiian Journal of History 1998, Volume 32, William H. Dorrance

History of Communications - Electronics in the United States Navy
Captain Linwood S. Howeth, USN (Retired) 1963

Regulations Governing the Uniforms for Commissioned and Warrant Officers and Enlisted Men of the United States Coast Guard. US Government Printing Office 1930
Every effort has been made to trace and acknowledge copyright. The authors would welcome any information from people who believe their photos have been used without due credit. Some photos have been retouched to remove imperfections but otherwise they are true to the original.
---
If you have any further details of USN harbor defences or antisubmarine harbor defences in general (Indicator Loops and Harbour Defence Asdic) that may help with this research project please email me [Richard Walding] at the address at the top of the page.

LINKS TO RELATED PAGES:
Indicator Loops around the World (Home Page)

How an indicator loop works

United States Navy Loop Receiving Stations