| | | | |
| --- | --- | --- | --- |
| | | | |
| The Men | The Spirit | The Ship | The Mission |
USCG CABLE SHIP PEQUOT - UNITED STATES HARBOR DEFENCES
OUR SAILORS' STORIES
This page tells another one the stories of the sailors who served aboard the U.S. Coast Guard Cable ship Pequot during World War II. The Pequot served as a harbor defense cable-laying and repair ship under direction of the US Navy. Her full story can be found on the Pequot Home Page.
---
LOU CARHART'S STORY
Lou Carhart in his dress blues on liberty in 1943 sitting on the bumper of his father's 1937 DeSoto.
(Lou Carhart).

Lou enjoying Liberty in Virginia, after he left the Pequot, with his friend Miss Ray. (Lou Carhart).

Lou in 1944 on the Hudson River Day Line Ferry going from Manhattan to Bear Mountain State Park. (Lou Carhart).
A native of New England, Louis Albert Carhart was born in in Albany, New York on September 4th 1925 and grew up in New York State. His parents were Albert Sheldon Carhart and Elizabeth Louise (Brandner) Carhart. Elizabeth was a second generation American, her grandparents having emigrated from Germany to Staten Island in the 1800s. Lou had a brother Donald and a sister Joyce.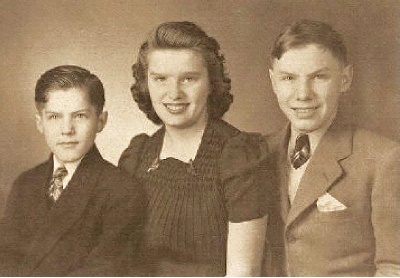 Donald, Joyce, and Lou Carhart c.1930s. (Carhart Family)
His father was a regional credit manager for the Standard Oil Company of New York from the 1920s through the early 1970s, so Lou's family moved frequently as his father was transferred around the state.

Like most of the Carharts in America, Lou was a direct descendant of Thomas Carhart who arrived August 25, 1683 from Cornwall, England, serving as private secretary to Thomas Dongan, Governor of the Duke of York's colony, which was newly wrested from the Dutch. Out of Lou's direct line of 9 male descents he was the only one to serve in the military. Every other Carhart ancestor was either too old or too young at the time of the various wars to join in the fray.
As soon as he turned 18, in 1943, Lou joined the Coast Guard. His Uncle Bill Carhart was a Coast Guard Machinist Mate and refrigeration specialist stationed at Saint George on Staten Island and Lou had heard good things about the Coast Guard. Like many Pequot sailors he went through basic training at the USCG Training Station in Manhattan Beach, New York. "I really was never that interested in guns," Lou recalls, "but I did OK during firearms training and hit everything we had to shoot at, and got good scores. It seemed the first time I'd point a gun at something was generally when I was right on target. If I'd take too much time trying to aim, I'd miss!  Lou's personal defense instructor was Jack Dempsey the former heavyweight world champion boxer who was a 1st lieutenant during WWII. "Dempsey was really big and husky," Lou remembers, "But he really wasn't a very good teacher!"

Lt Jack Dempsey.
(USCG Photo)

New Coast Guard Recruits Manhattan Beach, NY circa 1942.
(Vintatage Postcard)
One morning during basic training Lou remembers seeing a liberty ship burning at out at sea in the dim morning light. "It really wasn't very far off shore and she hadn't gone down yet. We could see all the smoke and the light from explosions after it was torpedoed by a U-boat." But before he even finished basic training he was sent to Quartermaster school on Long Island. "They really needed Quartermasters, so several of us were pulled out of basic when we were only about half way through." The Pequot was his first ship assignment in the fall of 1943. "I had a choice to either ship out as a Quartermaster aboard the USS Breckinridge or the Pequot. I chose the Pequot." Since I already had my Quartermasters rating there were a number of Pequot seamen who were pretty unhappy when I showed up. They had been waiting a long time for a promotion to Quartermaster and here I was right out of basic with a new Quartermaster's rating so I went to the head of the line."
| | |
| --- | --- |
| | |
| USS Breckinridge. (US Navy) | USCG Baker Island Light, Arcadia National Park, Maine. (National Park Service) |
He served most of his time on the ship's bridge as Quartermaster, and actually manned the Pequot's helm while getting cables ashore. He said, "Sometimes I'd be at the wheel and we'd come in so close to the coast that there was land all around us and I could hardly see the ocean at all, especially behind me. We'd bring the bow in right up to the shore so it was almost stuck in the sand." Lou provided us with all of the photos of the action shots of the Pequot crew using amphibious DUKWs or "Ducks" to bring cable ashore and wrestle it onto the beach on the Northern tip of Cape Cod at the Peaked Hill Bar loop station near Provicetown, Massachusetts.
Lou said the Pequot worked very far up the North Atlantic coast. "We would put in at Southwest Harbor, Maine, near Acadia National Park and we got up around Newfoundland." He said the scuttlebutt was that Pequot was restricted to American Theatre of Operation and couldn't cross a line in the ocean and go too far East. And on the other end of things I remember us being down South as far as Cape Hatteras, North Carolina." Lou added.

A Day to Remember.
He recalled how in October of 1944 two Coast Guard cutters, the Eastwind and the Storis raided a weather station the Germans had established on the coast of Greenland and took 12 soldiers prisoner. They then captured the German weather ship Exernsteine which was stuck in the pack ice. Since the Pequot was in the area they were radioed to help escort the Exernsteine down the coast to Boston Harbor. "They asked us along to help out," Lou recalls, 'I think there were more Germans than Americans on board during that trip south."
| | |
| --- | --- |
| | |
| German weather ship Exernsteine stuck in the pack ice at Greenland - Oct 1944. (US Coast Guard). | Exernsteine was taken to Boston harbor after being captured by USGC Cutters Eastwind and Storis. (US Coast Guard). |
Lou vividly remembers the experience of bringing the Exernsteine into Boston: "As we came into the harbor there was about a two to three mile stretch where we were very close to shore. The Pequot was following right behind the German ship. Somehow the word got out that we were bringing in a captured ship and hundreds of people came running out and were lined up along the shore waving and yelling. They were so thrilled to see the Coast Guard had captured a German ship. The big flag with the swastika was up on the ship's mast with the American flag flowing in the breeze above it. That was a very exciting day. It's hard to believe that was more than 60 years ago. That German ship was tied up next to us at Constitution Wharf for about three months and the Pequot crew got to go all through it. It had just been built and was very modern for the times. Everything was push buttons. They even had motorized winches for the life boats. The word was the Coast Guard offered that ship to our skipper, but Sande turned it down. He said it wouldn't suit our mission."
We were out there for a reason. We didn't know why.
Even though as Quartermaster Lou was on the Pequot's bridge and right in the center of the action with the ship's officers, he had no idea that the cables they were laying were part of a top secret submarine detection system: "We were out there for a reason. We didn't know why. We just did what we were told." Lou said that typically there would be a Quartermaster and the Deck Officer on the bridge in the wheel house. "The officer did the navigation and directed everything and all we did was take orders. Every day at Noon the clock in the pilothouse was checked and calibrated correctly. I think they used a radio signal to do it. Captain Sande would only come up there if something was going on and he always seemed to know right were we were all the time. I don't remember him ever using the gyrocompass when I was on duty at the helm and we didn't use the radar that much. He was very dependable and I didn't know of anybody that didn't like him."
As far as life aboard the Pequot Lou tells us that, "It was more of a family kind of feeling than anything else. We had "Watch Standards Liberty," which was 24 hours on or off so you were sort of "on call. We got every other day off when we were in port."
"Lots of times when I'd get liberty I'd take off on my own up to Albany or New York City. We weren't supposed to go as far away as I went. Once I was coming back to New York City and the train got held up in Providence, Rhode Island. There was a Pequot officer on the same train and I thought I was in for it but he never said a word about seeing me on that train. Another time on New Year's Eve I went to a big party in Berkeley, Virginia and didn't make it back by midnight like I was supposed to and when I got there the ship was gone. Luckily I found out she'd sailed before I was due back. Somehow I always seemed to get out of trouble."
When we were in Boston we'd go to The Buddies Club on the Boston Green, It was a like a USO. We'd get tickets and go to dinners, plays or other music shows.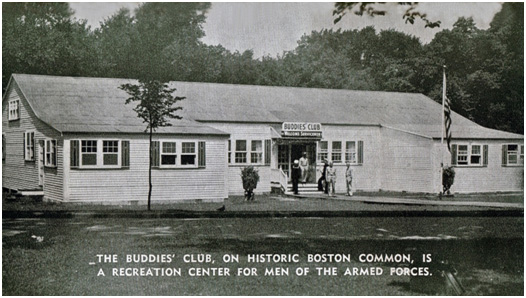 (Catherine Calamaio WWII Scrapbook)
Lou told us he had several girlfriends in the Boston Area. "We'd go to dances in the Polish neighborhood. The girls would fight over us. There were about five girls for every sailor!"
Once we were in Chesapeake Bay and they dropped off about six of us from the launch in knee-deep water to get clams and oysters for the Pequot's cooks. Then they left us there. Well the tide came and by the time they brought the launch back around to get us the tide had come in I was water up to my chin and I almost drowned because I never learned how to swim when I was a kid!"
When it came time for Pequot to take on new cable Lou explained that all hands, even the cooks from the galley would pitch-in to help load cable. "We'd have to take the cable off a large spool on the dock and then with a whole line of guys with somebody about every 10 - 15 feet. We'd drag and push it down into the hold. That cable was really heavy." It was so heavy in fact that Lou got a hernia and ended up in the hospital in Virginia. He was operated on and never went back to the Pequot. "Captain Sande wanted me back aboard the Pequot but the doctors wouldn't release me back to sea duty," Lou tells us. During his six week recovery he was sent to the 5th Naval District Office. "I was kind of a lost soul for almost a year because they lost my records." While he was recuperating somebody asked him, "Can you type?" When they learned he could he was re-assigned to the personnel office at the Coast Guard Receiving Station where he was in charge of assigning sailors to duty aboard other ships.
Lou also recalled that after he left the Pequot a sailor lost his life onboard, "I heard he got tangled up in the anchor chain when it was being lowered and was killed instantly." Lou didn't have a name.
After he left the Pequot Lou served aboard several buoy tenders including the USCGC Mistletoe (WAGL-237)
(US Coast Guard Photo)

Lou Carhart - Phoenix Arizona
August 16th 2010
Later he also served as a Yeoman and Storekeeper aboard the buoy tender the USCGC Mistletoe (WAGL-237), and two short hitches as Yeoman aboard two other buoy tenders. "When the Commandant at the receiving station found out I had a sea-going rate he wanted me back aboard a ship within 10 days. That's how I ended up shipping out as a Yeoman instead of as a Quartermaster. But for about a year I was kind of a lost soul, because they couldn't find all my paperwork. Then my papers were gone again during my last 2-3 months in the service. I was rated as a 2nd class Quartermaster but it was never put on my record." He was discharged out of the service in Virginia 1946.
Out on a date with Sybil in 1946. (Carhart Family)

They were married in April 1947.
(Carhart Family)

During the war years Lou met his future wife Sybil Smith in the South Gate area of Los Angeles where she was born and raised. Her family lived on the same street as Lou's mother and step-father.
Even before they were married he wrote Sybil that he really liked the Riverside, California area where the mountains, desert and orange groves converged. After the war, in the mid-1950s he moved his family there while he was working for his stepfather's fence company in Palm Springs.

Lou got his real estate license in 1956 and became a very active developer. He built sub-divisions around San Bernardino and Riverside and was in the mortgage business. In Grand Terrace, just North of Riverside, he built several tracts of houses and operated a community newspaper.

After he and Sybil divorced in 1969, he built a few homes around Riverside and ran a mortgage company. He was married again briefly around 1980 but continued on by himself staying quite involved with his real estate career.

Lou Carhart in 1962.
(Both Carhart Family)

He was very active in real estate in California and Arizona
In the 1970s Lou began buying land in Northern Arizona around Dolan Springs in Mohave County. He eventually ended up with hundreds of parcels of desert land that he enjoyed buying and selling and doing things with like a game of Monopoly.

| | |
| --- | --- |
| | |
| Sybil with Richard Nixon when he was running for Governor of California. 1962 | With Son Ralph and Uncle Bill Carhart - early 1980s. (Both Carhart Family) |
Lou's son Ralph tells us, "For many years Dad participated in Mohave County's Republican Forum, but, as he was throughout his life, he remained a maverick. Once, as President of LA County's Young Republicans in the 1950s, Dad was one of the delegates to a California state convention. When the leader called for a unanimous vote on some matter, Dad resisted. That was the end of his political career!"

| | |
| --- | --- |
| | |
| Lou with the big card game. | Lou at home in 2012. (Both Carhart Family) |
Ralph admits, "My Dad loved to talk. Whether telling a story, advising or offering an opinion his ability to ramble on was unlimited. We would often have wide-ranging, all night discussions and later in life three-hour telephone calls. Without a doubt, he was contrary and a nonconformist. But he was an outstanding father - always supportive, calm and intelligent. I never heard a bad word from his mouth and he never raised a hand on us, although his punishment for a misdeed was often an hour-long lecture. My Mom always joked with us that perhaps we would have preferred a spanking!"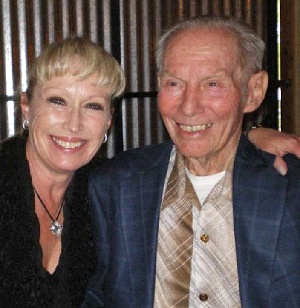 With Daughter Glenda in 2008
Son Ralph, and daughter Glenda, have both also settled in California. Ralph is a Landscape Architect, Rotarianand a Park Board Director. Glenda manages a nationally recognized ballet company and ballet school in Riverside.

Pequot researcher Chip Calamaio recalls, "Lou was the very first person that contacted me when I sent out that first mass mailing of letters in 2009 looking for Pequot sailors or family members. It was very exciting to get his phone call out of the blue. Here was a guy who was aboard ship with my Dad and who remembered him when he was such a young man during WWII.
| | |
| --- | --- |
| | |
| Lou - 2010 | First meeting of Lou Carhart and Pequot researcher Chip Calamaio, Phoenix, Arizona August 16th 2010, |

We visited on the phone for many hours over the years, and he gladly shared all of his photos and memorabilia with us. I even got to meet him in person several times in Phoenix. We got to be good buddies and I really valued his friendship.
I asked Lou if he was ever scared during his time on the Pequot or had a hard time sleeping."

"Nope. I didn't have any trouble sleeping and never knew enough to be scared," Lou said matter-of-factly. "Now that I look back I realize just how young I was at the time...only 20 years old, almost the same as a high school kid."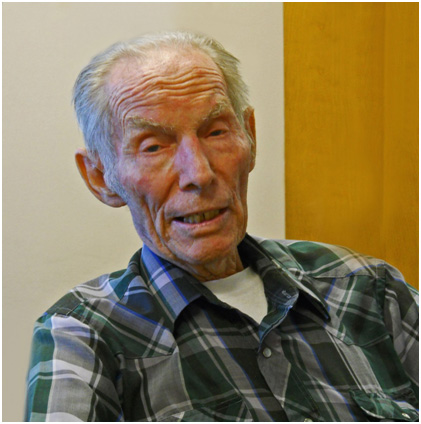 "I was in the best service that there was in World War II."
(Phoenix, Arizona September 27, 2011)
With his children by his side, Lou passed away peacefully on December 10th 2013 at his son's home in Fair Oaks, California. He was 88.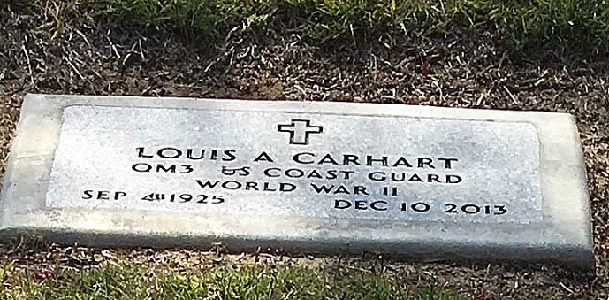 (Carhart Family)
Lou Carhart was laid to rest in the veteran's section of Montecito Memorial Park Cemetery in Colton, California, not far from where his mother, step-father, and sister are also buried. At the time of his passing Lou had 4 grandchildren and 8 great-grandchildren.
---
Every effort has been made to trace and acknowledge copyright. The authors would welcome any information from people who believe their photos have been used without due credit. Some photos have been retouched to remove imperfections but otherwise they are true to the original.
---
FEEDBACK
If you have comments or queries specifically about the Pequot or her escort ships, please contact
Chip Calamaio chipaz@cox.net, Phoenix, Arizona, USA. (H) 602-279-4505.
Click here to go to the Pequot Main Page.