CABLEMAKERS

Indicator Loops consisted of long lengths of cable laid on the sea floor to detect the passage of enemy submarines. This page has the details of some of the cables and the companies that made them. These are not the same cables as used for underwater (submarine) telegraphy even though the cables may be similar. For further information visit the home page shown below.
If you have any feedback please email me:

Dr Richard Walding
Research Fellow - School of Science
Griffith University
Brisbane, Australia
Email: waldingr49@yahoo.com.au


Author with cables at Bribie Island
---
LINKS TO SOME OF MY RELATED PAGES:
How an indicator loop works
---
CABLE TYPES
"LOOP CABLE" - SINGLE CORE LEAD LOADED CABLE - ADMIRALTY PATTERN 1989


This is the cable that actually detected the crossings in WW2. It was made principally by W.T. Henley's Telegraph Works Company, London.  Their registered office (on their invoices) was Holborn Viaduct but this would certainly not have been a manufacturing site - land values are too high, and there is no access to the River Thames. Henley's works was at Gravesend, many miles downstream on the south bank of the Thames. Indeed as manufacturers of submarine telegraph cables, it was essential to have a river-front location, so that ocean-going cable ships could moor at their jetty and take on considerable lengths of cable. (Similarly Henley's competitors, Telegraph Construction and Maintenance Company, earlier Enderby's, had their works on the south bank of the Thames, though further upstream, just downstream of Greenwich, and traces of the jetty, and a symbolic stanchion and large pulley remain, now that the works has closed.) The cable was also made by Siemens, London.
The "1989" cable (shown above) consists of a single core of seven strands of 0.029" tinned copper wire (#1) covered with three layers of India rubber (#2 in Fig.) on which is attached the manufacturer's identification tape. Covering this is a layer of thin (0.5 mm) waterproof tape (#3) and wound with 16 strands of jute yarn each about 2 mm in diameter (#4). The jute yarn layer is then covered with a tarred hessian mesh (#5) and a spirally wound anticlockwise layer of eight strands of 3.2 mm diameter pure lead wire (#6). These lead windings are covered with more waterproof tape (#7), 24 strands of a tarred jute serving (#8), and one more layer of hessian tape (#9). The whole is protected with a clockwise winding of 22 steel armour wires (#10), each about 1.9 mm diameter covered in pure lead 0.8 mm thick (Fig. ). Then there is a braiding of dressed hemp yarn wrapped over hot pitch and resin (not shown), and finally a preservative coating. The final diameter is 1.35" (34.3 mm).
It has a linear density in British imperial units of 6.09 tons per 2000 yard mile in air (6.8 lb per yard) or in metric units: 3.4 tonnes/km (3.4 kg/m). Final diameter (1.35") 33 mm. It weighed 6.09 tons per 2000 yard mile in air (6.8 lb per yard) and 4.56 tons per mile in sea water. Its breaking strain was 3.00 tons and had a resistance of 11 Ω per mile. The cost in 1938 was ₤180 per 1000 yards (which equates to approximately ₤9000 per 1000 yards in today's money). In some harbours the Royal Navy used ADM Pattern 13142, a 7-core lead-loaded cable. The electrical resistance was 6 ohms/km. Henley's also made another type of cable offered as a replacement for the Type 1989. It was Type 6190A - a lead covered single core of 28 strands or 0.012" tinned HD (hard drawn) cadmium copper wire. The cadmium increased the breaking strain from 250 lb to 470 lb.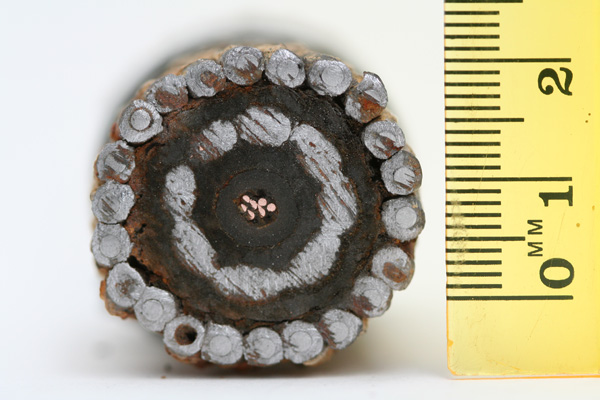 ---
2 CORE CABLE (possibly ADM Patt. 841B)

| | |
| --- | --- |
| | |
| 2 core, 7 strand, 0.029" cable as used in the HDA loops for sending out the signal. It was made by British cablemaker W T Henley (London) in 1940 and used in WW2. | Longitudinal section shows the two cores insulated with white centered black india-rubber wound in silk with jute beddings. This is wound with more silk and oiled jute insulation and 12 strand steel armour wire. A double layer of tarred hemp wound in opposite directions encloses the steel. |
The silk in the cable appears to have been made by Whitchurch Silk Mill, Hampshire - the oldest surviving silk (throwing) mill in the UK still weaving silk on original Victorian looms, in its original Regency building. You can find more on the website: www.whitchurchsilkmill.org.uk
In recent years, silks produced at the Mill have been used in period costume dramas and silks for restoration work have been woven for the National Trust and various stately homes throughout the UK. During WWII, the ministry approached the Mill owner to see if he would weave silk for parachutes. Unfortunately he was very elderly and, like himself, he felt that the Victorian machinery was not up to the job. Instead, the Mill supported the war effort by weaving a type of raw silk organza for insulating communication cables.
My thanks to Jacqueline Browne who is currently working on a short social/economic history (guide) of the Mill, to mark their bicentenary this year.The charity will seek to raise funds by selling the book to visitors to the Mill; funds raised going towards their Bicentenary Appeal for urgent repair work to the fabric of the buildings and machinery.

---
3 CORE CABLE - ADMIRALTY PATTERN 5700

| | |
| --- | --- |
| | |
| The 3 core, 7 strand, 0.029" was used for 110 V DC power. It had 12 strands of armour wire. It was made by British cable maker Hoopers in 1940 (for WW2). | The 3 cores are insulated with 5 mm black rubber and printed with numerals 0, 1 and 2. Each is wrapped in cotton gauze and there is more cotton gauze around the three cores. Six strands of hemp beddings is used, followed by 12 strand armour and two layers of tarred jute braid (not shown in photo). |
---
4 CORE CABLE - ADMIRALTY PATTERN 7048 and 9610 (and Patt. 13139 & 13140)

| | |
| --- | --- |
| | |
| The ADM Patt. 9610 was a 4 core, 7 strand, 0.029" cable used for loop tails. It was made by Johnson & Phillips (UK) in 1941. It has a diameter of 25 mm. This cable has greater endurance than Patt. 7048 (below) and was often used on the shore end of rocky landings. | The longitudinal section of Patt. 9610 shows the four central cores insulated with 5 mm diameter rubber (3 are white, one black), surrounded by 18 mm diameter rubber bedding. Also visible is the 25 mm wide cotton gauze around the rubber; the central square white rubber core (not visible) and the 22 strand steel armour. This cable was supplied by Johnson & Philips. You can just make out the reversed name transferred on to the white rubber (see photo below for a better image). |

The Johnson and Phillips name is clearly visible on the cotton. Any attempt to move this fabric results in its destruction as it is made of single strands of cotton, not woven together.

The ADM Patt. 7048 Edison Swan cable. This is also a 4 core, 7 strand made by Edison Swan Cables Ltd, Lydbrook, Gloucestershire in 1940 for their parent company Siemens Electric Lamps and Supplies Ltd (38 Upper Thames Street, London). The details on the tape can still be seen quite clearly after all these years on the beach. This cable has 3 cores in white rubber and one in black rubber which are laid up together with centre divider of black rubber, square in section. The cores are insulated with a rubber sheath and armoured with 20 galvanised steel wires, finally braided with hemp yarns and compounded with preservative. Weight per mile in air: 3.1 tons. The Australian Naval Board paid UK£144 per 1000 yards for this type of cable in 1938.
---
7 CORE CABLE - ADMIRALTY PATTERN 660

| | |
| --- | --- |
| | |
| 7 core, 7 strand, 0.029" was used as a loop Tail cable, or for 220 V DC power or for the HDA "Training" tails. It was made by Hoopers in 1941. | The 7 cores were each insulated with india-rubber and wound in silk and separated by jute beddings. This was wrapped in more silk and tarred jute braid and protected by 15 steel armour wires (30 mm diameter) and two layers of tarred hemp braid wound in opposite directions. Similar to Admiralty Pattern 13135. |
| | |
| --- | --- |
| | |
| Terminating lugs on a 2-core cable in the HDA Room. | The same cable showing how the steel armour wires were layed back over "pudding rings" (Adm Patt 841B) on the ends. |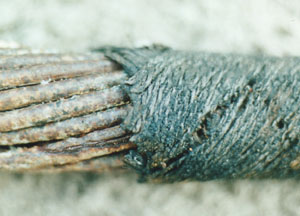 Close-up of a 7-core cable armour wire and braid. A hot pitch and resin mixture was applied by the cablemaker (in England) over the armour wires and then two layers of braid were wound on in opposite directions. A waterproof protective coating was added to the outside.
---
USA EAST COAST HARBOR DEFENSE CABLES
The USN used two types of cable for indicator loops: Type 111 cables was used for the Legs and Type 113 was for the Tails.

TYPE 111 LEG CABLE

According to the USN harbor Defense manual, the Type 111 Leg Cable consisted of a central conductor of 7 strand 0.040" 10AWG tinned copper insulated with 6/64" rubber compound. Covering this was a 0.012" thick rubber filled tape and a jacket of high gravity rubber compound. Another single layer of rubber filled tape (0.012") was next, followed by 28 strands of No. 12 BWG (0.109") armor wire. A waterproof outer serving of 16 strand 3 ply jute was used which was covered in coal tar. The total weight of the cable in air was 1421 lb per 1000 ft (897 lb in sea water). This cable had an over SG of 2.8 and was 1.218" in diameter. Its tensile strength was 13000 lb. A typical reel of cable contained 8000 ft, weighed 13, 700 lb and was 84" in diameter. The reel occupied a volume of 300 cu. ft.
The cable shown below was recovered from a harbour on the East Coast of the USA in August 2011 (probably Boston). It appears to be the Type 111 Leg Cable. Its diameter is 1 inch (25mm). The manufacturer is unknown. My thanks to Jerry Butler for procuring the sample and to Chip Calamaio for posting it to Australia.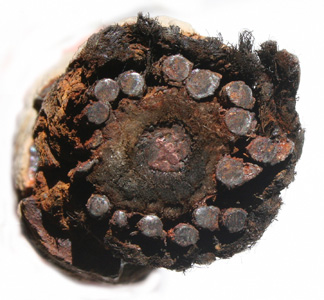 No.
Component
Outside diameter (mm)
Outside
Diameter (in)
Component
diameter (mm)
Component
diameter (in)

1

7 copper conductors

2.7

0.10

0.91

0.036

2

1 layer rubber insulation

7.0

0.27

2.1

0.082

3

13 jute strands (CW)

9.5

0.37

1.6

0.063

4

19 jute strands (ACW)

12.7

0.50

1.6

0.063

5

16 armour wires (CW)

19.4

0.76

2.5

0.100

6

18 tarred jute strands (ACW)

22.8

0.90

1.6

0.063

7

18 tarred jute strands (CW)

25.1

1.00

1.6

0.063

8

coral

27.0

1.06

1.0

0.040
The copper wire is 19 AWG, the steel armour wire is 10 AWG.
The cable consists of a single core of seven strands of 19 AWG 0.036" tinned copper wire (#1) enclosed in a single layer of rubber insulation (#2). Covering this is a layer of 13 strands of jute yarn (#3) - laid clockwise - overlain with 19 strands of similar jute yarn (#4) laid anticlockwise. Protecting this core is a clockwise (CW) winding of 16 steel armour wires (#5), each about 1.6 mm diameter (10 AWG). The armour wire are protected and waterproofed by a braiding of 18 strands of dressed jute yarn wrapped anticlockwise (ACW) over hot pitch and resin and another 18-strand layer of 18 strands of dressed jute yarn. The cable is finished with a bituminous preservative coating. The final diameter is 1.00" (25.1 mm).
It has a linear density in British imperial units of about 2 lb per yard (3550 lb/mile or 1.8 short tons per mile; 1.6 long tons/mile). The metric equivalent is 1.0 tonne/km. Its linear density in water is 0.51 tonnes/km.

TYPE 113 TAIL CABLE
The cable shown below was located in Casco Bay USA by Chris Whalen (email: Whalenolder@aol.com). Chris operates a salvage business along the coast of Maine and has recovered some submarine cables from Casco Bay. His company, Coastal Reclaim, LLC salvages abandoned utility wires that riddle the mid-East Coast ocean floor, as well as lighthouse cables that are obsolete due to solar technology. It is probably Type 113 Tail Cable.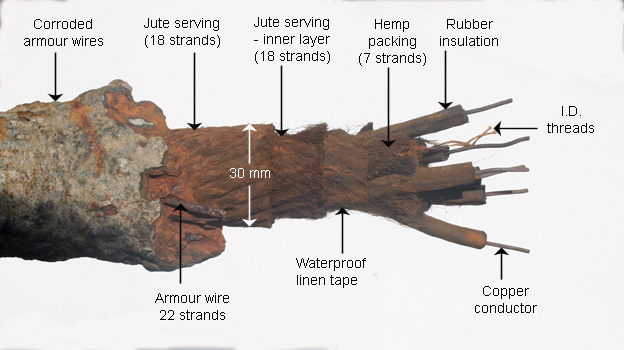 A longitudinal section of some east coast harbor defense cable. This is probably Type 113 Tail Cable. The outer armour wires are badly corroded from 60 years in a salty environment. The original diameter was about 40mm (1.6 inches) assuming there was an outer waterproofing covering of tarred jute. The steel armour wires are 2.5 mm diameter (10 gauge AWG) protect two layers of jute, each wound clockwise and consisting of 18 strands. Under these is a waterproof linen tape which surrounds the six cores of the cable. Each core consists of a tinned copper conductor of 1.3 mm diameter (16 gauge AWG) insulated with a rubber sheath of 5 mm diameter. The cores are protected and separated by seven strands of hemp packing. There is also a twin white thread enclosed with the cores - possibly an identification thread. To gat a sense of the scale I have shown the diameter of the outer jute serving as 30 mm. This cable is quite possibly a indicator loop tail cable. More about this cable at my
US Navy Peaks Island
website
---
FIRTH OF FORTH INDICATOR LOOP CABLE 1915

This cable was manufactured by Liverpool Cables in 1914 and used for experiments by Prof. Alexander Crichton Mitchell at the Admiralty Research Station, Hawkcraig in 1915. The cable was recovered at the end of the war (1918) and given to Prof. Mitchell for his experiments on the variation in the vertical component of the earth's magnetic field when he was Director of the Eskdalemuir Magnetic Observatory in Southern Scotland. The cable was recovered in December 2005 by John Riddick using additional information supplied by Richard Walding and Peter Robinson; and Mitchell's article published in the Proceedings of the Royal Society of Edinburgh, viz: Mitchell, A C. On the vertical force changes during the "sudden commencement" of a magnetic storm. Proceedings of the Royal Society of Edinburgh Vol. 45, no. 26 (1925) pp. 297-301.

| | |
| --- | --- |
| | |
| Longitudinal view | Cross Section |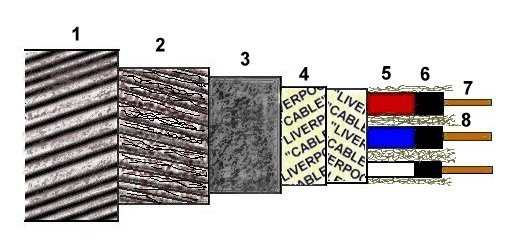 "Liverpool Cable" used at Eskdalemuir: Four core, single strand 1.23 mm copper wire (#7) sheathed in 2-layer rubber insulation (#6) of diameter 3.7 mm and wrapped in jute identification tape (red, white, black and blue) (#5) with the manufacturer's name "Liverpool Cable" printed on inside. The cores are separated with five strands of 36-thread cotton serving (#8), wrapped in two layers of linen identification tape (#4) and encased in a 1.5 mm thick lead sheath (#3) of diameter 12.8 mm and wrapped in 18 strands of tarred hemp serving (#2) and armoured with 26 strand 2.0 mm steel wire (#1) to a final diameter of 18.8 mm (¾").
| | |
| --- | --- |
| | |
| Linen identification tape (#4) | The cores are separated with five strands of 36-thread cotton serving (#8) |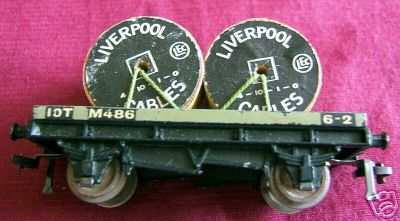 Toy showing Liverpool Cable reels. The Liverpool Electric Cable Company works was located in Linacre Lane, Bootle, Merseyside. These massive cable drums would be seen delivered to the docks on the backs of 'Pickfords' low loader trailers.
There were two distinctive electric cable manufacturing companies next door to each other on Linacre Lane. There was the Liverpool Electric Cable Company, established on 10 August 1901, which was on the corner opposite Vernon's (Football) Pools. The other was Mersey Cable Works Ltd, which was was next to the Coronation Hotel. The Liverpool Cables started life as a wire rope factory, later converting to electric cables. In 1953, AEI acquired Siemens Bros, taking over the Liverpool Electric Cables Company in 1958. The factory then became Vactite Wire Company. The Liverpool Electric Cable Company was formally dissolved on 5th February 2002. Mersey Cables was acquired by Enfield Cables in 1961. After it folded it became Skellys motor dealership, then becoming Peoples motor dealership.
| | |
| --- | --- |
| | |
| A view of the interior of the Liverpool Electric Cable Company, Bootle. Photographed by Stewart Bale Ltd, 1920-9. | Mersey Cable Works Ltd employees with an electric cable drum, 1941. Photo: National Museums Liverpool, Stewart Bale archive reference 41497-5. |
| | |
| --- | --- |
| | |
| Workers in front of Liverpool Cable factory 1960. | Demolishing the facade of the old Liverpool Cable factory. |
| | |
| --- | --- |
| | |
| The main entrance to the Liverpool Cables (later Vactite). There used to be a big crane here. | The main office - Vactite. |
---
HOOPERS
Hoopers was named after William Hooper, a chemist, who became interested in rubber about 1845. He established a factory at Mitcham to manufacture rubber goods for the medical world, but at the same time was experimenting with rubber for electrical insulating. He established a process for vulcanising electrical cables. In 1864 a consulting company proved his process was superior to gutta percha, and resulted in an 1865 contract with the Indian Government for a submarine communications cable 12 n. m. in length. This cable, and an 1866 one to Ceylon were armoured by Henley's. An 1869 cable to the Persian Gulf was again a Hoopers core with Henley armouring. The passing years resulted in many more Hoopers cables. In 1870 Hooper formed Hooper's Telegraph Works Limited. Probably their biggest cable contract was producing and laying the 2,300 n. m. cable connecting Vladivostock-Nagasaki-Shanghai-Hong Kong. The C. S. Hooper when built in 1873 to lay the Brazilian cable, was the then second largest cableship in the world at 4,935 gross tons, second only to the Great Eastern. Hooper was sold in 1881 to the India Rubber, Gutta Percha and Telegraph Works Company and renamed Silvertown.
---
HENLEY
W. T. Henley was born in 1814 at Midhurst, Sussex. He was a worker on the London Docks in 1830 and self educated himself. He established himself as a maker of scientific and electrical instruments. One of his customers was Professor Wheatstone. W.T. Henley cableworks began in a workshop in London, 1837, with the manufacture of covered wires. Henley's first submarine cables were produced in 1857. In 1859 he spent £8,000 building a factory at North Woolwich beside the Thames. His name would soon be synonymous with the development of submarine telegraph cables, a success story that culminated in 1863 with the laying of the Persian Gulf telegraph cable, 1615 miles long, for the Indian Government. By the end of 1873 the Henley site had spread to cover some 16 acres and Henley owned 3 cable laying ships and a 400 foot wharf to allow 500 ton ships to load and unload. In 1880 the original firm was reorganised as W. T. Henley's Telegraph Company. He died in 1882. In 1906 work was completed on the impressive Gravesend factory on the Thames, which like the North Woolwich factory included wharf facilities but, perhaps more impressively, extensive purpose built research laboratories. The choice of Gravesend for a site was an easy one, as company historian Ernest Slater wrote in 1937 "Gravesend is where the sea ends and the river begins".
The Second World War saw Henley's company winning praise for various tasks performed for King and Country, especially its development and provision of harbour defence cables for indicator loops and mine cables as well as supplying degaussing cables to protect ships from magnetic mines. Henleys received special praise for its contribution to 'Operation Pluto', the system of petrol pipe lines across the English Channel.
Some of the cable ships were attended by local shipping company Wavecrest Ltd. When ships were loading at the jetty the cable used to run in one continuous length from the factory and was wound onto special drums on board the ships (photo below). Loading continued 24/7 until finished. The depth of water at the jetty was too shallow to accommodate some of the modern cable ships. Barges used to be brought alongside the jetty and the cable ships would then more up to them in deeper water. Getting on and off the ships was an interesting exercise involving scaling a number of ladders from the main jetty up and over the barges and then finally onto the ship. A bit of a marathon especially when carrying ship's papers, sea charts, ship's spares and trying not to drop them in the river! The main Henley factory at North Woolwich however, suffered repeated damage during the war years which led to the decision to build a purpose-built factory at Birtley, completed in 1950.
In 1959, W T Henley & Co was taken over by the AEI conglomerate. AEI was in turn taken over by industrial giant GEC in 1967. Finally in 1997 the cable operations were divested to T T Electronics. In October 2009 it was announced that Henleys/AEI, (one of the last manufacturing companies based by the River Thames in Northfleet) would be moving it's remaining operations to a new site in Sandwich after more than 100 years in the town. Cable making finished in Northfleet a couple of years ago but one division of the company continued to make specialist compounds (used to cover cables). Some of the last submarine cables manufactured at the plant were used on the Kentish Flats wind farm project in the Thames Estuary off the North Kent Coast. In November 2009 Glen Humble took some pictures (above) for posterity "before it is turned into another faceless housing estate" (his words). More at: http://kenttodayandyesterday.blogspot.com
| | |
| --- | --- |
| | |
| View from the riverside footpath of some factory units in poor condition. These buildings look older, maybe from 1906. | View along Crete Hall Road showing factory buildings which are believed to have been built around 1939. |
| | |
| --- | --- |
| | |
| This office overlooking The Thames is in a terrible state. | The cable may have been run out from this tower to the works own jetty where it was loaded onto specialist cable ships. |
| | |
| --- | --- |
| | |
| W T Henley's fine looking disused office building on Crete Hall Road is unfortunately already attracting attention from vandals. | Henleys had their own research laboratory. During the WW2 and were involved in several important military projects. They manufactured degaussing cable for ships to counteract the threat of German magnetic mines and anti-submarine indicator loops were their main contributions. |
| | |
| --- | --- |
| | |
| Advertisement for loop cable for the Australian Navy - 1938 | Invoice for loop cable for the Australian Navy 31st August 1938 |
---
EDISON SWAN
H.W. Smith & Co., established in 1910 as the Electric Wire & Cable Co. at the Trafalgar Works in the Forest of Dean, Gloucestershire, moved into new premises on the other side of Stowfield Road near the River Wye and adjacent to the then Steam Railway Junction in 1912, to be known as the Lydbrook Cable Works. The Cable Works, during the first World War, 1914/18, employed some 650 people, producing cable for the field telephones, some 15,000 miles of it was made. The factory was then acquired by the Edison Swan Electric Co. in the mid 1920s, then employing some 1200 people, producing Power Line Cables. It closed down in 1965 with the loss of some 650 jobs.
---
SIEMENS
During these same Victorian years Sir William Siemens, who founded Siemens and Halske in1858, was equally as active in the manufacture of submarine cables, in addition to projects as diverse as dynamos and recording instruments. The Victorian Era came to a close and soon the Great War clutched Europe, acting as it ravaged as a great catalyst for technological and industrial change, particularly in the realms of electrical equipment and distribution. The great depression followed and during these bleak years The Edison Swan Electric Company became the founder member of the Associated Electrical Industries (AEI) in 1929.
In 1953 AEI acquired Siemens Bros., taking over the Liverpool Electric Cables Company in 1958 and Henleys a year later. These cable companies were integrated as the AEI Cable Division, reorganised in 1960 into four product groups. In 1967 the General Electric Company took over AEI Cables and Hackbridge Cables Co., culminating in the formation of AEI Cables Ltd in 1968. In 1982 production of Mineral Insulated Cables commenced at AEI's Cables Bootle factory in Merseyside.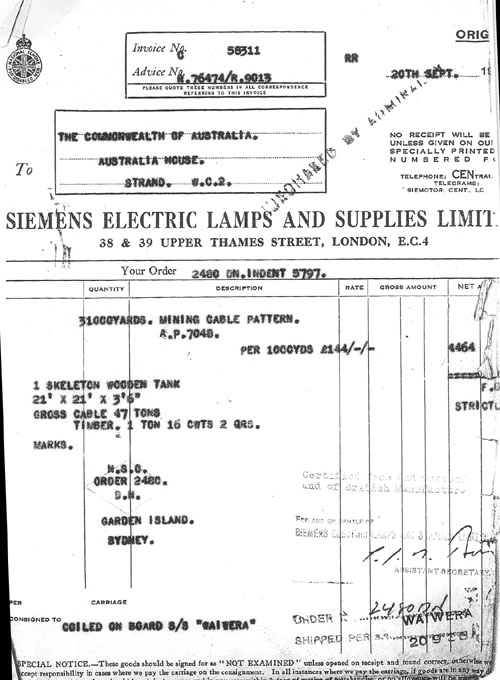 Invoice for loop cable for the Australian Navy, 20th September 1938
Merger

Henley, Siemens and Edison Swan eventually merged into one of the biggest cable manufacturing companies in the world.
---