| | | | |
| --- | --- | --- | --- |
| | | | |
| The Men | The Spirit | The Ship | The Mission |
USCG CABLE SHIP PEQUOT - UNITED STATES HARBOR DEFENCES

OUR SAILORS' STORIES

This page tells another one the stories of the sailors who served aboard the U.S. Coast Guard Cable ship Pequot during World War II. The Pequot served as a harbor defense cable-laying and repair ship under direction of the US Navy. Her full story can be found on the Pequot Home Page.
---
THE CLARKE STRAIGHT STORY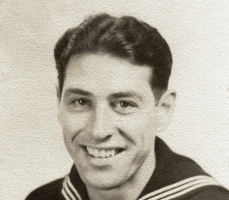 193. Clarke Straight
Chief Yeoman USCG Pequot.
(Elaine Straight-Sanders).
John "Clarke" Straight and his twin brother were born in Attleboro, Massachusetts on September 4th 1912. After growing up in Attleboro, in the 1930s he put himself through college and earned a business degree from Northeastern University. He worked for the electric company in Attleboro until the war broke out when he enlisted in the Coast Guard a month after the attack on Pearl Harbor in January of 1942. He joined the crew of the Pequot as a Yeoman and was best buddies with Martin Coppo. Like Martin, Clarke told of being along the coast of Maine and having to "jump into that cold water to put down cable!" Clarke recalled how cramped life was aboard ship and that "there really wasn't much time to socialize. Besides everybody was just too tired after all the hard work each day."
In 1943 he met Elsie Hosking in Portland, Maine. She was a photographer at a Porteous department store that put coupons at USO clubs offering free photos to servicemen. Clarke took advantage of the offer and Elsie took his photo. When he saw her again at a USO dance he remembered her and they started seeing each other whenever the Pequot was in port. They married in Boston in January of 1944 while was on leave. Elsie remembers that, "Sometime in 1944 Clarke was promoted to Chief Yeoman and he surprised me in his new uniform!"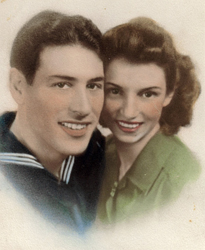 194. Clarke and Elsie Straight
- during WWII.
(Elaine Straight-Sanders).
In the spring of 1944 he left the Pequot and was transferred to Curtis Bay Naval Shipyard, Maryland where he worked in a small cramped office and did "lots of typing to keep busy." His daughter Elaine was born in October 1944, so that next January Clarke got an apartment in Baltimore for his growing family. At one point in his Coast Guard career he was bunkmates with major league baseball star Hank Sauer of the Cincinnati Reds. After Clarke was discharged in November of 1945 he moved is family back to his boyhood home of Attleboro where he worked for many years as a salesman for John Hancock Insurance. Clarke was an avid reader, he loved to dance, and was a big fan of Benny Goodman. He played golf and was travelled throughout the United States and Europe. His daughter Elaine gave Clarke and Elsie their grandson Jeremy.
Clarke Straight passed away in 1994.
---
Every effort has been made to trace and acknowledge copyright. The authors would welcome any information from people who believe their photos have been used without due credit. Some photos have been retouched to remove imperfections but otherwise they are true to the original.
---
FEEDBACK
If you have comments or queries specifically about the Pequot or her escort ships, please contact
Chip Calamaio chipaz@cox.net, 938 E. San Miguel Avenue, Phoenix, 85014, Arizona, USA. (H) 602-279-4505.
Click here to go to the Pequot Main Page.