| | | | |
| --- | --- | --- | --- |
| | | | |
| The Men | The Spirit | The Ship | The Mission |
USCG CABLE SHIP PEQUOT - UNITED STATES HARBOR DEFENCES

OUR SAILORS' STORIES

This page tells another one the stories of the sailors who served aboard the U.S. Coast Guard Cable ship Pequot during World War II. The Pequot served as a harbor defense cable-laying and repair ship under direction of the US Navy. Her full story can be found on the Pequot Home Page.
---
BOB LIVINGSTON'S STORY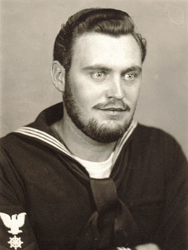 139. Robert L. Livingston
Pequot Quartermaster 2nd Class
1942 - 1946. (Mike Luongo).
Robert Lucian Livingston was born and raised on the family farm in Columbus, Ohio on land originally given the family by Thomas Jefferson. After graduating from the city's South High School in 1939, he attended Ohio State University. While pursing his degree he continued to help out on the family farm and worked part time for the F. W. Woolworth Co. where he met the love of his life Norma Zavitz.
Once World War II broke out he enlisted in the Coast Guard to serve his country in 1942. After completing basic training Bob went to Quartermasters School and was then immediately given orders to ship out on the Pequot.
140. Quartermaster Bob Livingston by one of the Pequot's 20mm cannons.


(Jim Hudlow).

141. Bob - up by the bow. Notice the Pequot's main cable pulley or sheave to the right.

(Mike Luongo).

142. Bob using the intercom. Notice the deck mounted ammunition ready-boxes behind him.


(Freiermuth family).
He spent his entire Coast Guard career aboard the Pequot and for four years served on the bridge where his strong hands guided the helm of the ship during the delicate maneuvering needed for cable laying operations and when battling through the heavy seas of North Atlantic winter storms. After Japan surrendered Bob stayed with the Pequot until he was discharged in Boston as a Quartermaster 2nd Class in January of 1946.
Bob at home in Columbus, Ohio with Norma's holiday decorations, Christmas 1949.

(Calamaio family).

Bob and Norma with Pequot Storekeeper Bill Eberle who visited the Livingstons at their cabin in Cavallo, Ohio September 1949.

(Calamaio family).
With the war over, he settled back in Columbus, Ohio where he and Norma were married in 1947. He went to work for the Battelle Memorial Institute in Columbus where took a position as a research chemist until he retired in 1985. In his spare time he was an avid outdoorsman and loved to break away to hunt in the woods of Ohio, and fish the state's rivers and lakes. Bob and Norma had one son, Robert who gave them three grandchildren.
The Christmas greetings Bob and Norma sent Roger and Catherine Calamaio 1950.
(Calamaio family).

Bob Livingston, daughter-in-law Marilyn, son Robert, and Norma 1983. (Calamaio family).
Bob was a dedicated and loving family man and father. His son Robert, who lives in Orient, Ohio recalls, "My Dad was more than a father, he was my best friend, and after he retired there is no doubt that is favorite thing to do was to play with his three grand kids." Bob Livingston passed away in January 1999.
Although he'd lost track of many Pequot sailors, Bob stayed close friends with some of the crew the rest of his life. His son, Robert remembers, "My Dad's shipmates always held a special place in his heart, and the memories of those men always brought a smile to his face."
---
Every effort has been made to trace and acknowledge copyright. The authors would welcome any information from people who believe their photos have been used without due credit. Some photos have been retouched to remove imperfections but otherwise they are true to the original.
---
FEEDBACK
If you have comments or queries specifically about the Pequot or her escort ships, please contact
Chip Calamaio chipaz@cox.net, Phoenix, Arizona, USA. (H) 602-279-4505.
Click here to go to the Pequot Main Page.