| | | | |
| --- | --- | --- | --- |
| | | | |
| The Men | The Spirit | The Ship | The Mission |
USCG CABLE SHIP PEQUOT - UNITED STATES HARBOR DEFENCES

OUR SAILORS' STORIES

This page tells another one the stories of the sailors who served aboard the U.S. Coast Guard Cable ship Pequot during World War II. The Pequot served as a harbor defense cable-laying and repair ship under direction of the US Navy. Her full story can be found on the Pequot Home Page. All images courtesy of Jean (Jusek) Monahan unless otherwise indicated.
---
The John J. Jusek Story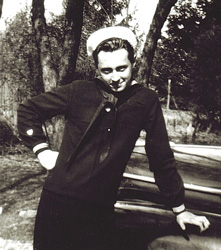 110B. Seaman 1st Class John J. Jusek

The son of Czechoslovakian immigrants, John J. Juzek was born on October 8th 1921 in Cleveland, Ohio as the youngest of four children. John's family spoke Czech at home when he was growing up. His father, Frank, was a violin maker and related to the famous master luthier John Juzek of Prague, Czechoslovakia. Today vintage Juzek violins and other Juzek string instruments are highly sought by collectors and musicians.
| | |
| --- | --- |
| | |
| 110C. Violin maker John Juzek in Prague, Czechoslovakia 1935. (Paul Perley Cellos). | |
His family's musical heritage must have been in his DNA because at a very young age John became an accomplished violin player and versatile musician. By the time he attended Cleveland's James Adams High School he was Concert Master of the orchestra. After high school graduation he went to Ohio State University and played saxophone, clarinet, and trumpet in several big bands. Once World War II broke out he left OSU after only one year and joined the Coast Guard. After basic training he first joined the Coast Guard crew of the USCGC Sea Cloud (WPG-284) which was a specialized weather observation ship which served Atlantic weather patrol stations assigned to the Eastern Sea Frontier from her home port of Boston. Next he found himself aboard the Pequot as a Seaman 1st class where he was involved in cable laying work and the endless other duties to keep the ship running in top shape.
110D. USCGC weather patrol ship Sea Cloud (WPG-284).
(U.S.Naval Historical Center Photo NH 92944).

110E. John is third from left with shipmates under the Pequot's flying bridge.
Even though John was going off to war, he brought his music with him. He must have had a clarinet stashed in his seabag all along since we've discovered photos of him playing with Radioman John McCormack on guitar, Chief Commissary Steward Henry Hathaway on washtub string bass, and another sailor on the accordion, all jamming away next to the lifeboats on the upper deck of the Pequot. Supposedly the Pequot Band even went into Boston and recorded a record.
| | |
| --- | --- |
| | |
| 110F. John Jusek sitting on the Pequot's gunwale with his shipmates. | 110G. The Pequot Band. (John McCormack family). |
After the war John went back to Ohio State around 1946. Around this time he, like many others, decided to Americanize his last name and changed it to Jusek. Shortly after arriving back on campus he met OSU student Barbara Jean Hurley, from Xenia, Ohio.
110H & I. John and Barbara Jusek - 1947
When not attending classes he played with a number of swing bands as well as with the Columbus Philharmonic Orchestra under conductor Izler Solomon where he played a violin made by this father. But before he finished his degree he jumped at the opportunity to go on tour as a musician. He and Barb traveled around the country with the Gene Eyeman Band, and while playing at the French Lick Springs resort hotel in Indiana they got married on April 11th, 1948.
110J. John Jusek with the Gene Eyeman Band
110K. French Lick Springs Hotel.
(Vintage Postcard).

110K2. John Jusek playing with the Gene Eyeman Band at the French Lick Springs Hotel in Indiana.
After being on the road for several years playing around the country with Henry Busse's "sweet dance band" Orchestra, Don Ragon's band, and the Jimmy Frank Band, including tours of Colorado and Texas, the Juseks found themselves back in Columbus, Ohio.
110L. Henry Busse.
(Big Band Library).

110M. Jimmy Frank band

110N. Close-up of John Jusek with the Jimmy Frank band
Once they put the suitcases away, Barb went to Ohio State and finished her degree. She then worked for American Education Publications, later bought by Xerox. John sold pianos for a while and opened a violin studio adjacent to the piano store. Like many musicians John needed a real "day job" so throughout the 1950s and 60s he worked as Sales Manager for the Krema Nut Company of Columbus which made natural peanut butter.
| | |
| --- | --- |
| | |
| 110 O. (Columbus Star newspaper May 15th 1954). | 110P. (Columbus Dispatch August 10th 1964). |
After 16 years of marriage and being told that they couldn't have children, John at 42 and Barb at 38 were quite surprised to learn that a baby was on the way! Daughter Jean Marie was born in 1964.

Then in 1974 Barb was promoted to Personnel Manager for Xerox and the Juseks moved to Middletown, Connecticut. In the 1970s it was almost unheard of for a family to move because the wife got promoted, but John loved the arrangement. He took over as a house husband raising Jean and doing the shopping and cooking. This gave him the freedom to pursue his music and let the rich tones of his father's violin join the crescendos of the Hartford and New Haven Symphonies, but as daughter Jean claims, "He mostly fished and played tennis!" Around 1980 the Juseks bought a second home in Lake Wales, Florida and went there every year to escape Connecticut's winters. John and Barb had their favorite fishing hot spots from Canada to Florida where they used to love to wet a line. In 1992 Jean gave them grandson Matthew Jack.
John J. Jusek died from complications of leukemia in 1995 and never got to know his second grandson John Michael Monahan - born in June 2000, but Barbara had lots of fun with the next generation "John" in the Jusek line before she passed away in 2008. Daughter Jean says, "I know they are together somehow...and I bet he is fishing."
---
Every effort has been made to trace and acknowledge copyright. The authors would welcome any information from people who believe their photos have been used without due credit. Some photos have been retouched to remove imperfections but otherwise they are true to the original.
---
FEEDBACK
If you have comments or queries specifically about the Pequot or her escort ships, please contact
Chip Calamaio chipaz@cox.net, Phoenix, Arizona, USA. (H) 602-279-4505.
Click here to go to the Pequot Main Page.