WILLIAM S. MOORE'S

STORY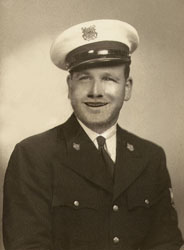 Bill Moore shortly after his Coast Guard enlistment in October 1942
William Seraff Moore, was born on March 25th 1918 in Philadelphia, Pennsylvania to Norman and Anna Moore. He and his older brother Norman and sister Dolores, grew up in Philadelphia and Moorestown, New Jersey then, after their father went to work as an equipment design engineer with the United Shoe Machinery Corporation in Beverly, Massachusetts, the family moved to Danvers, Massachusetts.
After Bill graduated from Danvers High School in 1936 he worked for a while selling used cars and as a driver to bring milk from Maine down to the greater Boston area. But in 1938, only two years after leaving high school, he founded Moore's Cleansers and Dyers, initially working out of his bedroom in the family home in Danvers. To get things started he shuttled cleaning between Danvers and Boston where he arranged for his customer's dry cleaning. Bill worked hard and saved his money and was soon able to put enough capital together to establish his own dry cleaning plant in Danvers Square. During this period he also earned a private pilot's license, but made little use of it afterwards. In 1941 he married his high school sweetheart Mary E. McNally who pitched in right away and helped Bill run the cleaning business.
| | |
| --- | --- |
| | |
| Bill Moore's first dry cleaning store and panel truck 1938 | Bill and Mary Moore during the war years. |
In the fall of 1942, following the lead of his brother Norman, who had joined the Navy, and his brother-in-law Harry L. Hudson who was a career Coast Guardsman stationed in the Pacific, Bill joined the Coast Guard to serve his country and do his part in the war effort. Due to his business background, after basic training he was trained as a Storekeeper.
Bill Moore's official US Coast Guard Identification Card

Anti-submarine netting between Fort York Redoubt and McNabs Island, Halifax, Nova Scotia, May 1942.
(National Archives of Canada)
His son, Gary tells us that his Dad often spoke of his time aboard the Pequot where he served as a Storekeeper 1st Class, and of the harbor based anti-submarine gates and nets that he saw from New York City as far north as Nova Scotia. As the Pequot's Storekeeper Bill was responsible for the issuing of equipment and tools, arranging for shipping and receiving, and the purchase of supplies and consumables, like food, or anything else that the crew would need to stock-up on before heading out to sea. Bill made some close friends while he was aboard and Quartermaster George Simmons wrote that Bill held church services aboard the Pequot on Sundays.
| | |
| --- | --- |
| | |
| This Special Liberty Pass for Bill was signed by Carl E. Jenkins who was the Pequot's Chief Boatswain under Captain Sande | One of Bill's Dungaree Passes which was issued when he had to go ashore on official business as storekeeper which included picking up supplies. |
After the war Bill told the story of a German U-Boat that tracked the Pequot for a while before it was destroyed by other US forces off the coast of Nova Scotia or Newfoundland, and that Bill had some "trophies of war" including a ship's telephone, from the doomed U-boat. However his sons Don and Gary speculate that their dad may have embellished the truth somewhat since so far we can find no record of the Pequot having had such an encounter with a U-boat. Apparently Bill had a whole duffle bag of German war trophies that he may have picked up along the coast while Pequot was installing cables, but he lost that bag of goodies during a 1945 liberty.
Here we see Bill Moore 2nd from the right in the back row wearing a Surfman's Class A uniform. This was the uniform issued to Coast Guard lifesaving sailors early in the war.

Bill in his dress blues with Pequot Quartermaster Ozzie Frontel next to the cable winch. (Mike Luongo Photo)

Bill in his work uniform aboard the Pequot in March of 1945.
(Roger Calamaio photo)
Near the end of the war Bill had a serious altercation with his direct superior which got a bit physical and apparently involved a Colt .45, and although no shots were fired, Bill ended up being pulled from active duty for a while, but he did make the best of his leave time when the Pequot was in its home port of Boston. Bill would travel up to Danvers and spend time with Mary and check on his business, which flourished under her care during the war years while Bill was at sea. Thanks to those frequent liberty passes, Mary and Bill had their first son Donald right before the end of the war in July of 1945. Before VJ Day, in August of 1945, Bill left the Pequot and was discharged shortly afterwards on September 25th 1945.
| | |
| --- | --- |
| | |
| Like his shipmates, upon discharge Bill was awarded the American Campaign Ribbon. | On Bill's 1945 discharge Notice of Separation we see that he took a 6 month General Motors training course back when he was selling cars before the war. Click to enlarge. |
Son Gary was born in April 1947 and daughter Judith Ann joined the family in January of 1949. Even though Bill's parents and his extended family settled back around New Jersey, Bill stayed in Massachusetts where the family dry cleaning business grew to three storefront locations in Danvers and the adjacent communities

Mary and Bill divorced in 1951. Mary and the children moved to Beverly Massachusetts where Mary later remarried and eventually relocated to Marblehead, Massachusetts in 1958 where she passed away in 1967. Bill also remarried. His second wife Pauline "Polly" Burns brought to the marriage her two sons, Larry and Paul Minerth.
With the success of the cleaning business, Bill bought a nice home in Manchester, MA. There he took up his love for country living and picked-up a 1930s Ford roadster and gave into his passion for Cadillac convertibles, buying a new one every other year.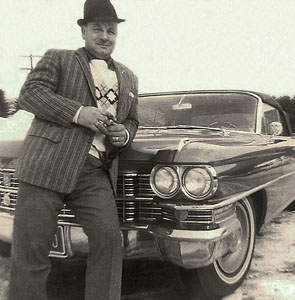 Bill Moore on a winter's day in 1963 with one of his prized Cadillac convertibles.
After a 1957 house fire, and due to Polly's medical problems, the family moved back to Danvers where Bill had an elegant new ranch style home built. In his little 12' skiff Bill rowed the inland waters of the Crane, Porter, and Waters Rivers and his son Gary, who with his brother and sister helped out in the family business, tells us that "life was generally good for a while." However, shortly after the move to Danvers, the drying cleaning industry started to fall on hard times. In 1961 Bill became a licensed real estate broker, then while building his real estate business he sold off his chain of dry cleaning stores in 1964. Bill did well building his realty holdings and with his son's help he maintained seven apartment buildings with more than 30 rental units.
In the 1950s and 60s Bill enjoyed boating on the Danvers River and taking long Sunday afternoon drives in his latest prized Cadillac, often heading to New Jersey with the top down to visit family, and later to Florida where his parents retired. According to son Gary, "My dad was very gregarious and never shied away from requests to help out in his local community." He was active in the Danvers Calvary Episcopal Church and helped the congregation arrange for the construction of a new church building in the 1960s. He was an active member of the Aleppo Temple Shriners of Masons where he earned the coveted 33rd degree, an achievement Bill was very proud of. Every year Bill had a hand in the annual Shriners Parade and Circus that performed at the old Boston Garden. His work with the Mason's focused on the annual Aleppo Temple Circus and hospital support programs for children. As a local businessman, Bill was also involved in the Danvers Chamber of Commerce and chaired the town's Christmas decoration committee for many years in the late 1950s and early '60s. Through it all, his children remember his fondness for the photo of the Pequot that he kept on the wall in his office.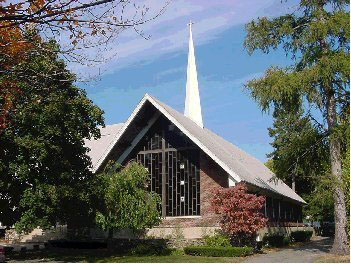 Calvary Episcopal Church, Danvers MA
(Calvary Episcopal Church)
Then in the mid 1960s against the backdrop of a suddenly declining real estate market, Bill Moore died prematurely in April of 1966 at the age of 48.

Among the WWII memorabilia his family has located were these photos of Bill's friends from the war years. Can you help us identify these men?