USCG CABLE SHIP PEQUOT - UNITED STATES HARBOR DEFENCES

The Weekend at York Beach
Men and Boys in Time of War
As part of our webpages dedicated to the the USCG Cableship Pequot and those who served aboard her, we present a behind-the-scenes look at one incident to illustrate the vagaries of human nature. It describes what happened when the Pequot took refuge and dropped anchor one summer's weekend in 1944 in the harbor at York Beach, Maine, USA. The story was told to Chip Calamaio recently by Pequot Quartermaster Lou Carhart and Seaman Mike Luongo. The crew's spontaneous antics surprised local residents and Carhart was able to put his Morse Code training to practical use in a way never envisioned by his boot camp instructors.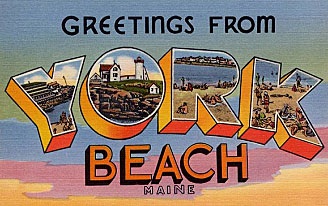 (Vintage Postcard - hometownarchiv.com)
---
One day in the summer of 1944 .....
..... when steaming just north of Portsmouth, New Hampshire the Pequot took refuge at York Beach, Maine. "The scuttlebutt was that maybe a German sub was spotted in the area," Quartermaster Lou Carhart tells us, "so we went in and anchored in the harbor about 500 feet off York Beach along with our 83 foot patrol boat escort."
According to Lou, "Captain Sande, the CO, and other officers also took refuge themselves in the upper deck cabins with a case of booze. Since I was on duty in the wheelhouse I basically had to run the ship while they were on a bender." Seaman Mike Luongo clearly remembers that weekend and said that, "Starting with the Captain they were all heavy drinkers."
York Beach is sheltered from the North Atlantic by the Cape Neddick Peninsula which created a long broad beach and harbor. (Google Earth and Colorpicture Publications Vintage Postcard)
"Once everyone figured out what was going on, the crew took liberty whenever they wanted" Lou tells us. "We dropped the launch and used it to ferry guys ashore and everybody went to this one tavern."
And typical of the kind of thing 18-25 year old sailors the world over would do, every new arrival from the Pequot that joined the party was treated with a free beer from every seaman who was already at the table. "When I got there I had something like 6-8 glasses of beer lined up in front of me," Lou said. "And I really wasn't much of a beer drinker!"
Seaman Mike Luongo remembers the ritual of all those glasses of beer and adds, "It was a Saturday night and the place was really jumpin'. They had a band and a dance floor and there were a lot of people having a good time. Everybody was shocked to see all of us walk in since they didn't get that many sailors up there. We'd anchored in the harbor and came ashore in small boats, something they weren't used to since York Beach didn't have a large dock or wharf where Coast Guard or Navy ships could make port and tie up. So seeing a big group of sailors in uniform around town was very unusual."
As seen in these vintage Postcards from the early 1900s York Beach was a picturesque and sleepy little seaside community.
Apparently there were quite a few logistical tricks involved with shuttling different groups of Pequot sailors back and forth to the tavern on the sly. "I think it was the only time during the entire war that I ever actually used my Morse Code," Lou recalls. "We used the blinker light to get messages to the guys ashore."
"Motor Machinist Anello Castaldi from the Pequot's Black Gang had a weakness," Mike Luongo explains. "When he'd get really drunk he'd pull toilets up out of the floor to show how strong he was. Well this place had the bathrooms upstairs and I remember sitting there and watching the water from the john coming through the ceiling and down a chandelier and the lights after he went up there."
There was a small Coast Guard presence at York Beach, Maine at the Nubble Light Station. (vintagepostcards.com) For a look at the lighthouse today see the live webcam created by Mike McCormack son of Pequot Radioman John McCormack: http://foxslobster.com/webcam/index.html Thanks Mike!
"This went on for about three days" Carhart adds. "I remember I got some tablets from the Pharmacist Mate to help me stay awake." Then on the last day Lou was back at the fantail hoisting the launch aboard when the Captain suddenly came out, couldn't find him, and was mad as hell that he wasn't on duty in the bridge. "I was bringing up the dory with some other guys, but I was due on the bridge and really got chewed out. The 83 footer came up alongside us after we got the dory back aboard. They got yelled at by the skipper because they were too close and he wanted to know why they weren't out looking for that sub."
Residents and tourists on York Beach before WWII, circa 1900–30s, and British Sailors at a 3rd Avenue Bar in New York City enjoying a cold beer, August 1942. (Both Library of Congress)
Seaman Mike Luongo didn't know if the Captain and officers actually knew what they really did and just ignored it. "I almost got in a hell of a lot of trouble," Lou Carhart tells us, "but the skipper never saw me with the launch or found out what we did. But Pequot almost pulled out to sea with a bunch of guys still ashore at that bar."
| | |
| --- | --- |
| | |
| York beach in the 1940s. Vintage postcard. (cardcow.com) | (Poster Revolution) |
In looking at the Pequot's ship movement records there is a three day gap in the radio traffic with the Coast Guard District Office in Boston during the summer of 1944 when the ship was working along the Coast of Maine. At some point we'll have to verify with the archived deck logs just when the Pequot officers and crew took some impromptu, and much needed, R & R along the coast of Maine.
"After it was all over, Lou added, "the Pharmacist Mate gave me some other kind of tablets to help me sleep."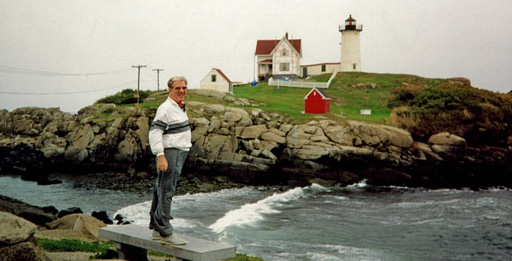 Pequot Gunner's Mate Roger Calamaio at the Cape Neddrick Nubble Light Station York Beach, Maine 1990 (Calamaio Family)
Pequot researcher Chip Calamaio tells us, "My story-telling Dad never mentioned anything about a wayward weekend at York Beach, Maine. But in my Mom's photo albums I recently found a photo from an East coast trip they took after he retired showing Rog at 68 years old at the York Beach Cape Neddrick Light Station. If you think about it that's a pretty out of the way place to visit. Based upon his mischievous smile, now I wonder if he, in fact, was part of the fun, and wanted to show my Mom where it all happened… but was still keeping the secret and just never told the rest of us the tale!"

---
Every effort has been made to trace and acknowledge copyright. The authors would welcome any information from people who believe their photos have been used without due credit. Some photos have been retouched to remove imperfections but otherwise they are true to the original.
---
FEEDBACK
If you have comments or queries specifically about the Pequot or her crew, please contact
Chip Calamaio chipaz@cox.net, 938 E. San Miguel Avenue, Phoenix, 85014, Arizona, USA. (H) 602-279-4505.
Click here to go to the Pequot Main Page.
Research and design: Chip Calamaio and Richard Walding