ANTI-SUBMARINE INDICATOR LOOP STATIONS IN THE UNITED STATES - WW2

Gooseberry Neck Loop Receiving Station, Westport Point, Massachusetts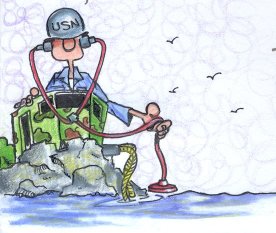 Drawing by Gerry Butler (2000)
Loop Receiving Stations (LRS), as they were known, were operated by the United States Navy during WW2 as part of the harbor defenses largely against German submarines (U-Boats). This webpage is about the Indicator Loop Receiving Station operated by the United States Navy at Gooseberry Neck. It went by several names including South Westport and Westport Point and was known as Naval Unit 1-I. Other nearby loop stations include East Point, North Scituate (Fourth Cliff to Provincetown, Massachusetts); Appledore Island (Portsmouth, New Hampshire) and Peaks Island/Fort Williams Loop Station in Casco Bay (Portland, Maine).

---
If you worked there or have any feedback please email me:

Dr Richard Walding
Research Fellow - School of Science
Griffith University
Brisbane, Australia
Email: waldingr49@yahoo.com.au
My thanks to Nat Chamberlain for his splendid help with this webpage.
---
LINKS TO MY RELATED PAGES:
Indicator Loops - an overview (YouTube, 70 minutes)
---
INTRODUCTION
From the outbreak of hostilities in Europe and the Middle East in September 1939, the US Navy had given some thought to harbor defenses. With the increasing likelihood that the US may become embroiled in the war work became more urgent. In July 1941 - before the US entered the war - the Chief of Naval Operations recommended that indicator loops be installed as harbor defensive measures in all New England ports, including Boston. Before we consider the installation of harbor defenses at Boston in WWII, we should look at the early days of antisubmarine research there, particularly at East Point, Nahant, just to the north.
---
ANTI-SUBMARINE DEVELOPMENT AT GOOSEBURY NECK
<under construction>
---
Return to our US Navy Loop Receiving Station web pagE

Technical details of the loop: How an indicator loop works


---