ROYAL AUSTRALIAN NAVY HARBOUR DEFENCES - DARWIN
| | | |
| --- | --- | --- |
| | | |
| Ratings from the Darwin PWSS swimming - Xmas Day 1940 | The main street of Darwin - Smith Street - October 1939 | Aboard the N.T. Patrol Vessel "Kuru" – October 1939 |
Prior to World War 2, Darwin was one of just three Australian ports considered essential for harbour defence by the British Admiralty. The other two were Sydney and Fremantle. By 1939 the Admiralty approved a plan for the Royal Navy and Royal Australian Navy's role in the defence of these three ports. Their harbour defence proposal consisted of anti-submarine indicator loop installations to work in conjunction with the Army's gun batteries. This webpage is mostly concerned with the Indicator Loops. The 'Loops' are long lengths of armoured cables laid on the seabed in shipping channels designed to detect submarines passing overhead. More details of how they work can be found on my
How an Indicator Loop works
webpage. Other Loop installations can be seen on the
Indicator Loops around the World (Home Page).
My great thanks to PO-Telegraphist Lawrence Gearin and Robert Luxton for photos and recollections.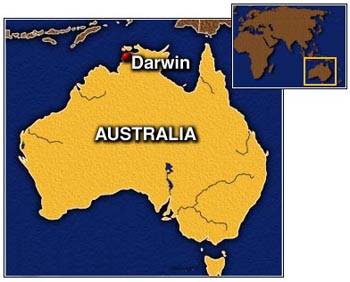 ---
If you worked there or have any feedback please email me:

Dr Richard Walding
Research Fellow - School of Science
Griffith University
Brisbane, Australia
Email: waldingr49@gmail.com
---
LINKS TO MY RELATED PAGES:
Indicator Loops - an overview (YouTube, 70 minutes)
---
Darwin's harbour was first sighted in 1839 by John Stokes of HMS Beagle. The ship's captain, John Clements Wickham, named the port after Charles Darwin, the British naturalist, who had sailed with him on an earlier expedition of Beagle. The earliest European efforts to settle the 'Top End' were mainly due to British fears that other European powers might get a toehold on the Australian continent. Between 1824 and 1829 Fort Dundas on Melville Island and Fort Wellington on the Cobourg Peninsula, 200 km northeast of Darwin, were settled and then abandoned. Darwin itself was finally founded in 1869 - at first called Palmerston (after the British Prime Minister at the time), but this was finally changed to Darwin in 1911.
DARWIN AT THE START OF WW2
At the beginning of WW11 Darwin only had a population of 2000 and was extremely isolated with a small airport, unsealed roads to the rest of Australia and little infrastructure. The Royal Australian Navy depot in Darwin in the Northern Territory was named HMAS Penguin IV. On 1 August 1940 it was formally commissioned as HMAS Melville under control of the Naval Officer in Charge (NOIC). Here are some photos of Darwin in mid to late 1939. They have been given to me by RAN Leading Signalman Robert Luxton who was stationed at Darwin Port War Signal Station from October 1939: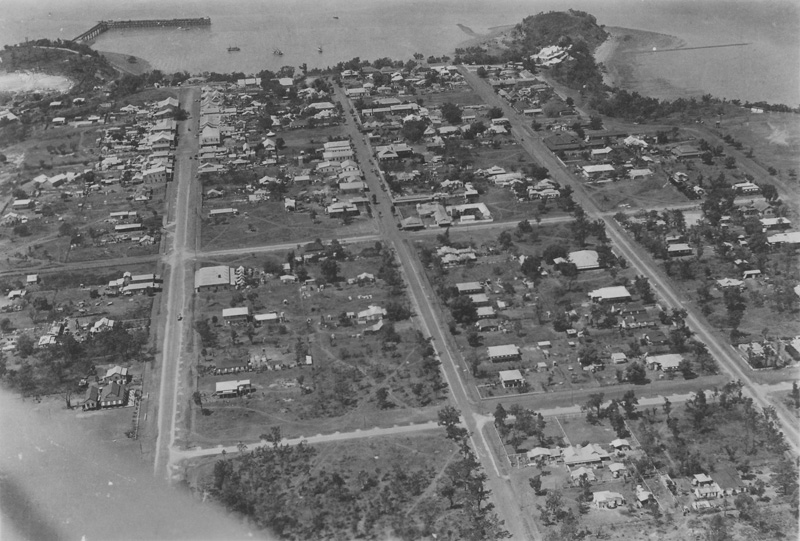 Darwin from the air - about 1939. The streets running vertically are (L to R) Cavenagh, Smith and Mitchell. HMAS Melville shore station is out of the photo at the bottom of Mitchell St.
| | |
| --- | --- |
| | |
| The 'New' Darwin Hotel. There were four hotels in Darwin in 1940: Gordon's 'Don' Hotel in Cavenagh St., The 'Vic' (Victoria), the 'New' Darwin Hotel (opened July 1940) opposite the oval on the Esplanade and the Old Darwin Hotel on the corner of Mitchell and Herbert Streets. The New Darwin Hotel was appropriated by the Navy from 1942-1947. | Smith Street, Darwin, 1939. The Bank of New South Wales (later Westpac) dominates the scene. Sailors were able to freely visit the town centre when off duty.(LG) |
| | |
| --- | --- |
| | |
| "Old" Darwin Hotel 1939 (LG) | Hotel Don 1939 (LG). Sailors called this "The Bloodhouse". Lawrence Gearin was walking past and hit on the back by a wooden fruit box thrown through the window during a fight inside. (LG) |
| | |
| --- | --- |
| | |
| "New" Darwin Hotel 1940 (LG) | 'The Vic' - Victoria Hotel 1939 (LG) |
| | |
| --- | --- |
| | |
| Cavenagh Street "Chinatown" 1939 (LG) | Cavenagh Street 1939 (LG) |
| | |
| --- | --- |
| | |
| Police Station and Court House 1939 (LG) | |
| | |
| --- | --- |
| | |
| Fanny Bay Gaol, Darwin 1939. You passed this on way to PWSS. (RL) | Smith Street Darwin, looking east, 1939. This group of shops were opposite the Bank of NSW and consisted of a mixed business, an electrician and a men's outfitters.(LG) |
| | |
| --- | --- |
| | |
| | 1914-1918 War Memorial (LG) |
| | |
| --- | --- |
| | |
| Darwin Golf Club 1939. Darwin had a sparse population and the only members of the Golf Club were Commonwealth Government employees. No one else bothered, especially RAN ratings. (RL) | Christ Church (Church of England) Darwin 1940. (LG) |
| | |
| --- | --- |
| | |
| Low water at East Point, Darwin, looking NW from PWSS, 1939.(LG) | Approaches to Darwin Jetty, 1939. Main road with a train line to the right.(LG) |
| | |
| --- | --- |
| | |
| Aboriginal gunyah, West Point 1939. The aboriginies spoke a little English and were very friendly to navy visitors. | Aboriginal grave, West Point 1939 |
| | |
| --- | --- |
| | |
| Fort Hill, Darwin, 1939. Photo taken from the wharf near the end of Chinatown. Fort Hill was a depot for Boom Defence Vessels. Here vessels' stores, nets, drums and so on were stored. Boom vessels moored here when off duty. It was a fair way from the boom net but the deep water here (26') made it more usable than the shallows near the cliffs of the PWSS. | RAN official examination vessel Flying Foam at Darwin Harbour in October 1939. She was a requisitioned pearl lugger and used as an examination vessel when the Northern Territory patrol boats (Larrakeah and Kuru) were busy. She lasted three days (see below). |
A few more notes about the Flying Foam: She was a 45 ft wooden vessel but there were few facilities aboard. In early October 1939 there were many pearling luggers moored to the east of the jetty in an area now known as Fisherman's Wharf. The Ran picked one out without inspecting it and requisitioned it for naval duties. Drinking water was held in a large steel tank with a hose and wooden plug at the bottom. Sailors would hang their backsides over the rail for a toilet. After three days use an Army Captain condemned it and it was never used again. It was crewed by RAN seamen as well as the signalman and officer for examination duties. It had a native Malaysian crew member named Dhatu. The Foam had a 'hot bulb diesel' engine. You'd heat up a hot bulb on top of the engine with a blowtorch and when a match ignited on it's surface you'd start the engine. You could hear it for miles. Crew slept on deck as the hold stunk too much from dead shellfish and other detritus. When it rained the crew would pull sails over themselves to keep from getting too wet. Robert Luxton was the signalman and the Boarding Officer was Lt Clarence Williams from Perth.

---
HARBOUR DEFENCES 1939-1945
With increasing tensions between Germany and her neighbours making war seem a possibility, the Admiralty sent Commander Bannister RN - an expert on harbour defences - to Australia to advise the Naval Board on necessary defence procedures. In late 1939 an Indicator Loop system consisting of two loops was laid at Port Darwin between West Point and Dudley Point requiring some 276,000 feet of cable supplied by Cable and Wireless Ltd, Victoria Embankment, London (as shown on the map below). An antisubmarine boom was also recommended but laying of the boom net did not begin until the end of 1940 and was not finished until the end of 1942.This is also shown. The shore station where the Naval Officer In Charge (NOIC) worked - HMAS Melville is in the town and not shown.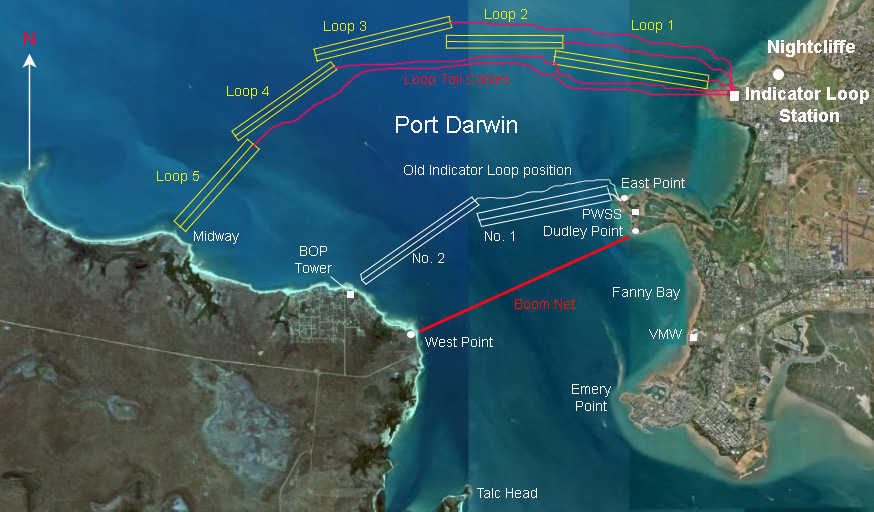 By November 1941 it was realised that the two Darwin indicator loops were giving frequent cable faults ('sea-cells' - that is, breakages causing short circuits) due to the force of water caused by the changing tides and the rough seabed in Darwin and that relaying the system with heavily armoured cable might be necessary. Two HDAs were still on order from the UK but had not arrived. The RN proposed lending 61 year-old Cmr Vindon RN now resident in Australia to assist with maintenance of fixed naval harbour defences for the duration of the war. The ship Bangalow was taken over by the RAN on 16 March 1942 for cable-laying duties. The Indicator Loop Hut and the Port War Signal Station (PWSS) were both controlled by the navy and were located beside each other between East Point and Dudley Point (as shown in the photos below).

| | |
| --- | --- |
| | |
| PWSS in 1939: the Loop Hut is on the right; in the centre is the Officer's Quarters and behind that the Rating's Mess & Dormitory. | Half-tide PWSS Darwin 1939. At low tide the water was about 50 yards from the shore. |
| | |
| --- | --- |
| | |
| William 'Happy' Johnson, the Steward at PWSS | PWSS Signal Tower 1939. An air-raid shelter was build nearby in 1942. |
| | |
| --- | --- |
| | |
| PWSS 'Cottage' (Ratings' Sleeping and Mess Quarters) 1939. By 1942 more building had been constructed and the Mess was in separate building. Here the men slung their hammocks at night and stowed them away 'Navy Style' in the morning. The procedures in a shore station had much in common with shipboard routines. The building was made in WW1 from cedar (termite-proof) on a concrete slab with steel corrugated iron walls and a corrugated fibro (Super Six) roof. | RAN Examination Vessel HMAS Adele in Port Darwin 1949. It was a coal-fired, single screw yacht requisitioned by the RAN. The ship was unarmed - not even a rifle was aboard. Signalman and officer would pull alongside and board ship being inspected. A Verey's Pistol (signal flares) and semaphore flags would be used to signal PWSS. If it was an enemy ship, red flares could be fired and signalman was expected to jump overboard. With a 6 knot current and crocodiles, they were very happy no enemy made it into the harbour. She was wrecked in Kiama harbour NSW. |

Note: one of the signalmen aboard the Adele was Victor Glanfield. His story can be read by downloading Victor Glanfield.
Here's a personal note from Peter Glanfield, son of Victor Glanfield, signalman from the Adele mentioned above. Peter works with the Australian Border Force. He wrote this for the corporate staff magazine:
27 August 2016 marks the 77th anniversary of my father joining the crew of HMAS Adele in Darwin Harbour. I would like to take this opportunity to show my respect for him and all the unsung heroes of an earlier "Australian Border Force". The Adele was a coal fired yacht requisitioned by the Royal Australian Navy, along with other civilian small craft, to examine vessels entering Darwin Harbour during World War Two. She was completely unarmed without even a rifle on board. Yet an Officer and a signalman would row across from her to board any suspect vessel entering the harbour. If all was clear a signal flare or semaphore flags were used to signal the mainland. If the vessel was an enemy, red flares were to be fired and the signalman was expected to jump overboard. No enemy vessels made it into the harbour
| | |
| --- | --- |
| | |
| PWSS Darwin Xmas 1940 (RL) | PWSS Darwin Xmas 1940 (RL) |
The Japanese Midget submarine attack on Sydney on 31 May 1942 caused a great deal of consternation amongst navy planners. One concern was with the ability of the two inner loops at Sydney to detect midget submarines. One of the 'outer' loops was out of action and the depth of the water in the harbour (6-7 fathoms) was at the limit of detectability for Midgets.
In the meantime, the Boom net between West Point and East Point continued to be installed and it became fully operational on 14 February 1942. For a excellent description of the Boom defences of Darwin see Darwin - Fixed Naval Defences 1939-1945 by Lt Pat Forster RANVR (Ret'd), historian at the Museum and Art Gallery of the Northern Territory, Darwin. He joined the RANR in October 1940 and from October 1941 to September 1943 he served in Darwin, first as a signalman and later as a draughtsman in the Boom Defence Office. After receiving his commission he joined HMAS Whyalla as the anti-submarine officer and completed his war service in the Pacific. His email is supytalp@octa4.net.au.
On 26th June 1942 it was decided to modify the existing Indicator Loop system at Darwin by replacing the two loops with a set of four (later increased to five on 3rd July 1942. It was also decided to proceed with the installation of two Harbour Defence Asdics (HDAs) - that is, fixed Asdic (sonar) devices in the harbour. The total amount of cable required was 35200 yds of Pattern 1989 Lead-loaded armoured loop cable and 14500 yds of Patt. 7048 tail cable. Composition of both these cables can be seen on my Cablemakers web page. The new loops were expected to be able to detect on the surface a degaussed submarine of 1600 tons in 60 fathoms of water (or a 900 ton degaussed submarine in 45 fathoms). To detect a 50 ton Japanese midget submarine the submarine would have to be at a depth of only 5 fathoms from the loop. The Commander of HMAS Rushcutter Harvey Newcomb (responsible for loop laying and HDAs) rejected the offer of assistance from Cmr Vinden RN as the existing RAN COs were quite capable of managing.
Following a survey conducted of the seabed, by HMA Ships Vigilant, Kiara and Wato, it was decided (on the 16th November 1942) to shift the Indicator Loop Control Station from East Point to Nightcliffe and lay the five loops about 3 km further north - between 'Midway' and the new Loop Control station at Nightcliffe on the eastern side of the harbour. After cableship HMAS Bangalow completed laying loops in Moreton Bay (Brisbane) and Port Moresby (Papua New Guinea) it proceeded to Darwin arriving there on 19th March 1944 to begin laying the loops. The new station commenced operations on 25th April 1944 just using No. 3 and No. 4 loops (see map above). The laying was completed on 18th May 1944 and all loops were in operation on 1st December 1944. Ten months later (10th September 1945) it was decided to raise the Darwin loops.

---
LAWRENCE GEARIN'S RECOLLECTIONS
1916 - 2010
1933 - aged 17
2010 - aged 94

Petty Officer Lawrence Maher Gearin RANR

Lawrence Gearin's died on 30 November 2011 just two weeks after this interview.
Lawrence Gearin was 16 when he joined the Naval Reserve in Brisbane in 1932. He lived at Highgate Hill but worked as a dental technician for dentist Jack Ross in Edward Street, Brisbane. Not many dentists had their own technicians - about 1 in 5 and Lawrence recalls using 50 pound bags of Plaster of Paris to make the impressions. His father had just died at this stage and Lawrence lived with his mother Alma and older sister "Bill" (Billie) who was 14 years older than him. "There was always edginess that WW1 had never really finished" he said "and I thought that if another war was to happen I should be ready".
Lawrence worked with a photographer Jimmy Coulter who took sporting photos on the weekend for the newspapers. Jimmy had a "Speed Graphic" 4 x 5 Graflex - a professional camera that all newspaper photographers used. At that time the only photographic store in Brisbane was Kodak and if you wanted a camera you'd have to settle for a Kodak. Competition arrived in 1932 in the form of Herbert Small's Camera Shop in Adelaide Street and other cameras became available. Lawrence bought a Zeiss Contax 35 mm camera which was to serve him well through the coming war.

Lawrence said there was a "sniff" about that it was good to be an officer in the Naval Reserve because if (when) the war came you would keep the same rank. By October 1934, Lawrence had been promoted to Telegraphist, then Leading Telegraphist in May 1936 and finally Petty Officer Telegraphist (PO-Tel) in April 1937.
As hostilities in Europe increased during 1939 Lawrence's training stepped up. He was doing his Morse code practice on Tuesday nights and parade drills on Saturday. He trained beside Post Office operators whom, he said, were lightning fast. His supervisor worked for the PMG (Post Master General's Department) and when it was known that the PMG were going to abandon their Morse handsets and change to the "Teleprinter Reperforator Exchange Signal System (TRESS)" the PMG office in Queen Street was raided that night and in the morning 160 Morse handsets had been souvenired, much to his supervisor's disgust. Lawrence, Jimmy and the PMG supervisor all played in the same band - the "Brisbane Citizens Military Band". Lawrence and Jimmy played clarinet (self-taught).
Lawrence came home to Brighton Street Highgate Hill from work on Friday 25th August 1939. He had just finished dinner when the doorbell rang. One of the Chief Petty Officers from the Naval Depot asked Lawrence if he wanted to honour his promise to begin active service with 24 hours notice. Lawrence shrugged and said "yes". The PO said "Right, go to the Depot tomorrow. You won't be coming home". He turned up Saturday morning and was kitted out with WW1 naval uniforms. Lawrence said they were old and stiff and smelt terrible. The next morning - Sunday 27th August 1939 - he boarded a DC3 plane and was off to Darwin arriving later that night. Hardly anyone expected them; a telegram had been sent but no-one knew what to do with this plane load of men. The first thing they did was throw away their uniforms and more were sent up from down south. This was still a week before war was declared. They were given places to stay: with families, in new houses commandeered by the Navy and in rental accommodation. All the photos that follow were taken and printed in Darwin during the war by Lawrence Gearin.
| | |
| --- | --- |
| | |
| Naval Central Office - Darwin (formerly the Cipher's Office). This is where Lawrence Gearin and Edward Easton carried out their good works for six weeks from 1st September 1939. | Sub Lt Charles Nott, P/O-Tel Lawrence Gearin, Yeoman Len Fletcher, P/O-Tel Edward Easton. Eating coconuts at at Point Charles, NT, May 1940. |
| | |
| --- | --- |
| | |
| Clearing the bush at the PWSS - May 1940 | Arrival of the mail plane, Darwin 1939. The only communication was by a British Overseas Airways Corporation (BOAC) Flying Boat which came from Brisbane via Cairns and one of the the Gulf towns of Normanton, Groote Eylandt, or Burketown. Before landing, men from the Civil Aviation Dept would scour the landing site and remove or sink debris such as wood and bottles with a boat hook |
Lawrence was on Cipher Watch on 3rd September 1939 decoding Morse ciphers when the message came through "AUSTRALIA TOTAL GERMANY" which he knew was the code for Australia being at war with Germany. Nothing much changed after that. As he was a Petty Officer Lawrence no longer had to do the Morse himself but merely had to supervise others doing it. He was soon introduced to the Naval Officer in Charge (NOIC Darwin) Capt. Edward Penry (E. P.) Thomas. Lawrence said that he was a brilliant man, exceptionally intelligent and one who kept great discipline. Thomas had a reputation for always being on the men's side when it came to discipline. In one case Thomas had before him a rating who had committed some misdemeanour and said to him "I've been making enquiries into accommodation at Darwin gaol. I've been led to believe that they have 200 men there all languishing about. They are there because they have been naughty boys and I have no wish to to make their lives more miserable by putting you in there with them. Do it again and I won't care if there are 700 men in there - you'll join them".
| | |
| --- | --- |
| | |
| Looking towards Darwin township - from the top level of the Tower. PWSS - Feburary 1940. | PWSS Tower and Radio Masts - 1940 |
Lawrence had little to do because there was radio silence at Darwin. He could receive messages but no longer transmit - unless by phone. He asked Thomas if he could be stationed out at the Port War Signal Station (PWSS - or more commonly know as Puss-Wuss) about 12 miles away. Thomas knew there would be even less for the telegraphists to do there but sent him anyway - "have a nice holiday" he said. He soon found that communication with ships was by flags or light (off the 60 foot tower). "All of the equipment there was WW1 vintage" recalled Lawrence "the signalling lamps were oxy-acetylene and ships hadn't seen oxy lights for a long time. They got a shock to see WW1 oxy lamps being used. We were so unprepared. I heard that we had to use up the WW1 ammunition before starting on the new stuff".
| | |
| --- | --- |
| | |
| Radio masts - PWSS. They were never used. | Lawrence Gearin at PWSS 1940 |
The indicator loops station was located next door to the PWSS. Not that Lawrence knew what the building was for. It was very secret. He took some photos of it and at the time thought "If I get caught with these I'm a gonner". He kept the photos until 2005 and was still worried about a knock on the door so he ripped them up and threw them away. I assured him that the material about loops had been declassified in 1975 and he would have been okay. Life continued on as normal for the men even though Australia was at war with Germany. Christmas Day 1940 was a particularly good day in Darwin and Lawrence took a lot of photos - as can be seen on these webpages. "I developed the films and printed the photos soon after. Fresh water was hard to come by so I had to do it all in salt water with just two final rinses in fresh water" he said.
| | |
| --- | --- |
| | |
| Filling the water tanks at PWSS - 1940. | Rating's Quarters "The Cottage" (EMOH RUO), PWSS, October 1939. The walls were made from woven bamboo leaves - very weak but common in Darwin. |
When the Japanese entered the war in December 1941 the Darwin base stepped up its preparedness somewhat. "But every day was the same as the next" Lawrence said; "I spent a week at Puss-Wuss and then swapped with the other P/O-Tel (Petty Officer Telegraphist) Edward Easton who was in town at the Naval Depot".
The the morning of February 19th 1942 started like any other day: "The next thing you knew was Alice Springs on the radio reporting enemy aircraft over Alice Springs; and before you knew it they were over Darwin. Captain Thomas rang us and said 'go for your life boys; don't try any heroics, just get out of the way' - which we did". The Commanding Officer of the PWSS was Lieutenant Arthur Brazill Smith, RANVR who was also the Extended Defences Officer. "He stood up the whole time and said 'If I'm going to go, I'm going to go'. Lt Smith gave a minute by minute account of the planes going over to Capt. Thomas in town. It was all over so quickly. They were all gone. I heard bombing and machine gun fire but I didn't see any bombs hit anything - we were too far away. I just saw the smoke". "There was a slit trench dug for us beside the PWSS - I didn't dig it - someone else did but it was designed for the two signalmen and the two P/O Telegraphists. It was designed for four but by the end of the air raid there were nine of us in it". Smith gave the "all-clear" and we resumed normal life. We were so far from town that it seemed like nothing much had happened. We had plenty of food and it was all refrigerated; we just got back to work. No one got too excited. I heard there was a lot of trouble in town - stealing and the like - but we didn't see anything - we were out in the sticks".
"For entertainment we didn't do much. Someone had a mouth organ, someone else had an accordion - and that was about it. I recall that we were invited out on one of the boom defence vessels - it was called Koala - they all started with "K" like Kookaburra or Kangaroo. We came out for a bit of a party - it was Boxing Day 1941. We were having a good time until a guy called "Cookie" turned up. He was the Depot cook named Edward Salter. He was unco-operative at the best of times and now had come aboard to interrupt the party. He complained that he wasn't invited. Someone said "Look Cookie - dry your eyes, put that shackle around your neck and jump overboard". Cookie was skylarking and put the shackle - a thick steel U-shaped thing - around his neck and put the pin in. He stood on the side of the boat taunting us. Then he slipped and fell in. The harbour bottom was about 10 foot of mud and he never came up. We searched for him but never found his body. I thought the sharks probably got him. His body was found the next day and buried at the Darwin Cemetery the day after that. I had to give my account at the Board of Enquiry on the 31st December. They found that he was "accidentally drowned". Note: see the photo of Edward Salter's gravestone at the Adelaide River Cemetery - at the end of this webpage.
Lawrence was demobilised on 16 July 1946.

---
LAWRENCE GEARIN'S PHOTOS

| | |
| --- | --- |
| | |
| Dave Seaton (right) being chased by the Yeoman of Signals Len Fletcher around the ablutions hut. Dave died of peritonitis on 24 July 1940. See his gravestone. The Yeoman died 2 years after the war. | Naval Cricket Team - February 1940 PWSS. Lawrence (back, left) said "I wasn't much of a cricket player and they wanted me to make up the numbers. But one day I top scored." Ray Thomsen is back row, far right. |
| | |
| --- | --- |
| | |
| The finish of the "final" 50 yards swimming race. PWSS Darwin Xmas 1940. | "We can swim quite well when the water is as high water as this. When the tide is high the water comes up about another four feet in depth right up to the edge of the rocks in the background". |
---
PHOTOS FROM ROBERT DOUGLASS COCHRANE'S ALBUM
Robert Cochrane
---
MELVILLE LOOP STATION AND OTHER NAVAL STAFF

| | | | | |
| --- | --- | --- | --- | --- |
| Surname | First Name | Number | Rank | Dates at Melville |
| Beck | John Ernest (Ted) | PM1493 | Tel | 201139 - 310340 |
| Bennetts, | William Alwyn | S96 | PO HSD; | 041139 - 310340 (SD 170339) |
| Blake | George | S2875 | AB, SD | 041139 - 060140 (SD 060439) |
| Brook | Roy | | | |
| Cargill; | David Clark 'Jock' | S2684 | Sig (Ty) | 040939 - 270242 |
| Carr, | James Robert | 24738, | AB SD & Kalgoorlie | 020240 - 280242 |
| Colborne, | Graham Frederick | B2493 | Sig | 110939 - 201042 |
| Cole | Colin Lyle | W2678 | Stoker | 080643 - 300943 |
| Cole | Frank Allenby | PA2215 | AB | 241242 - 070243 Boom |
| Cole | Colin | 25699 | Coder | 210643 - 300943 |
| Cole | Stewart Leslie | W2565 | Stoker | 120543 - 301044 Terka |
| Douce | Donald | S2790 | AB, SD | 041139 - 060140 (SD 130739) |
| Earle | Alf | | SDI Royal Navy | |
| Easton, | Edward James | B1560 | PO Tel | 260839 - 181141 |
| Evans, | Norman William | 32389, | AB | |
| Farr | Haydon Ord Coleridge | | Lt RANVR | 040340 - 070840 A/S; 080840 - 081045 |
| Fitzgerald | Brian James | S10006, | Tel | 050640 - 070642 |
| Fletcher | Walter Leonard 'Len' | B1445 | Yeoman | 080143 - 310345 |
| Gearin, | Lawrence Maher | B1601,445 | PO Tel | 26-0839 - 300943 |
| Gemmell | Robert Allen | 30744 | Cook (S) | 060939 - 081141 |
| Gibbons | Joseph Michael | | Sub Lt | 281039 - 010340 |
| Glanfield | Victor Ernest | B1898 | Sig | 270839 - 151241 |
| Gleadhill | Percival Clifford | B2344, | AB | 270839 - 121241; 010743 - 091143 |
| Green | | | AB | |
| Hall | Stanley William | | LT RANVR | |
| Harvey | Bruce Johnston | | Lt RANVR, DSO | 191241 – 260842 |
| Harvey | Laurence William | | Lt RANVR | 260240 – 310742 |
| Hughes | Lloyd Thomas | S4495 | AB, SD 150241; | 140641 - 301142 |
| Jarvis | Lyall Arthur | H1029, | Sig | 241040 - 110742 |
| Johnson | William Frederick | | Lt RANVR | 091243 - 010344 |
| Johnston | Gordon Horace | H1096 | Sig | 241040 - 201242 |
| Kirk | Maurice | 30355, | Ord Tel | 210840 - 160441 |
| Lancefield | Norman | W1201, | Sig | 010140 - 180542 |
| Lawrie | George Robert | B541 | Tel | 270839 - 171240 |
| Luxford | Clyde William James | W1416 | Sig | 101139 - 090542 |
| Luxton, | Robert Charles | B2112, | Sig | 270839 - 151241 |
| Mackay | Frederick James | | Lt | 021040 - 031041 |
| Mann | William Henry | F3009, | Cook | 010840 - 090642 |
| McKinna | Eric Charles | B2215 | Sig | 020939 - 311242 |
| McManus | Raymond (Roy) Westwood | S3258 | AB (SD) | 061139 - 100441; SD 280739 |
| Mews | Lennard George | F2205, | A/Tel | 210840 - 040942 |
| Moir | Kenneth | B2593 | EAIII | 090340 - 261242 |
| Newman | Frank Sefton | H155 | Yeo Sigs | 051242 - 311243 |
| Nott, | Charles Ernest Arundel | | Sub Lt | 160340 - 260242 SD IL |
| Nurthen | Percy Thomas Kersey | S2442 | Ldg Sig | 230939 - 311243 |
| O'Donnell | | | | |
| Payne | Richard | B2239 | Ord Tel | 110939 - 091239 |
| Richardson | George | B1984 | Sig | 270839 - 121241 |
| Salter | E. J. | S4075 | Cook | |
| Scott | Thomas John | H1858, | Sto | 010143 - 301144 |
| Seaton | David John | PO | | |
| Sharp | Frederick Sydney | Lt. | | A/S 170641; 250141 - 130842 |
| Sharples | Donald | PA1543 | A/Ldg Tele | 010143 - 290443 |
| Smith | T. | | Tel | |
| Smith | R. | | | |
| Smith | Arnold Beverley | | Lt OIC IL and EDO | A/S 170641; 260541 - 140143 |
| Spicer | Ernest John | B1090 | Yeo Sig | 020939 - 240742 |
| Stead | Keith Raymond | F2663/19, | Sig | 010842 - 300443 |
| Thomsen | Raymond Percival Spencer | | Sig | 130939 - 171240 |
| Tuddenham | Ivor Frank | B2556, | Ldg Sig | 250939 - 180541 |
| Vassett | Perry | PM2531, | Ldg Cook (S) | 251039 – 150240 (inc Adele) |
| Vaughan | John George | PM6079 | ERA IV | 150643 - 300943 |
| Vidgen | Norris Octavus | | Lt | 260839 - 121140 Base Staff (WK) |
| Waters | | | | |
| Whitla | Hector Charles | S2073 | AB, SD | 061139 - 060149 (SD 280739) |
| Wolfe | Frederick Levi | S3370, | EA IV | 061139 - 171240 |
| Wynne | Robert Stanley | S3019, | AB, SD | 041139 - 211141 (SD 050539) |
| | |
| --- | --- |
| | |
| Personnel PWSS, Xmas 1940. Back: Edward Easton, David 'Jock' Cargill, Robert Luxton, Gordon Johnston, (Ernest) John Spicer, Lyall Jarvis, Ken Moir, Percy Gleadhill, Lt William 'Happy' Johnson, Maurice Kirk, Frank Newman, Lennard Mews, Lawrence Gearin, P.O. William Bennetts HSD; Middle: William Mann, R. Smith, Lloyd Hughes HSD, Brian Fitzgerald, Eric McKinna, Thomas Scott, Ivor Tuddenham, Robert Gemmell; Sitting: James Carr, Norman Evans, Sub Lt Charles Nott, Lt Frederick Mackay, Sub Lt Haydon Farr, Norman Lancefield, Graham Colborne; Front: Roy McManus (& Boonga), J. S., T. Smith, Robert Wynne SD (& Bluey). | Staff of PWSS, Darwin December 1940. Standing: Raymond (Roy) McManus, Graham Colborne, T. Smith, Norman Lancefield, Jarvis, R. Smith, Ray Thomsen, Gordon Johnston, Donald Sharples, Lennard Mews, Frank Newman, E. John Spicer. Squatting: George Lawrie, Percy Gleadhill, Robert Wynne, James Carr, David 'Jock' Cargill; Sitting: Robert Luxton, Tom Scott. |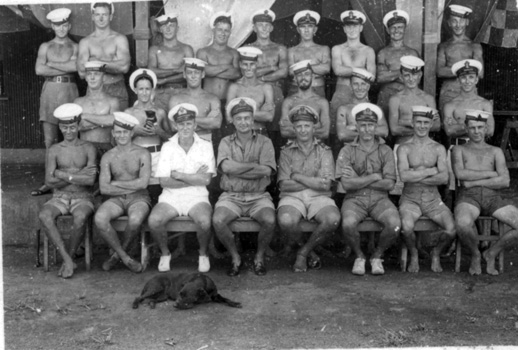 Xmas Day 1940 - Darwin PWSS. This photo shows two-thirds of the complement of the PWSS and Loop Station at East Point. The other third were on duty. 3rd from right PO William Bennetts; centre row (with beard) Telegraphist Smith. Front row: Four officers are: Lt Bruce Harvey RANVR, Lt A. B. Smith OIC and XDO died 1944, Lt Hayden Farr RANVR and Lt Syd Sharp. The two officers missing are Lt Charles Nott RANVR and Lt Laurie Harvey RANVR. Lt Sharp was sent to be Officer in Charge of the Loop Station on Bribie Island. He died in June 2016.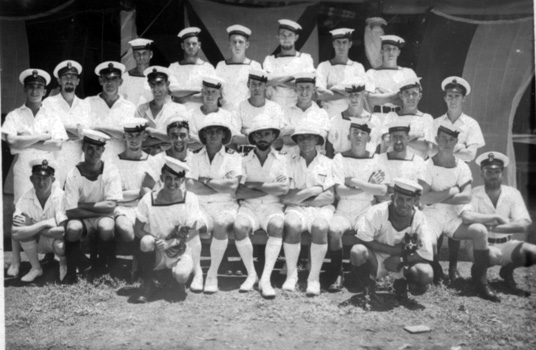 RNSS - Naval Depot - Xmas 1939. Back row: Hector Whitla, Waters, Clyde William Luxford, Vic Glanfield, Ray Thomson, Roy McManus. Middle Row: P/O Tel. Lawrence Gearin, Yeoman Walter Leonard 'Len' Fletcher, Alf Earle SDI RN (Submarine Detector Instructor - Royal Navy), Perry Vassett (Cook), O'Donnell, Percy Nurthen, P/O Tel. Edward Easton, Harvey, P/O David Seaton, Gordon Johnson, Keith Stead. Front Row: Fred Wolfe, Don Douce, George Blake, Robert Stanley Wynne AB, CO Sub Lt Vaughan, Lt Norris O. Vidgen, Sub Lt Michael Gibbons, Percy Gleadhill, Richard Payne, George Richardson, P/O William Bennetts HSD, Ted Beck holding Tim, AB Green holding Whiskey.
| | |
| --- | --- |
| | |
| Aboard the N.T Patrol Vessel "Kuru" – on the Poop Deck, October 1939. Back: unnamed NT Patrol Boat crewman, PO Harry ?, unnamed NT Patrol Boat crewman; Seated: Roy Brook, Lt Stanley William Hall (Master), Robert Luxton, two unnamed NT Patrol Boat crewmen. Kuru was a small motor-boat of just 55 tons, and she later became famous on the "Timor Ferry Service" in early 1942 ferrying refugees, commandos, stores and equipment between Fremantle and the Timor coast - a round trip of more than 6000 kilometres. (RL) | Robert Luxton and Roy McManus in Sydney, on a fortnight's leave from Darwin. This was their first leave in 2¼ years. In 7 years they had only 3 leaves. (RL) |
Signalman Robert Luxton on top of the Signal Tower. The 20" signal lamp was inside a small shelter on the top and this was a favourite place for mozzies.

Two signalmen manned the signal lamp and took it in 4 hour watches (4 hours on, 8 hours off) so that it was manned 24 hours per day. PWSS would ring through when a boat was due to arrive. As soon as the mast was seen over the horizon a Morse code challenge would be issued with the light. If the correct code was used in response all would be okay. Codes were changed daily and a list issued to ships at their previous port of call. If a ship was overpowered by the enemy the code books would be placed in a lead-weighted canvas bag and thrown overboard.

Robert Luxton 1940 (RL)
---
| | |
| --- | --- |
| | |
| Petty Officer David John Seaton, RANR, S2055, b Sydney 1915. Served on Adele and Penguin V; died of peritonitis due to war service 24 July 1940. As an aside, David Seaton's father, William Seaton enlisted in the Army for WWI, and was involved in riots in Sydney when Army recruits ran amok in 1915. Several rioters were shot or beaten by MPs or Police (one fatally shot). William was one of those shot by the MP's, but survived. He was discharged from the Army, but was able to re-enlist again in 1916, and served on the Western Front with 20th Battalion. | Ernest Joseph Salter RANR, S4075, Cook, b Sydney 1907, served HMAS Penguin II, V, Melville, Koala. Accidentally drowned while aboard Koala 27 Dec 1941. |
| | |
| --- | --- |
| | |
| Robert Henry Stobo, b Sydney 1925, Merchant Navy, Cadet aboard Neptuna. He was killed in Darwin Harbour on 19 Feb 1942 during a Japanese air raid. He was only 16 years old and is the youngest person to be buried here. | Bernard Philip Gaffney, RAN, b 1929, Naracoorte, South Australia. Served post-war at HMAS Melville. Accidentally electrocuted 29 Nov 1947. |

REMAINS OF WW2 NAVAL DEFENCES

| | |
| --- | --- |
| | |
| Buoys from boom net WW2 | Remains of naval jetty 2009 |
---

If you have any further details of Darwin harbour defences or antisubmarine harbour defences in general (Indicator Loops and Harbour Defence Asdic) that may help with this research project please email me at the address at the top of the page.
Richard Walding, Brisbane, Australia.
---