THE MOMBASA FORTS

HARBOUR DEFENCES - KILINDINI & MOMBASA HARBOURS IN WW2
This page is linked to the
Mombasa Anti-submarine Indicator Loops
webpage.
| | |
| --- | --- |
| Kilindini Harbour is a large, natural deep-water inlet extending inland from Mombasa, Kenya. During World War II, while Kenya was a British colony, Kilindini became the temporary base of the British Eastern Fleet from early 1942 until the Japanese naval threat to Colombo, Ceylon (now Sri Lanka) had been removed. This is a story of some of the harbour defences at Kilindini Harbour and the Old Port at Mombasa Harbour during World War 2. It should be red in conjunction with my Mombasa Anti-submarine Indicator Loops webpage. | |
If you have any feedback please email me:

Dr Richard Walding
Research Fellow - School of Science
Griffith University
Brisbane, Australia
Email: waldingr49@yahoo.com.au

My thanks to Hans-Martin Sommer M.A., former Marine Archaeologist, Fort Jesus Museum, Mombasa, Kenya for his assistance in providing photos and some text for this webpage. Email: <sudanhansm@yahoo.de>. Hans-Martin has started a project called: "Defense of Mombasa, 1485- 1945". The range of objects begins from early Turkish and Portuguese fortifications and ends with many British bunkers, tunnels and other fortifications and harbour defences. He is photographed here in 2006 at a bunker at Kipevu (Port Kilindini) Mombasa. Click here to see his research papers online.
---
LINKS TO MY RELATED PAGES:
Indicator Loops around the World (Home Page)
Mombasa Anti-submarine Indicator Loops

Manza Bay Indicator Loop - Tanga, Tanzania
---
THE MOMBASA FORTS
1. Horseshoe Fort, Mama Ngina Drive (defending Kilindini Harbour)
2. Kipevu Bunkers
3. Kizingo Camp at Ras Serani
4. Fort Jesus
5. Fort St Joseph

Much of the detail of this fort has been provided on the Mombasa Indicator Loop webpage. Here we'll add some photos of structures not already shown. The Mama Ngina Drive area of Mombasa, a public waterfront park containing archeological remnants of the city's foundation, was degazetted in 1993. Politically influential individuals had planned to degazette the oceanfront property, get it allocated to them by the lands office, and resell it at enormous profit to commercial developers. They encountered unexpected opposition from local groups, including the Friends of Fort Jesus and the Muslim Human Rights League (MUHURI), and had to abandon their plan.
---
Kipevu is an area in the north of Kilindini Harbour. Some concrete structures with holes (foxhole) were found there and locals said they lead in 6 m in horizontal direction to a big cavern but end there because of spilled concrete. In November 2006 Hans-Martin Sommer and a Japanese colleague explored the entrances. However, after photos (below) were taken someone destroyed the entrances using explosives and the Museum was not able to prevent this destruction. No-one is able to explain why these entrances were blasted. Later inspection shows a depression 30-35 m diameter about and 6-8 m deep. At the bottom were some remains of concrete beams (ca. 30x 50 cm) with armoured steel of 20mm, 12 mm and 8 mm diameter. They also found iron sheets/plates of 6-8 mm welded together in horizontal position as well U- profiles 20 cm x 6 cm.
| | |
| --- | --- |
| | |
| Location of the Kiepvu site | Generator hut. The tunnel entrance is about 100 m away from the top right. |
| | |
| --- | --- |
| | |
| Walls of the generator structure | The armour plate was discovered after a scrap-metal dealer reported that locals were bringing in a lot of steel plate and armoured steel for sale. |
| | |
| --- | --- |
| | |
| Tunnel entrance | Cistern |
| | |
| --- | --- |
| | |
| Metal channel | Metal sheets and U-profile to bottom right. |
---
This fort is located on the south western end of Mombasa Island and covers both shipping channels to the Old Port at Fort Jesus and the newer Kilindini Port. Two maps are useful: the Mombasa Admiralty Chart and Kizingo Camp Plan.
| | |
| --- | --- |
| | |
| Gunner at Ras Serani gun in 1942 | Archaeologist Hans-Martin surveys the gun emplacement in 2006 |
| | |
| --- | --- |
| | |
| 34 - Battery | 37 - Battery |
| | |
| --- | --- |
| | |
| 38 - Main Command Tower | 40 - Second Command Tower |
| | |
| --- | --- |
| | |
| 39 - Battery and Underground Store | 42 - Steps down to Bunker |
| | |
| --- | --- |
| | |
| 17 - Generator Bunker | 28 - Searchlight No. 1 Emplacement |
---
Fort Jesus is Mombasa's most popular tourist attraction. The fort, located along the coastline near the Old Town, is a monumental piece of architecture that was built in the 16th century by the Portuguese. The fort has a museum that displays various artifacts from the era where Mombasa served as a transit point for the slave trade and commodities, and which enjoyed regular visits by seafarers and the like. Its interior comprises of torture rooms and prison cells where slaves were kept in captivity before being traded. Weapons such as canons, which were used to defend the fort from invading foreigners as well as rioting locals, can be seen both inside and outside of the fort. The fort opens its gates for viewing in the morning and closes at dusk. The photos below relate to the possible use of the Fort as part of the Royal Navy's Harbour Defence.
| | |
| --- | --- |
| | |
| 33 - Channel from Fort Jesus Bunker | 33 - Channel close-up |
FORT JESUS GUNS ON DISPLAY
Two four-inch guns from WW2 are on display at Fort Jesus. One is British, the other German. They have fascinating origins: HMS Pegasus an elderly 2000 ton Third Class cruiser commanded by Cmr John Ingles was sunk on the afternoon of 20 September 1914 off Malindi Spit in Zanzibar harbour by the 3000 ton German cruiser SMS Königsberg, commanded by Fregattenkäpitan Max Looff. A floating crane was used to retrieve the eight 4 inch guns from the deck together with eight 3 pdr guns, and all were transported to the Zanzibar railway workshops for repair. After a shore period of reuse on Lake Victoria one of the 4 inch guns was presented to the town of Mombasa and now stands outside Fort Jesus museum. The Königsberg's luck ran out not long after sinking the Pegasus when one engine failed and she limped into the Rufiji river delta on the African coast. The damaged machinery was repaired but by the time she was ready for sea the Royal Navy had discovered her whereabouts and blockaded the river entrance. Ten months later Königsberg was destroyed by a combined naval aerial and ship bombardment. A 4 inch gun salvaged from the sunken Königsberg also stands outside Fort Jesus Museum. A more detailed description of the guns' histories is provided in an article Salvaging the Pegasus Guns by Kevin Patience. The photos below show the gun in action.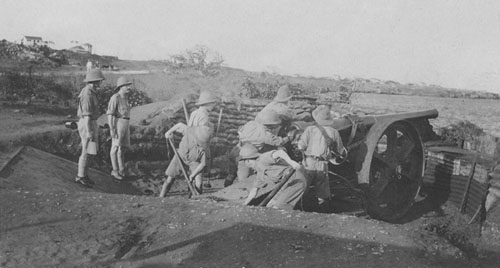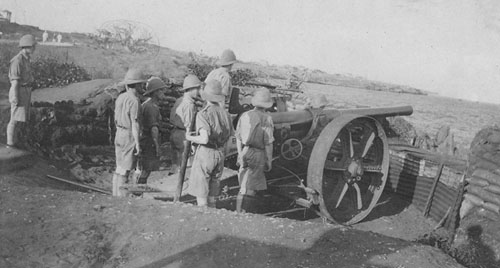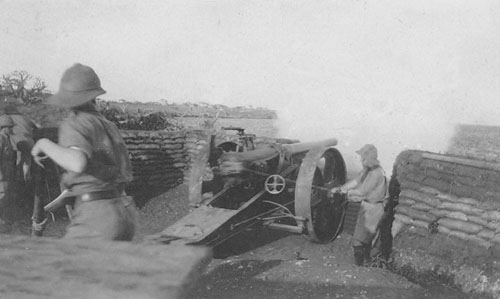 ---

Located on the Golf Course near Mama Ngina Drive (04 04' 18,1" S 39 40' 56.1" E); Fort St Joseph is a horseshoe-like fortification in good condition. At about 100 metres distance to St. Joseph it was the Portuguese chapel "Nossa Senhora das Merces" (Pos: 04 04' 21,2" S 39 40' 50,7" E). In 1999, the National Museums of Kenya succeeded in halting unauthorized work at the 17th-century Portuguese fort, one of the first sites gazetted in 1929. Developers had acquired the land through a questionable title reallocation and started work on a hotel, posting spear-wielding Maasai guards who refused entry even to the judge hearing the Museums' case.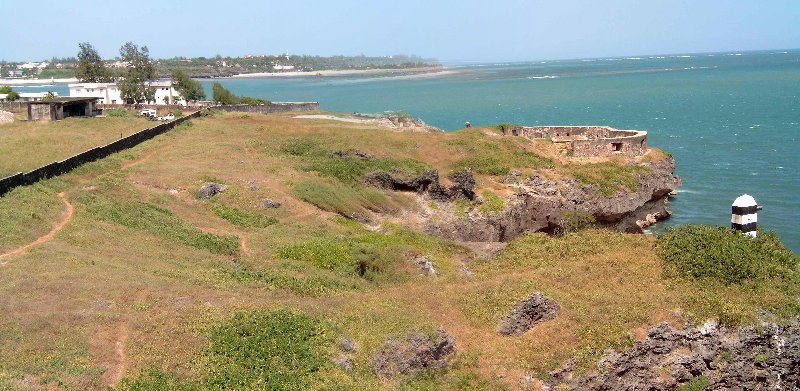 Panorama - Fort St Joseph