Manly War Memorial
184 Carlton Terrace, Manly, Brisbane, Australia


In memory of the soldiers from the Wynnum-Manly area who gave their lives for their country.
In many towns, suburbs and cities of Australia, individual public monuments and memorials have been used to commemorate more than one conflict that Australians have been involved in. The Manly War Memorial is a tribute to local men who fought and died in the First World War. It was constructed in 1921 on land ear-marked by the then Wynnum Town Council. Fifty-six soldiers from the Wynnum-Manly area died in WW1 but only some are commemorated on the honour roll at this memorial. Some are remembered on memorials in other parts of the state, but many names do not appear elsewhere.
The park is bounded by three roads: Carlton Terrace, Cambridge Parade and Ferguson Street. It has been know variously as Soldiers' Memorial Park, Ferguson Street Reserve, Manly Memorial Park and, since, 1990, Richard Russell Park. The Manly War Memorial, or Cenotaph, has outstanding significance for its splendid and intact setting and as an historical record of local participation and sacrifice in two World Wars.
By Dr Richard Walding - Research Fellow, Griffith University, Australia

Email: waldingr49@yahoo.com.au

---
THE FIRST REMEMBRANCE SERVICES
Prior to the establishment of the park and memorial the citizens of Wynnum and Manly were keen to pay their respects to the soldiers who were fighting overseas in the Great War of 1914-1918. Some were their parents, some their relatives, some their friends but many more who were strangers keen to acknowledge their service. The first Queenslanders to join up were those who enlisted in August 1914 just days after Australia had gone to war (5 August). Men from the Wynnum-Manly area began to enlist and the first were Christopher Uhlmann, a butcher from Lindum (on 21 August) and William Woodhouse, a commercial traveller from Wynnum, three days later - both with the 9th Battalion AIF.
As the casualty lists of British soldiers started appearing in the newspapers, private and public prayers for the men began. It came as a shock when the first Australian casualties were released - just after the landing at Gallipoli. The first Queenslander was Pte Thomas Turnbull (676) from Landsborough just north of Brisbane who was wounded during the 9th Battalion's landing at Gallipoli on 25 April 1915 and died aboard a hospital ship three days later. The Brisbane Courier reported his death in the First Casualty List on 4th May. Even more distressing was the 44th Casualty List in the Brisbane Courier of 26 June relating of the death of William Woodhouse on 20 May at Gallipoli - the first of the local soldiers to die:
Over the next two years more local men enlisted, and more names of wounded, killed and missing appeared in the papers. Thus began services for the fallen. The first remembrance service for the Great War was on 25th April 1917 in the Star Picture Theatre in Florence Street at Wynnum. Hundreds of people turned up to hear speeches from local dignitaries such as the Mayor Samuel Greene, and to hear the choirs and orchestra render various anthems in the men's honour. At 9 pm they had one minute's silence followed by The Last Post, and then photos of Wynnum-Manly soldiers who had left for overseas were shown on the big screen. In the audience were the Butterworths from Lota. They had just received news that their 'adopted' son Frank had died on the Somme. He was remembered thus:
Sergeant Frank Leonard Hunt was from Ireland and had no relatives in Australia but he lived with Captain and Mrs Eva Butterworth at Bonnie Doon, Wynnum South (Lota). He was with the 49th Bn AIF and was killed in action, aged 36, on 2nd April 1917 at the Somme.
In the 'Personal Notes' in the Brisbane Courier of 31 July 1917, we read that:
William and Mary Gunn of Darling Point Manly have three sons in active service. Private Arthur Neil Gunn (877, 41st Bn) was just reported as succumbing to shell-shock in France two weeks earlier and was taken to England to recover. Another son Norman Alexander (11th Field Coy Engineers) caught severe influenza in Gallipoli and was in and out of hospital; and a third son William Morrison of the 2nd Light Horse was still in hospital in England dangerously ill after receiving a gunshot wound to the head and arm in Palestine on 20 April 1917.
Many of the residents had come to live in the area only recently and their sons had grown up and enlisted in towns far from Wynnum-Manly. Their deeds would be later listed in other memorials. Nevertheless, the parents were amongst the crowds attending these services. Deaths of their loved ones far away was particularly difficult to cope with. Unlike families whose menfolk had died in accidents at work and their bodies could be laid to rest nearby, the families of men killed in the Great War were deprived of the traditional mourning rituals of their culture. Their dead were overseas. For example:

Mrs Celia Brocker from Bronte House, Lota Hill at Manly lost her son Gunner James Brocker (25470) of the 1st Field Artillery Bde - killed in action at Ypres, Flanders on 25 October 1917. She didn't know where he was buried for two more years after that. Her letters asking for details were signed off "A broken hearted mother".
Mrs Jessie Ann Gallaway from Catherine's Tce, Wynnum received a message that her fourth son Pte Claude Belmore Gallaway (368) was missing in action after a battle in France on 29th July 1916. She had brought him up herself after her husband left for NSW in 1910. She lived in hope for the next year especially after a Pte Eric Russell (25th Bn) said that he saw a card saying he was a POW in Germany. Pte F. J. Gilmore (25th Bn) from Ipswich came forward and said he was with Claude in B Coy, 8th Platoon, when he was killed. The army finally declared him dead a year later: killed in action, Posieres 29 July 1916. A harrowing time for Mrs Gallaway.
Not knowing the whereabouts of a soldier son, whether he was alive or dead, and if dead, where his body lay was particularly distressing. Though there is no way to judge anguish, the worst sufferers in Australia during and after the Great War may be those relatives who just did not know the answer to these questions. Mrs Gallway received a telegram but with few details. Under repeated requests from distressed relatives, the British Red Cross established a Wounded and Missing Inquiry Bureau and this was later duplicated by the Australian section and run by Vera Deakin - the daughter of the pre-war Prime Minister Alfred Deakin. Australian volunteers searched hospitals in hope of finding men so far unidentified, or getting information about the death of their comrades. These reports are now available on-line from the National Archives of Australia and were consulted in preparing this page.

A Remembrance Service was held again in 1918 at the Star Picture Theatre but then the citizens of the district had cause to be delighted when a separate service was also held in 1919 at a newly-created Memorial Park in Manly.
---
ESTABLISHMENT OF A MEMORIAL PARK
| | |
| --- | --- |
| | |
| Mayor Richard Russell (1920) was a pioneer Manly citizen and businessman who served on the Wynnum Town Council as Alderman from 1915 to 1922 and as Mayor from 1919 to 1920. | Land for this park was chosen by Richard Russell in 1919 and became known as Manly Memorial Park. He In 1990 it was renamed Richard Russell Park in his honour. |
The land on which the park was created was originally part of a 150 acres (61 ha) lot - Subdivision 140A, Portion 78 - bought by Thomas Jones in 1860. In 1882 the land was sold to the Arnold brothers (David, James and John) who sub-divided the land for auction. From the 1890s the area was designated as a water reserve and eventually formed part of the Manly Dam, filled in sometime after 1908. The area was never developed and was subsequently divided by Cambridge Parade. The Memorial Park portion was merely an unused residue of area 1 acre 1 rood but was always considered a park by the Council.
The Manly Memorial Park was officially opened on Sunday 27th July 1919 when the first tree was planted by the wife of the Queensland Governor Lady Goold-Adams. Also in attendance were WH Barnes MLA, Mrs Barnes, Mr and Mrs J Gaffney (Mayor and Mayoress of South Brisbane), and the Mayor and Mayoress of Wynnum - Alderman Russell and Mrs Russell. Sixty trees were planted by the next-of-kin of the fallen soldiers. Refreshments and entertainment was provided by the "Welcome Home Committee". [Brisbane Courier 28 July 1919].
From mid-1915 patriotic groups were formed to raise money for war loans and for comforts for the soldiers abroad, and to induce men to join the AIF. Fund-raising ceremonies were organised throughout Australia and on every anniversary of the Anzac landing ceremonies were held to celebrate these purposes. Sometimes it was just Honour Boards that were prepared and installed in buildings or public places, and sometimes monuments were set up just for the day and then taken down.
As time passed there was a conviction amongst the Australian public that permanent memorials were ritually needed, and that honour boards were not enough. What became apparent was that local people wanted to erect monuments to give public honour to local men. The first in Australia was unveiled at the inner suburb of Balmain, Sydney on 23 April 1916. However, the first soldier statue of the war was erected in front of the Post Office in central Newcastle and unveiled just three weeks before Anzac Day 1916. It was a gift from retired naval officer Commander Frank Gardner (the link takes you my webpage about him and the statue).
Memorials would have been more numerous had the Australian Government not prohibited appeals for any monument costing more than £25; that is, honour boards would have to do. The War Precautions Act was introduced in October 1916 to prevent so many memorials being erected. Its purpose seems to have been twofold: one was to prevent a drain on community resources in time of war, and the other was to prevent a negative effect on recruiting - at least until the war was won [Daily Telegraph, 6 July 1917].
A "Manly Monument League" was set up in 1920 to raise funds for the building of a war memorial on the site. They had to decide on the nature of the memorial: either a monument or a utilitarian memorial of some sort (such as a hall, bridge, or park). They also had to decide the catchment from which to solicit donations and names of the dead. In some parts of Australia competing groups fought for donations and the right to build these monuments; often separated on religious line (Protestants vs Roman Catholics). Not so in Manly where the League and the Wynnum Town Council worked closely together. Committees raised money as they had done for wartime funds: appeals to the press, door-to-door canvassing, fetes, dances and othere things they could think of. Alderman J. R. Woosley on 14 July 1920 suggested the Wynnum Town Council make a donation towards their appeal and this was later forthcoming. Also in that month the League approached the Council for earthworks to be done on the site and on 11 August this was approved and the site for the monument was filled and levelled.

From Wynnum Town Council Minutes - 14 July 1920
By the time the League had to settle on the form of the memorial, they looked at what was being done elsewhere. It seems that the idea of a utilitarian building had been ruled out early. However, among purely monumental forms no single type predominated. Already in sites around Australia there were memorials in cemetaries and park commemorating the South African (Boer) War so they were also used for the men of the AIF: an arch, obelisk, column, pillar, cross, and statue. The newly popular word 'cenotaph' was used for monuments like the one at Whitehall in London (1919) - a tomb on a pylon. The word 'cenotaph' means literally 'empty tomb' and this seemed particularly apt as the local soldiers were buried far away in a foreign land. The broadening understanding of the actual form of a memorial meant that it was always going to represent an 'empty tomb'. The Manly Monument League in conjunction with the Wynnum Town Council decided on a statue of a 'Digger' on a pedestal. Within the pedestal was the empty tomb of the soldiers and their names were to be inscribed on the front.
| | |
| --- | --- |
| | |
| Names of the WW1 dead are given place of precedence on the front of the pedestal. This is the most common arrangement throughout Queensland's war memorials. Surrounding the monument are four corner posts, originally linked by chains and in turn surrounded by a paved oval. | Names of 15 local men who died on active service in World War 1 are recorded on leaded marble plates on the pedestal. There are 16 names for WWI (above) but only 15 of them died in the war. |
Thus was created the form of the Manly Memorial: a soldier statue standing in an attitude of mourning; head bowed; rifle reversed and resting on the left boot; atop a concrete pedestal on a rough-hewn granite base. Like scores of others throughout the country he was about life-size, clean-shaven, wearing the uniform of a private including the now-famous slouch hat. The soldier was prepared by Andrew Petrie and Son of Brisbane who engaged Alessandro Casagrande as the sculptor. He had migrated from Italy and brought his craftsman's skills with him. It was finely chiselled from the Carrarra marble quarries in Italy - quarries which had supplied Michaelangelo. Casagrande was able to carve a face admired for power and authenticity. A face in ghostly white marble that helped signify both death and purity. The colour of the marble is often believed to have given comfort. A full description of the soldier and pedestal is made later.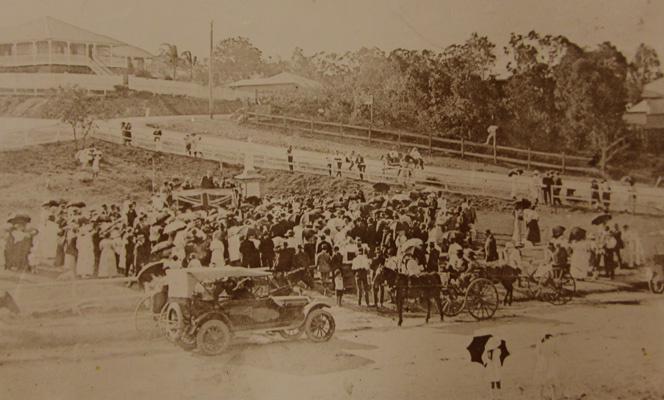 Unveiling of the monument March 1921. The statue arrived from the masons in a large wooden crate.
Note the use of the Union Flag, popularly known as the Union Jack (when at sea).
(Wynnum-Manly Local History Collection No. 49)
The site on which the monument stands was centrally placed, being between the railway station and the (former) jetty, on this five-ways reserve, Cambridge Parade. The monument stands 4.46 m (14' 7") high. The pedestal, at 2.9 m high (9' 6"), is of Helidon brown freestone, including a base of Enoggera granite, and is surmounted by a life-sized figure of an Australian soldier standing with reversed arms. He is 156 cm (5' 1") tall. The figure is a fine piece of work, chiselled from Carrara marble. Names of 15 local men who died on active service in World War 1 are recorded on leaded marble plates on the fron of the pedestal. There are 16 names for WWI, 15 of whom died in the war. A 16th name was added for one local soldier (Lt Thomas Dalzell) who returned to Australia in 1919. The reasons for Dalzell's inclusion are not clear as he lived on until 1953 (see below).
The ceremony of unveiling the monument erected by the residents of Manly in memory of the fallen soldiers of the district was carried out on Sunday 6th March 1921, in the presence of an assembly of many hundred people. This was just 17 months after the killing had stopped, in good time to help grieving people mourn their distant dead. Unveiling day was a time for spectacle and music in addition to tributes to the fallen and to the organisers. It incorporated familiar elements into a new ceremony. It was similar in language, dress and gesture - somewhat like a funeral. However, there was no body to bury and there was a long interval between death and the ceremony, and it was a public display not like a family-centered funeral. The similarities included the dead being eulogised in spoken words and their names displayed. It was a time, some say, in which the mortal body and the soul are finally both at rest.
The unveiling ceremony was performed by Mr Walter Henry Barnes, MLA, who was accompanied by his wife Mrs Mary Cecilia Barnes. He extended sympathy to the bereaved. Relatives of the dead men occupied a place of honour. The assembly, led by the Wynnum Town Band, sang the hymn, "Abide with Me" and later the band played "Lead, Kindly Light". A number of wreaths were placed upon the tablet, and a laurel wreath from the Manly Monument League was laid there by Mrs Barnes. The band conductor (Mr Taylor) and Bugler Wilson sounded the "Last Post." Addresses were delivered by the Mayor (Alderman Russell, first elected March 1919) and Alderman Arthur. Mr A M McLeod (chairman of the League) outlined the financial position and a collection which was taken up yielded a sufficient amount to enable the League committee to defray the full cost of the monument, which amounted to about £200. The Manly Memorial League included Messrs A M McLeod (Chairman), A Johnston (Hon. Secretary), and D Bell (Hon. Treasurer), the Mayor (Alderman Russell), Alderman J R Woosley, Messrs. J L Curtis, B Port, J Bugslag, E H Pratt, J Curtis, T Ekelund, Jones, Ms B Port and Mrs Elizabeth Webb (mother of one of the fallen soldiers, Cpl Edward Marsh Webb).
On Anzac Day the next month (25 April 1921) a Childrens' Service was held at the park in the afternoon. Over 200 children and adults attended and were addressed by the Mayor Richard Russell. Wreathes were placed on the tree guards where trees had been laid to the fallen men of Wynnum and Manly.
The previous month the Wynnum Town Council was approached for a donation towards a National Anzac Memorial Appeal. On 13 April the Council declined saying that they would prefer to see the money go to the "local effort". Also at this time - in May - the AIF was seeking the names of soldiers who died in Australia during the war and were buried at local cemeteries. The Council had no record of this and advised the AIF thus in June 1921. Also in 1921 an Anzac Memorial Concert raised funds and the money was placed in the Memorial Trust Fund.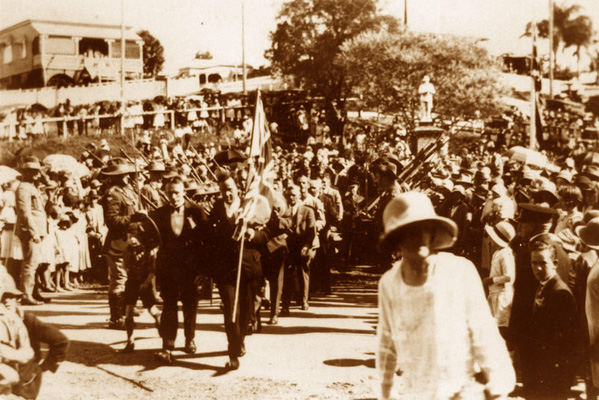 Anzac Day Ceremony 1922 (SLQ)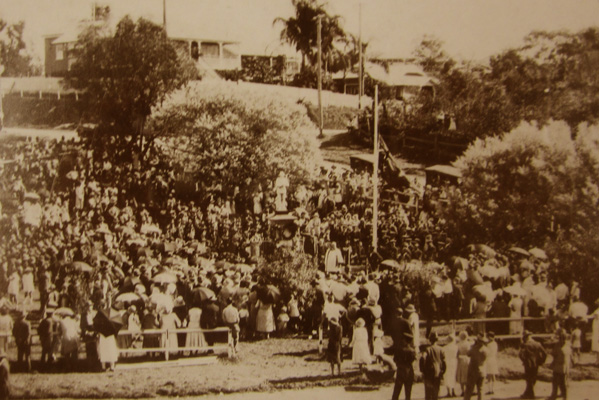 Anzac Day 1922
By the mid-1920s the Anzac Service assumed more importance and the crowds grew larger. In 1924 the Council formed a public "Anzac Day" committee to oversee ceremonies. (WMLHC 22).
The crowds did grow bigger. The reason was simple. If we count as family a soldier's parents, children, brothers and sisters, aunts, uncles and cousins - then every second Australian family was bereaved by the war. It was no wonder the numbers grew. The news of a soldier's death was broken most often to mothers and fathers as more than 80% of the AIF soldiers who died were unmarried. But it was private grief they had to contend with. In public, grief was not as welcome. Publicly, soldiers' deaths were deaths for the nation in defence of nothing less than civilization itself. In public one had to be stoic and there was a common belief that the private grief expressed at home should be repressed in public. This must have been so hard for mothers and wives attending these Anzac Day ceremonies (men had grown up with this repression in public). This was captured in a poignant introspective verse from a wife - Charlotte Rahilly - on the death of her husband Patrick - Headmaster at St John's School, Glenferrie, Victoria. He was killed at Poziers in July 1916:
I mourn for you in silence,
but not with outward show.
For thse who mourn sincerely,
mourn silently and low.
Anzac Day 1930. The ceremony was attended by ex-servicemen, serving members of the army and members of the volunteer detatchment.
(WMLHC 121)

Anzac Day 1930. The parade assembled in the grounds of the Manly State School in Ernest Street and marched down to the Memorial Park. Even the milkman (front left) stopped to pay his respects. Note the presence of the policemen in the centre of the photo in their khaki uniforms and hats styled after the WW1 slouched hats of the diggers.
(WMLHC 122)
| | |
| --- | --- |
| | |
| Anzac Day 1937. Wreath bearer Charles Mengel crossed the "Golden Bridge of Memory". Mr Mengel was a WW1 returned servicemen and President of the Manly RSSAILA for many years. While with the 42nd Battalion AIF in France on 1 August 1917 he received a gunshot wound to the knee during a charge on an enemy post east of Messines. Although they successfully advanced their line 250 yards on a 500 yd front, 32 men from the 42nd Bn were killed and 137 wounded. After long hospitalisation, Pte Mengel eventually returned to Australia in 1919. Note that by 1937 both the Australian Flag and the Union Flag were used. (WMLHC 230) | |
---
MOURNING DRESS
Photos like the one above show the mourning dress of the relatives. In Australia - as in other parts of the British Empire - the traditional mourning dress of black crepe for a year or more after a death had been in decline since 1914. Black does predominate in dress of the grieving relatives, but we would also see many men and women in ordinary clothes or perhaps with just a black armband and no bodily emblem of their loss. It was a time when the Government discouraged deep mourning as bad for the nation's morale.
---
In 1931 it came to Council's notice that the Arnold brothers were still the official proprietors of the park land so it was decided to resume the land and on advice that there would be no claim for compensation. It was officially resumed in 1937.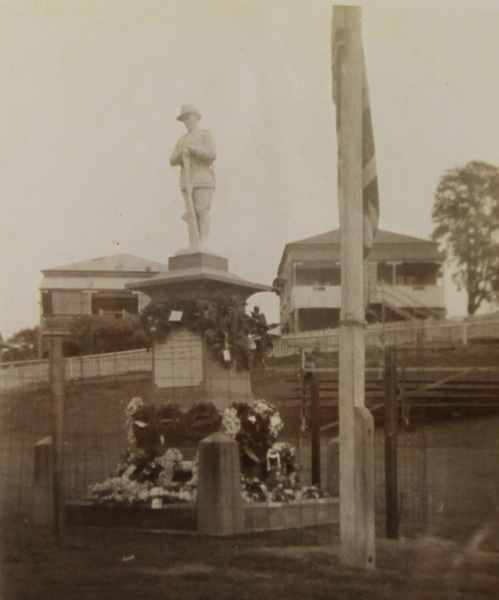 After Anzac Day in the 1940s. Note the seating - which was removed in 1950.
(WMLHC 251)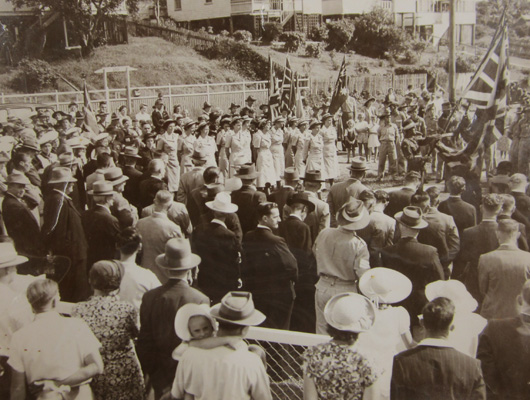 In 1955 after the marchers left Manly State School they assembled for the Anzac Service at the Manly War Memorial before moving around the corner to the Manly-Lota RSL grounds. Here they assembled for the dedication of the Jock Willis Memorial Flagpole. Lt Jock William Willis (15 Bn) was from Bayview Estate, Cambridge Pde, Manly and was wounded in action at Polygon Wood in France in 1917 at the age of 49. He returned to Australia and retired from the army in 1918. He was a life member of the RSL.
---
THE ORIGINAL STATUE
The original statue was carved in marble in 1920 by Andrew L. Petrie monumental masons of Brisbane. The soldier was 152 cm (5'0") tall and stood on a small base of 34 x 34 x 5 cm marble which was mounted on a larger piece of marble 45 x 45 cm (15 cm thick). These are obvious in the photos below. There are several differences between the original soldier statue (below) and the current one (replaced after vandalism in the 1990s). The tree stump is behind his right leg (now behind the left), he has a thinner face which is more in keeping with the soldier on which he was modelled. The bayonet is shorter and there is no bandolier over the shoulder. Today the flagpole is behind the statue, whereas here it is to the left. The same houses are still present today.
The original statue - 1970. Rev. Nevin Stoddart of the Bayside Uniting Church gave the Devotional at several services during the 1970s. Note that the soldier's rifle is missing. It had been smashed by vandals.
(WMLHC 108)

In 1982 the rifle was still missing. Funds provided by the Manly Centenary Committee and later by the Brisbane City Council helped restore the statue. (WMLHC 166)
Notice that there is no inscription to the fallen on the Manly memorial. This is somewhat unusual. Queenslanders, like all Australians, in the years soon after WW1 felt an obligation to pay tribute to their fallen but not all chose an inscription and left the invocations unsaid. Those that did - like the residents of the Brisbane suburb of Yeronga - chose the classic statement "In appreciation of our boys who sacrificed their lives in the Great War 1914-1919". Others would have a simple "In Memoriam" or use a combination of words like "appreciation", "homage", "tribute" and "gratitude". Some would have a Christian statement about vicarious death taken from St John's Gospel, Chapter 15, Verse 13: "Greater love hath no man than this, that a man lay down his life for his friends". The most popular invocation was from the Apocrypha by Rudyard Kipling "Their name liveth for evermore". After WW2 "Lest we Forget", taken from Kipling's Recessional, was to prove the most popular thereafter.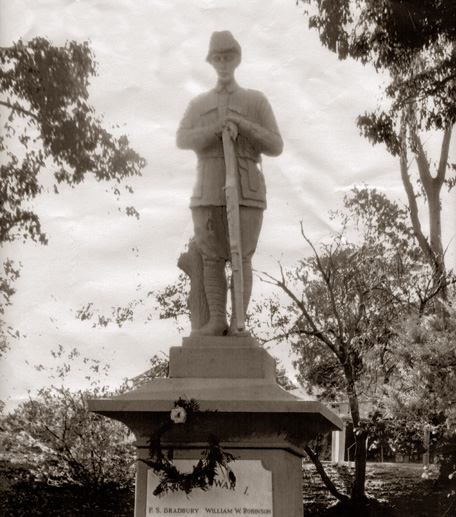 The original statue with the rifle replaced - sometime in the mid '80s.
The most common pose for a soldier statue is standing in an attitude of mourning; head bowed; rifle reversed and resting on the left boot. This is how the original Manly soldier was shown (and the present one too, it should be noted). The "Rest on Arms Reverse" position is quite common throughout Australian memorials and denotes that the persons names on the monument have "fallen" (died in war). It is the prescribed position in drill manuals for catafalque parties standing vigil at funerals and at Anzac Days. It is also the position of soldiers in Gallipoli, France, Belgium and Palestine stanfing for the burial of their comrades. The Manly soldier (above) was the popular type supplied by Andrew L. Petrie monumental masons of Brisbane (but they were all a bit different - all carved individually and not cast from one mould as popular opinion often has it. However, many of Queensland soldier statues stand in a relaxed (some would say 'unsoldierly') pose - with feet apart, head erect, rifle pointing upwards. The soldier at the Beaudesert memorial is a good example of a relaxed soldier - tunic unloosened, pipe in hand, rifle slung casually from his left shoulder. The Atherton soldier is advancing aggressively, rifle in hand, tin helmet and gas mask - a man from the trenches - in action.
Like most all of the soldier statues in Queensland (61 of them) there is no mention of rank. In Queensland there is just the one monument that orders the soldiers in terms of rank; and another 7 in which rank is listed but not ordered. The Manly list of fallen soldiers typifies the idea that communities had - that the men were buried as equals, officers and men alike. The stone digger was without rank or social class. Apart from two memorial soldiers in Queensland that were cast in bronze (Ipswich Railway Workshops, 1919, and Dalby, 1922), the rest were done in stone by monumental masons, most commonly by Andrew L. Petrie Pty Ltd, monumental masons of Milton Road Toowong, Brisbane, who did 21 of them, including the original Manly soldier. No local sculptors were used - most likely from fear of the artists taking liberty with the designs. The only two done by sculptors were by John Whitehead and Sons, London.
WHO WAS THE MODEL FOR THE ORIGINAL STATUE?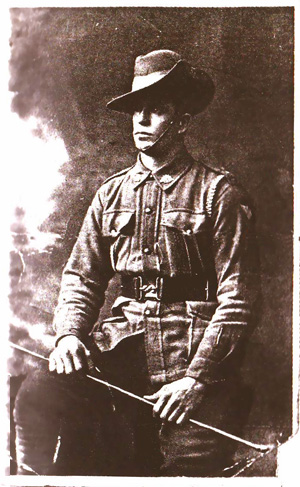 The model for the original soldier was Private William "Bill" Henry Dodd. He was born at Jondaryan, central western Queensland on 10 April 1885 and enlisted in the 25th (Infantry) Battalion at Enoggera, Brisbane. The 25th Battalion had just been raised and was predominantly composed of men recruited in Queensland. They left Australia in early July, trained in Egypt during August, and by early September were manning trenches at Gallipoli and then on to the Western Front in France in December that year.

What made Bill an ideal candidate as a mason's model? He was the typical Anzac of legend: a tall, country boy. He had volunteered for service in 1909 and was an experienced soldier by the time of enlisting in the AIF in 1915. He already had six years with the Queensland Mounted Infantry (Light Horse), the Australian Field Artillery (AFA), and in the Training Battalion of the AIF before enlisting. At enlistment he was working in the family bottle merchant business at Wooloongabba, Brisbane and had a wife, May, and a 10 month old child, Francis ("Frank").

After further training in Egypt, Bill and the 25th Battalion proceeded to France. Landing on 19 March 1916, it was the first AIF battalion to arrive there. Now fighting as part of the 2nd Division, it was about to take part in its first major battle at Pozieres. William was in Amiens in mid July 1916 and entered the front line at Taara Hill on the 27th. The following day - the 28th - they were to make a night attack on the Germans at Pozieres. At midnight the attack began. It was done in five waves. The lines moved forward as rehearsed and they successfully made their final objective but were met with heavy machine gun fire from the enemy's 2nd line trenches resulting in fairly heavy casualties for the Australian battalion. The enemy also opened fire with their heavy artillery and trench mortars causing more casualties. Bill received a gunshot wound to the thigh and was stretchered away to the casualty clearing station. He was one of the 132 men wounded that night, along with 32 killed and 180 missing. He was sent to England to recover and spent much of the next 6 months in and out of hospital.

He returned to Brisbane on 16 January 1918 and separated from his wife. He was given custody of young Frank. Bill was selected as a model for the Andrew Petrie War Memorial sculptures (all 21 of them). Bill was 5'10" (170 cm) tall which was taller than average, and weighed in at 144 lb (65 kg). He has a good physique and looked good. The masons at Andrew Petrie's had to scale his measurements down (87%) to get the suitable dimensions for the 5'1" model, and they did a great job.

Bill died in 1961. His son Frank joined the AIF in WW2, became a prisoner of war and died of head wounds in Changi in August 1945. The photo above was supplied by Bill's neice - Valma Jones (nee Dodd). Many thanks!


---
THE REMAINS OF THE ORIGINAL STATUE
In 1990 the stone soldier was vandalised by two men who smashed it to the ground with a chain attached to a car. The replacement cost for a marble replica was found to be $32000 which the convicted men did not have to repay. The Manly-Lota RSL did not have the funds to make such a replica but the State Government chipped in with $2500 for a concrete copy. Former President of the Manly-Lota RSL, Peter Kinsella, commissioned Toowoomba stonemason - Stephen Traynor - to make a replica of the original Andrew Petrie soldier in concrete (not Carrara Marble as in the original). It was installed complete with steel reinforcing in 2007. Between its destruction in 1990 and replacement in 2007, the memorial was without a statue. A cross was mounted on the pedestal for Anzac services every year but then removed. Fragments of the original marble soldier are now held at the Brisbane City Council Depot in Lota. This is beautiful marble - from the Carrara quarry in Italy; the same quarry that Michaelangelo used.
I visited the depot in April 2013 and took the photos below.
| | |
| --- | --- |
| | |
| The fine detail in the face is obvious. Steel rods had been added after the first act of vandalism where the brim of the had was smashed. A brass rod inside the neck helped support the head. | At some stage the statue had been painted. |
Masons used to cemetary work readily made the face gentle as that is what they were accustomed to. But they were also creating a face that was tender and befitting mourning. All stone memorial soldiers in Queensland are infantrymen - like our Manly soldier - in full marching kit and no backpack. Notice that he is wearing a slouch hat and not a cap as was worn just as often. This adds to the Australian identity of the "Digger". Most of Queensland's stone soldiers are youthful, often "sweet-faced" youth, mostly expressionless and not the grim and serious soldier that was a product of the war in France, Belgium, Gallipoli, Palestine and Egypt. The art critic for a London newspaper said that Queensland's monumental soldiers had not been "breathed on by Death itself".
| | |
| --- | --- |
| | |
| Profile shows the damaged nose. | The size 7½ shoes rested on a marble base 34 x 34 cm, 5 cm thick. The 3/4" brass support rods are evident. |
| | |
| --- | --- |
| | |
| The remains are laid out on a pallet at the depot..... | ...in between the bins. What to do with them now? The Queensland Museum is unable to take them. |
| | |
| --- | --- |
| | |
| Using a macro lens I could get a good close up of the fresh and weathered marble. Individual grains are obvious. This section is about 10 mm wide. | A freshly cut surface of the marble. Another close up done with a macro-lens. About 10mm wide. |
| | |
| --- | --- |
| | |
| Different coloured crystals in the marble. The darker grains contribute to the ghostly grey tints of the Carrara marble. | A layer of paint about 0.7 mm thick has been applied to the statue. This can be seem in this section of the tree stump. |
Councillor Peter Cumming approached the Queensland Museum on 5 July and asked if they would be interested in the remains of the statue. On 24 September 2013 Dr Geraldine Mate of the Social History curatorial team wrote back to say that they lacked the resources to store and restore the statue. I wrote to the local newspaper - the Wynnum Herald - to advise of the situation. The published the following on 9 October 2013, page 3:
To listen: Radio station 4BC interview 10 October 2013
Nothing has happened since that story went to air and it would seem that the original statue is to be abandoned.
---
LATEST NEWS

As mentioned above, in 2013 the Queensland Museum declined the Brisbane City Council's offer to donate the damaged Great War memorial citing lack of funds and "effort needed to conserve and repair the object".

I am pleased to report that on 20 October 2014, Mark Clayton - Senior Curator, Social History, Queensland Museum - wrote to say that the Museum's circumstances had since altered following a State Government announcement - in March 2014 - that the Queensland Museum would receive funding to develop a new, permanent gallery exploring the legacies of the Great War
(see http://anzac100.initiatives.qld.gov.au/legacy-projects/). Mark wrote:

You'll appreciate that community war memorials are today the most common, and prominent legacies of that conflict. For this reason we are now keen to try and acquire one of these displaced memorials for inclusion in this planned exhibition, our preference being for one - such as that which you previously offered - which has sustained some post-war damage (which we also consider to be an important part of the remembrance story).
Mark Clayton
Senior Curator, Social History
PO Box 3300 | South Brisbane BC | Queensland 4101 | Australia t. 07 3840 7679

STATE LIBRARY OF QUEENSLAND BLOG
The State Library maintains a WWI Blog and features an article by Mark Clayton from the Queensland Museum, posted 20 April 2017. Mark's article explores vandalism of war memorials in Queensland over the decades since WWI, and he references this Manly War Memorial website. You may find it interesting: http://blogs.slq.qld.gov.au/ww1
---
THE PRESENT STATUE IN DETAIL
The statue today is not the one placed there in 1921. It was vandalised in the 1990 and smashed to pieces (see above). The damage was so bad that it could not be restored. A new one had to be made and this is the one described below. As you will see, it was an almost exact replica of the original copied from another by Andrew Petrie - monumental mason of Brisbane. There are some slight differences and these are described.

| | |
| --- | --- |
| | |
| The memorial is of a (replacement) life-sized statue of an Australian soldier standing with head bowed and arms reversed on a sandstone pedestal. The original was dedicated on 6th March 1921. | The pedestal is capped by a wide cornice and sits on a rock-faced granite base. The Digger was replaced in 2007 following a long period of absence due to vandalism. |
The most common pose for a soldier statue is standing in an attitude of mourning; head bowed; rifle reversed and resting on the left boot. This is how the present Manly soldier is shown. The "Rest on Arms Reverse" position is quite common throughout Australian memorials and denotes that the persons names on the monument have "fallen" (died in war). It is the prescribed position in drill manuals for catafalque parties standing vigil at funerals and at Anzac Days.
Queensland stone soldiers are all between 5 ft and 5'6" tall. They were to typify the common Digger but the statues were less than the average height of 'real' soldiers of 1915. The current stone soldier on the Manly Cenotaph is just 5'1" (156 cm) tall. The 16 named soldiers this statue memorialises were actually between 5'2" and 5'8½", averaging 5'6½" (157-174, av. 168 cm). As a matter of interest their weights were between 110 and 150 lb, average 132 lb or 9 stone 6 pound. That is equivalent to 50-68 kg, with an average of 60 kg. This means that our 'Manly' soldiers were all quite slim. The original soldier from 1921 was just 152 cm (5'0") tall.

---
---
SOME FEATURES
All stone memorial soldiers in Queensland are infantrymen - like our Manly soldier - in full marching kit and no backpack. Notice that he is wearing a slouch hat and not a cap as was worn just as often. This adds to the Australian identity of the "Digger".
| | |
| --- | --- |
| | |
| Close-up of the face and slouched hat. The concrete replica naturally is much coarser than the marble original. | The hands rest on "arms reversed". Note the 'mounted' pattern bandolier slung over the shoulder. This has 9 pouches, each holding 10 rounds each, thus a total of 150 rounds of .303" were carried. The original statue had no bandolier. |
| | |
| --- | --- |
| | |
| Note the rifle - reversed and resting on the left foot (Catafalque Party style). Around the legs is a wide khaki bandage (called a 'puttee') wound to just below the knee. They seal the junction of the boots and the trousers, and prevent the ingress of foreign objects. | It is difficult to make a statue in a athletic pose for technical reasons: the limitations of stone. Most of the soldier statues in Australia are attached to the base of a tree stump for support - like the free standing statues of classical antiquity. To have a more athletic pose requires casting in bronze. Note that in the replacement statue (above) the tree trunk is beside his left leg - whereas in the original it was to the right. |
| | |
| --- | --- |
| | |
| Side view shows the bayonet sheath and the supporting tree stump. The rifle is the Short Magazine Lee-Enfield (.303) introduced in 1903. The bayonet was 17" in length. | The base is made from beautiful Enoggera granite. Such granite was used on many buildings in Brisbane up to the early 1900s when Laidley granite became more popular as it didn't show brown staining from the presence of iron-containng minerals. No iron staining is evident here. Rough-hewn granite was popular for Anzac memorials in Australia; the aim was to take minds back to to the day of the landing at Gallipoli and see the rugged hills up whcih the soldiers had climbed [Inglis, 2007]. |
---
WORLD WAR 2 MEMORIAL
On the left face of the memorial are the names of World War 2 soldiers that died while on service. The general public after WW2 was wary of purely commemorative memorials (as a Gallup poll found at the time). The post war period saw a triumph of utility. Local communities still wanted to remember their fallen but in ways that served the living: memorial libraries, swimming pools, halls, hospitals and parks instead of cenotaphs or obelisks. In Queensland - like the rest of Australia - it was not as common to erect memorials to WW2 fallen but rather to add their names to the WW1 memorials offered by the previous generation. This was an expedient solution that also avoided adding to the post-war housing shortage where precious bricks and mortar could be used on something (people said) was more useful. This is what happened at Manly.
| | |
| --- | --- |
| | |
| The Memorial taken in the 1940s (BCC) | The 21 soldiers from WW2 |
It is sometimes asked if the names of local soldiers of later wars should be added to the memorial. In August 1992, the Memorial was placed on the Queensland Heritage Register (No. 600249) and this now provided strict procedures for any additions or alterations to the site. In applying for permission the applicant would need to submit a Heritage Impact Statement to the Department of Environment and Heritage Protection.
---
ANZAC DAY & REMEMBRANCE DAY CEREMONIES
The Manly-Lota Sub-branch of the Returned and Services League (RSL) uses the park for commemorative services on Anzac Day and Remembrance Day.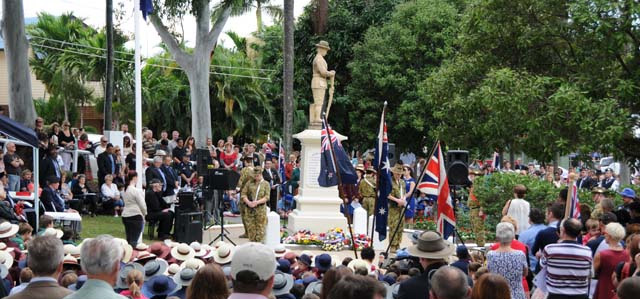 Anzac Day Ceremony - 2012. Cadets made up the Catafalque Party.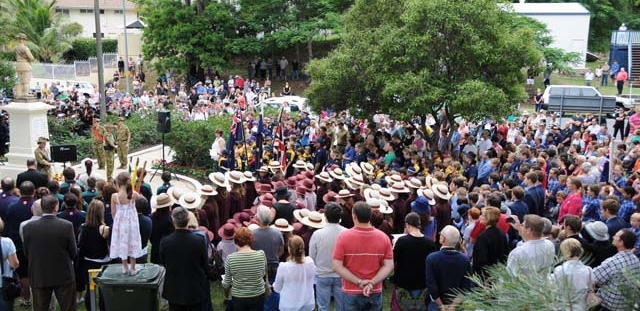 Anzac Day Ceremony - 2012. Students from local schools made up a large part of the audience.
---
THOSE WHO HAVE FALLEN
Details of the men listed on the WW1 Honour Roll
| | | | | | | |
| --- | --- | --- | --- | --- | --- | --- |
| Reg. No. | Surname | Given names | Rank | Corps | Date Died | Place |
| 1210 | | Francis | Pte | 42 Bn | KIA 4 Oct 1917 | Belgium |
| 2072 | | Joseph Auguste | Sgt | 41 Bn | KIA 29 Sept 1918 | France |
| 2606 | | James | Pte | 52 Bn | KIA 14 Sept 1916 | France |
| 2353 | | Alfred | Pte | 42 Bn | DOD 29 Jan 1917 | England |
| 27963 | | Robert George | Pte | 5 Bde Field Arty | DOW 1 Jan 1919 | France |
| 3878 | | Francis Bryan | Pte | 47 Bn | DOD 15 July 1917 | France |
| 970 | | Carl | Pte | 25 Bn | KIA 17 July 1918 | France |
| 9674 | | Thomas Andrew | Lt | 9 Bn | RTA 4 June 1919 | Not wounded |
| 1893 | | William Henry | Pte | 41 Bn | DOW 14 April 1917 | France |
| 5814 | | Lewis | Pte | 9 Bn | DOW 15 March 1918 | France |
| 3452 | | Ernest William | Pte | 15 Bn | KIA 27 August 1916 | France |
| 3250 | | Roy Powis | Pte | 47 Bn | DOW 13 Oct 1917 | Belgium |
| 3106 | | Edward Marsh | Cpl | 47 Bn | KIA 20 Nov 1916 | France |
| 2867A | | Stanley | Pte | 31 Bn | KIA 17 Mar 1918 | France |
| 660 | | Thomas Norton | Pte | 25 Bn | KIA 29 July 1916 | France |
| 14498 | | George | Pte | 5th Div Eng | DOD 16 Aug 1916 | England |
KIA = Killed in Action, DOW = Died of Wounds, DOD = Died of Disease, RTA = Returned to Australia
The blue links in the table will take you to their obituary (below).
---
THOSE WHO HAVE FALLEN
Details of the other men who were born and grew up in the Wynnum-Manly area or lived there at enlistment.
| | | | | | |
| --- | --- | --- | --- | --- | --- |
| Reg No. | Surname | Given Names | Corps | Date died | Place |
| 38 | Anderson | Albert Robert James | 1st Aust Tun Coy | KIA 1 Oct 1917 | Belgium |
| 3007 | Begg | Albert | 49 Bn | KIA 5 Sept 1916 | France |
| 2137 | Burke | William | 49 Bn | KIA 6 June 1916 | Belgium |
| 2318 | Carr-Boyd | John Gerald | 47 Bn | KIA 12 Oct 1917 | Belgium |
| 5810 | Cavagnah | Roxburgh Reginald | 25 Bn | KIA 7 July 1918 | France |
| 5314 | Coultis | William Charles | 25 Bn | DOD 22 Oct 1917 | England |
| 3154 | Davis | Joseph | 49 Bn | KIA 5 Apr 1918 | France |
| Lt | Dodds | George Sidney | 41 Bn | DOW 29 Sept 1918 | France |
| 4190 | Douglas | William Charles | 9 Bn | DOW 2 Sept 1916 | France |
| 233A | Farnsworth | Roy Herbert | 1 Bn MG Corps | DOW 19 Sept 1918 | France |
| 368 | Gallaway | Claude Belmore | 25 Bn | KIA 29 July 1916 | France |
| 1896 | Fensom | William Alfred John | 47 Bn | KIA 12 Oct 1917 | Belgium |
| 74 | Greco | John Herbert | 49 Bn | KIA 5 April 1918 | France |
| 5599 | Harding | Alfred George | 26 Bn | KIA 28 Oct 1917 | Belgium |
| 5540A | Hatchett | Matthew Thomas | 8 Coy AASC | DOD 7 Feb 1916 | Egypt |
| 520A | Hobson | Eric Scott | 15 Bn | DOW 11 June 1916 | France |
| 3366 | Hunt | Frank Leonard | 49 Bn | KIA 2 Apr 1917 | France |
| 661 | Jackson | William Hart | 26 Bn (Sgt) | DOW 16 Apr 1916 | France |
| 2199A | Lapworth | Jospeh Frederick | 49 Bn | KIA 26 Sept 1917 | Belgium |
| 2208 | Leechman | Robert James | 52 Bn | KIA 24 Apr 1918 | France |
| 4836 | Maclean | Douglas Rendle | 9 Bn | DOD 15 Sept 1916 | England |
| 13630 | Maguire | Virgil | 6 Field Amb | KIA 27 Sept 1916 | Belgium |
| 2622 | Marsen | Alfred | 41 Bn | KIA 5 Oct 1917 | Belgium |
| 3174 | Marsh | Henry James | 47 Bn | KIA 12 Oct 1917 | Belgium |
| 1707 | Marsh | John James | 5 LH Reg | DOW 6 Nov 1917 | Palestine |
| 2280 | Nock | Henry | 49 Bn | KIA 7 June 1918 | Belgium |
| 1028 | Nicoll | Robert Macquarie | 25 Bn | KIA 29 July 1917 | France |
| 1189 | Pavey | William Alexander | 49 Bn | DOW 1 May 1918 | France |
| 1695 | Paxton | Francis Sebert | 26 Bn | DOW 30 Apr 1916 | France |
| 3886 | Priest | George Anderson | 47 Bn | KIA 5 Apr 1918 | France |
| 2890 | Simpson | Alexander Robertson | 9 Bn | KIA 25 Feb 1917 | France |
| 11349 | Spenceley | Stuart Aubrey | AASC | DOD 28 Jan 1919 | France |
| 2656A | Stone | Walter Neville | 9 Bn | KIA 22 July 1916 | France |
| 729 | Tardent | Edward Felix | 42 Bn | KIA 31 July 1917 | Belgium |
| 3147 | Turner | Thomas William | 26 Bn | KIA 29 July 1916 | France |
| 3 | Uhlmann | Christopher | 1 Bde Fld Arty (Sgt) | KIA 21 July 1917 | Belgium |
| 3932 | Waterfield | Alfred Henry | 3 Bde Fld Arty | KIA 26 May 1918 | France |
| 1747A | Wilkinson | Joseph James | 49 Bn | KIA 15 Aug 1916 | France |
| 735 | Woodhouse | William Augustus | 9 Bn | KIA 20 May 1915 | Gallipoli |
| Lt | Rose | Ernest Clifford | 31 Bn | KIA 26 Sept 1917 | Belgium |
---
FARAWAY GRIEF
From the moment people first received information of the death of their loved ones in war overseas, Australians sought knowledge of what exactly happened and what became of them. They needed that knowledge to give substance to the images they had in their minds about their soldier's last moments. They needed to know - was it painless, and did they get blessings of their faith. Mothers wished they had been there to hold their son in their arms to palliate their suffering.
Pt Ernest Gadsbury's parents placed this notice in the paper.
Memorial notices in the papers on the anniversiary of the death of a loved one often continued for years after the soldier had died. Relatives conducted these ceremonies of release and farewell through the newspaper columns. These acts ofdedication could last for years. For example, memorial notices in the Argus for Jack Fothergill (6 Bn, KIA 25 April 1915, Gallipoli) were inserted by his parents (Isabelle and Robert) and then his siblings right up until 1948.
It was important that if parents or wives were to come to terms with the death they needed detail. There was a therapeutic value knowing that the death was honourable. Every grain of news of a beloved son was a comfort. It became important to know if prayers were recited over that sacred spot where they died. Even if a body was not found it was a comfort to parents and wives to know that a virtual site for their grief had been sanctified by their comrades to whom the care of the dead had been assigned. Even of there was no grave then the position of where they were last seen was important. Here is an extract from a letter I have from a Corporal Denis Rowden Ward - 9th Battalion - who wrote to a friend while he was convalescing in hospital from a wound received at Gallipoli. The letter had information that was vital to two families - information about the burial of a Lance Corporal Phillip de Quetteville Robin 638, 10th Battalion, who was killed at Gallipoli on 28 April 1915.

On the Thursday 20 May 100 men were sent up to Quinn's Post to act as supports and fill up gaps in the firing line. We were told we should be relieved by tea time, and so left our packs with the men staying behind. Capt. Dougall took the party up, and I went with Lieut. Ross to the left, at Quinn's Post, also with about 15 men. On the side of the communication trench was a body which no one had had time to bury, so 'Dad' Hume [Sgt James Edward Hume, 592] and I took the dead soldier down the gully a little way and buried him. It turned out to Lance-corporal Robin, of the good old 10th Battalion, who was married at Mena, you will remember. I took his disc, pay book, and letters, and handed them later to Major Brand. It turned out afterwards that Hume had noticed his wristlet watch, but did not say anything at the time and we buried it with Robins. He had been shot through the skull, and death must have been instantaneous.
His features were too disfigured for him to be identified so he couldn't be buried in a named grave. Nevertheless, he was buried in a religious service on sanctified ground at the Lone Pine Memorial, Gallipoli. His belongings were returned to his mother Mrs Mary Robin in South Australia and a small sum of money to his new wife Nellie Irene Robin (nee Honeywell) in Kensington, London (they were married in late January 1915 at Mena, the Anzac Camp about 45km south west of Alexandria in Egypt, and Nellie gave birth to a son Robin in November in Kensington but she died in birth).
Phillip Robin and his 'old tent mate' Private Arthur Blackburn distinguished themselves on the first day of the landing by penetrating further inland and coming closer to the objective of the Gallipoli expedition than any other Australian or Allied troops throughout the entire campaign. The pair were with the battalion scouts and after transferring from the Prince of Wales were in the prow of one of the early boats to land. Their orders were simple but very clear 'When you get out of the boat, go like hell for Third Ridge'. To read more about Lance-corporal Phillip Robin click here.
---
OBITUARIES
The following obituaries have been pieced together from the official Brigade and Battalion war diaries, from the soldiers' army records, and from newspaper clippings, BMD records, ancestry files and from relatives of the deceased. There is enough detail to show that fellow soldiers did look after their mates; that their loved ones were given religious rites, and that their deaths were honourable.
---
WILLIAM AUGUSTUS WOODHOUSE - A DEATH AT GALLIPOLI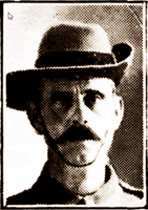 WILLIAM WOODHOUSE
William Augustus Woodhouse was born in Portsmouth, England, on 16 June 1875 to parents John and Eliza Woodhouse (nee Moth). He had 3 brothers and 7 sisters. William became a seaman and joined the merchant service, arriving in Sydney, Australia, as a crew member aboard the Clipper Cimba on 30 July 1898. The ship headed back to Plymouth loaded with wool a few weeks later but William chose to stay in Australia.
He made his way north in 1903 and settled in South Brisbane where he became a commercial traveller. In this time William served with the Oxley Rifle Regiment of the Citizens Military Force and some time with the Naval Reserve. He became quite a splendid marksman often winning the rifle shooting championships even with the highest handicap in the competition.
In 1904 met and married Otilgar Augusta Haupt (b1879) from Yengarie near Maryborough and travelled throughout south-east Queensland. They had three daughters - Dorothy Mabel Moth (1905), Ada Lilian (1907) and Winifred 'Peggy' Laura Victoria (1910) before moving to King Street Wynnum on the bayside of Brisbane. In 1914 their son Wilfred ('William') was born. Their children attended 'Central School' (Wynnum-South Central State School). William joined up with the Oxley Rifle Regiment again, spending a total of 5 years with them.
William was also Honorary Secretary of the Wynnum Manly Sailing Club, a member of the Masonic Lodge and active in the Wynnum Amateur Athletic Club. He and his family attended the Wynnum South Baptist Church (in the Shire Clerk's Cottage in Tingal Road from 1910, and then from 1912 - Edith Street). They became well-known and popular members of the community. Mrs Woodhouse spent much time raising money for the School of Arts they were supporting in Wynnum. In 1913 William's brother George (1866-1950) emigrated to Brisbane from Portsmouth.
On 24 August 1914 William enlisted in the AIF. Many members of the Queensland militia (CMF) joined the army and were allocated to the 9th Battalion. It was among the first infantry units raised for the AIF during the First World War just within weeks of its start. After preliminary training the advance party of the battalion - including William - departed on 22nd September 1914 aboard HMAT Omrah and arrived in Alexandria on 5th December. There they joined the 3rd Brigade and began training in preparation for action somewhere in the Mediterranean.
The battalion boarded HMTS Ionian on the 1st March 1915 and sailed the next day at noon. Sailing orders were opened by the OC of the ship. They were headed for the Greek island of Lemnos but the weather was terrible and the sea was very rough. Most of the men and officers were seasick - but not William. Years of merchant marine service had given him sealegs. The ship reached Lemnos at 7pm on 3rd March and docked in Mudros Harbour the next day. Over the next week a campsite was selected and training began. On the morning of the 24th April they departed the harbour aboard SS Malda and during the next night transferred to the destroyer Queen which took them two miles north of where they planned to land at Gaba Tepe. Instead of landing at a beach with gentle slopes inland they arrived at a beach with dauntingly high cliffs overlooked by the Turkish Army. The 3rd Brigade was the covering force for the ANZAC landing. Famously, the A & B Coys were the first ashore at Gallipoli at 4:28 am, 25th April, with C & D Coys providing support and landing 30 minutes later. William was ashore and under intense fire started to dig in.
Corporal Denis Rowden Ward was in William's company - D Coy, 9th Battalion - and wrote a letter while he was convalescing in hospital from a wound received later in September. He describes the landing and events leading up to William's death:
At the finish of the first day's fighting I found myself in a very rough and ready trench with Captain Plant and Sergt. Saunders. The latter is now Sergeant-major of D Company.
We were on the extreme right, near Gaba Tepe, and had several times to get reinforcements to hold a rise. We kept the beggars off all night - stood to arms all the time with fixed bayonets - 'nine rounds in the little tin box and one in the tunnel,' as the Ceylon tea planters instructed our recruits in Egypt. It was raining and no one had eaten since the morning. The next day we still kept the Turks at bay, and by the evening the 7th (Qld.) Battery got a gun up along side of us in the trenches, and towards morning fired for the first time in history, I am told, zero shrapnel at the attacking bodies of Turks. It was a fine sight to see the shells fired from the trench we were in - the front and only line between the Turks and the beach - the shells bursting about 50 to 100 yards after leaving the gun.
The 3rd Brigade consisted of four infantry battalions - the 9th, 10th, 11th and 12th Battalions but they had become mixed up in the landing. The 9th Bn should have been on the right (the southern end). About 1000 men made up the 9th Bn but after the landing only 4 officers and 251 ORs (Other Ranks) answered the call. Cpl Denis Ward continues:
I don't know how the thin khaki line had held out till then. Word went along the whole force for the men of certain battalions to assemble on the beach. We were, of course, all mixed up like chocolates in a box, and took a bit of sorting out. Only a small remnant of our original battalion answered the roll, and we were ordered to dig ourselves in the side of the hill as best we could. I had just got a fair sized place dug for two, and was thinking things over a pipe of tobacco, when the shrapnel found out where we were, and the next thing I saw was Sergeant-major Sinclair, the signalling instructor, carried out of the next dug-out, yards away, with a shrapnel bullet through the skull. He must have died instantaneously.
For the next three weeks the battalion was heavily involved in establishing and defending the front line of the ANZAC beachhead.
On Wednesday 19th May their battalion was attacked by the enemy at midnight - which they repulsed - but it was renewed at 3 am. The enemy advanced in close order and some reached the wire entanglements. By 8 am the enemy's infantry had been driven off but heavy bombardment of the battalion's trenches took place until noon.
Thursday 20th started off quietly and by 3pm the Red Cross teams were burying the enemy dead. At 7.30 pm there was severe shelling by the enemy particularly on the trenches of 9, 11 and 12 battalions. The Turks completed dominated the trenches and shelled as they pleased. It was during this time that William's D-Coy was hit by a shell. William died instantly and with him went Nobby Clark, Jim McAhan and Bill Cammack. They all died together. The four of them had been together since joining up in Brisbane; they travelled on the HMAT Omrah together, fought together in D-Coy and were all together in the trench when the bomb hit. The shelling stopped at 8 pm. They lived together and now they died together; they were going to be buried side-by-side on the beach. Cpl Ward continues:
You know about the big attack on May 20. We lost Nobby Clark - who was then sergeant-major - killed; Corporal Cammack, of the M. G. S. [Machine Gun Section], killed, McAhan and Sergeant Woodhouse, killed; Lieut. Steele of the M. G. S, wounded; and Company Q. M. Sergeant Mitchell, badly wounded, also Millar and a few other privates and NCOs killed and wounded - all in the D Company's section of the trench.
Nobby Clark was Harry Corbin Clark, born in Hampshire England; James McAhan (957) was born in Dunedin, a member of the Otago Rifles, but lived in Townsville. Corporal William Cammack (733) was from Oakey, Queensland, and had been wounded in Boer War. He was 35 and had a wife and 2 sons. Sergeant Major Alexander Steele recovered but was later killed in action in Belgium on 13 Oct 1917; Frank Mitchell had been wounded much earlier - on 2nd May. All of them joined the 9th Bn together in Brisbane and travelled on the Omrah to Egypt.
The bodies of Woodhouse, Clark, Cammack and McAhan were recovered from the Gaba Tepe battlefield the next day (20th) and given a beach burial directly in front of where they died - about 350 yards south of the 3rd Brigade HQ that afternoon. The service was conducted by NZ Army Chaplain Rev. F. R. Richards. Nevertheless, the war continued. Cpl Ward continues:
Thursday 20 May 1915. On the Thursday, 100 men were sent up to Quinn's Post to act as supports and fill up gaps in the firing line. We were told we should be relieved by tea time, and so left our packs with the men staying behind. Capt. [John] Dougall took the party up, and I went with Lieut. Ross to the left, at Quinn's Post, also about 15 men. We did not get relieved until Sunday [23rd] midday, and we had no greatcoats or tucker provided all that time and had to get out and dig at night to keep ourselves warm and beg what tucker we could during the day. Then we got a spell for a few days, but were regularly shelled every meal hour, and it was a rather exposed position. Then we were appointed a section of the firing line as our own, and felt it an honour to be held responsible for the holding of the extreme right of the line, D company being on the right of the battalion and down from the ridge to the bench facing Gaba Tope and Beachy Hill.
The bodies of Woodhead, McAgan, Cammack and Clarke were later exhumed and taken north for final rest at the Shell Green Cemetery about 1150 yards south of Anzac Cove.
In June 1915 Mrs Woodhead received a telegram notifying her of her husband's death. A notice was published in the Brisbane Courier on 26 June as part of the Roll of Honour. The following day a Memorial Service was held in St Peter's Church Wynnum for Sgt Woodhouse. Reverend James Teale officiated and took his text from John xv 15: "Greater love hath no man than this, that a man lay down his life for his friends". The choirmaster Mr Spring sang "Crossing the Bar" based on Tennyson's poem and familiar to all mariners. There were representatives of three Masonic Lodges (Moreton, Corinthian and Toowong).
The 9th Bn served at ANZAC until the evacuation in December 1915. William's brother Frederick (a school teacher, b 1881) served in the British Army with the Royal Berkshire Regiment. He was killed in Flanders on 2 October 1916 leaving a wife and child. William's children attended Miss Maud Crofts' Newbridge Private School in Hill Street Wynnum (58 Alkoomie St) from 1917 to 1919 when it closed due to a post-war bubonic plague epidemic.
On the anniversary of Sgt William Woodhouse's death there appeared memorial notices in the Brisbane Courier "Inserted by his loving wife, three daughters, and son".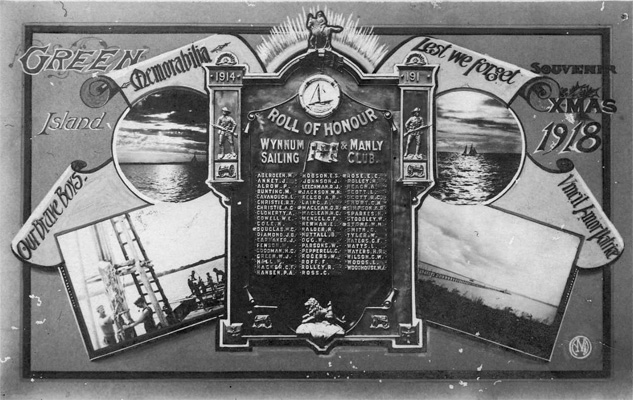 William was former Secretary of the Wynnum & Manly Sailing Club. His name appears on the Roll of Honour which lists all the members who served in WW1. William Woodhouse's name is the last on the list.
---
MEMORIALS TO MORE OF THE FALLEN

In recognition of the men who served and died some of their stories are told below. The images used as headings are taken from the Manly War Memorial. They are done with lead lettering in marble.

FRANCIS TUZZI (BRADBURY)
Frank Bradbury was the foster son of Charles and Martha Bradbury of Lota, Brisbane. He was born Francis Tuzzi on 21st June 1884 in the town of Lugano, Italy, in the district of Lombardy. After being orphaned at the age of 3, he came to Australia aboard the British India steamer Jumna in 1891 and landed in Brisbane. He was just 6 years old. He joined a foster family in the sugar town of Bundaberg. His foster parents were sugar mill engine driver Mr Charles Bradbury and his wife Martha. The Bradburys were originally from the town of Manchester in Lancashire in England. Charles Bradbury had married Martha Eccles in November 1868 and migrated to Australia a few years afterwards. After 6 months in Bundaberg young Frank Tuzzi and the Bradburys travelled to the sugar fields of Halifax (near Ingham) in North Queensland where the family lived at a home in McCrossan Street. During this time Frank Tuzzi received his schooling at the Halifax State School and later obtained a job with the local brewer and soft drink maker Halifax Aerated Water Manufacturers. Frank became naturalised in 1906 at the age of 22. He stayed on with the family in Halifax until they all moved to Ingham in about 1910 (Macknade Street) and thence to Brisbane in 1914 upon Charles's retirement at the age of 68. They purchased the house "Longsight" at the top of Ian Street (off Oceania Tce), Lota. It was while they were here that the European war broke out and Frank decided to enlist.
On the 20th March 1916, at the age of 31 years, Frank enlisted in the 42nd Battalion AIF. He listed Charles Bradbury as his next-of-kin, and Martha as the beneficiary in his will. Frank trained in Brisbane and left Australia for England on 5th June aboard the Borda, arriving on 23 July. After training in England for four months, Frank left Southampton on 25th of November 1916 by ship for France. However, a pre-existing medical condition developed into a hernia while he was in the trenches and Frank was sent back to England for recuperation. He had recovered by July 1917 and undertook more training with the 11th Training Battalion in England before rejoining his battalion in France in August. By the 22nd August 1917 Frank was in Belgium fighting at the front.
On the 4th of October, while fighting with 'C' Company, 9th Platoon at Ypres he was killed by a German gunshot. Frank's commanding officer said that "We gained our objective. He was buried". Along with the other four men killed that day he was buried at Bavaria House Cemetery. It was hoped that the bodies of these five Australians could be recovered from Bavaria House as soon as possible but it had been destroyed so badly by the enemy that recovery was impossible. A Special Memorial Cross was erected at White House St Jean, Belgium with the inscription "Their Glory should not be blotted out". His medals were sent to Charles and his other meagre possessions to Martha. A memorial notice was placed in the Brisbane Courier on 4th of October 1923 by Charles and Martha; it read:

As we loved you so we miss you,
In our memory you are near.
Loved, remembered, longed for always,
Through the intervening years.


His friends Ida and Reg wrote:

He always had a pleasant word,
A smile where'er he went;
He had a kindly word for all,
And died beloved by all.


Charles died in 1931 and Martha in 1937. They had no other children.
---

SGT JOSEPH 'JOE' AUGUSTE FERRARI
Auguste Joseph Ferrari - also known as Joseph 'Joe' Ferrari - was born in Brisbane on 8th April 1896 to parents Auguste Ferrari and Margaret Elizabeth Ferrari (nee Bird). There are many twists and turns in his family life which need explaining, as they feature again when Joseph's effects and will are being sorted after his death.
His father Auguste was a seaman, born in 1861 in Seychelles, Africa (a part of Mauritius at the time), son of Auguste Etienne and Marie Palmyre Ferrari (nee Muratorio). Auguste was a crewmember of several ships that visited Australia. He settled in Brisbane and obtained work on ships travelling up and down the east coast of Australia - such as the Glanworth and Wyandra. Auguste was a volunteer able seaman (AB) with the Queensland Marine Defence Force and was stationed with HMQS Gayundah. He married his first wife Elizabeth Boyle in 1886 and together they had four children - Elizabeth (1887), who survived for one day, Maurice (1890), Arthur (1892) and Elizabeth Palmyre Ethel (1893). However, after an accident as a wharf labourer on the AUSN wharves in Brisbane in 1892 he was rendered permanently incapacitated and awarded £500 - a large cash settlement indeed. The following year his wife Elizabeth died and in January 1895 he remarried.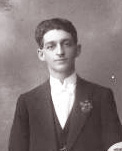 Auguste's second marriage was to Margaret Bird in January 1895. Their first child Joseph Ferrari - the subject of this memorial - was born 15 months later. They subsequently had a daughter Elsie May (b 13 February 1898) who survived for just 13 weeks, and another son Lucien Noel (b 26 December 1898) - shown in the photo left. It would seem that Lucien was named after his uncle Lucien Ferrari also born in the Seychelles. Auguste's wife Margaret died during this last childbirth. Lucien was taken for adoption by Phoebe (nee Dickinson) and John McEwan at Paddington and his name was changed to Louis McEwan. The McEwans adopted another four children. Sadly, Auguste Ferrari went bankrupt in May 1902 and little is known of him after this time.
Joseph Ferrari was an officer for 5 years in Senior Cadets before becoming an apprentice blacksmith with his cousin Charles Rowbotham in Cardigan Pde, Manly. Charles was the son of Catherine Rowbotham (nee Bird) - his mother's sister. After finishing the 4th year of his training, on 29 September 1915, he enlisted in the army as a Private in 8th Deport Battalion AIF. He was 19 years old. Joseph trained and was promoted to Corporal (22 Jan 1916) then Sergeant three weeks later. Unbeknownst to him, his brother Louis (Lucien) - a painter, aged 16 years 7 months, also enlisted (telling them he was 18). Louis too had been in school cadets. He was placed with the 3rd Field Artillery Brigade (13-16 Reinforcements) and embarked almost straight away (15 Jan 1916) - well before Joseph. When Louis's cousin Harry Antcliff met him (Louis) in Egypt, Harry informed the authorities of his age and the army transferred him to the safer place of the 5th Field Bakery Unit.
Joseph finally departed Australia on Clan MacGillivray on 7 Sept 1916 arriving in Plymouth, England, two months later where he headed for Tidworth Training Camp to train for the next 10 months. This is where he did his Lewis (Machine) Gun training. Joseph was ready for overseas service and was sent to France as a Private with the 41st Battalion (A Company). He was gassed four weeks later and returned to England for treatment. Returning to France, he rejoined his 41st Bn in late October 1917, narrowly missing action against the Germans. For the next five months Belgium remained the focus of the Battalion's activities. It was rotated between service in the rear areas and the front line. When the German Army launched its last great offensive in March 1918, the battalion was rushed south to France and played a role in blunting the drive towards the vital railway junction of Amiens.
The Allied plan was to smash the Hindenburg Line - a heavily fortified zone running several miles behind the active front between the north coast of France and Verdun, near the border of France and Belgium. This formidable system consisted of six defensive lines, forming a zone some 6000 yards deep, ribbed with lengths of barbed wire and dotted with concrete emplacements (firing positions). Though the entire line was heavily fortified, its southern part was most vulnerable to attack, and the allies decided to use these vulnerabilities to their advantage, concentrating all the force built up during their so-called "Hundred Days Offensive". This kicked off on August 8, 1918. The 41st Battalion was in the thick of it. Their task was to help breach a section of the Hindenburg Line about 90 km to the east of Amiens. They would be advancing east to Gouy (near Le Catelet) - the so-called "Green Line" drawn with green wax pencil on the map; and then advancing to a second line - the "Red Line" at Beaurevoir - a further 4 km east. This would be done under immense German bombardment from artillery, planes, riflemen, snipers, machine guns, barbed wire and asphyxiating gas.

Early in September 1918 Joseph Ferrari's battalion had several engagements with the enemy at Haut Allaines about 60 km east of Amiens as they made their way to the Hindenburg Line. He had just been promoted to Lance Sergeant and a week later to Temporary Sergeant. There were many casualties but the men were soon given 10 days to recuperate and train. Even though there was constant artillery bombardment and bombing by planes, the men engaged in gas training, marching, PT, drills, musketry, sports and so on. A second battle - the main battle - was planned for the night of the 28th September. This was to be an Australian-American operation to breached the formidable defences of the Hindenburg Line along the St Quentin Canal.
The men generally slept well that night although A and C Companies were disturbed by "Yellow Cross" (mustard) gas and had to sleep with respirators on. The morning of the 29th was misty, cool with a few light showers. There was a lot of German mustard gas lying about in the gullies. The plan was for the US 27th and 30th Divisions to breach the Hindenburg Line and then the 3rd and 6th Australian Divisions were to capture the "Green Line" further east by 9 am and then move on to the "Red Line" by 11 am, and then mop up and secure the area. The 41st battalion left their bivouac trenches at 7.15 am but were under heavy machine gun fire almost instantly. Progress was difficult and the "Yanks" (as the War Diary calls them) were not going well in their attempts to breach the line. A rolling protective barrage from the British artillery into the Green Line finished at 9.20 am and this line was taken. Joseph Ferrari's A Coy was expected to leapfrog the other companies and then proceed with the rest of the Battalion to the Red Line. They were ordered to advance but met uncut wire and more very heavy machine gun fire. The 41st moved forward about 200 yards but the fire was too intense. The A Coy commander, Lt Wilfred Secomb reported that during this "stunt" - at about 10 am - Sgt Joseph Ferrari was killed by an enemy machine gun bullet. The rest of A Coy made it to Benjamin Trench to wait for instructions.
The next morning Sgt Ferrari was buried back behind the allied line: on the left of the road to the town of Bony, about 200 yards ESE of Ronssoy, about 4 miles SW of Le Gatelet (see map below).

A section of the WW1 Trench Map showing where the action took place. The allies were advancing to the right. The blue dots shows enemy barbed wire, and the blue lines shows enemy trenches. This is the "Wiancourt" 1:20000 map used by the battalion at the time. The grid reference for his grave was F24 d 8.5 and is shown by the red cross I have added. The town of Ronssov is 200 yards to the left and the road to Bony (in yellow) heads off from the red cross to the NE. The black slanted line I have added shows where the soldiers lined up before the attack. He was stretchered back to behind this line to be buried. This map is from the War Diary of the 11th Brigade and is held in the National Archives.
Joseph was reported at first as being "dangerously ill" but this was quickly changed to "killed in action". It was just three weeks later that his cousin from Rockhampton, Arthur Francis Rowbotham (2627) - Charles Rowbotham's brother - was transferred from the 42nd Bn to the 41st and heard of his cousin Joseph's death. Sadly, Arthur caught influenza in the trenches and died of bronchial pneumonia in hospital a few weeks later.
A telegram notifying the next-of-kin of Joseph's death was sent to his cousin Charles Rowbotham on 16 October 1918 in Manly. Charles wasn't the next-of-kin but Joseph had earlier asked the army to tell Charles and not his grandmother (Mrs Catherine Leonard) in the event of his death. When Charles told his grandmother she died - literally. On the 12th November 1918 she passed away. Her daughter said that the news killed her. The army and family members then had to work out who was next next-of-kin, who was his beneficiary and also who should be given his medals.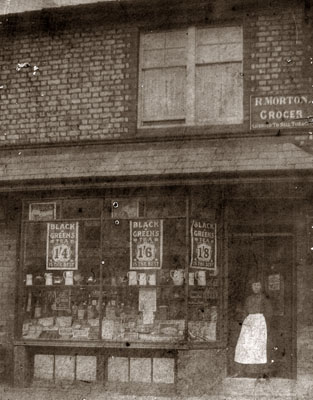 Rebecca Morton standing in the doorway
of her grocer's shop
Joseph's suitcase containing his overcoat, tunic, breeches, leather belt, books, wallet, keys, photos and letters had been left with a relative in England - Harry Antcliff's aunt Mrs Rebecca Morton nee Antcliff. She was a widow who had a grocers shop at 11 Appleton Road, Hale, Cheshire on the southern outskirts of Manchester, England. Her husband was crushed in an agricultural accident in 1898. They had one adopted daughter. Presumably Joseph Ferrari visited her or stayed with her while on leave in England. This is a photo (left) of Rebecca Morton standing in the doorway of her grocer's shop in Appleton Road, Hale, Cheshire. Rebecca sent all of Joseph's belongings to the Army and then after Louis established that he was next-of-kin, they were forwarded to him as no record of Auguste's whereabouts could be found.
Joseph had made several wills while in the army. At first in 1917 he left his effects and deferred pay to Annie Rowbotham, but a year later - on 21 Sept 1918, a week before his death - he changed this to his other cousin-in-law Mary Ellen Rowbotham.
There is a set pecking-order for who gets the medals. As Joseph was not married and had no children the order of precedence was: firstly the father, or if he is not alive, the mother, then the eldest living brother, then the eldest living sister. This was complicated as Joseph's father's whereabouts were unknown and his mother was dead, and no one knew that his full brother Louis was on active service in France not knowing that the army was trying to contact him.
It was almost a year later that Louis Ferrari returned from the war, arriving in Brisbane on 6th August 1919 to be discharged. He was alerted to the fact that the army was trying to pass on his medals and tried to locate his father by advertising in the Telegraph and Daily Standard (Brisbane) newspapers and in the Government Gazette - but to no avail. Meanwhile, in France, Joseph's remains were reinterred in the Villers Bretonneux Cemetery on 17 October 1919 in the presence of an army chaplain and Louis was advised. His medals were eventually sent to Louis in 1923. Louis married Ervina (nee Zieth) and they had three children: Keith Louis, Noel John and Ivy Ervina (married name Nelson). Louis passed away in 1959 and his wife Ervinaon 7 September 1957. It is unknown where Joseph's medals are now.
My thanks to Veronica Antcliff, granddaughter of Harry Herbert Antcliff.
Any photos or comments are most welcome.
---

JAMES GLASS
James Glass was born on 24 April 1885 in Esperance, Tasmania to parents William Glass and Elizabeth Glass (nee Holdbrook). They were married in 1874 but Mrs Glass married Adolphous Hardy in 1886 and had a daughter Olive in 1887. Adolphous Hardy married Sarah Argent and had Mary in 1891 and four more daughters after that. The names of these relatives of James Glass help explain who's who in his later life.
James became a carpenter in Brisbane and in 1915 James married Ivy McCallum. Ivy already had a son, Norman, born in September 1912 from a previous marriage to Charles Harris. The three of them lived at Stones Corner in the suburb of Coorparoo. On 5 August 1915 James enlisted in the 26th Battalion AIF (6th Reinforcements) and after some training embarked for the Middle East aboard troop ship A48 Seang Bee.
He arrived in Alexandria (Egypt) and went by train to the Australian camp at Zeitoun, near Cairo. On 1 March 1916 the 52nd Battalion was raised at Tel el Kebir in Egypt on as part of the "doubling" of the AIF. Approximately. James was transferred to the 12th Battalion - made up of recruits from Queensland and Tasmania - and then absorbed into the 52nd Battalion on 28 March. The 52nd became part of the 13th Brigade of the 4th Australian Division. On 5 June 1916 his batallion departed Alexandria and arrived in Marseilles, France, a week later. They made their way north to find they were destined for the Somme to support a battle than had been waging for some weeks.
The Somme Campaign lives in the memory because of the deaths on the 1st day - July 1916. On that one day there were 57000 casualties for the gain of three square miles of farmland in northern France. It was now five weeks later and the role of 52nd Bn was one of support. The battle was to get worse before it got better. The Australian Army held the Pozieres front line and now they were to advance east a short way and then turn north for Mouquet Farm. It seemed easy on the map but on the ground Pozieres was pockmarked with 1000s of craters and the Germans were still bombing the Australians on three sides.
James Glass came into the line with the 13th Brigade. They had arrived at Brickfields (Albert) on the 5th August and bivouaced there for a day before going to The Chalk Pit for a week to do fatigue duties. There were still casualties for the fatigue parties; nowhere was safe from the shells. On the afternoon of the 13th the 52nd received orders to move to Tara Hill and then the next day to move to Wire Trench to provide fatigue services for the front line. This involved carting ammunition, water and rations to the various units on the front line. They did this by proceeding along the side of the Baupaume Road from Albert through a low lying area the Australians called Sausage Gully. They veered left and made their way the 4 km through the cratered ground past Pozieres and up to Mouquet Farm where the front line was. The farm was mid-way between Pozieres and the German-held town of Thiepval 1.5 km North. The old front ran through Sausage Gully so it was badly damaged and hard to negotiate.
It was now 14th August. The aim of the Australian forces was to lunge at Mouquet Farm that night at about 10pm and then on to Thiepval. The Germans had captured documents and knew this was soon to happen so they dropped a furious barrage on the waiting Australians during that day - 14 August. James Glass's 'D' Company had the job of ferrying water up to Mouquet Farm from the Divisional Water Tanks in Sausage Gully. The road was so bad that the water carts couldn't reach the farm so the soldiers filled petrol tins form the cart at Sausage Gully and carried them by hand to the front line at the Farm. The shelling from the Germans on this supply line was horrendous.
It was about 7pm. James Glass was working side-by-side with his best mate - Fred Gray - also a carpenter. Grey was from England but had been in Western Australia for three years. They were working in a group from D Coy that included Pte Claude Shaw - a 21 year old farmer from Gin Gin Queensland, Pte Adrian Tozer, Pte Michael Dillon and L/Cpl Arthur Leverett. Tozer said "The Bosch shelling was heavy and the party split up". Glass and Gray stayed back and the others moved forward. Shaw had already survived gunshot wounds at Gallipoli but knew that what he was experiencing at the Somme was far worse. He was well ahead of Glass and almost at Moquet Farm when he saw shell go over. It landed on Glass and Grey and they were blown to pieces. When Shaw and Tozer looked around Glass "was no more"; neither was Grey. They were declared missing in action. Dillon and Leverett were wounded and taken to hospital. The next morning 2/Lt Percy Norman from D Coy got special permission to look for the two bodies but couldn't find them. A few days later Tozer gave a written account of what he saw. He said that Glass and Grey were "great pals" and that they were "both very popular and liked by the rest of the Company". Tozer was wounded a week later at Mouquet Farm and captured by the Germans.
James Glass's wife Ivy was notified soon after that he was missing. His mother, Mrs Elizabeth Hardy, inserted a notice in the Hobart Mercury - for 15 August 1917. It read:
In loving memory of our dear son, and brother.

He died a lonely hero for country and us,
He has gone, the one we loved so dear,
To his eternal rest.
No one could be sure that Glass was not captured and taken back to Germany as a POW. The Red Cross searched for him and in October 1919 said they had found no trace. A Court of Enquiry in October 1922 found that Glass was now "Killed in Action, previously reported missing". James Glass's medals were sent to his wife Ivy in Brisbane. When Mrs Glass received them she asked if the "final resting place has been found" for her husband. The army answered that they were still searching. She was granted a war pension of £2 per fortnight for herself and £1 pf for her son Norman Harris.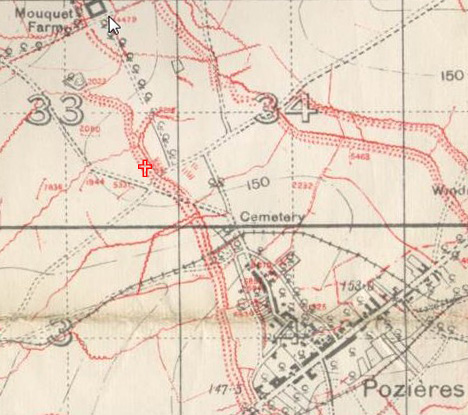 James Glass's body was found at the location marked with a cross. It's grid reference was given as R 33 d 7.5.
In 1927 the War Graves Commission located James Glass's body just near Pozieres, close to Mouquet Farm. Two identity disks were recovered and sent to Mrs Glass despite being "greatly impaired by long exposure". His remains were reburied at the Serre Road Cemetery No. 2 located on the south side of the D919 road between Serre-les-Puisieux and Mailly-Maillet. An engraved headstone with his details and an inscription from his wife were added. She died in 1950.
If any family member has a photo of James or corrections to the above, please contact the author.
---

ALFRED MOORE
| | |
| --- | --- |
| | |
| Alfred Moore's grave at Larkhill Military Cemetery, Durrington, England. The Australian flag was placed there by Margaret Cooper Smith during a visit in July 2014. | Alfred Moore's grave is on the left in the second row and marked by an Australian flag. Margaret placed the flag on his grave and sent me the photo to help illustrate his sacrifice to the Great War. She also did this for the other Australian graves there, and for her cousin Herbert Seefeldt who is also recognised on the memorial at Christ Church, Bundaberg and on the Bundaberg War Memorial. |
Alfred Moore was born in Brisbane on 16 March 1889 to parents Alfred Moore and Maud Moore (nee Tate). He had three brothers Harold (b 1890), Thomas (1893) and Frederick (b 1898). They lived at Jane Street, Manly, and went to school locally.
Alfred became a butcher and on 8 November 1815, at the age of 26 years 8 months, he enlisted in the army. He said that he had a medical condition - a "weak heart" - that made him unfit for any unit but the "Remounts", that is, the group responsible for the training and care of horses for the war. This unit had a lot of older men (the maximum age for enlistment was 50), and contained a high proportion of Boer War veterans and expert horsemen. Alfred admitted that he had been rejected for enlistment previously because of this condition but he was trying again. His application said he was 27 years 6 months which overstated his real age by one year.
He was placed in the 8th Squadron (2nd Reinforcements) of the 2nd Australian Infantry Remount Unit (2/2 AIRU) and they assembled at Chermside, Brisbane, the next day - 8 November 1815. The unit departed Brisbane by ship and arrived at the Maadi Camp near Cairo, Egypt, on 23 January 1916. Five weeks later, with the strain of work too much for him, he was hospitalised and sent back to Australia. He arrived in Brisbane on 29 April 1916, demobilized 4 days later and discharged on 19 June 1916. That gave him a total of 7 months overseas service with the Remounts.
That very same day that he was discharged he was back to re-enlist. He was not going to be stopped from serving his country and, anyway, he was feeling much better; he had put on 22 lbs (10 kg) weight and was now at his correct age 27 years 3 months. He now said that he had never been rejected by the army for a medical condition - which was largely true. He was placed in the 4th Reinforcements with the 42nd Battalion and was due to sail on 27 June 1916. A day before he sailed Alfred married his girlfriend Annie Maude McCleran in Brisbane (much to his parents' consternation). Alfred and Maude didn't need to think much about where to live as he was on the HMAT A36 Booval the next morning - 26 June 1916. He arrived in England and joined the 11th Training Battalion at the Larkhill Military Camp at Dorrington in Wiltshire on 10 January 1917.
It was only a fortnight before he was sick again; this time it was with the dreaded influenza. He was admitted to the Fargo Military Hospital at the Larkhill Camp with the disease on the 26th and it quickly developed into broncho-pneumonia. Albert died in hospital on 29 January 1917. He was buried a few days later at the Durrington Military Cemetery.
Alfred's mother Mrs Maud Moore - not to be confused with his wife Mrs (Annie) Maude Moore - died two months later - on 3 April 1917. Her oldest son, Harold, was still in Europe with the 11th Field Ambulance. The following year on the first anniversary of Alfred's death, his father inserted a memorial notice in The Queenslander which finished with the words by poet Thomas Gray in "Ode on the Spring":
Thy sun is set.
[On hasty wings thy youth is flown; Thy sun is set, thy spring is gone - We frolic, while 'tis May.]
Harold returned safely in June 1919. Alfred's father was given his war medals in 1922 and granted a War Gratuity of £50, while Alfred's widow Mrs Maude Moore was granted one of £47. His father died in October 1926. Mrs Maude Moore remarried in 1926 and became Mrs Annie Maude Thomson.
---

ROBERT GEORGE O'BRIEN
Robert George O'Brien was born in Hamstead, England, in December 1894 to parents Kate and William O'Brien. He and his mother came to Australia sometime around 1910 and found a home - Bayview - in Lota Road at Manly.
Robert became an apprentice carpenter with the builder Gottleib John Mondientz at Coorparoo and had finished three years of indentures when he decided to enlist. He already had 18 month's service with the 9th Infantry Brigade in Brisbane. On 15 March 1916 Robert was placed as a Private the 11th Division Artillery Bridade but in May 1916 he was transferred to be a gunner with the 5th Field Artillery Brigade (5th FAB). In October that year he embarked from Sydney aboard Ascanius and arrived in Devonport, England on 28 December. He was taken straight to the RBAA (Reserve Brigade Australian Army) at Larkhill on the edge of Salisbury Plain where he underwent training for three months.
At the beginning of April 1917, the 2nd Division Artillery (of which the 5th FAB was a part) proceeded overseas from Folkestone, arriving at Etaples in France the same day. Robert was a Driver with the Brigade. The 2nd Division operated throughout northern France during 1917 - participating in some of the most noteworthy battles. This continued into 1918.
The 2nd Division was in support or reserve at Messines until 8 March 1918, where it then entered the line in the southern sector (centred on Ploegsteert), staying until 3 April when it began moving to the Somme in response to the start of the initial German offensive - Operation Michael - on 21 March.

Upon reaching the Somme on 4 April, the leading brigade (the 5th) was detached to relieve the overstrained troops around Villers-Bretonneux. The 5th Brigade returned to the Australian Corp on 19 April and became the reserve division for the Australian Corps. After resting, the division relieved the Australian 3rd Division opposite Morlancourt on 11 May. The Third Division had spent six and a half weeks in the line halting the German advance towards Amiens and the Germans opted to abandon their push but to leave enough men to defend their gains. So around Morlancourt the Australian 2nd Division continued to harass the enemy.
On the 19th, the Division advanced their line on a 3500 yards front around Morlancourt to an average depth of 900 yards and was considered a great success. Credit was given by the COG 4th Army to both an infantry and the artillery (which was the left group artillery - the 5th Field Brigade of Gnr O'Brien). Casualties were slight.
The Germans continued to make very determined bombing attacks during the month - but not all the time; sometimes it would be very quiet. It even gave them a chance to let the horses out to graze and improve their poor condition. Nevertheless men, horses and donkey continued to be killed on most days from the shelling. On the 23rd the wagon lines erected bombproof shelters for themselves and the animals. It was then busy for a day: the Germans fired 1000 shells of high explosive (HE) and gas into the trenches in just one day (24th). The next two days were quiet but enemy planes made an appearance and several men were killed.
On the 28th, General William Birdwood, the General Officer Commanding (GOC) the Australian Corps, inspected the brigade. In the afternoon bombing recommenced. The Australians fired 663 shells from their 18 pdrs - as harassing fire - and managed to silence the machine guns. The 4.5" howitzers delivered 130 shells as counter-preparation (CP) bombardment for the infantry. These were aimed at the German 10.5 mm guns, the machine gun nests, trench mortar batteries, the railway and the road. The Germans retaliated with 84 shells of HE and gas. One of these shells exploded near Gnr O'Brien and a fragment entered his back and shattered his spine. It was not enough to kill him but he was evacuated to the No. 20 Casualty Clearing Station.
A "pre-op" inspection later that day revealed an entry wound to the dorsal (back) region on the left side of his spine and possible penetration of his abdomen. It was suspected that there may be shell fragments inside him.
X-Rays taken at the 20 CCC the next day (29 May) showed that fragments of bone were lying between the 2nd and 3rd vertebrae, apparently having been pushed from the left side to his right side (by the shell fragment), and now embedded in the surface of the 2nd vertebrae - causing localised injury. The radiologist noted that there was no evidence of any gross bone injury.
He was made comfortable and catheterised with morphine for the journey to the 26 General Hospital at Etaples on the French coast. Here, on the 29th May, a surgeon operated and removed shell fragments from the 2nd vertebrae as well as removing bone and tissue fragments from the spinal canal. The surgeon was not able to determine the extent of the damage. The wounds were cleaned up and sutured and covered with a flavine (antiseptic) pack. 
On the 31st he was evacuated by ship to the King George Hospital in London. He was admitted on the 1st June with paralysis, "dangerously ill". The wound was dirty and already much inflamed - discharging pus and spinal fluid. There was complete paraplegia (paralysis) below the level of the wound. All reflexes were lost and sensation was only fair from the knees down. He had lost control of bowel and bladder centres and had pain in his legs. His general condition was very poor and temperature had reached 101.8 F. A second x-ray on 5th June confirmed the first but said there was no evidence of any foreign body (shell fragment). There was nothing more the hospital could do except watch and wait.
Over the next 6 months his condition waxed and waned. His mother received 12 telegrams as to his condition. Words like "dangerously wounded" on the 1st June gave way to "stationary" on the 30th June and "slightly improved" by 7th July. It seemed as if things were going well. In October the telegrams read "progressing favourably" and "stationary". Then the telegrams stopped for two months. Things were not going well as thought. The doctors realised that he was not going to improve and so on 13 December 1918 Robert O'Brien was recommended for a transfer to St David's Home, Ealing.
He was transferred to St David's Home for Totally Disabled Sailors and Soldiers, located at Castlebar Hill, Ealing, London. On 1 January 1919 he died of paraplegia caused by the wounds and the army was notified. Two days later a telegram was sent to his mother in Australia, and to his father in London, notifying them of his death. The army proceeded to arrange a Roman Catholic funeral for the following week - Tuesday 7th January.
It was held on consecrated ground at the Brookwood Military Cemetery in the presence of his father, his aunt, several guests including a mate Pte R Scointon AIF and representatives of the army. He was accorded full military funeral, firing party, bugler and pallbearers. The coffin was draped by an Australian flag and surmounted by wreathes sent by his mother and other well wishers. The Last Post was sounded at the graveside. An oak cross was erected by the AIF at the grave – Plot 4, Row N, Grave 5.
If any family member has a photo of Robert or corrections to the above, please contact the author.
---

FRANCIS BRYAN POWER
Frances Bryan Power was born in Brisbane on 27 November 1890 to parents Joseph Patrick Power and Rosetta Power (nee Vallely). Rosetta died in 1899 and in 1903 Joseph married Annie Ryan. They were farmers at Cooyar, a township about 140 km NW of Brisbane.
Francis (Frank) enlisted in the army on 7 October 1915 and was placed in the 10th Reinforcements, 9th Infantry Battalion. After initial training he was placed with the 47th Bn ('A' Coy) and embarked from Brisbane, Queensland, on board HMAT A50 Itonus on 30 December 1915.
After training at the Serapeum Depot in Egypt he was off to the France. He departed Alexandria on the 2 June 1916 and arrived in France on 9 June 1916. The 47th entered the trenches of the Western Front on 3 July. It participated in its first major battle at Pozieres. Initially, the battalion provided working parties during the 2nd Division's attack on 4 August, and then, with its own division, defended the ground that had been captured. The 47th endured two stints in the heavily-contested trenches of Pozieres, as well as a period in reserve.
After Pozieres, the battalion spent the period up until March 1917 alternating between duty in the trenches and training and rest behind the lines. On 11 April it took part in the attack mounted against the heavily defended village of Bullecourt - part of the formidable Hindenburg Line to which the Germans had retreated during February and March. Frank was promoted to L/Corporal on the 25th May.
In June the 47th participated in front line action at Messines. It was to start on 4 June and Frank decided he better make a will. He completed one there and then, leaving his estate and deferred pay to his father. In the Messines battle from 4-7 June a total of 441 casualties were recorded. These included 319 "Other Ranks" wounded including, most likely, Frank who is known to have received a wound in his leg from a bullet or shrapnel; it is not clear which. The wound became quickly infected from the lack of cleanliness in the trenches, and the pain was getting worse.
On 7 June 1917 Frank was sent to hospital in Belgium with myalgia (muscle pain) and then shifted to the 1st Australian Casualty Clearing Station as it needed better treatment.  It was more than just myalgia; he was admitted to the 16th General Hospital at Le Treport, France, with a severe myalgic abscess of the left leg. One month later - 15 July 1917 - Frank died of his wounds.
His father was advised on 7 August and Frank was buried at the Huon Mill Cemetery (Plot 4, Row A, Grave 7B).
Frank's brother Edward also joined the AIF. He joined in September 1916 and spent 6 months in France with the 49th Bn before being invalided back to Australia with chronic "trench foot".
---

CARL RENNER
Carl Renner was born in Brisbane in August 1895 to parents Harry and Ann Renner (nee Moir) who migrated to Australia from Germany in the 1980s. He had four brothers - Otto, Sam, Harry and Martin, and five sisters - Elizabeth, Fredrika, Mabel, Rosa and Bertha all of whom lived at the Sea View Estate, Moreton Terrace, Manly. Carl attended Junction Park State School and then East Brisbane (State) School where he was served as a Junior Cadet for two years and a Senior Cadet for two more years. He sprang to notoriety in December 1905 when he was present at the accidental drowning of a school mate, Arthur Toyne, in Burnett Swamp at Coorparoo (under the Juliette Street bridge). He was unable to save his friend and had to give evidence to the police. After completing his school he became a farm labourer.
On 15th January 1915, at the age of 19 years 5 months, Carl enlisted in the 25th Battalion AIF and by mid-year had embarked for Egypt. His brothers also enlisted. Martin had died at the age of one in 1899 but Otto enlisted in the 1st Bn, Harry with the 2nd Light Horse Field Artillery and Sam with the Veterinary Service. Sam was discovered by fellow soldiers to have German parents, and was taunted and disparaged by fellow soldiers. He was discharged from the army in November 1915 after 2 months service as it was causing friction within the ranks. He never left Brisbane. In September 1915 Carl was sent with the 25 Bn to Gallipoli where he fought until being hospitalized in Mudros with rheumatism, thence to Cairo for recuperation. After recovering he was off to France in March the next year with his battalion. On the 29 July 1916 he received gun shot wounds to his left arm and both thighs and was hospitalised at the British Red Cross Hospital in London and also had recovery in the 2nd Southern General Hospital at Bristol. He was discharged in September and became a Permanent Cadre Overseas Training Brigade at Tidworth, training new recruits in warfare strategies and modern weaponry including the use of Mills bombs. The next month he was charged with being drunk and disorderly resulting in a loss of 3 day's pay. Early the next year (March 1917) he was fined another day's pay for failing to wear a belt on parade. During this time in England he met and fell in love with Bessie Surman, a deomestic from Stenboro Cottage, Coombe Hill, Cheltenham (about 70 km north of Bristol). He asked her for her hand in marriage which she seemingly accepted. He continued serving with the Training Brigade until 11 May 1918 when he rejoined his battalion (the 25th) in France.
The battalion was holding the front line at Villers-Bretonneux with Carl's Company (D Coy) improving and linking the posts, wiring up the positions and carrying out patrols. Other times his Company was doing support work - bringing up wire and pickets. In April they were billeted inthe Daours region - about 12 km east of Amiens and 8 km NW of Villers Bretonneauz. They were to relieve the 27th Bn in the front line for a week starting the 10/11 April. It was a harrowing time: on the night of 16/17 April heavy bombing of the front line, the support line, roads, trenches and villages by high explosive (HE) shells and shrapnel. Carl's 'D' Company (and the A & B Coys) were caught in the heavy enemy barrage and a large number of casualties were inflicted. They were relieved by the 27th on the 19th April and Carl headed back to the safer trenches known as Lavieville-Buire. He had seen men dying all around him so he decided it was time to write a will. He made one out that night and left his entire estate to his fiancee Bessie Surman in Cheltenham. He knew this wasn't a lot - just his deferred pay. It was deposited with the Batallion Headquarters.
On the 5th July (1918) the 25th Bn were relieved by the 27th Bn so the 25th became a reserve battalion at Boise L'Abbe not far away - but were back in the front line on the 12th. An operation was planned for the 17th in which the 25thBn were to move forward and capture a number of German posts on the mound beside the railway line. At 9.30pm the Australian barrage began. All companies moved forward under the barrage and met extremely heave machine gun fire from the Germans. Carl's platoon (D Coy, 15 Platoon) went "over the top" and advanced about 1000 yards. Hand-to-hand combat ensued in the German positions and heavy casualties were sustained on both sides. In the end the 25th Battalion lost one officer and 23 "Other Ranks". They had taken the objective and formed a new line.
The next day (18th) the Germans began a heavy barrage on the Australian's old front line at about 4.30am. An SOS went up and the Lewis Guns and Rifles got to work at very short range. The movement continued forward and backwards towards the mound for about 10-15 minutes with about 100-150 enemy casualties. Carl was temporarily attached to a ration party with C Company. He was crouching in a trench when a German shell exploded next to him. He died in just a few minutes. His mate Pte Henry Tillyard (7151) from Geebung on the northside of Brisbane was three yards from him when the shell hit. Tillyard said "...he was killed outright, being hit by a whiz bang". Also present was Osmond "Ossie" Chidgey (6217) and together they buried Carl on the side of a railway embankment and marked the spot with a cross. A burial party arrived later that day and took his body away for a proper burial at the Crucifix Cemetery about one mile south-east of Villers-Bretonneux.
Carl's personal effects were left to his fiancee Bessie Surman: deferred pay of £62. His father was given the medals in 1923.
---

THOMAS ANDREW DALZELL
Thomas Andrew Dalzell was born in Brisbane in 1894 to parents Thomas and Barbara Dalzell (nee Kerr). He joined the army on 9 January 1915 and served with the 9th Battalion AIF in Gallipoli, France and Belgium. Lt Dalzell was awarded the Military Medal for bravery under heavy artillery and machine gun fire on the front line at Le Barque, France, on 26 February 1917 and was soon promoted to Lieutenant. He returned to Australia on 4th June 1919. Thomas Dalzell returned to work as a school teacher at Wynnum State School and lead a fruitful teaching career. He was active in the Balmoral RSL and participated in many Anzac services over the years. He died on 4 September 1953.
The Honour Plaque on the Manly War Memorial contains the names of 12 soldiers - eleven of whom are "fallen" soldiers in that they gave their lives in the service of their country. Lt Thomas Dalzell returned to Australia in 1919 and it is uncertain why his name is included on this "Honour Roll". Throughout Australia the names of soldiers who had survived the war were included beside the names of those who died on just over helf the war memorials [Inglis, 2007]. There were hundreds of other Wynnum-Manly soldiers who served with distinction and are not mentioned there. Perhaps he was added as he received "Honours" in the form of a Military Medal, rather than being included for the usual purpose of an "Honour Roll". Many soldiers returned ill and died within a year or two but once the memorial was built it was too late to make any additions. Nevertheless, Lt Dalzell fought bravely in the service of a grateful country and his proud memory lives on.
Lt Thomas Andrew Dalzell should not be confused with Pte Douglas Pulteney Dalzell of Brisbane who was killed in action on 10 August 1915 at Anzac Cove, Gallipoli. The link takes you to his obituary.
---

WILLIAM HENRY ROBINSON


William Henry Robinson was born in Brisbane in September 1893, the son of George and Margaret Ann Robinson (nee Francis) of Cambridge St., Manly, Queensland. At the time, they had a daughter Elizabeth Ellen, aged 3 years. Over the next decade they had more children: Reginald (1896), twins Harold and George (1889), Ernest (1901) and Arthur (1906). The marriage collapsed in 1906 and husband George moved out leaving "Maggie" with the seven children in Cambridge Street (off Stratton Tce). On 3rd April 1916, William - a labourer - enlisted in the AIF and was sent to train with the 2nd Reinforcements of the 41st Battalion at Enoggera, Brisbane. His life was not without incident: while on leave, on the 6th July in Brisbane, he consumed far too much beer at a hotel in Albert Street and became drunk and disorderly. He was arrested, forgiven and fined £1-5-0 (4 day's pay). He left Australia aboard the troopship A42 Boorara headed for England.
William arrived on 17th November 1916 and spent a week at the Larkhill training camp on the Salisbury Plains. On the 24th December he headed off to Southampton by train and thence to Le Havre on Christmas Day. The 41st Bn marched to Bailleul then on to Armentieres being billeted at farmhouses on the way. Their main task was to do repair work on the trenches at the front and relieving the 35th Bn as required. At night, when in the trenches at the front they would have to do sniping and night patrols of "no-man's-land". The weather was cold with the ground frozen (12-16F) with snow falls most nights. For a while they underestimated the viligence of the Germans and tried walking - crouched - through no-man's-land but many were shot and killed. During February 1917 there were several attempts at taking the enemy trenches but the barbed wire defences were too strong and many of the 41st were killed and wounded.
In mid-March the 41st moved to the Le Toquet section of the front (between the River Lys and the Warnave River). Here they found the trenches in very poor condition: some were just 3 ft deep, most were full of water and had caved in. The rest of the month was spent repairing the trenches while living in the billets at Le Bizet. The 41st and 43 Bns would take turn at the front. On the 5th April 1917 the 41st Bn marched to Plofgsteert Wood to repair the trenches there. On the 12th they relieved the 42nd Bn at the Plofgsteert Wood front - a front 3400 yards long. They were to fight until the 19th when they would be relieved by the 43rd Bn. However at 3pm on the 14th April, a German raiding party ("The Bosch" as they were called in the War Diary) raided the gap between the left and centre Corps but were driven off. Not without casualty though - just the one soldier was killed - Pte William Henry Robinson of Manly, Brisbane, suffered a gunshot wound and was taken to the Field Hospital where he died hours afterwards. One other soldier was also wounded but survived, and two enemy soldiers were wounded. He is memorialised at Beach Cemetery, Anzac Cove.
---

LEWIS SPRATT
Lewis Spratt was born in Wilcannia, New South Wales on 28 December 1883 to parents Joseph Benjamin Spratt and Amelia Jemima Spratt (nee McGarrity). He had two older brothers Reginald and James, who were born at Bourke in 1880 and 1881 respectively. Their father Joseph Spratt was a saddlemaker and shifted with his family from Bourke to Wilcannia NSW in 1883. They had more children - Sidney and Cyril (in Queensland); Arthur and Rachel (both born in Winton); George and Walter (both born in Charters Towers); and Gwendoline (born in Homestead via Charters Towers). Joseph Spratt died on 8 September 1905 in the Richmond Hospital but the family stayed in western Queensland and the children attended school in Charters Towers. One of the girls - Susan - also known as Rachael or 'Ray', married school teacher David Thompson in 1910 while the family was living at the small town of Friezland (Kuridala) near Mt Isa in north west Queensland. Lewis's mother, Amelia Spratt, died in 1911 at Friezland.
Lewis was a stockman and became well known in the west - particularly around Richmond (midway been Mt Isa and Townsville) and Charleville. As he moved around so much he nominated his younger sister Gwen as his next of kin. She was a teacher living in Maryborough. When the war started Lewis made an unsuccessful attempt to enlist in the army at Charleville so he decided to try again in Richmond. Lewis enlisted in the 9th Battalion AIF as an infantryman on 19 August 1915 and took his oath in Brisbane 4th September. Rachael (or Rachel), his eldest sister, (christened 'Susan May'), was nominated as his next of kin. She resided in the house 'Baronga' in Ernest Street, Manly (which intersects Cambridge Parade - the site of the Cenotaph) where she lived with her husband David - a teacher at Wynnum Central State School from 14 Aug 1922. This is how Lewis became regarded as a Manly citizen. His name is spelt both 'Lewis' and 'Lewes' by the Army because the people who filled out the forms for him put a loop in the cursive i and did not put a dot (a tittle) above it. The WW1 Nominal Roll and the National Archives use 'Lewes'. The WW1 Embarkation Roll and Roll of Honour use 'Lewis'. His birth and death certificate say 'Lewis' and his sister was happy with that spelling. It is written 'Lewis' in Family Bible when born, 'Lewes' when he died.
His real signature taken from his enlistment papers. Is that an i or an e?
| | | |
| --- | --- | --- |
| | | |
| How the army signed for him. Is that an i or an e? | On his medical card. | Telegram notifying of his death. |
The 9th Battalion was among the first infantry units raised for the AIF during the First World War and it was the first battalion recruited in Queensland. Lewis became a driver for the Army Service Corps (ASC) in Brisbane - a job he held until he embarked for Egypt aboard the HMAT A49 Seang Choon on 4th May 1916. In the meantime two of his younger brothers also enlisted. Walter, a jockey from Mackay, aged 21, enlisted on 11th January 1916 although there appears to have been an error in the paperwork that would play out badly later on. He was placed with the 2nd Light Horse as a Trooper and also became a driver with the ASC. His older brother, Arthur, a jockey from Cairns, aged 27, enlisted in the 9th Battalion in Brisbane on 29 January 1916. Lewis and Arthur were sent to Egypt and then London, departing Australia on 4 May 1916.
Lewis and Arthur met up in London twice but failed to return to their units in the allotted time. They were charged with going AWOL (absent without leave). However, they were just a day late and the penalties were not severe. The third brother - Trooper Walter Spratt - remained in Egypt and was constantly ill having only recently recovered from pneumonia in Australia. Lewis was sent to France in February 1917 to take part in operations against the German Army. The 9th Battalion's first major action in France was at Pozieres in the Somme Valley. Later the battalion fought at Ypres, in Flanders, before returning to the Somme for winter. In late 1917 the battalion moved back to Belgium for the advance to the Hindenburg Line.
About this time brother Walter was admitted to hospital in Gaza with heart pains, giddiness and loss of weight. He was sent home to Australia in August 1917 where they discovered he never officially enlisted and was denied a war pension. It is not clear if this was ever resolved. In February 1918 Lewis's battalion (9th) were training at Neuve Eglise, Belgium, and relieved the 4th Brigade on the 1st of March, in preparation for what was to become the German "Spring Offensive". By the 3rd of March 1918 the Battalion was at Hollebeke, Belgium. Much work was needed in defensive works on the British front line: trenches drained and repaired, wiring dug in and so on.
Farmland at Hollebeke, Belgium, where Lewis Spratt was gassed. Photo taken by his great niece Margaret Cooper Smith in 2005.

On the roadside opposite the farm Margaret planted a small Australian flag in memory of Lewis and his mates who fought and were wounded there. More of Margaret's photos of the Hollebeke area can be seen here:

Hollebeke

.
On Tuesday 5th March, at about 6pm, the left Front Line at Fusilier Walk was hit with trench mortar gas bombs launched by the Germans. The gas - mostly "Yellow Cross" (mustard gas) and "Green Cross" (chloropicrin) with some phosgene and "Blue Cross" (diphenyl chlorarsine) thrown in - filled the trenches and the surrounding valley. This bombing and gassing was severe for 3 hours and traces of the gas remained all night. The next morning (6th March) the men started to report in ill. Again that night from 6pm to 8pm there was another heavy gassing by the Germans in the same area (Sectors I36d, J31c, O6b and P1a). There were a large number of casualties again the following morning (7th). Lewis, like the other gassing victims, was suffering dry throat, a husky voice and a hacking cough. This was considered not bad enough to warrant evacuation as the men were in good health otherwise: they were fed well, well looked after, and had good sanitation with almost no diarrhoea. However, they all became short winded, with fits of coughing. But Major Leonard May of the 11th Battalion, who had seen the same symptoms during the German gassing earlier in the war, recommended that the men not be evacuated owing to the high numbers involved. However, the men had been on the front line for a long time and were exhausted. All the gassed men were getting worse. Click here to see some photos of Hollebeke taken by Lewis's great niece.
The relentless coughing was a security risk as the Germans could hear the men coughing all night and target their positions. Inevitably, on the 7th March, 10 officers and 150 "Other Ranks" (ORs) were finally evacuated - gassed - while intermittent shelling took place around them. This included Lewis Spratt who was taken to the 53rd General Hospital in Wimereux (just north of Bolougne), France, about 135 km by road east of Hollebeke. More men were evacuated on the 8th and 9th - also as a result of the asphyxiant gassing. Lewis was admitted to the hospital on the 10th March with severe conjunctivitis and laryngitis, and mustard gas burns on his limbs. He was very ill with an irregular pulse and bronchopneumonia in both lungs. Even in hospital the men couldn't sleep and their hearts were becoming dilated.
Little could be done for Lewis and he died in the hospital on the 15th March 1918 from heart failure. He was buried about 1 mile from the hospital at the Wimereux Communal Cemetery (Plot 8, Row D, Grave 5). At this time brother Arthur was just over the border in Belgium with the 26th Battalion - at Plogesteert - also preparing for the German Spring Offensive. A fortnight after Lewis died from gassing, Arthur too was overcome by enemy gas from the trench gas mortars. He was evacuated to the 7th General Hospital at St Omer, Northern France where he recovered. After a gunshot wound in August he was repatriated to Australia in February 1919.
Lewis's gravestone at Wimereux (Margaret Cooper Smith, 2005)

View of Wimereux Cemetery from Plot VIII A1 looking across Plot VIII towards the back of the Cross of Sacrifice. The building to the left houses the Book of Remembrance. Lewis Spratt's grave is marked with the Australian flag on left (Grave VIII D 5). It was left there by his great niece Margaret Cooper Smith in 2005. More of Margaret's photos of Wimereux can be found here:

Wimereux

.
In 1923, Lewis's sister and next of kin Rachael (Susan May) Thompson asked the Army about her brother's war medals. The Army replied that order of precedence was: father, mother, oldest brother, oldest sister. She didn't know the whereabouts of her eldest living brother and her parents were dead. The Army advertised in the Telegraph and the Daily Standard (Brisbane) newspapers, and in the Government Gazette for older brothers to come forward - but they didn't - so she was given the medals, although it is not certain where they ended up. In his will, Lewis left his estate - his deferred pay - equally between Reginald, Sydney, Arthur, Walter, Gwendolin (Shepherd), Cyril and Rachel. James had died in 1915 and Reg had died in 1919 after the will was written.
Postscript (Feb 2014): A relative - Margaret Cooper Smith - visited Lewis's grave in Wimereux in 2005 and left an Aussie flag. Lewis was her great-uncle, her maternal grandmother's brother. She said "My maternal grandmother was Rachel Susan May Cranley (nee Spratt) who died in 1962 aged 72 years. I was 12 years old. I remember my Nanna well and I remember asking her about the family tree back then but I was told that I didn't need to know anything about that as there was nothing to tell! I realised that she had had a hard life. I do not know where Lewis's medals are. My aunt Gwennie would have had them but she died in Feb 2000."

Lewis is also commemorated on a War Memorial at Richmond, Queensland (where his name is spelt wrongly as "Pratt". Poor Lewis!.
---

ERNEST WILLIAM WHITING
Ernest William Whiting was born in Toowoomba, Queensland, on 3 May 1880 to parents Stephen Whiting and Mary Ann Whiting (nee Long). His father, Stephen, son of Edward Whiting and Ann "Nancy" Walls, was a seaman from Hull, England, who came to Australia on 30 March 1863, aged 20, as a crew member aboard the Merchantman.
Stephen and Mary married in 1876 in Orange, New South Wales and settled in the nearby town of Bathurst. Here they had children Herbert Walls (b 1870) and Sydney (b 1873) before shifting to Queensland where Ernest was born, followed by another three children: Francis Bertie (b 1883), Ada Mary (b 1887), Lilly May (b 1888). The couple separated in 1891 while in Toowoomba. Ernest took on work as a farm labourer in the area and became an experienced horseman.
In 1900 he decided to volunteer for service in the Boer War in South Africa (or Cape Colony as it was then). He was keen to see something of the life of a soldier after hearing so much about it and seeing workmates volunteer. Ernest did not join one of the Queensland units that went to the Cape, but found his way there privately. Once there, he enrolled in what became known as Brabant's First Light Horse - a Corps under the command of Brigadier General Sir Edward Yewd Brabant. As commander of the Cape Defence Force, Brabant's objective was to free the eastern portion of Cape Colony from the Boer forces. Ernest spent 5 months in "Demant's Horse" - under the command of Major William Demant. It has been written that the unit did sterling service, particularly in the guerrilla warfare which formed such a distinctive feature of the South African campaign. Ernest returned to Australia in 1901.
Ernest became a farm worker and began working at Milvale Farm at Headington Hill - about 50 km south of Toowoomba. Here he honed his skills in horsebreaking that he had developed in Cape Colony with the remounts (horses) sent there for training and war service from all over the world. His father, Stephen, eventually made his way to Manly in about 1910. He settled in to a home called "Rose Cottage" in Lota Estate. It seems that Mrs Mary Ann Whiting (late of Brisbane) may have died in the Royal Prince Alfred Hospital, Sydney, on 2 Dec 1912, aged 71 years.
On 29 July 1915, at the age of 35, Ernest enlisted in the army in Toowoomba. He was placed in the 15th Battalion, 11th Reinforcements, and after some initial training he departed Brisbane on 21 October 1915 aboard the HMAT A48 Seang Bee, arriving in Egypt two months later. There he underwent more training and departed Alexandria on 1 June 1916 to arrive in France (Marseilles) on the 8th and headed for the Western Front - by either train or (a lot of) route marching. They arrived at their camp at Bois-Grenier - just 5 km from the Belgian border - on the last day of June to relieve the 25 Battalion at the front. All of July was spent relieving in the trenches or (mostly) in training. At the end of July they headed 100 km south to a camp at Warloy. The battalion was about to begin bloody trench warfare at Pozieres for its first major action in France.
The start of August saw Ernest's battalion at Warloy - training: learning about grenade throwing and how to dig in for the night silently and swiftly. On the 5th they moved to the forward area and had their first real taste of trench warfare. There was heavy shelling by both side for days but the battalion managed to reclaim lost trenches and they captured 92 prisoners. However, it came at a high cost: 430 casualties including 48 dead. This was from the 32 officers and 953 "Other Ranks" (ORs) that were present at the start of the battle. The statistics are frightening: 43% were casualties, so almost one in two men fell. On the 11th August the battalion marched back to their camp at Warloy 14 km west.
For the next two weeks they continued to train, marching 20 km east to La Vicone, then 20 km up to Halloy, and 25 km back down to Vadencourt (next to Warloy). On the 26th August 1916 they marched the 14 km east to the Pozieres frontline trenches via Sausage Valley. Here they relieved the 23rd Battalion in the front line. Enemy shelling was heavy as they performed the relief: 91 casualties resulted. At the start of the 27th shelling continued - fairly evenly distributed over all trenches. The mud in the trenches was awful; the Lewis guns clogged and were unworkable. An extremely heavy barrage began on the communication trenches from 7.30 pm to 9.15 pm and losses were heavy. In fact, shelling was heavy everywhere until midnight. No-one knows when Ernest died in all of this but it seems very likely he was struck by shrapnel during the evening.
The Battalion made some gains but were forced to retire to their original trenches a few days later. It seems that Ernest's body was not located and no personal effects could be sent to his father - despite a request. His sacrifice is remembered at the Villers-Bretonneux Memorial 30 km to the SW from where he died.
Walter's medals were sent to his father Stephen in 1923. He died in 1929.
If any family member has a photo of Walter or corrections to the above, please contact the author.
---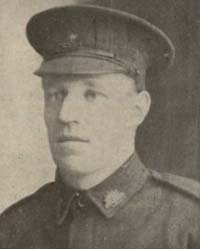 ROY POWIS WILKINSON
The Queenslander - 1917
Roy Powis Wilkinson was born in Woollahra, New South Wales on 1 October 1888 to parents Harry Strongitharm Wilkinson and Ada Wilkinson (nee Powis). His father Harry, who had previously been married to Isabella Nobel in London in 1863, emigrated from England to Dunedin, New Zealand, in the 1870s and married Ada Powis in March 1880. They had three children there: Harry Arthur (b 1880), Alice (b 1882, d 1883 of meningitis, aged 18 months) and Ethel (b 1885). The parents - Harry and Ada - and the two children came to Australia after this and settled in New South Wales - where Roy Powis Wilkinson was born.
His parents separated and Ada Powis Wilkinson moved to Sydney. In 1899 she was found dead in her flat from alcoholic poisoning. Her husband Harry Strongitharm Wilkinson - by now a successful artist in Melbourne - shifted with his son Roy Powis Wilkinson to Brisbane in 1898/99 and lived at the Brisbane bayside suburb of Lota. Harry had to return to Sydney for a short visit to sign his wife's death certificate. His son Roy became employed as a storeman with Queensland Railways and while stationed at Charleville in Central Queensland, enlisted in the army (19 September 1916).
Roy was placed with the 11 Depot Bn for training and on 12 December 1916 he was transferred to 47 Battalion (Infantry). This battalion was raised in Egypt on 24 February 1916 as part of the "doubling" of the AIF and came under the 12th Brigade. Approximately half of its new recruits were fresh reinforcements from Queensland and Tasmania. Roy departed Sydney on 23 December aboard A64 HMAT Demosthenes and arrived in England on 3 March 1917 to begin training at the Codford training and transfer camp in Wiltshire.
Arriving in France on 14 June 1917, Roy joined the 47 Battalion in Belgium a fortnight later. The poor hygienic conditions in the trenches and the inability of the trench-bound soldiers to maintain good levels of personal hygiene and cleanliness meant skin infections were rife. Roy developed debilitating scabies (caused by skin tunnelling mites) and was sent to hospital, not to return for three months. He was back with the 47 Battalion on 30 September 1917. They had been alternating between duty in the trenches and training and rest behind the lines. But now the focus of the 12th Brigade's operations switched to the Ypres sector in Belgium. As he returned they were preparing to mount an attack which has since become famous in Anzac history -  the battles of Messines and Passchendaele.
The Brigade had just returned from a successful deployment on the front line and had returned to their camp at Steenvoorde on the French/Belgium border for rest and more training.  On the 10th October the battalion was ordered to leave the camp at 7 am and make their way east the 20 km to the 4th Division's forward area at Ypres. After 3 hours of hard slog through the muddy roads they arrived. The next move was to the frontline trenches at Anzac Ridge. The weather was terrible and the roads were very boggy. Nevertheless they made it. The next day - the 11th - they were told there would be an attack on Passchendaele Ridge the following day - the 12th - so they started moving though the going was heavy again. At midnight the troops moved past Zonnebeke to the jumping off point. It took 5 hours to do the 3 miles and the men were fatigued by the time they arrived there.
The 47th were given the objective of capturing the "Red Line" - a line drawn of the map 400 metres east of the frontline. At 5.25 am they began the advance. Roy was standing in the trench ready to go over the top when the German barrage started. A 77 mm German mortar shell (an 18 pndr "whiz bang") landed a metre away and shrapnel struck him in the jaw and back. His mate Angelo Scarrabelotti (47 Bn) saw him get wounded. He said later "He was badly knocked about".
The rest of the company advanced strongly under the heavy shelling and made it to Anzac Ridge. Prisoners were coming in freely but the casualties were mounting. At 5.45 am, Battalion HQ was shelled and the losses were heavy: another 24 killed and 24 wounded. Nearly all signallers, runners and scouts were casualties. These were trained men who would be hard to replace. In the turmoil Roy was left wounded in the forward area and it was not until midday that the stretcher bearers took him away to the 3rd Army Field Ambulance Hospital where he was admitted with a penetrating gunshot wound to the abdomen.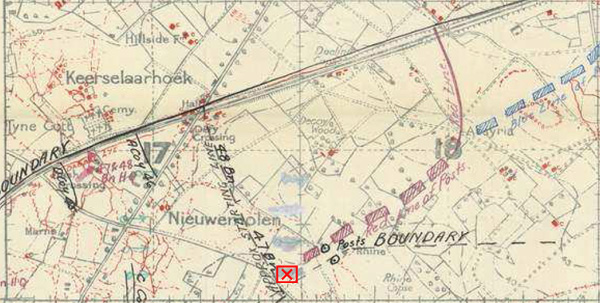 This map shows the position of where Roy Wilkinson died. It is taken from the 12th Brigade's map prepared on 5th October 1917. The black dotted line heading upwards was the "Jumping Off Point" (front line) for the 47th. The red curved line to the right was the 47th's objective. The Blue Line was the 48th's objective.
Ultimately, the objective was reached by the 47th and the position was consolidated. However, at 4.10 pm the Germans counter attacked but were beaten off with Lewis Gun and Rifle fire. At 5 pm enemy concentrations were again reported and as the 47th were not getting the support they needed they withdrew along Ypres-Roulers Railway, fighting rear action.
By 7pm the troops were back to the original "Jumping Off Tape" and had to occupy shell holes, ready to defend the line. By now, Roy had been taken from the trench next to the tape. However, the CO, Lt Col Alexander Imlay, was wounded by shell fire and evacuated. A total of 49 men were killed and 235 wounded; 66 were reported missing.
The next day, 13 October, Roy died of his wounds at the 13th Australian Field Ambulance Advanced Dressing Station. He was buried in the field the following day about a mile to the west of where he fell. It was about 1 km WNW of Zonnebeke Village.
Roy's brother - Arthur - was a bombadier with the New Zealand Field Artillery at this time and their father - Harry - hoped that he would be okay in France. After he received Roy's personal effects, Harry wrote to the Australian Army asking if there was any sign of a gold wedding ring that Roy would have had around his neck. It was inscribed "Fronnie" - the name of Roy's fiancee (Sophrinius O'Brien) whom he planned to marry on return to Australia. It seems like the ring may have been buried with his body.
| | |
| --- | --- |
| | |
| Wilkinson grave marker 1920 | Wilkinson gravestone - 2017 (McKay) |
Harry Wilkinson inserted a memorial in the Brisbane Courier Mail on the 1st anniversary of Roy's death. He said "In proud remembrance of my dearly-loved son". Harry died a month later in Brisbane on 19 November 1918. His other son Arthur safely returned to NZ in January 1919. His daughter (Roy's sister) Ethel received Roy's medals in 1922.
Ethel's grand-daughter Kath McKay visited Roy's grave in Ypres in June 2017 and took the following photos:

Cemetery - Ypres - June 2017 (McKay)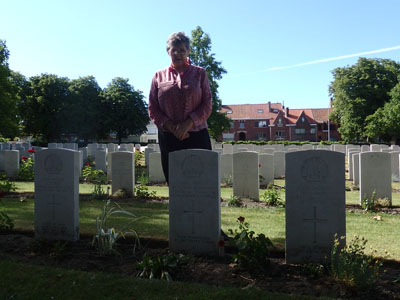 Kath McKay at Roy Wilkinson's grave - Ypres - 2017
---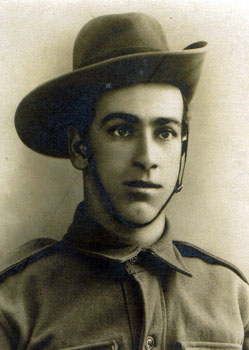 EDWARD MARSH WEBB
Edward Marsh Webb was born in Ipswich, Queensland, on 12 May 1890 to parents John Webb and Eliza Webb (nee Marsh). His middle name 'Marsh' obviously comes from his mother but it was used down the family tree). His parents were born in England, at Landbeach, Cambridge, and Higham Farm, Bels-O'Green rspectively. They married at Igtham (Kent), England in 1877 and emigrated to Brisbane, arriving 11 January 1886 aboard the Duke of Westminster, with their four children - William, Herbert, Jane and Robert.
Once in Australia they lived at The Yungabar (Migrant) Hostel at Kangaroo Point in Brisbane, followed by residence at James Street, New Farm, before moving to Ipswich where they lived for 24 years. Mr John Webb worked for Cribb and Foote (Department Store) and was a leading light in the Ipswich Rifle Club. In that time Robert had died (1887) and several other children had been born and died: Maud (1887-88), Annie (1888-90), May (1894-1896). To survive were Edward (the subject of this memorial, b 1890), Arthur (b 1891), Florence (b 1896) and Horace (b 1898). The children attended Ipswich Central State School. Edward was a member of the cadets.
In 1909, the family moved to Manly. Edward found employment as a shirt-cutter for a clothing manufacturer and on the 16 August 1915 he enlisted in the AIF, aged 25 years. It comes as no surprise that at least one of the Webb boys joined the army. His father had served in the British Imperial Army, as did his grandfather and great-grandfather.
Edward was placed in the 15th Battalion (10th Reinforcements) and trained in Brisbane. He was sent to the Middle East aboard HMAT Warilda on 5th October 1915. Here he trained for many months before being transferred to the 47th Battalion.
The 47th Battalion was raised in Egypt on 24 February 1916 as part of the "doubling" of the AIF. Approximately half of its new recruits were Gallipoli veterans from the 15th Battalion, and the other half, fresh reinforcements from Australia mostly of men recruited in Queensland (like Edward) and Tasmania. The new battalion was incorporated into the 12th Brigade of the AIF.
Arriving in France on 9 June 1916, the 47th entered the trenches of the Western Front for the first time on 3 July. It participated in its first major battle at Pozieres. Initially, the battalion provided working parties during the 2nd Division's attack on 4 August, and then, with its own division, defended the ground that had been captured. Edward was prompoted to Corporal on 7 September in France. In November 1916 the 47th were to see out the last month of the famous Battle of The Somme, including a week in the front line – a week that was to end with the death of Cpl Webb.
The month started with the 12th Brigade moving from the towns of Vignacourt to Flesselles where they stopped for training. The weather was fine but the roads muddy. They moved on to Dernacourt for more training. On the 11th they were ordered to move to Bernafay Wood and after lunch they next day (12th) they were to head for the front line. This proved very difficult: traffic was congested, the roads were muddy and there was constant enemy shell fire all through the day and night - severe at times. In the communication trenches that they used to get from the rear trenches to the front, there was waist-deep mud that they had to wade through. They didn't get to the front until 5 am on the 13th, a good 12 hours late. Here they relieved the 6th and 11th Battalions and would stay until the 19th of November. The 47th took over the left sector of the front line. They were told "The front line will be held at all costs" and that No Man's Land would have to be patrolled constantly. Every day in the front there was very active bombing by the allied artillery behind them - firing just beyond the enemy front line. Their Vickers's Guns rattled all day and night, as did their Lewis Guns which were hitting German communication and supply trenches. Several enemy planes would come over the trenches every day and drop coloured rockets (flares) to indicate the position of the trenches and troops. One problem for the 47th was that "our shrapnel shells were duds and exploding short", that is - landing in their own trenches.
In response, the Germans kept up a shell barrage, mostly from 10am - 12 noon, from 4 - 6pm and most of the night - in a continuous heavy and sometimes intense barrage placed in the front line and support trenches. Mustard gas shells were also used by the Germans (causing many casualties) and enemy machine gun fire was brisk throughout every night. There were a few German snipers but they had been silenced earlier in the week.
On the night of the 19th November, it was wet and cold. From dusk the enemy continued a barrage of high explosive (HE) artillery shells and machine gun fire into the front line. The 47th and 48th Battalions were due to be relieved at 11 pm so they could go back to the Support and Reserve trenches for a break. However, because of the waist-deep mud and resulting congestion in the communications trenches the relief of the front line had to be done in the open. That is, the men of the 47th had to get out of the trenches and scramble back over the ground. Even though it was night and the Germans couldn't see the men, they no longer had the protection of the trench from enemy high explosive shells, shrapnel and machine gun fire. The 47th had to evacuate the left side of the front line and move to Gap Trench - the support battalion trench. By noon, the Brigade had recorded the death of 1 officer and 4 "Other Ranks" during the relief.
It is not clear how Edward Webb died. It is usual for a note to appear in a soldier's file about the circumstances of his death. It may be written by the officer commanding the company the night of the casualty (in Edward's case Lt Col Eric St Leger Lewis); or at least have a statement from a fellow soldier. No such note appears in Cpl Webb's file. He did die on the 20th and it is most likely he was struck by a high explosive shell fragment in the front line or during the change-over as he made his way back to the Support Battalion Trench (Gap Trench). He would have been safer in the Support trench as it was much further back from the front line. However, the Germans also did target these distant trenches with HE shells. In fact the War Diary records the shelling of these trenches during that week. It is also conceivable that Cpl Webb was killed by "friendly fire". He'd already seen the allied shrapnel land in their own trench but there was no report of that on the 20th. Nor was there any report on the 20th of their own heavy artillery firing "short" and dropping shells into their own trenches by accident. In fact it wasn't until the 23rd that the War Diary reports that "our heavies blew in our front line trench in several places". It is most like that he was struck by a German HE shell and his body never found.
Edward Marsh Webb is commemorated at Villers-Bretonneux Memorial, France. He left all of his personal effects and his deferred pay to his mother Eliza Webb. She was elected president of newly-formed local charity group - the "Manly Patriotic Committee". This band of women raised funds for the Manly Memorial featured in this webpage.
Edward's father, John, was the recipient of his medals in 1923. By the time of their (50 year) Diamond Wedding Anniversary in 1937, John and Eliza Webb had five children still alive: William John Webb, Arthur W Webb, Horace Charles Webb, Mrs Florence Marshall (nee Webb) and Mrs Jane Cobbin (nee Webb). William was a barber, who moved to Roma and married Sophie Stein whose brother John William Stein was killed in France on 5th April 1918.
| | |
| --- | --- |
| | |
| Golden Wedding Anniversary of Edward's parents John and Eliza Webb at the family home 'Kirkland' Manly, 1947. Back row (L to R): Jack Miles, Arthur Webb, William Webb, his daughter Dorothea, Albert Webb, Victor Marshall. Centre: Hilda Clark, Ruby (wife of Arthur), Eliza Webb (nee Marsh), John Webb, Lamington Marshall (nee Webb), Ida (wife of Albert), their daughter Ida. Front: Daphne Marshall, Marsha Webb, Billy Webb, Molly Webb (three daughters of Bill Webb), Jack, son of Arthur. | William John Webb (Edward's brother) - 1947 |
Mrs Eliza Webb died in 1940, and Mr John Webb in 1941.
My thanks to Jim Fenwick (grandson of William and Sophie Webb) for additional information and photos.
---

STANLEY (COWELL) WATSON
Stanley Watson was born in Brisbane on 5 May 1897 to parents Lewis Edwin Cowell and Lillian May Cowell (nee Tippett). He had three brothers - Norman Cowell (b 1889), Thomas Cowell (b 1891) and Roy Cowell (b 1903). Mrs Cowell subsequently married William Street in 1908 and used the name Mrs Lillian May Sweet thereafter - including correspondence with the army. However, she separated and lived with George Watson at Drayton, Toowoomba for most of Stanley's life later life. When he enlisted in the army he assumed the name Stanley Watson - a name it would seem he hadn't used before, and one that caused his mother a good deal of anguish and consternation.
Stanley was a labourer in Toowoomba and enlisted there on 20 Jan 1916, aged 19 years 7 months. He had already spent 6 months as a volunteer with the army militia and was initially placed with the 11th Depot Battalion. Soon after he was placed in the 31st Battalion 'C' Company, 6th Reinforcements. The 31st Battalion originally was raised as part of the 8th Brigade at Enogerra, on the outskirts of Brisbane, in August 1915. The first groups of soldiers had already left for Egypt where they joined the newly raised 5th Australian Division, and proceeded to France in June 1916, destined for the Western Front.
Stanley - in a later group - departed Sydney aboard HMAT Ceramic on 12 April 1916 bound for England (via Port Said and Alexandria). He arrived at Plymouth on 16 June and was sent to Larkhill for training with the 8th Training Battalion.
The 31st Bn were already in France and fought its first major battle at Fromelles on 19 July 1916. The attack was a disastrous introduction to battle for the 31st - it suffered 572 casualties, over half of its strength. Stanley departed England on 16 September 1916 and joined the battalion in the field on 6 October. They were at Armentieres in northern France, right on the border with Belgium. They were the Support Battalion for front line troops at Houplines (about 3 km to the east of Armentieres). On the 4th October the 31st Bn had been ordered back into the front line and were there when Stanley arrived on the 6th. His company - 'C' Coy - were in the left sector of the Houplines front.
That very day the 'L' Coy Engineers released axphyxiating gas destined for the German trenches but it also turned on the Australians. Many men were wounded by gas and evacuated to Sternwerk (Steenwerke) 130 Field Hospital about 12 km to the west. This included Stanley and their CO Lt Colonel Frederick Toll. Stanley was back to the front two weeks later. On 22 Oct 1916 the Army claimed that he was "Wounded Accidentally" (by the 'L' Coy Engineer's release of gas) and his next of kin given that information. Four days later they changed it to just "Wounded" and the "Accidentally" deleted, presumably either because the Germans too had released gas, or to cover up a failed release. The parents were notified of the change.
The 31st played no major offensive role for the rest of the year. The gas had seriously weakened Stanley and he was in and out of hospital for the rest of the year (as was Lt Col Toll). In fact Stanley would spend almost half of the following year - 1917 - in hospital.
In early 1917, the German Army withdrew to the Hindenburg Line allowing the British front to be advanced and the 31st Battalion participated in the follow-up operations. The battalion subsequently supported the heavy fighting to breach the Hindenburg Line during the second battle of Bullecourt but was not in the front line. In September the battalion fought in Polygon Wood, in the Ypres sector in Belgium. Stanley arrived back with them in late December 1917.
They continued their supporting role in early 1918. They supplied working parties for the Corps line at Rossignol in Belgium (about 8km north of the Houplines) - digging trenches, training and playing sport. On the 14th March the battalion received orders to move from their camp at Rossignol to the front line in Wytschaete sector - about 5 km further north. On the 15th they were met by guides from the 59th Bn and taken to Lumm Farm. They were all in place by 9.45 pmthat night with no casualties despite the German shelling. The 31st were manning the centre section of the line, with the 32nd on their right and the 29th on the left. Enemy shelling was not very active that day even though on some days they had launched 1000 shells at the British line. Again on the 16th the enemy artillery was not very active.
The 17th March began quietly and at 2.30 am the 31st sent out patrols looking for openings in the barbed wire (but found none). At 6.15 am the Germans fired sixty 77 mm gas shells and the men donned respirators. The day was warm and sunny with clouds at times, but with intermittent shelling by the enemy. From 8-10 pm a big German barrage of 77mm and 4.2" shells was unleashed on the trenches. It is not certain when Stanley Watson died that day but it is likely to have been from either shrapnel for German shells or from the trench mortars, as the snipers, machine guns and rifles were not very active at all.
Stanley's mother was notified of the death by telegram on 2nd April 1918. His mother wrote on the 29th April asking for more information and signed off "a broken hearted mother". The army had no further information at that stage. Notices appeared in the local papers in late July. Stanley was buried at Cabin Hill Cemetery - about 2 km to the south east of the Wytschaete trenches where he died. This cemetery was begun in June 1917 and used as a front line cemetery until mid-1918. The cemetery contains 67 First World War burials, including Pte Watson - Row D, Grave 2.
Stanley had made a will on 11 June 1917 while at the front line in France. He left all to his mother Lillian May Sweet, but as is the practice, medals go to the father. His father's whereabout were unknown and his mother was authorised to receive the medals and all personal effects. There was much confusion during this time about Stanley's surname "Watson" and that it was not legally recognised. Mrs Sweet explained the circumstances to the army and said that he should be buried under the name by which he fought - "Watson" even though he, or she, never previously used it. The army treated this as an "assumed" name but nevertheless acceeded to his mother's wishes.
The personal effects that Stanley had with him at the time of his death - wrist watch, letters, photos, cards, unit colours, wallet, prayer book, testament and note book - were sent to his mother aboard the Barunga in July 1918. However, these were lost at sea when it was torpedoed by a German submarine 150 miles off the Scilly Islands. The ship was carrying 800 sick and wounded servicemen to Australia and all cargo was lost, never to be recovered. His medals were sent separately and arrived safely to his mother in 1923.
Two of Stanley's brothers joined the army under the "Cowell" name: Norman joined the No. 6 Depot Battalion in August 1915 but was discharged after 7 months, never having left Brisbane; and Edwin Thomas who joined the 5th Light Horse and spent some time with the Camel Corps in Egypt before returning to Australia in October 1917.
If any family member has a photo of Stanley or corrections to the above, please contact the author.
---

THOMAS NORTON JOWITT
Thomas Norton Jowitt was born in Wee-Waa New South Wales in 1894 to parents Thomas and Emilie Jowitt (nee Amelia Emilie Gerrick Knee Trindall). His father died in 1900 and the family moved to Brisbane. In 1901 Mrs Jowitt married James Anderson Wormald and she became Mrs Emilie Wormald, and lived at the Beach Kiosk at Jane Street, Manly. The family shifted to Lytton and son Thomas became a butcher and enlisted in the 25th Battalion AIF, "C" Company in Brisbane on 11 January 1915 at the age of 21. The 25th Bn were part of the 7th Brigade.
His unit embarked from Brisbane, Queensland, on board HMAT A60 Aeneas on 29 June 1915 and proceeded to the Middle East. Here they trained for all of August and arrived to fight at Gallipoli in September. After evacuation of Gallipoli on 18 December 1915, he was sent back for more training in Egypt and then sent to France, arriving on 19 March 1916. Now fighting as part of the 2nd Division, the 25th Division took part in its first major battle at Pozieres.
Pozieres, part of the Somme battlefield in northern France, between 23 July and 5 August 1916 became the scene of several major attacks by the Australian divisions. On the night of the 28th July 1916, the 25th Division were preparing to attack the centre section of the German front line on Pozieres Ridge and capture the first and second line of enemy trenches. They assembled in their trenches during the evening and after bombardment of the German lines by the British artillery the soldiers were ready to attack. At midnight all battalions of the 7th Brigade were ready go over the top. This included Thomas Jowitt's 25th Battalion, but he was held back to be a stretcher bearer as they were down in numbers. The soldiers went over the top in five waves, including Jowitt's "C" Company.
Their commanding officer records in the war diary that the "lines moved up in splendid order". After 7 minutes the Germans began to return machine gun fire. They had 5 or 6 machine guns in the 40 yards of trench that the 25th Division had to capture. The 25th Division made it the 300 yards to the first trench but with heavy casualties in this "No Man's Land". In the trenches the German soldiers were bayoneted in hand-to-hand combat. Then the 25th Bn started for the second line of German trenches. The machine gun fire cut the battalion to pieces and casualties were heavy again. The other Divisions had been stopped by the barbed wire that remained uncut even after the earlier bombardment. It seems that the British artillery's 18 pounders had been ranged 30 yards short and failed to cut the wire, but luckily the howitzers had shredded the wire elsewhere. The other divisions were halted and had to retreat.
Small parties of 25th Battalion's A, C and D Companies made it through gaps to the second line but were exposed to more machine gun fire and now bombs were being thrown at them. No other companies had such success. They were unable to go any further and stayed in the trench. The time was now about 2 am on the 29th. Thomas Jowitt's task was to go out into No Man's Land as soon as the last wave of troops had passed and begin to collect the wounded. It was dangerous work as stray machine gun fire passed by him, and German bombs were still overshooting the British advance and landing there. Nevertheless, he went out with his stretcher and began retrieving the wounded. On his last attempt shrapnel from a German shell struck his head and killed him instantly. It was probably about 1 am on the 29th. He was recovered later in the night and buried near the town of Villers Bretonneux in France. He is commemorated and named within the register of the Memorial 2km north of the town.
That night the 25th Division (650 men and officers) lost 4 officers and 28 OR (Other ranks) dead; 3 officers and 129 OR wounded, and 5 officers and 175 OR missing. The Division bivouaced back at Taarahill the next morning. The following day 161 ORs were sent to the Division to restore the unit to fighting strength.
His mother Emilie Wormald received the devestating news soon after. She later received the following letter regarding the death of her son. The writer was a close comrade of the deceased soldier:
It is with a sad heart that I sit down to write to you, as I have to relate to you the death of your brave son, Tom Jowitt. I daresay you have been notified already by cable. I know you will he glad to receive news of how he was killed, but, then, I am just fulfilling my promise to him who died so bravely. The place where he was killed was in the big push down on the Somme. Tom was always volunteering for different jobs; he would take on anything. The night he was killed he was on stretcher-bearing, as the other stretcher bearers had been hit, and some had gone down with shell shock. Tom has been in the same section as myself ever since we were at Alderley, and also Scotty Campbell. He was not up with us; he was away with the wound he got at the last place we were it. The shell that killed Tom also wounded his mate, who was stretcher-bearing with him. Tom was hit on the head. I may be able to explain things more plainly some other day. With my deepest sympathies.
The "Scotty" Campbell referred to in the letter was Sgt Alexander Donald Campbell (594) from Rosyth Village, Fifeshire, Scotland. "Scotty" was in the same Battalion and Company as Pte. Jowitt and the unnamed letter writer. Sgt Campbell was hit by shrapnel but hospitalized and survived (and later captured). Thomas Jowitt's sister Grace also received a letter from the same writer, in which he says:
I can hardly write and tell you of the sad news of poor old Tom's death. I have been putting it off day after day thinking I might hear it is not true, but alas, every one I ask says he was killed on the night of July 28, while acting as stretcher-bearer. Would to God I had been there to see for myself. Tom gave his life for our wounded - one of the grandest deeds of all. He had no thought for himself, but volunteered to go amidst a hail of shot and shell and bring our poor boys in. From what I can gather he was hit by a piece of shell on the head, and passed away without any pain. I cried like a little child when one of my mates told me. He was brother and comrade to me. Together we've had hard times and good times, and now he is gone. What can I say to comfort you all at home? I know you will all take it very hard, but think of the glorious way in which he gave his life. He is away from all care and trouble, and his soul now rests with the One who shall tell us all to depart this life. I am going up, perhaps today. God knows it may be my fate to join him soon, but I will not "shrink from my duty"
Sgt Alexander Campbell married Grace Emilie Jowitt on 29th July 1919 at St Paul's, Manly - the 3rd anniversary of her brother's death. Her bouquet was tied with her father's Regimental Colours - black over light blue. Every year his family posted a memorial notice in the Brisbane Courier. The one on Tuesday 29 July 1919, the 3rd anniversary of his death, finished with the line:

His duty done nobly, and now at rest.


---

GEORGE OSWALD COOK
George Oswald Cook was born in Beaudesert, Queensland, on 4 April 1897 to parents Tom Cook and Lizzie Emma Cook (nee Soule). He grew up on the family pineapple farm at Cotswold, Rathdowney near Beaudesert - a small settlement of about 250 people. George had four sisters Elsie, Lillian, Coralie and Lizzie Laurel and they attended the Maroon State School a few miles away.
Mrs Cook and the children moved to Haylock St Manly while Tom Cook ran the farm. George became a carpenter and at the same time spent four years as a cadet in the 9th Infantry militia at Wynnum. He for enlisted in the army on 2 November 1915 and was placed in the 6th Field Coy Engineers as a Sapper. He had a medical check and was innoculated on 10th November and again on the 19th, and more on the 21 st January 1916.
From November 1915 to February 1916 he trained at the Engineering Depot at Moore Park, Sydney (D Coy, Depot Btn Engineers) and then as a Sapper with the 5th Division Engineers. He embarked with the "6 July Reinforcements" on the Vestralia at Sydney on 11 August 1916.
The ship was travelling to Plymouth, England via the Cape of Good Hope, South Africa. The day they left George came down with a cold and attended sick parade. He was not feeling any better and went back on the next two days. On the 13th August his temperature had risen to 101.6F and he was admitted to hospital aboard the ship complaining of a headache and cough. The next day his temperature dropped to normal and he felt much better. It rose again in the evening (to 100.6F) and the headaches returned - but this time with vomiting and he couldn't keep anything down.
On the 15th he was checked for meningitis but all was clear. During the 15th his headaches increased and during the evening he said he could not bear the pain. He had couging paroxysms and leg and arm twitching but a intravenous injection of morphine settled him down for a peaceful sleep. He woke at 2.30 am on the 16th August in an excited state - but his pulse was normal. He had some phenacetin but was found dead at 7.30am that morning. It appeared that he had epileptic seizure and his heart failed.
Sapper George Cook was buried at sea off Capetown on 18th August 1916. He was 19 years old. A commemorative plaque has been erected in his honour at Hollybrook Memorial Cemetery, Southampton, England.
---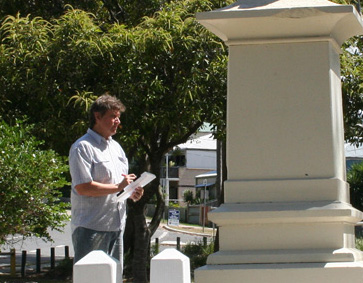 Author takes down details at the memorial
- January 2013
See my Yeronga Memorial Park webpage.
Feedback to Richard Walding: waldingr49@yahoo.com.au