WIMEREUX, FRANCE
Throughout France and Belgium there are many memorials to the Australian and New Zealand soldiers - Anzacs - who fought and died there in World War I. These sites have become sacred places not only to the descendents and friends of the fallen but to many others who honour their sacrifice.
This webpage highlights one of these sacred sites. Wimereux is a small town located on the coast in northern France just near the Belgian border. It is home to the Wimereux Communal Cemetery. The photos have been supplied by Margaret Cooper Smith - the great niece of Lewis Spratt AIF who was wounded at Hollebeke, Belgium, in 1918, died in hospital in Wimereux (135 km to the west) and buried at Wimereux Communal Cemetery. She visited Wimereux in September 2005 as well as a number of other sites and her photos appear on the linked pages (see below).
---
Looking up a side street of Wimereux.
| | |
| --- | --- |
| | |
| Postcard - Wimereux - Cimetiere Militaire Britannique de Terlinecthun (War Cemetery) - originally the headstones were standing upright but now they lie down as the soil is too sandy. | The same view in 2005. The building housing a book on soldiers' information is to the centre right. |
| | |
| --- | --- |
| | |
| The Cross of Sacrifice in the centre of the cemetery. Major John McCrae's grave (see below) is to the back at the left of the cross. There are Canadian flags marking his grave IV H 3. The Stone of Remembrance is at the back centre. | From Plot VIII A1 looking towards Stone of Remembrance which is on a lower level. Lewis's grave marked with the Australian flag. Building housing Book of Remembrance at back on right. |
| | |
| --- | --- |
| | |
| John McCrae's grave. Major McCrae died and was buried at Wimereux, France in January 1918. He wrote the famous poem 'In Flanders' Fields' while at a medical aid station at Essex Farm, near Ypres in 1915. | Local postcard of 'In Flanders' Field' by John McCrae. It was published in Punch magazine in December 1915 and inspired the use of the poppy as an enduring symbol of remembrance to this day. |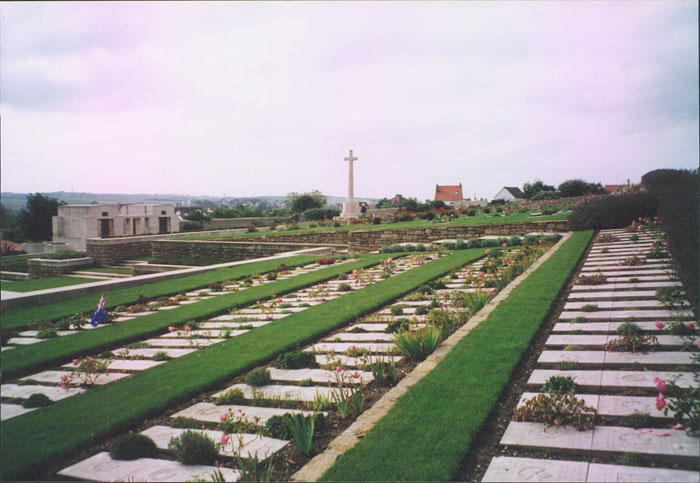 From Plot VIII A1 looking towards Cross of Sacrifice. Lewis Spratt's grave is marked with the Australian flag.
| | |
| --- | --- |
| | |
| Looking across Plot VIII D from grave 1. | All the graves look alike. Lewis Spratt's is centre top. Other graves are listed in the table below. |
| | | | |
| --- | --- | --- | --- |
| Grave | Name | Nationality | Died |
| Back Row | | | |
| VIII D 8 | William Devoe | Canadian | 17 March 1918 |
| VIII D 7 | J Russell | British | 15 March 1918 |
| VIII D 6 | Z Cartwright | British | 15 March 1918 |
| VIII D 5 | Lewis Spratt | Australian | 15 March 1918 |
| VIII D 4 | Alfred Buckley | Australian | 14 March 1918 |
| VIII D 3 | John Frederick Maryon | British | 10 March 1918 |
| Front Row | | | |
| VIII D 8A (obscured) | James Sockett | British | 18 March 1918 |
| VIII D 7A | G McKay | British | 19 March 1918 |
| VIII D 6A | Peter Williamson | New Zealand | 15 March 1918 |
| VIII D 5A | Bertram Ernest Jolliffe | British | 14 March 1918 |
| VIII D 4A | M O'Connor | British | 14 March 1918 |
| VIII D 3A | Sydney Turt Payne | British | 12 March 1918 |
| | |
| --- | --- |
| | |
| Lewis's headstone. All headstones lie flat on the ground due to the sandy soil. | Surrounded by mates. |
---
Return to: Manly War Memorial, Yeronga War Memorial, Granville War Memorial