COMMANDER FRANK GARDNER VD, RANR, 1841 – 1926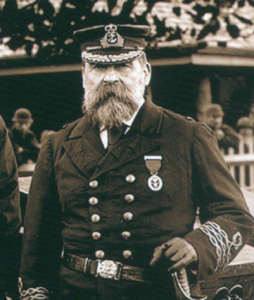 Commander Frank Gardner


Frank Gardner was born in 1841 at Bell Inn, Tewksbury, Gloucestershire, England. His father died when he was very young and he went to sea with the Royal Navy at the age of fourteen years. His forays included the Crimean Peninsula, the battlefields of Sebastopol, the taking of the Taku forts during the Second Opium War in China and gun running for the south in the American Civil War. Soon after his arrival in Australia he joined the Newcastle Naval Brigade at Fort Scratchley where he rose to the post of commander, retiring after 40 years service as one of the oldest officers in the Australian Naval Reserve. He died on the 2nd of November 1926. This webpage is dedicated to his memory. Click here to go to the Newcastle naval webpage.

I'd like to thank Harry Stait-Gardner for providing the information and photos for this page. Commander Frank Gardner was his grandfather's uncle. His grandfather, Frank George Stait-Gardner, who later became a Vice Consul in Mexico, came out and stayed with Frank Gardner for a couple years in the late 1880s. Harry's father was very impressed with his descriptions of NSW that he brought his family to Australia in 1949.

If you have any feedback please email me:

Dr Richard Walding
Research Fellow - School of Science
Griffith University
Brisbane, Australia
Email: waldingr49@yahoo.com.au
---
"A Long and Useful Life"

Officers of the Newcastle Naval Brigade on 9th August 1902.
Cmr Gardner is on the right.
(Newcastle Region Library 1999)

Francis (Frank) Gardner was born at home at Bell's Inn, Church Street, Tewkesbury (Gloucestershire, England) on 17 December 1841 the youngest of six sons of George and Mary Gardner (nee Lewis). His brothers were Charles, William, George, Henry and William Alfred. He also had three sisters (Susannah, Emma and Esther). His father was the proprietor of Bell's Inn in Tewksbury, where the family resided.


A 1930s postcard of The Bell Hotel in Tewkesbury -
formerly Bell's Inn - where Frank Gardner was born.
His father George was proprietor and the family lived here.
The room on the right marked with a cross shows where all
of the children were born. The hotel is located directly opposite
the Abbey in Tewkesbury. This Tudor fronted building dates
back to Henry VIII and beyond but had to be rebuilt in 1696
following a fire. Today it is known as The Bell.


Frank was educated at Shuthonger House Academy - a private gentleman's boarding school in Shuthonger Manor in the small village of Twyning a few miles north of Tewksbury. His school master was James Tilly who lived in the manor with his wife Jane. Tilly was master there from the early 1840s until the late 1850s and educated several of the younger Gardner boys; the older boys having schoolmaster Mr G. Vallencourt of Glasgow University at the Academy. In his reminiscent moods Frank Gardner spoke of the fishing and boating on the River Severn, two pastimes to which he remained very partial to the end of his life. Once schooling was complete, Frank - at the age of fourteen years - went to sea with the Royal Navy in 1855 aboard the new wooden troopship Earl of Eglinton then engaged in transporting troops to the Crimea. He visited the battlefields of Sebastopol, and could tell of the horrors of that war. He continued to serve aboard the Eglinton and assisted in the evacuation of British troops in the Crimea in 1856 - at the end the war. His father died in February of that year. In 1857, when 16 years of age and still aboard the Eglinton, Gardner headed for eastern waters at a time more propitious for a young seaman. The Indian Mutiny had set all India ablaze and fighting had broken out in China. HMS Eglinton was ordered to the Peiho River to join other British and French ships attacking China during the Second Opium War. An ultimatum was given to the Chinese to surrender the Taku Forts which dominated the entrance to the river. The Chinese refused, and on the evening of May 19th 1858 the boats of the fleet were towed by gunboats to the river entrance where the English and French rushed the forts and the battle was over by noon. It was here that Frank Gardner lost a part of a finger one of his hands. Two midshipmen who fought beside Gardner in this action were later to rise to high posts: 14 year old gun room officer aboard HMS Calcutta - Harry Rawson later Admiral Sir Harry Holsworth Rawson, Governor of New South Wales from 1902 to 1909; and 16 year old Arthur Wilson, later Admiral of the Fleet, Sir Arthur Knyvet Wilson, VC, First Sea Lord of the Admiralty. Gardner returned to England in the Eglinton which carried home the sick and wounded. He often described the awful conditions the patients onboard had to suffer and later compared them with the skilled and humanitarian methods in the transport and care of the wounded and sick in Wold War I.

He left the Royal Navy in 1860 and joined the mercantile service where he made a voyage to Savannah (Georgia, America) prior to the outbreak of the American Civil War. He told how they had to pack bales of cotton round the sides of the vessel as protection from the general lawlessness of the port. Gardner, in common with many others, joined the confederate forces and was present when the northern ships were burnt in the Savannah River. After six week's service in Fort Palaski, at the mouth of the river, he was drafted to Charleston, where, finding the service uncongenial, he joined the steamer Sir Charles Napier and spent some time in blockade running making two trips from Liverpool to Savannah with cotton turpentine or tobacco cargoes outbound, and iron for railroad track, medicine and coffee inbound. He also did a little gun-running.

The Lightning - Black Ball Line (James Baines & Co.) - Liverpool.
Frank Gardner was first mate on the lighting on its arrival in Australia in 1862. It burned while loading wool at Geelong, 31st October 1869.

Gardner came to Australia as mate on The Lightning, one of the fastest clipper ships that ever sailed between England and the antipodes. The vessel first arrived at Melbourne from where she was chartered to take a crowd of gold-seekers to Otago, New Zealand, where a "rush" had occurred. Gardner was second mate. The passengers paid £10 per head, and supplied their own bedding. The ship was so crowded that they had to eat and sleep wherever they could. The vessel came from New Zealand to Sydney, and Frank Gardner was paid off but decided to stay in Australia. He was had heard about the back country near Sydney and was curious to visit. He gained employment on a station at Namoi in central New South Wales where his first job was to assist in taking a mob of sheep to Queensland for 12 months. After this - in 1862 - he went to Newcastle. He became associated with a Mr. W. K. Lockhead and at his suggestion set up business in the School of Arts building where he ran a bonded store which soon burnt down uninsured. He opened a free store in Bolton Street and this too burnt down after six months. He was soon to establish a general agency, insurance and auctioneering business at 97 Scott Street which he maintained until his death. Gardner took part in the first sale of land at Tighes Hill, and helped to lay out Adamstown, both of which are now popular suburbs. His mother, now living in Worcester, England died in 1865. On 30th April 1868 Frank married Jane (Jenny) Berwick, a Lincolnshire woman, daughter of George and Anne Berwick (nee Attwood) of Lincolnshire, England and set up home in Church Street. Unfortunately, on 19th June 1883 his wife Jane, aged 32, died and was buried at the Sandgate Cemetery.

In 1886 Lt Frank Gardner decided to take a trip to England and the Government appointed him one of the Commissioners at the Indian and Colonial Exhibition in London, and while there he had the honour of being presented to Queen Victoria and other members of the Royal Family. At that time Australian troops were volunteering for active service in the Soudan (Sudan, northern Africa). Queen Victoria plied Lt Gardner with questions respecting the Australian soldiers.

Apart from his business life, his activities were many and varied, and of a beneficent character. He was devoted to Newcastle Cathedral, which had benefited greatly by his generosity. He defrayed the whole of the cost of the brick wall and entrances in front of the cathedral, and also gave the beautiful marble alter of the Warriors Chapel as well as subscribing liberally to every call of the cathedral. His patriotism was intense and every fund during the days of the Great War was liberally subscribed to by him. As a fitting climax, he presented the city with the Anzac memorial monument and statue, built 1916, placed outside the Newcastle Post Office as well as paying for the Warrior Chapel alter in the Anglican Cathedral in Newcastle and paid for the local church in Dungog. The Great War 'Anzac' memorial is believed to be Australia's first memorial of the Great War that incorporated a soldier-statue.

Gardner Memorial
The foundation stone was laid by the Mayor in early April 1916 less than one year after the landing at Gallipoli and the memorial was unveiled later that same year on 16 September. The pedestal and setting were designed by a local architect Edward Tingle. A local stone mason Thomas Brown from West Maitland carved the pedestal while the marble soldier atop the memorial was carved to order by an artisan in Italy. The soldier is carved with arms reversed and head bowed. Marble plaques are set on the four faces of the pedestal, the main plaque facing east and the remaining four faces containing a list of the fallen soldiers from the local area. One of the first names to be inscribed was that of Major Ellis of the 13th Battalion.
Reference: Newcastle Morning Herald, New South Wales, Australia: 5 April 1916, p5.

Frank Gardner's connection with the Newcastle Naval Brigade dated from 1863 when he joined the ranks under Captain David Tate Allan and then under the subsequent commander Capt. Herbert Robert Cross. He was promoted to Second Lieutenant in 1879, Lieutenant 1886, Lieutenant Commander 1893, and finally Commander in 1902 when Capt. Cross retired. He retained the post of commander until 1913. Upon the Federation of Australian States Gardner the Naval Brigade was disbanded and recreated as the newly formed Royal Australian Navy Reserve (RANR). He retired after 40 years service and was presented by the men of the brigade with an illuminated address. On his retirement he was one of the oldest officers in the Australian Naval Reserves. He had been a member of the Naval and Military Association since its inception and was always a welcome figure at its gatherings.

Cmr Gardner is on the far right. (Newcastle Region Library)




Naval Brigade on Parade in the grounds of Watt Street Hospital. Cmr Frank Gardner is on the far left. (Newcastle Region Library)




The location is behind the Newcastle Hospital. (Newcastle Region Library)

With the late Mr. H. Contis he was a founder of the Newcastle Sailors Home, and was also instrumental with others in the formation of the Shipwreck Relief Society. During the period of the volunteer fire service he was honorary superintendent of the Newcastle brigades from 1882 and retired on the passing of the Fire Brigades Act in 1910, when the permanent system came into operation. The regattas, which for many years were the New Year's Day sporting feature of Newcastle harbour, claimed his service as secretary to the committee which conducted them. He was one of the founders of the Newcastle School of Arts and one of the promoters of the City of Newcastle Ore and Coke Company. In the early days of the Newcastle Hospital he occupied the position of secretary of the institution. He was a prominent Mason in the early period of the Masonic craft in Newcastle and upon his retirement as treasurer of the Hunter River Lodge of Harmony No. 51. S.C. was presented with an illuminated address and a past treasurer's jewel.

Newcastle and Northern District Naval and Military Association pre-1914. The inscription on the reverse reads "Life Membership. Comdr. F. Gardner V.D" (

Brad Lederman

)

Sport had claimed his attention, and he had been noted as an excellent rifle shot and a very good fisherman. It was, however, as a bowler that he was best known. In the northern district he was referred to as "The Father of Bowls". From its inception in Newcastle he had helped to develop and foster the game. He had been president of the Northern District Bowling Association since its formation 28 years ago, and he had long been patron of the Newcastle City Club, of which he was a revered member. He was both a good "draw shot" and "driving" player, and up to very recent years had skippered on of his club's teams in the pennant competitions. He was a liberal patron of the sport, and had helped more than his own club. His hobby was gardening, and the gardens and ferneries of his home showed the results of his care. He was of artistic tastes, and was more than passingly clever in pencil sketching and painting of which his home contained many examples. During a trip abroad and in his wanderings at home he made many sketches of places and buildings that took his fancy. Upon his death he bequeathed a painting from his collection - a watercolour by Frederick Terry entitled "Early Newcastle" (c 1853) . This watercolour (see below) depicts Newcastle, including Nobby's Point (middle right ), as a thriving port and city. On the right in the distance are the harbour defence observation posts. On the left is Christ Church - where he was married (now the Cathedral Church of Christ the King). The pair of two-storey buildings on the right were erected as Army Barracks in 1849 and later used as a women's reformatory and mental hospital. A number of ships are depicted in port, emphasizing Newcastle's importance on Australia's eastern coast.

F. C. Terry
Early Newcastle, (circa 1853)
pencil, watercolour, white gouache, scraping out, 51.1 x 91.5cm
Bequest of Commander Frank Gardner 1927
Collection: Art Gallery of New South Wales (used with permission)

Frank Gardner died on 2nd November 1926 aged 84. The Newcastle Morning Herald commented "Commander Frank Gardner, V.D., one of the oldest and most esteemed citizens of Newcastle, died at his home, Church Street, at an early hour yesterday morning. He was within one month of attaining his 85th year. His wife predeceased him many years ago, and he is not survived by any immediate relatives. Service will be held in the Newcastle Cathedral at 1:45 this afternoon, and the funeral will leave there at 2:10 for Sandgate Cemetery". The funeral was conducted by Rev. O. C. J. Van who was assisted by Canon J. C. V. Mather and the Rev. H. K. Vickery who represented the Chelmsford Mission for Seamen. Rev. Van based his remarks on the words "I thank my God upon every remembrance of you." He said the words were those of St Paul in the opening of his epistle to the Philippians "and they could appropriately adopt them on this occasion". The Australian Navy was represented by Lt F. P. Willett RAN, and Surgeon Commander W. Nicholson RANR. The military forces were represented by Col. J. M. Corlette, First Infantry Bde, and Major R. E. Fanning, Staff Corps. His obituarist in the Newcastle Morning Herald (3 Nov 1826, p8 c9) said this "He was also a lover of music and in his earlier days possessed a tenor voice of good quality. His home bears evidence of his prowess in sport in many cups and other trophies, and also of the esteem bore him in handsome gifts. The late Commander Gardner was of a quiet disposition, and was extremely liberal in cases of need. During his long and useful life he had made many true and lasting friends."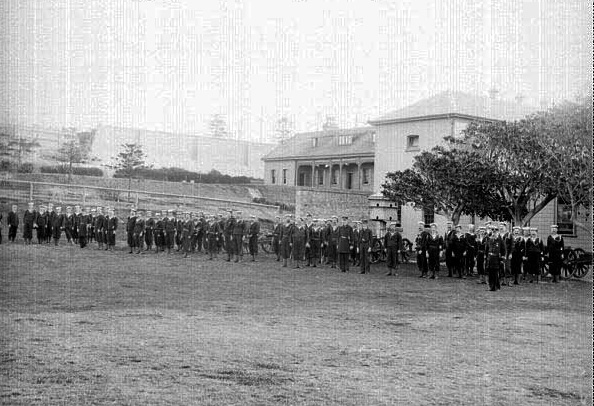 On parade. (Newcastle Region Library)
References:
Newcastle Morning Herald, New South Wales, Australia: 26 Feb 1886, p2 (Picnic); 14 March 1898, p5 (Cmr Frank Gardner); 2 Aug 1899, p4 (Gardner Code of signals); 5 April 1916, p5 (Gardner's Memorial); 31 Oct 1916, p4 (Gardner - a patriotic citizen); 2 Jan 1926, p7 (death of nephew W. S. gardner); ; 27 May 1926, p5 (Presentation by Bowlers); 3 Nov 1926, p8 (Funeral Notice & Obituary); 4 Nov 1926, p7 (Funeral service).
Knaggs Nautical Almanac - all years from 1879 to 1899.
Sandgate Cemetery Burials Index 1881-1985
Sandgate Cemetery Headstone Transcriptions (courtesy of Newcastle Family History Society Inc.).
Newcastle Directory 1880/1881
1885 Newcastle Almanac and Business Directory
1901 Federal Directory of Newcastle

Ancestry details for Frank Gardner:
Father: George GARDNER, born 8 Jul 1792 in Tewkesbury, Gloucestershire, England; died 26 Feb 1856 in Barton Street, Tewkesbury, Gloucestershire. He was the son of William GARDNER and Mary FLUCK. He married Mary LEWIS 5 Jul 1828 in Tewkesbury, Gloucester, England.
Mother: Mary LEWIS, born 26 May 1799 in Lassington, Gloucestershire, England; died 1865 in Worcester, Worcestershire, England. She was the daughter of Thomas LEWIS and Mary, wife of Thomas LEWIS.
Siblings:

1. William GARDNER, born Abt. 29 May 1829.

2. Susannah GARDNER, born Abt. 30 Jun 1831 in Bell Inn Tewkesbury, Gloucestershire, England.

3. George GARDNER, born Abt. 2 May 1832 in Bell Inn Tewkesbury, Gloucestershire,

4. Henry GARDNER, born Abt. 13 Nov 1833 in Bell Inn, Tewkesbury, Gloucestershire, England.

5. William Alfred GARDNER, born 13 Jun 1838 in Bell Inn, Tewkesbury, Gloucestershire, England.; died 8 July 1897 in Wellington, New Zealand; married Hannah Maria STEVENS 18 Sep 1862 in Roman Catholic Chapel, Sansome Street, Worcester, Worcestershire, England; born Abt. 1836 in Worcester, Worcestershire, England; died in NSW Australia. Abt. 1886. One of their sons William George GARDNER moved from New Zealand to New South Wales Colony in Australia living close to his Uncle Francis GARDNER. William George Gardner used the name William Stait GARDNER. He had a son had a son called Frank (Steight) Stait GARDNER.

6. Charles GARDNER, born 19 Feb 1840 in Bell Inn, Tewkesbury, Gloucestershire, England.; died 1883 in Medway, Kent England. Aged 43; married Mary Ann ALFORTH 13 Sep 1864 in Grimley cum Hollow, Gloucestershire, England..

7. Francis GARDNER, born 17 Dec 1841 in Bell Inn, Tewkesbury, Gloucestershire, England.; died 2 Nov 1926 in Christ Church, Newcastle, NSW, Australia; married Jane BEWICK 1868 in Newcastle, NSW, Australia; died 19 Jun 1883, NSW, Australia.

8. Emma GARDNER, born 17 Mar 1844 in Bell Inn, Tewkesbury, Gloucestershire, England.

9. Esther GARDNER born Bell Inn, Tewkesbury, Gloucestershire, England.
Indicator Loops home page