DOUGLAS PULTENEY DALZELL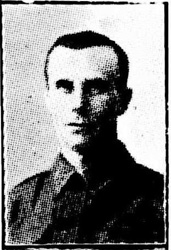 Douglas Pulteney Dalzell was born on 9th December 1887 in Cawarral, Rockhampton, Queensland to parents Pulteney Edward Dalzell and Catherine Mitchell Dalzell (nee Richmond). Catherine was from a wealthy Scottish family (James Richmond and his wife Martha) who owned the Kippenross Estate in Dunblane, Scotland. They had a son John and daughters Catherine (born in 1864) and Agnes. James and Martha had come to Australia in 1873 to buy a sheep station at Haddon Rig in Central Western New South Wales. They lived most of their time in Toorak, Sydney but visited their extensive station regularly. James would travel back to Scotland every few years. His wife Margaret died in 1877 and James married a second time in 1880 to Mary Leslie and had five children. Catherine married Pulteney Edward Dalzell in Rockhampton, Queensland, and they had three children: Margaret (1887), Douglas Pulteney (9th December 1888) and Marjory (1891). Their mother (Catherine) died that year (1891) and their father died in 1897. The three children were sent to boarding school in Brisbane: Miss O'Connor's Duporth School at Oxley. Miss Alice O'Connor became their legal guardian as both parents were dead.
Douglas became a station overseer in Rockhampton but while living with his sister Margaret in Sydney he decided to enlist. This was 20th December 1914, and he was 27. Douglas enlisted as a trooper in the 6th Light Horse Regiment (2nd Australian Light Horse Brigade) 'A' Squadron. His sister Margaret was nominated as his next-of-kin but she then left to live in the family home at Kippenross, Dunblane but worked in London. His other sister Marjorie moved to Sydney. On the 20th December 1914 - the same day as he enlisted - the 6th LHR travelled from their camp in Sydney and reached Woolloomooloo Wharf (Sydney) at 6am and embarked on the HMAT A29 Suevic. The ship then moved out into the stream where it moored. Casting off at 3 pm the next day (21st), they cleared Sydney Heads at 3.45. Travelling as a part of the 2nd Convoy, they arrived at Alexandria, Egypt on the 1st February 1915. The 6 LHR began training at the Maadi Camp in Egypt and in the first days of May confused reports of the landings at Anzac Cove started to filter through the Light Horse regiments. It was decided to send the 2nd Light Horse Brigade to Gallipoli dismounted, so the Brigade was embarked on the Lutzow, eventually going ashore on the 20th of May 1915.
Once ashore, the Brigade was given the task of digging trenches at Holly Ridge on the far right of the Anzac positions. By early July the trenches were joined to form Ryrie's Post. On the 12th of July, the British launched a series of major attacks at Helles to the south. The Australians were to keep the Turks occupied at Anzac by making a series of demonstrations. It fell to the 6th and 7th Light Horse regiments at Bolton's Ridge and Ryrie's Post to keep the Turks busy. The Turkish defences were, however, much two strong and after the first two waves went "over the top", and were cut to pieces, the third was held back. However, in anticipation of the August offensive, Trooper Dalzell was moved to the Machine Gun Section (on 14 July 1915). On the evening of 10th August 1915 during the attack on Lone Pine he was killed by an enemy bullet. He was buried at Lone Pine in Brown's Dip Cemetery, 500 yards south of Anzac Cove. His headstone reads:

Greater love hath no man
Than that he lay down
His life for friends.


---
Dr Richard Walding - Research Fellow, Griffith University, Australia

Email: waldingr49@yahoo.com.au
See my Yeronga Memorial Park webpage.
See my Granville War Memorial webpage.