OF THE ROYAL AUSTRALIAN NAVY AT BRIBIE ISLAND

R.A.N. 4 STATION & ACCOMODATION DETAILS
---
If you worked there or have any feedback please email me:

Dr Richard Walding
Research Fellow - School of Science
Griffith University
Brisbane, Australia
Email: waldingr49@yahoo.com.au
---
LINKS TO MY RELATED PAGES:
---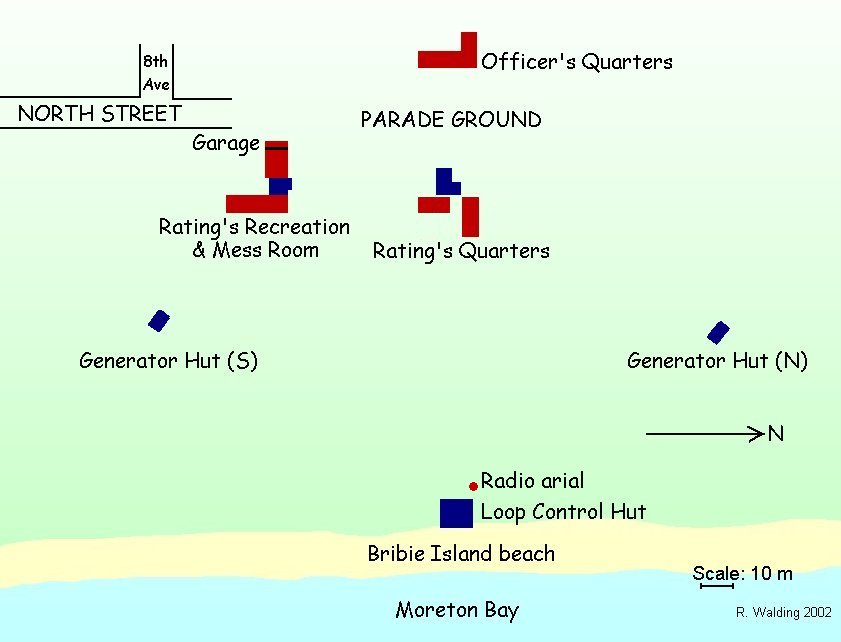 The plan of the Loop Station shown above was prepared by Richard Walding from measurements of remaining buildings and concrete foundations (shown in dark blue) and from advice from Lt Sid Sharp (former Officer in Charge of RAN 4) and Frank Ramsay (former HSD - Higher Submarine Detector). Wooden structures were removed in 1945. These are shown in red. The total cost of all buildings and fittings, excluding Indicator Loop Equipment was ₤9390 in 1942 which is equivalent to $540 000 in today's dollars (2008). At auction in 1945, the same buildings and fittings were sold for ₤747 (about $43000 today).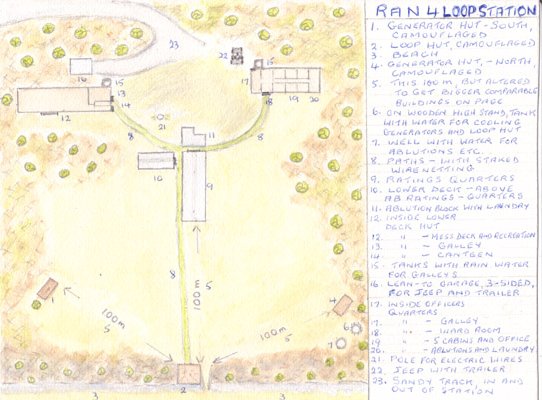 ---
The buildings were designed and drawn by R. A. Bowen and H. W. Barker and belong to the set "R.A. Navy Operations: Robert and Arthur" Q.W. 11916. They are available from the National Australian Archives - Series BP129/1, Item 60/1/1367. They were adapted from the design used at Woodman's Point Indicator Loop Station, Fremantle, Western Australia.

---
RATING'S MESS HUT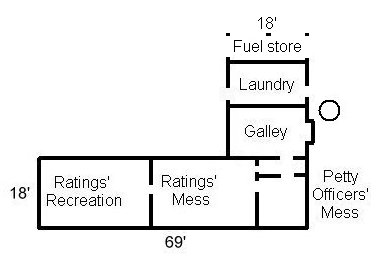 The 69' x 18' Mess Hut was of wooden construction with a corrugated asbestos cement skillion roof. The 8' ceiling was unpainted 3-ply and the hut had an unpainted wooden floor and wooden partitions. The Petty Officer's Mess measured 12' x 11', the Ratings Mess 25'6" x 18', and the Ratings' Recreation Room 31' x 18'.
The Galley annex measured 18' wide x 11'4" and had a concrete floor. Inside was a 2-oven Crown stove (5' wide), and inbuilt soyer stove, a small meat room, and a small pantry and food preparation room next to the laundry. As well there was an enamel sink, 3 taps and 3 lights. In the middle was a small wooden table (4' x 3'). There was also a 1000 gallon tank to the right.
The Laundry measured 18' x 17' and also had a 4" concrete floor (2' deep footings) and two sets of double concrete tubs with five taps. Along the end wall was a Crown boiler on a stand and two ironing boards. A bench ran the length of the Galley wall. There was one power point in each of the five rooms.
The Fuel Store was 11'4" x 18' with a concrete floor and no side and end walls.
---
RATING'S SLEEPING QUARTERS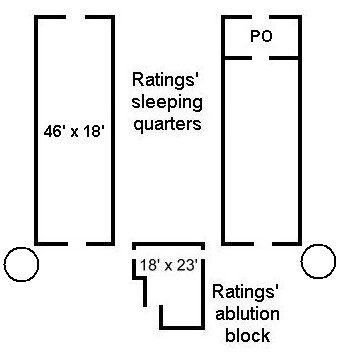 The Sleeping Quarters consisted of two huts, each 46' x 18'6", with the southern (right) hut having an 8'6" wide room at the end for the Petty Officers. They were of wooden construction with a wooden floor and partitions and a corrugated asbestos cement skillion roof. The ceiling was unpainted 3-ply and the windows had wooden shutters. There were 5 electric power points in each hut.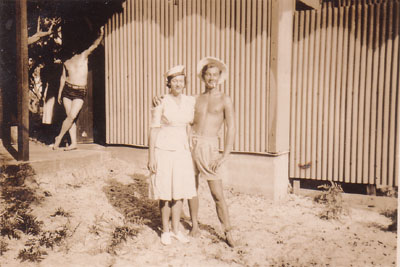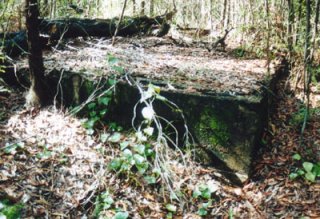 The Rating's Ablution Block consisted of a combined bathroom and latrine measuring 18' x 23' with a corrugated asbestos cement skillion roof, a concrete floor and fibro asbestos cement partitions. There were 4 showers, 3 pedestals, 2 urinals, 2 porcelain hand basins and 3 light points. Outside was a septic tank and two 1000 gallon tanks.
Left: AB Seaman Frank Ramsay and Muriel from Bongaree outside the shower block, Christmas Day 1943. Note the edge of the slab to the right of Frank.
Right: The same concrete slab as it is today (2002).
---
OFFICER'S QUARTERS AND MESS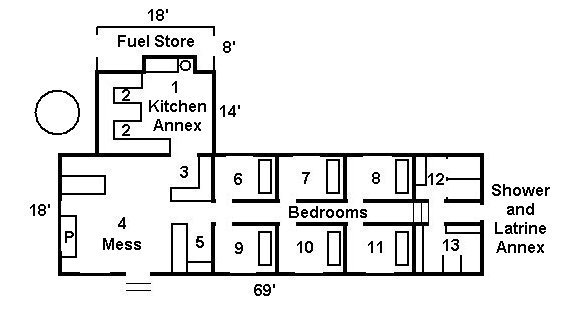 The Officer's Quarters and Mess building was 69' long and 18' wide. It was of wood construction (wooden floors, timber stumps, unpainted 3-ply ceiling, wooden partitions) and had a corrugated asbestos cement skillion roof. The Kitchen Annex (#1) was 18' x 14'2" and had a Crown Stove, a soyer stove, 3 water points, an enamelled sink and 2 gauzed pantries (#2). There was a 1000 gallon tank to the left (south). Along the front were tomato bushes (to the left of the steps) and a garden bed to the right. In the Mess there was also a piano (marked "P" on the diagram) along the left wall.
The Shower and Latrine Annex (18' x 11'4") had two steps from the sleeping quarters down to a concrete floor. The latrine room (#12) had two WCs and a 2-bowl urinal; the shower room (#13) had 2 showers, a seat and two basins.
The Officers bedrooms each measured 7'6" x 11'4" and were occupied as follows: #6 XDO Laurie Harvey, #7 Lt Bill Alderton-Smith, #8 Lt Oswald Jarvis, #9 Office, #10 Lt Sid Sharp, #12 Lt Joe Duggan.
Legend: #3 Servery and Bench; #5 Bar.
---
STORE BUILDING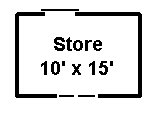 The Store was of wooden construction with asbestos cement skillion roof. It had a pair of hinged doors at the front and a sliding door at the rear. The Store was 8' high at the front and was built on a concrete slab floor 4" thick with 2' x 4" footings.
---
INDICATOR LOOP CONTROL HUT
Go back to RAN 4 Home Page for details
---
GENERATOR HUTS
There are two huts, each made of 12" thick concrete walls reinforced horizontally with ⅜" steel rods at 12" spacing and vertically with ½" rods at 12" centres. There is at least a 2" cover of concrete over the rods. The 12" concrete slab floor is reinforced with ½" rods at 6" centres and is on 2' x 4" footings. There is a 6' x 6' concrete bed 2'6" thick in the centre of the room. Six inches of this protrudes above the floor. It was used for holding down the machinery.
There was a wooden door measuring 7'x 2'3" x 1¾" sheeted with 4" VJ pine and a 10" galvanised padbolt.
Like all concrete used at RAN 4, it was a 4:2:1 (gravel:sand:cement) mix and has stood up very well to the test of time. Recent compressive tests by T.A.Taylor indicate a strength of 38MPa.
---
Return to RAN 4 Bribie Island Home Page

---