INSKIP POINT
LIGHT AND SIGNAL STATION
| | | |
| --- | --- | --- |
| | | |
| Pilot's Cottage 1902 | Unloading at Inskip 1902 | Former cottage site - Inskip 2009 |
This is the story of the light and signal station at Inskip Point - just next to Fraser Island, Queensland, Australia. The station began as the location for a beacon for the port of Maryborough in the 1860s, to a pilot station in the late 1800s and a light and signal station in the early 1900s. For more than a century the light station and pilots at Inskip were responsible for the safety of ships at sea. It was a lonely way of life for a succession of men, often with families, as they responded to the call of people in need.
---
LINKS TO SOME OF MY RELATED PAGES:

Comboyuro Point and Cape Moreton Light Stations

Moreton Bay Harbour Defences - World War 2 (Bribie Island, Fort Bribie, Moreton Island)
---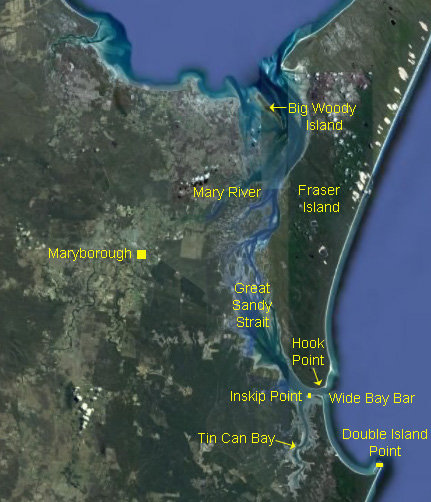 Inskip Point - Latitude: 25° 48' S, Longitude: 153° 04' E.
---
ORIGINS OF THE NAME
Inskip Point was named by Captain Owen Stanley, the Admiralty Hydrographer and Commander of the HMS Rattlesnake in October 1849 after Captain George Henry Inskip RN naval officer who served in HMS Rattlesnake and HMS Bramble October 1846 to 1849. Captain George Henry Inskip, born in Plymouth around 1824, was son of Peter Inskip and Harriet Palmer. His father was a sailor and his brother was Captain Peter Inskip (b 1808). It seems George was quite prolific in naming remote coastlines and spent some time in the 1850s in British Columbia. The 1881 census lists him as Head of the house (click to view census document).
| | |
| --- | --- |
| | |
| The HMS Rattlesnake depicted near the reefs of the Louisiades to the north of Australia on 14 June 1849. While the Rattlesnake hauled off and waited, Lieutenant Yule of the tender Bramble (to the left) examined the opening in one of his boats. State Library of NSW. | HMS Rattlesnake, painted by Sir Oswald Walters Brierly, 1853. National Maritime Museum, London. |
The voyages of HMS Rattlesnake and tender HMS Bramble along the Queensland coast were really rather famous. From 1846 to 1850 the Rattlesnake, an ageing 'donkey frigate' (28 guns) tendered by the schooner HMS Bramble, carried on from the earlier surveying work of HMS Beagle (Darwin's ship)1. On 16th October 1847 Rattlesnake visited Moreton Bay en route from Sydney anchoring at Cowan Cowan Roads in Moreton Bay. She departed 4 November. In this time Scottish-born naturalist John Macgillivray (1822-1867) visited Moreton Island and studied aboriginal languages (this was the first encounter of the Rattlesnake with aborigines) and collected flora and fauna.
In a second visit, HMS Rattlesnake under the command of Captain Owen Stanley, and HMS Bramble (under command of Lt Charles B. Yule and 2nd Master George Henry Inskip) entered Moreton Bay on 17 May 1849 on their way from Sydney to Cape Deliverance passing Fraser Island and the Great Sandy Straits. Rattlesnake and Bramble surveyed much of the northern East Coast of Australia - (treacherous because of the massive string uncharted reefs & shoals of the Great Barrier Reef ) and later Torres Strait & southern New Guinea.2
Macgillivray's journal is available online.
---
WHY INSKIP POINT?
Brisbane had been established as a penal settlement as a part of New South Wales in 1824 after surveys by John Oxley in late 1823. The first navigation aids to assist vessels entering Moreton Bay were those placed by John Gray in 1825 to mark the outer bar and inner channels for vessels entering by the South Passage. It was about this time that Fraser Island, and to some extent the point now known as Inskip, assumed world notoriety due to the Eliza Fraser story.
In 1836 the Stirling Castle was wrecked on the Queensland Coast and two boatloads of survivors headed south to Moreton Bay. One boat bypassed Moreton Bay and arrived on the northern New South Wales coast - with one survivor. The other boat containing Captain Fraser, his pregnant wife Eliza and 10 other men made it to Orchid Beach on Fraser Island, 20 miles south of Sandy Cape. There they were watched-over by local aborigines - the Dulingbara clan. Because she was still bleeding after giving birth (to a baby that only survived a few hours), Eliza Fraser was confined to living with the aboriginal women at Hook Point on the southern end of the island (see map above). She was taken over to Inskip Point in canoe and thence to Rainbow Beach and rescue at Lake Cootharabah.
Five men sailed separately to Inskip Point and three walked to Bribie Island to be rescued to Lt Otter and two men walked to Lake Cootharaba. Another two men, Elliott and Doyle, tried to swim from Hook Point to Inskip Point but drowned during their attempt. Fraser Island had become world famous - more for the increasingly elaborate and dramatic stories by participants and witnesses than for the natural beauty and resources of the island.
In the following years exploration and closer examination of Queensland's coast proceeded. For example, in 1842 Andrew Petrie discovered and explored what is now the Mary River and considered the land nearby suitable for grazing sheep. In 1847 the first shipment of wool from the Wide Bay district was taken to Sydney by the Schooner Sisters. By June 1848 wharves had been built on the north side of the river and the port became known as Port of Wide Bay - later Port of Maryborough. With the start of free settlement in 1842 the number of ships heading for Queensland increased dramatically. At the time of Queensland's separation from New South Wales in 1859 ports had already developed where there was access to the hinterland and safe anchorage for ships: Moreton Bay, Wide bay (Maryborough and Bundaberg), Port Curtis (Gladstone) and Fitzroy River (Rockhampton).
The Wide Bay district continued to grow and in 1848 the first Harbor Master for Wide Bay was appointed: Government Botanist John Carne Bidwell. Not only did he perform harbour duties but he was also Commissioner of Crown Lands, Registrar of Births, Marriages and Deaths and had to perform marriage ceremonies and act as a magistrate. He died in 1853 aged 38 after being lost for 8 days in the bush at the head of the Mary River. He had forgotten to take his compass. The Government of NSW, located in Sydney, was not over-generous to the northern ports, especially as separation approached. Nevertheless, in 1857 £1000 was voted for improving navigation (mostly for wool ships) in the Mary River.
In 1859, the Sub-Collector of Customs for Wide Bay Richard Sheridan was appointed Harbor Master and, although not a nautical man, remained at this post for 19 years. He worked single-handed at first from a little office which later became the kitchen for the Criterion Hotel in Wharf Street, Maryborough. Not only was he the Harbor Master but also Water Police Magistrate, Emigration Agent and later, Polynesian Inspector for the kanaka labourers. The first pilot he employed was Joseph Mungomery from Sydney. Note spelling of harbour when referring to the place, as distinct from the title Harbor Master. This has changed in the official Queensland literature over the years.
On a personal note: I sailed around the southern end of the Great Sandy Straits in October 2009 and the recent maps of sandbanks and channels had to be read with caution. Many of the sandbars had moved and channels were not where they were expected. We revisited the spots mentioned by Jack N. Devoy in his travel narrative of the Great Sandy Straits "A Yachting Cruise".3 This revisitation is described later.
| | |
| --- | --- |
| | |
| Solar powered beacon with Fraser Island to the right. | We passed over this sandbank two hours earlier. |
The harbour pilot and two boatmen were stationed at Maryborough, several kilometers up the Mary River. Masters of vessels frequently had to leave their vessels at anchor in the bay and go up in their boats to secure the Pilot's services. The discovery of gold increased the trade at this port but an increase in pilot staff did not come at the same time. There was just the pilot and the coxswain of the pilot vessel. When the coxswain was engaged as the pilot, there was insufficient crew left behind to man the pilot vessel. A situation that was clearly going to get unmanageable.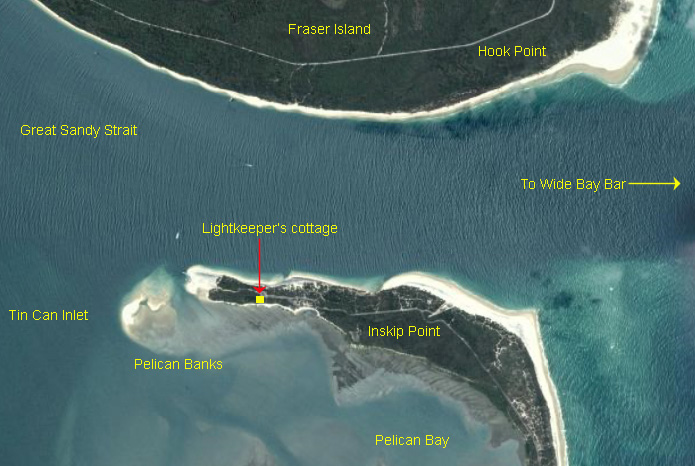 ---
WHY IS THE WIDE BAY BAR SO DANGEROUS?
The Wide Bay Bar - like all bars - is a shallow area of sand deposited near the mouth of a bay or river. When the water from the Sandy Strait slows down to meet the ocean, it deposits tons of silt and mud that it carries. That's the Wide Bay Bar - which extends across the southern entrance near Inskip Point. The seas along the bar are usually much larger and steeper than the ocean swell or the wind waves outside the bar (and certainly larger than the calmer waters in the Strait). Add together a powerful current coming down the Strait, large areas of dangerously shallow water between Inskip and Fraser, and tricky navigation with channels that shift frequently, and you have a recipe for disaster, even for large vessels.
| | |
| --- | --- |
| | |
| The Belle from Brisbane crossing the Wide Bay Bar in September 2003 after competing at Hamilton Island. It was about 2 hours before low tide and there was a 5-10 kph head wind - thus providing the ingredients for the worst wave conditions at a bar. (Dan Jenner, 2003) | "Crossing the Bar" is a 1889 poem by Alfred, Lord Tennyson who knew of the dangers of crossing a watery bar. The extended metaphor of "crossing of bar" represents travelling serenely and securely from life through death. The Pilot is a metaphor for God. Click image to enlarge it. |
The benefit of having a lightkeeper at Inskip (and Hook Point) is that they can signal the state of the bar so captains can get their timing right. Flags were flown from posts at Inskip Point and Hook Point: a "four seas" pennant meant that four "seas" or breakers were visible on the bar and that coastal vessel should not cross. Later, signal arms were used (as limp wet pennant flags are not easy to decipher). It was considered advisable not to cross if more than three-seas were running. Wide Bay Bar conditions are strongly influenced by tides.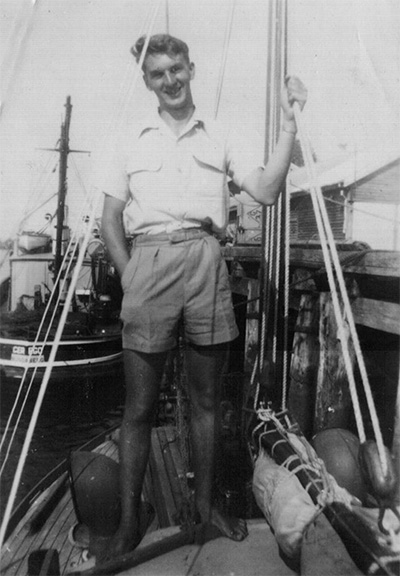 Barry Mulligan - Cadet Surveyor
Barry Mulligan was a Cadet Surveyor with the Harbours and Marine Dept in the early 1950s. The photo abovewas taken aboard the QG MV Ferret moored at Hyne & Sons wharf at Maryborough. While the photo is not dated, it was taken at the time they were doing the Wide Bay Bar survey. The vessel in the back ground is the Cerego which ran weekly services between Brisbane and Maryborough via Wide Bay Bar. The Ferret and crew were involved in a complete survey of the whole Hervey Bay /Wide Bay area including Urangan and approaches, as well as a bank to bank survey of the Burnett River from the Town Reach to Burnett Heads. This was related to the introduction of bulk sugar terminals.
Sometimes the current is so strong that smaller or slower vessels simply can't make headway against it, and it can quickly sweep a vessel into dangerously shallow water and breaking surf. Often, these dangerous conditions will subside dramatically when the tide turns. Many accidents on bars are the direct result of mariners either being unaware of the tides or choosing to cross at the wrong time. The lightkeepers of Inskip Point have saved countless lives in the 100 years they were there.
---
THE ROLE OF THE PILOT, COXSWAIN & BOATMAN
It is worth describing the various titles and functions of the pilot staff at Maryborough, and in fact this will apply to Inskip Point as well. The coxswain is the master of the pilot boat (owned by the Department of Ports and Harbours). He will take the pilot from shore station out to the steamer or other ship requiring safe passage through the straits. He steers the boat. The coxswain will have one or more deckhands to operate the sails or row the pilot boat. These deckhands are skilled operators of boats and are called boatmen.
Once the pilot has boarded the ship (often by Jacob's Ladder) he will advise the ship's master of the course to sail. The pilot provides advice (only) to guide the ship through dangerous or congested waters. He will have knowledge of the tides, swells, currents, sandbanks and shoals that may not be on nautical charts. He has local knowledge. He is not in charge as the master remains in charge (legally). The pilot may give instructions such as "10 degrees to port" to the seaman on the helm who carries out his instructions with the agreement of the master.
You may ask if the Pilot would ever row the pilot boat himself. An experience coxswain - Kevin Mohr - said "not bloody likely". In other situations such as at Bulwer, off Moreton Island, the Pilots would live aboard the Pilot vessel (such as the steamer Llewellyn) and the Pilot vessel would lie at anchor awaiting signals from the lighthouse (in the case of Bulwer Pilot Station, that was Cape Moreton Lighthouse).
When a coastal ship was spotted by the Lightkeeper at Cape Moreton, typically at 8 miles distant he would fly a particular pennant and the Pilot vessel at Bulwer - some 7 miles (11 km) away - would take note. When the ship was closer, perhaps 4 miles, the pennant would be changed and the Pilot would await a "want a pilot" signal. Pilots would be rowed ashore only when their period of duty was up - be it days or weeks.
---
THE PILOTS AND LIGHTKEEPERS OF INSKIP POINT
At its inception in 1859, the new colony of Queensland adopted the laws of its parent - New South Wales. Responsibility for ports was given to the Harbor Master in Brisbane (W. H. Geary) - under the control of the Customs Department - which in turn was under the control of the Colonial Treasurer.
In September 1860 Lt George Poynter Heath RN was appointed Marine Surveyor in the Department of the Surveyor General. One of his first tasks was investigate a new harbour to the north of Brisbane which would provide shelter for vessels hindered by bad weather from crossing the Wide Bay Bar at Inskip Point, and also be suitable for vessels to load the timber which grew in Tin Can Bay and Fraser Island. Aboard the Spitfire, Heath departed Brisbane on 15 April 1861 and reported back to the Board which was delighted with his work.
In 1862 Heath was appointed to newly created position of Port Master to take overall charge of the Harbour Master's Department and and in 1863 a new Marine Board was constituted and given responsibility for the renamed Department of Ports and Harbours. Maryborough was one of eight ports to be recognised and had its own Harbour Master (Richard Sheridan), Pilot (Henry Croaker), an Acting Pilot (Joseph Montgomery) and two boatmen. Maryborough was booming; wool had already become an export commodity by 1860 and the only town in Queensland returning a trade surplus was Maryborough.
In 1866 the wage for the men at Maryborough was a total of £67-12-6 per month with the Lightkeeper at Woody Island (in the Great Sandy Strait) receiving a further £12-5-0 per month. The area seemed destined for new facilities but history proved otherwise. Prior to separation there had been only four ports in the colony: Moreton Bay (Brisbane), Wide Bay (Maryborough), Port Curtis (Gladstone) and Fitzroy River (Rockhampton). More ports were slowly being added to the list as Queensland developed and by 1863 there were another four: Curtis Island, Broadsound, Pioneer River and Port Denison. However, most of the ports were river ports which suffered from flooding, silting-up and difficult navigation. They were also developing somewhat haphazardly.
The government set up an inquiry into the state of harbours and rivers in the colony and in 1864 it made several recommendations for improvements - none of which included the southern (Wide Bay) entrance to Maryborough. This was disappointing for exporters using the Maryborough port. The Sailing Directions for the port made it obvious how inaccessible it was. They warned "do not proceed to sea if there is any break across the [Wide Bay] bar, as it is attended with great risk and danger from the short abrupt sea which comes in, in the shape of rollers, with great velocity." From the Wide Bay Bar at the southern end there was a buoyed and beaconed channel to the mouth of the Mary River passing over shallow flats having no more than 5 foot (1.5 m) of water over it.
Strangers to the area were advised to ask the natives of Fraser Island to come aboard and offer assistance guiding the ship through the narrow shallow channel. It was about this time - 1862 in fact - that the first emigrant ship to come directly to Maryborough from England arrived. The Ariadne left Liverpool on 5th June 1862 and arrived at Maryborough on 9th October with 260 people aboard. By the time direct migration to Maryborough stopped in 1890, 21000 emigrants had arrived at the port.
The discovery of gold at Gympie by James Nash in 1867 was reported in Maryborough on October 16, 1867. Within a week Maryborough was deserted, the sawmills were idle and crews deserted ships in their rush for gold. However, the opening of the goldfields at Gympie lead to a great increase in the demand for services at the nearest seaport of Maryborough but there was one big problem. The small staff could not cope with the demand and many ships went unpiloted.
Some of the problems can be attributed to the loss of men as they headed to Gympie seeking their fortune; but there was a second problem, namely the organisation of the services. A large part of the pilotage work was done by men employed in the Customs Service and because the [Mary] River Pilot was often doing the duties of the Sea Pilot he and his boat not often at Maryborough.
Harbor Master Sheridan (also Collector of Customs) was not a nautical man but tried to maintain an efficient service. However, he had insufficient time to develop sound systems in the port. For example, for three months in 1868, the markers for crossing the Wide Bay Bar were not distinguishable from outside the bar in bad weather - a decidedly inferior situation. As well, about 40 miles north of Inskip Point was without channel markers. This may have been a small problem to boats of shallow draught that had experienced masters who travelled the channels constantly, but to vessels of increased draught there caused great concern. In fact, they would have to get some unqualified person to help or go the extra 160 miles around the Breaksea Spit at the northern tip of Fraser Island. In the first nine months of 1868, 49 vessels had crossed the Wide Bay Bar at Inskip Point all without the services of a pilot. Portmaster Heath in Brisbane was alarmed at the possibility of losing a ship on the Bar - with all souls - that he proposed a telegraph service be operated by lightkeepers at Inskip Point; but to no avail - not straight away. During 1868 ninety-three vessels required piloting to and from Maryborough compared with eight the previous year (not including those boats for which there was no pilot).

The revival of the economy in the early 1870s saw renewed interest in attending to the Wide Bar Bar. A decision was made to build a light-keepers' cottage for a Pilot at Inskip and tenders were called on August 30th 1872, to be in by 27 September. A pilot station was set up at Inskip Point in 1872 to help guide ships through the Wide Bay Bar and up the Great Sandy Strait to the Port of Maryborough.
The first pilot was John Smith, coxswain of the pilot schooner at Port Curtis (Port of Gladstone) - appointed 1 September 1872 on a salary of £96 pa - assisted by coxswain and two boatmen according to the Government Gazette (28 December 1872). Two lightkeepers were also appointed - John Carbery (b 1857) and John Watson (b 12 July 1823). Pilot John Smith was born in Lubeck Germany (70 km NE of Hamburg) in 1836 and migrated to Australia probably in 1861 (to Moreton Bay under the name Schmidt - we can't be sure) and made his way to Gladstone. There he took an appointment as coxswain of the pilot schooner at Point Curtis on 4th August 1871. He married an Irish woman Anne Cullamy - aged 27 - in Brisbane in 1872 and had returned to Point Curtis to resume work before being appointed to Inskip Point.
An additional appointment was made in 1873 - that of Head Lightkeeper - George Byrne. That was the year of a big gale that caused severe landslips at Inskip Point and, as timber merchant William Pettigrew noted in his diary, the Pilot's house being built and all their belongings - boats, boat-shed, tents and provisions - had been washed away (Friday 19th January 1873) [BC 22 Jan 1873].
By early 1875 a telegraph line had been installed from Maryborough to Inskip and the job of Post and Telegraph Office Keeper was given to the Lightkeeper George Byrne. As lightkeeper he was awarded a wage of £96 pa plus £40 pa to act as Postmaster and Electrical Telegraphist, another £40 pa as a "Foraging Allowance" and for the purposes of budgeting, the value of the Lightkeeper's Quarters was £26 and a further £10 was allocated for Long Service Allowance. Byrne continued in this role until 16th April 1886 when he was transferred to Double Island Point and Daniel Gorman took over. In 1877 Pilot John Smith and his wife Anne had their first child - a daughter Mary Anne born on 4th September at Inskip Point.
---
THE REILLY FAMILY: INSKIP POINT 1875 -1902
My great grandfather was Samuel James Reilly (pictured below) who joined the Queensland Lighthouse Service (Marine Department of the Queensland Treasury) as the Pilot & Receiving Officer at Inskip Point on 1st December 1875. He arrived at Inskip with his wife Emily and 5 month old daughter Emily Jane, born in Maryborough. His real name was Samuel Crouch - born in Middlesex, England, on 21 February 1839 - son of Stephen Crouch and Mary Ann Crouch (nee Reeves) and became an Able Seaman by age 19. He had a brother and four sisters.
The 1851 and 1861 census documents from England make this clear. He was a seaman who arrived in Sydney in February 1864 aboard the Castle Howard from England under the assumed name Samuel Riley. Instead of continuing his contract he "jumped ship" in June 1864 and deserted instead of sailing to Shanghai and back to London aboard the Castle Howard. He was charged with desertion, convicted and spent 14 days in gaol. Riley worked as a seaman on ships between Sydney and China before settling settling in Queensland in about 1869 under the name Reilly. He worked as a mariner on coastal ships between Sydney and Cooktown. In April 1875 at Maryborough he married Emily Compton - from Middlesex England - who had arrived in Maryborough aboard the Glamorganshire 3 May 1874 (aged 20), accompanied by her sister Amelia (26) - also from Middlesex England.
| | |
| --- | --- |
| | |
| Emily and Samuel Reilly - 1906 | Samuel Reilly - 1906 - in the heathland swamp behind the Comboyuro Lighthouse on Moreton Island; an area once known as "The Shallows" or Clifton Waters. Source JOL 170525 |
In June 1875 their first child, Emily Jane, was born and then the following year, May 1876, their second child Amelia Beatrice Reilly was born at Inskip Point but she died the following year and was buried at Maryborough Cemetery. On 27th April 1877 tenders were called for the erection of Pilots' cottages at Inskip Point. The tenders closed on May 18 that year but the successful tenderer Messrs Helmes & Co. were not appointed until 4th March the following year (1878). They began on the first cottage almost immediately and by November they had erected four more there. In the Government Gazette of 26th January 1878 tenders were invited for the construction of a Lightkeepers Cottage at Inskip.
On the 16th March (The Queenslander) it was announced that Messrs Helmes & Co. were again the successful tenderer. There were now five houses, including George Byrnes' cottage, and the attached Post and Telegraph Office. In July that year the Reilly's first son - William Walter - was born (July 28) , followed by Samuel Stephen on 12th September the following year (1878). The cost to masters requiring pilot services was set in 1878 at 1 pence per ton (foreign), ha'penny per ton (intercolonial) and a farthing (¼ penny) per ton for coasters.

In 1879 Maryborough Harbor Master Sheridan visited Inskip and recommended that extra lights be installed to assist the crossing of the Wide Bay Bar. On 10 January 1880 two white leading lights were installed at the western end of Inskip Point under the instruiction of Portmaster G. P. Heath. Soon after (3 February 1880) Samuel Reilly was promoted to Boatman Pilot "for the Port of Maryborough for vessels whose draught does not exceed 12 feet". As well that year (1880) the Reillys had another daughter - Maud - in Jan (11th) and a son Herbert Winterly in April the following year (3rd April 1881). The infant Herbert died 11 months later in March 1882, and he too was buried at Maryborough.
The year 1881 saw some dramatic improvements to the Wide Bay Bar. The Department erected large black leading beacons on the shore at Inskip Point. The use of black instead of the white previously used made them easily visible towards sunset when the light was behind them, although the old white beacons had the advantage when the sun was to the east. A cottage had also been built at Hook Point and he was responsible for lighting the leading lights for crossing the bar at night. Vessels could cross the bar at night from outside the bar providing the captain could judge, from the sea conditions and swell on the coast, as to whether the bar was safe to cross, but going out over the bar was far more difficult.
By 1881 three pairs of lights led a vessel not only over the bar but five miles up the Strait, and a further pair at the Quarantine Station led in between Mary Heads. Additional buoys had been placed near Snout Point and Southern White Cliffs both on Fraser Island where it was difficult to keep beacons in position because of the sandy bottom.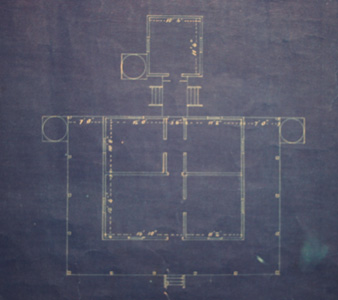 Plan of the Lightkeepers Cottages. They were about 24 ft wide by 21 ft deep and had verandahs 7 ft wide on three sides. The store was about 11' 6" square. You can also see the three 800 gallon water tanks.
Staffing at Inskip remained unchanged until 1882, namely John Smith (Pilot), John Carbery and Watson (lightkeepers), Byrne (lightkeeper and telegraph officer), and Reilly (boatman pilot). Reilly applied for a Provisional School at Inskip Point to cater for the growing number of children. As well as his own four - Emily Jane (8), William Walter (6), Samuel Stephen (5) and Maud (3), there were a total of 11 school aged children. George Byrne and his wife Fanny (nee Williams) had George Thomas (8) and Reginald (6); John Smith and his wife Ann (nee Cullamy) had Mary Anne (6), Charles Anderson and his wife Elizabeth (nee Quinlan) had one - Charles (4), and Francis Peres and his wife Hilda (nee Strandquist) had two - Ellna Therese (5) and Hilda Elizabeth (4) - see below. Mr and Mrs Reilly also had twin babies - George and Blanche - four months old.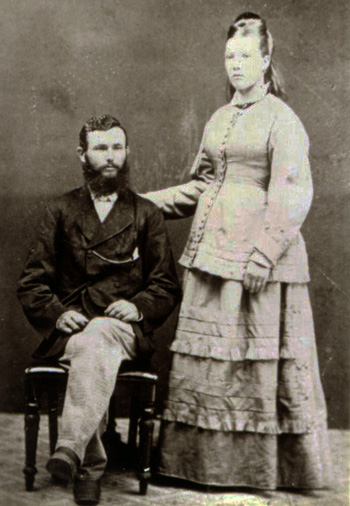 Jean Francois (Frank) Peres was born in the small village of Trèveneuc, Brittany, France, with a surname originally spelt 'Piresse'. He is shown here with his wife Hilda whom he married in Maryborough in 1877. Frank was a crew member aboard the 'Star Queen' that arrived in Maryborough in 1875. He deserted the disgustingly dirty 'starving ship' soon after. Frank was known to have had a sailing ship tatooed on his back which moved when he rippled his muscles. (Patricia Wiltshire)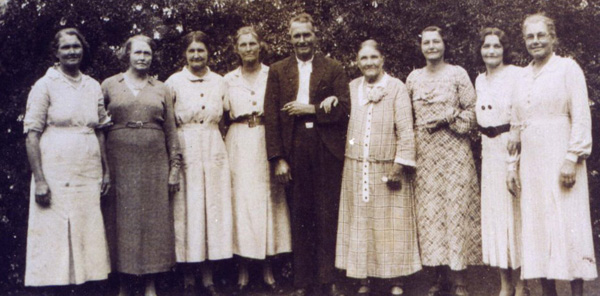 The Peres family later in life: Celma (b 1885), Hilda (b1879), Amy (b1891), Ethel (b1893), Frank jnr (b1881), mother Hilda, Elsie (b1895), Agnes (b1897) and Theresa (b1878). Father Frank Peres (Snr) died in April 1916. (Patricia Wiltshire)
My grandmother Ada May Reilly was yet to be born, as were also the other eight Reilly children. Up in Maryborough there was a changing of the guard: after 19 years as Harbor Master Richard Sheridan retired and Captain Edward James Boult was appointed in his place. In Sheridan's time three lighthouses had been erected (two at Woody Island and one at Sandy Cape), Hervey Bay had been charted and beaconed, and a Quarantine Station set up at White Cliff. On 12 July 1884 another landslip occurred at Inskip. It was about an acre in size. Smith, Carbery and Watson were awoken by a tent falling on them. Why they were in a tent is unknown. They had hardly any time to free themselves before they were surrounded by boiling surf and a constantly receding shoreline and soft sand.
Boatman John Frederick McGregor-Skinner
In 1885 John Frederick McGregor-Skinner (Mariner) obtained work at the Inskip Point Pilot Station.

John McGregor-Skinner aged 40, had arrived at Cooktown aboard the SS Compta from Plymouth on 7 November 1882 then travelled on to Townsville arriving on the 10th November. He was accompanied by his 25-year-old wife Mary Elizabeth Jones and three siblings: John Frederick 'Fred' Jnr (aged 6), Arthur Courtland (4) and twins Mary Eleanor and Euphemia Elizabeth (15 months). Their other child William had died in England in 1881. John's father John McGregor was a Captain in the Royal Navy who was for many years was master of a Post Office Packet (mail ship) out of Holyhead in Wales.
Upon arrival in Townsville John McGregor-Skinner obtained work as a mariner at the Pilot Station on Ross Island at Townsville where the family set up home. This was the Pilot Station for Cape Cleveland. John and Mary's daughter Mary Eleanor died of TB four weeks later (on 6 December 1882). Five weeks later her twin sister Euphemia Elizabeth also succumbed to TB - no doubt caught aboard the ship. The girls were buried at the local cemetery. Just one week after Euphemia's death a son George Herbert was born at the Station (19 January 1883).
John and his family left Ross Island in 1884 and headed south for Maryborough. It seems that John then obtained work with the Pilot Service for Wide Bay which operated out of Maryborough. The service included the Pilot Station at Inskip Point. It was here that John and his family took up residence in one of the station's cottages alongside the Lightkeeper George Byrne and Boatman Pilot Samuel James Reilly (my Great Grandfather). It seems that John was not an employee of the State Government as there is no mention of his appointment in the Government Gazette, either at Ross Island or Inskip Point. It is more likely he was a contractor carrying out mariner's duties.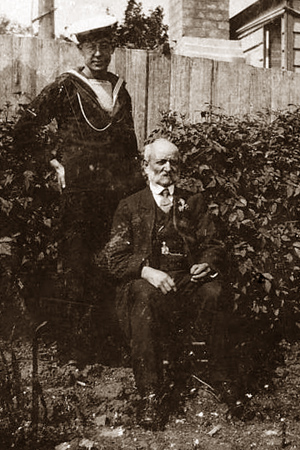 John Frederick McGregor-Skinner (seated) and his son George Herbert. This photo appears to have been taken in Sydney in about 1900. (Donald Reid)
On 25 March 1885 John and Mary had a child - Robert Philip - at their cottage at Inskip Point. He was delivered by the Pilot's wife Mrs Emily Reilly (my Great Grandmother) who acted as nurse-midwife. At the age of 9 months on 7 January 1886 Robert died after a three-day battle with croup and was buried near the cottages at Inskip Point. Both Mr and Mrs Reilly were witnesses of Robert's death and their names appear on the death certificate. Click here to see a copy of the birth and death certificates.
The other children - Fred (aged 9) and George (2) - were living there at the time. Fred attended school at the station. The family moved south again after their tragic start to life in Australia and arrived in Sydney in mid-1886. John deserted his wife Mary and married Elizabeth Reader with whom they had several children. He divorced Mary in 1893. John committed suicide at Botany Bay in 1905 with a gunshot wound to the head.
My thanks to Donald Reid, great grandson of John Frederick McGregor-Skinner.
<donmar36@bigpond.com>
In 1884 Francis Peres joined the team and Carbery and Watson were transferred. Captain Heath reported in November 1884 that a new cottage at Inskip Point had just been built and was just about ready for occupation. A most important change occurred on 1st February 1886 when George Byrne was transferred to the Double Island Point light. He was replaced by Daniel Gorman who was previously stationed at Sandy Cape on the northern end of Fraser Island. Daniel Edward Gorman (born County Cork, Ireland, 1838) and his wife Johanna (nee Hayes, b 1840) were married on 11th July 1864 at St Stephen's Cathedral in Brisbane and Daniel entered Government service immediately after. He was at Sandy Cape from 1873-76 and then at Gatecombe Head, Gladstone for three years followed by a few years Lady Elliott Island until 1882.
The Gormans moved back to Sandy Cape Light in 1882 to replace the 51-year-old John Simpson who had died of a gunshot wound. Simpson had been a lightkeeper for 26 years starting on 1 January 1856 as the principal lightkeeper in the port of Moreton Bay. After this he was the first lightkeeper at Woody Island in the Great Sandy Strait (from 1 October 1867) and then at Sandy Cape since 28 April 1870. Simpson and his wife Jane (nee Williams, daughter of Robert Williams and Ann Lobb) were married in 1859 had 10 children; the last three (Charles, twins Edwin and Percy, and Edith Maud) were born while Simpson was stationed at Sandy Cape. Youngest daughter Edith was bitten by a snake and died aged 8 months on 12 January 1877, but it was the death of John Simpson that brought the family's stay to an end. John Simpson, on Thursday 20 July 1882, was out hunting wallaby in the afternoon and had just shot one with his doubled barrelled rifle. As he ran to secure the wallaby John tripped over a log and as he fell the stock of the gun smashed off and the gun discharged into his left breast. He died face-down on the spot and was found by his son Charles soon after. An inquest a week later found that it was an accident. Simpson left a wife and 9 children (Elizabeth, Helen, Martha, Fred, William, Fanny, Charles, Edwin and Percy) to mourn his loss. A grave was erected on the track from the house to the lighthouse, beside that of Edith. The graves and gravestones are still there today. The Simpson family moved out and Daniel Gorman and family moved in, taking official residence from 4 November 1882.
After a short stint at Sandy Cape, the Gormans moved to Inskip in 1886. Daniel Gorman was to be in charge of the Post and Telegraph at Inskip (from 16th April). At the end of August 1886 the Post Office was closed down and he was left just in charge of the telegraph (until 1st July 1890 when John Smith had that added to his duties). Three sons of Gorman - Daniel, Elliott and Robert became lightkeepers at Inskip and Hook Point once they reached adulthood.
| | |
| --- | --- |
| | |
| Front elevation of the lightkeepers' cottages. The external walls were hardwood weatherboard; the veranda floor was of 4" x 1" hardwood and the internal walls were of 6" x 1" tongue and groove (T&G) pine. | Side elevation showing the store room at the rear. The floors were made of the same pine as the internal floors: 6" x 1" pine. The roof was galvanised corrugated iron. |
An unfortunate accident occurred in Jan 1887. The Pilot cutter was anchored at South White Cliff when at about 1am the steamer Balmain, coming down from the Mary River, struck her on the bow. The coxswain was unable to swim and drowned. Also in 1887 three cuttings had been dredged to a depth of 10 ft in the Great Sandy Strait and had been beaconed, but not lit, as there was no steam launch available to tend the lights. Consequently, all traffic along the coast for 30 miles was stopped at night, causing considerable annoyance to the coastal trade.
Two years later - in 1888 - James Turpin joined as a lightkeeper and Captain John James Hopkins as a boatman. James Turpin and his wife Hilda (nee Straudgrist) had three children with them: Lillian ("Lilly") Maria 4, Arthur Joseph George John Aggett (whew!) 2, and Elizabeth Emma 1. Their fourth child Clara Francis was born the following year. Captain John James Hopkins was an experienced ocean-going seamen. This was quite a step down for him: from master of a vessel recruiting black labour ("kanakas") from the south seas for the Queensland sugar trade - to a boatman at Inskip. Nevertheless it was a start and he rose rapidly through the ranks. He was born in London in 1860 and became a seaman at 14.
After quitting his kanaka trade he settled in Maryborough in 1880 and married Mary O'Leary four years later. Their only child Mary Ann was born the next year and arrived with them as a three year old at Inskip in 1888. Smith, Gorman and Reilly continued on, with Smith taking on the additional duties of Telegraph Officer Keeper (1 July 1890). In 1890 Peres left and was replaced by James E. Halliday (as boatman). As well John Dewar (boatman) and his wife Margaret took up duties. The following year (1891) the first pilot at Inskip - John Smith - died of apoplexy or a heart attack at Inskip (on 11 February) Smith's body was brought up by the steamer Llewellyn and interred in the Maryborough Cemetery.
Samuel Reilly took over Smith's Pilot and Telegraph Office duties (from the same day) for 10 weeks until Benjamin Nelson, the assistant Pilot from Normanton was appointed in his place on 27th April that year (he would continue in this role until 21 December 1893). Despite the cyclones and big seas, the lightkeeper's cottages at at Inskip Point remained in good repair.

Also in July 1890 a new channel had been buoyed and lighted across the Wide Bay Bar and when checked again the following year it was reported as maintaining its depth and direction. Now, in the Great Sandy Strait and Mary River, there were no less than 50 lights, most of which were leading lights burning by day and night. These lights kept two steam launches with their crews constantly at work attending to them; the Llewellyn, Norman, Ostrea and Diana were used for maintaining the lights and oyster fisheries in the Straits. As you could imagine - it was very costly and quite elaborate. The Department was keen to find another means of making the channels safe for a smaller outlay.
---
DEATH OF EMILY JANE REILLY
1891 In mid-1891 a terrible tragedy occurred at the Inskip Light and Signal Station. Samuel and Emily Reilly's daughter Emily Jane ("Jenny") was accidentally shot and killed by her younger brother William. The Brisbane Courier on Thursday 16 June 1892 carried the sad notice on the first anniversary of her death (also Maryborough Chronicle 15 June 1892):
The following are the depositions to the Magisterial Enquiry into the death of Emily Jane Reilly as reworded and reported in the Maryborough Chronicle - Tuesday 16th June 1891. I have compared them to the original depositions and despite the editorial changes, they give a reliable account. The original depositions are in the Queensland State Archives Inquest Files 36/190, 251-300.

REILLY.- In loving remembrance of our dear daughter, Jennie Reilly, who died at Inskip Point, on 15th June, 1891, aged 16 years. By her sorrowing parents.

REILLY.- In memory of our dear niece, Jennie Reilly, who departed this life at Inskip Point, 15th June, 1891, aged 16 years. By her loving aunt and uncle.

Pure, pure she was, as morning's earliest dew, Bright as its gem, but, ah ! as transient too.



A magisterial enquiry was held at Inskip Point on Tuesday last (16th June 1891) before G. L. Lukin, Esq., P.M., into the circumstances surrounding the fatal accident, the shooting of Emily Jane Reilly, aged 17, by her brother on Monday, 15th instant.

The following evidence was addressed:- William Walter Reilly, on oath, deposed: Am the son of Samuel James Reilly, and brother of deceased; on the 15th instant my father left the house leaving my sister and myself alone; my sister was cleaning pictures in the kitchen; there was a revolver hanging in the parlour; took it down off the nail; I was standing on a chair; my sister was in the next room (the kitchen) standing at the table; did not think the pistol was loaded; looked at the chambers and saw the cartridges were all dented in; as I stood on the chair I turned round towards my sister and said to her, "It aint loaded" at the same time pointing towards her; I had previously snapped the hammer down, but it was not at my sister; when I pointed it at her I pulled the trigger and it went off : she immediately said "Oh Will, you've shot me," and threw her arms out; she ran out to the gate and fell down; Mrs. Dewar then came up but my sister did not speak; I was about five yards from her when the pistol went off; I saw where the bullet struck her afterwards; It was right under the breast.

Samuel James Reilly, on oath, deposed: Am a coxswain pilot stationed at Inskip Point; the deceased Emily Jane was my daughter; she was 17 years of age; on the 15th instant left home at Inskip Point a little after 2 p.m., leaving William Walter, aged 13 years; before leaving I took down some pictures off the wall of the front room for the deceased to clean; there was a revolver hanging on one of the nails that I took a picture from, which had one chamber loaded with ball cartridge; loaded it myself the evening before with a pin-fire cartridge; about 4 p.m. I was called, and returning to the house; saw the deceased lying at the gate in the front of the house; when I went up to her she was still breathing, but did not speak, and died in about a minute after my arrival; examined her after death, and saw a wound under the left breast and a slight mark of blood; the body of the deceased lied in the house; it was not usual to keep the revolver loaded; loaded it the previous evening for the purpose of shooting a dog, but had not discharged it; had warned the deceased not to allow the revolved to touched.




An extract from the original deposition in the hand of Samuel Reilly photographed at the State Archives, Runcorn, Brisbane: "I had warned my daughter not to allow the revolver to be touched". The Maryborough Chronicle says "had warned the deceased...". (Photo: R. Walding, 2008).

Margaret Dewar, on oath, deposed: Am the wife of John Dewar, a boatman at Inskip Point; live next door to the father of deceased, a distance of about 20 yards; about 3 p.m. on the 15th June heard a shot at Reilly's house; I looked out at the front to see what they were shooting at; then went to the back, and heard the lad Sam Reilly screaming; he was frightened, and said "shot"; ran up to Reilly's gate, and there saw the deceased lying down: lift her head up and spoke to her, but she was unconscious; some other neighbours came up and I ran away for deceased's father; did not return immediately to the deceased; if deceased died in a minute after her father arrived, she must have died in about five minutes after I heard the shot. The depositions will be forwarded to Brisbane.


---
PHOTOS OF EMILY'S GRAVESITE
| | |
| --- | --- |
| | |
| Emily Reilly's grave at Inskip Point. Note that there was a cross. Photo by Natasha Cooper, Kingaroy, 1994. Location: WGS84 is 25 48' 45.3", 153 03' 33.8". | In July 2006, the Emily's grave was more deteriorated and the cross removed. The next year Council workers built a treated pine barrier to try to protect the site. (Marian Young, July 2006) |
| | |
| --- | --- |
| | |
| Dr Richard Walding at the grave of his Great Aunt Emily Jane Reilly. A fire had burnt many of the palings since the 2006 photo. A few months after this photo was taken a tree fell on the grave.The fence was built to keep the dingos out. There were many dingos at Inskip at that time and, in fact, that's the reason Samuel Riley had the loaded gun - "for the purpose of shooting a dog". (Photo Alan Marrs - Oct 2009) | Richard Walding at the gravesite. When the grave was prepared, it was located closer to the water. The Reillys thought this was a fitting place for Emily to look out over Pelican Bay. Since 1891, the changes in the shoreline have placed the grave much further inland. (Alan Marrs, Oct 2009) |
To find the grave, you need to head back out of Inskip along the main road until you come to the last set of rubbish bins on the left (next to the camping ground). On the opposite side of the road there is a steel pole acting as a gate to block entry into the old dump. If you step over the gate and head slightly to the left and walk along the old track to the dump (plenty of broken glass - wear shoes) then head left again through the trees for 2-3 minutes you should eventually find it. It is hard to find. Location: WGS84 is 25 48' 45.3", 153 03' 33.8"
| | |
| --- | --- |
| | |
| David Lee of Caloundra visited the gravesite on Tuesday 8th May 2012 (this photo and one to the right). David said that it looked in good condition for a grave 120 years old, and that the fallen tree on it had been removed and the area kept clear. | David recorded the location as WGS84 25 48' 45.3", 153 03' 33.8" (Lee, May 2012) |
GOVERNMENT PLANS FOR PROTECTION AS A HERITAGE SITE
Plans are well underway by the State Government and Gympie Regional Council to manage Emily's Gravesite. The aim is to protect it from further destruction but not to make it a tourist attraction. You may be interested to read the letter from the Minister for Environment and Resource Management to the Acting CEO of the Gympie Council on 29 March 2011 to this effect (
click here). You may also be interested in an article by Gympie Times journalist Shelley Strachan on the gravesite, published March 17th, 2012, page 19 (click here). Professional advice on the care for Emily's grave was given by Paddy Watterson (the Principal Heritage Officer, Archaeology Team, Heritage Branch, Department of Environment and Conservation) on 4 March 2011. His four main points about heritage conservation of the grave site can be summarised as:
1. Maintenance is essential (sites such as these are more prone to vandalism if they are in a state of disrepair).
2. Do not unnecessarily remove original fabric (timber). The pictures seem to suggest an earlier wooden fence, which is consistent with what was commonly used in these contexts. You need to document the surviving fabric and if possible, reinstate the fence incorporating viable original elements.
3. Vegetation should be cut, not dug up.
4. A discrete marker [descriptive memorial plaque] is appropriate: the most enduring would be to have a small concrete plinth with an angled surface to facilitate water run-off.
In May of 2012, a new Ranger with Queensland Parks and Wildlife Service (QPWS) - Grant Phelan - was appointed to take on the project of the conservation and acknowledgment of Emily Jane Reilly's burial site. He is based at Rainbow Beach. Work began on the site on 22 May 2012. I'd like to thank Grant for his consultation. There is no intention of making this a tourist attraction or part of any heritage trail.
| | |
| --- | --- |
| | |
| QPWS Rangers clear vegetation around the grave site - as recommended by the Heritage Officer. (Grant Phelan, 22 May 2012) | The QPWS Rangers will try to ensure that any future fires do not destroy more of the grave site. The treated pine log fence will be removed during the conservation work. (Phelan, 22 May 2012) |
| | |
| --- | --- |
| | |
| On 1st June 2012 rangers built the new grave surrounds. I'm told their raised their glasses at the Rainbow Beach Surf Club that night in memory of Emily on the 137th anniversary of her birth (1st June 1875). Nice one! As well, a fisherman on holidays - Dave McQuaid - read about Emily's grave in the Gympie Times and placed a wreath of flowers there on her birthday. Thanks Dave! | The timber is treated spotted gum from the forest at Kin Kin (under a forestry permit) and sawn by Robertson Brothers Sawmill, Gympie. It has received a Lanotec (lanolin based) coating. The rangers will let it weather down and only re-oil every two to three years. (Grant Phelan, 2012) |
| | |
| --- | --- |
| | |
| The original fabric (timber) was too burnt and broken to be incorporated into the new structure as the Heritage Officer had hoped. It has been left there - at least for the time being. (Grant Phelan, 2012) | Detail of the bottom rail and palings. Machine work on the timber done by Graham. Carpentry for cross by Larry Shillig and carpentry for fence by Dave Palmer. (Grant Phelan, 2012) |
INSTALLATION OF THE PLAQUE
The plaque was prepared by Grant Phelan from an inscription written by Richard Walding - great grand-nephew of Emily Reilly. On Tuesday 7th August 2012 the QPWS Rangers attended the site to mount the pillar in cement in the sand. The plaque was affixed to a specially cut 250 mm x 150 mm slab of locally sourced and treated spotted gum with a lanolin preservative. I was pleased to be invited to attend the final stage of the restoration of the gravesite. On behalf of the Reilly family I would like to thank the Rangers for their fitting tribute to a life taken so young 121 years ago.
| | |
| --- | --- |
| | |
| QPWS rangers install the hardwood pillar on which the memorial plaque is mounted - 7 August 2012. (R. Walding) | Richard Walding, great nephew of Emily Reilly, was invited to take part in installing the pillar - 7 August 2012. (Linda Walding) |
| | |
| --- | --- |
| | |
| Richard Walding thanks the rangers for their work and talks about the circumstances of Emily's death. The Ranger Community Engagement - Grant Phelan - is to the right. He was responsible for the team managing and carrying out the last stages of restoration and gaining family involvement - 7 August 2012 (L. Walding) | The inscription on the plaque was suggested by Richard Walding at the request of Grant Phelan. (R. Walding) |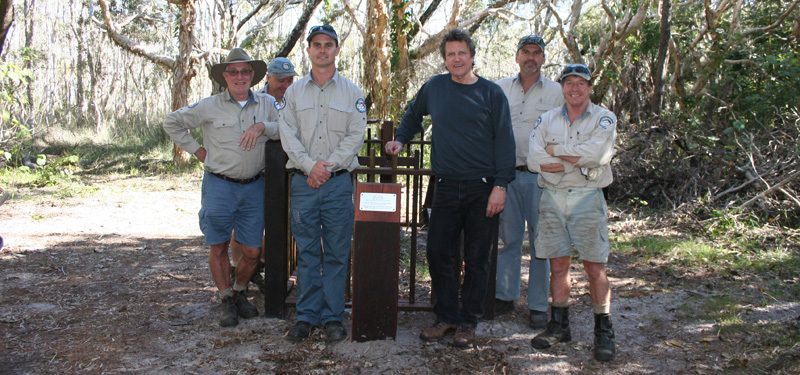 L to R: Dennis Parton, Tony Moore, Grant Phelan, Richard Walding, Dave Palmer and Richard Whitney. (Photo: Linda Walding)
OTHER GRAVES AT INSKIP POINT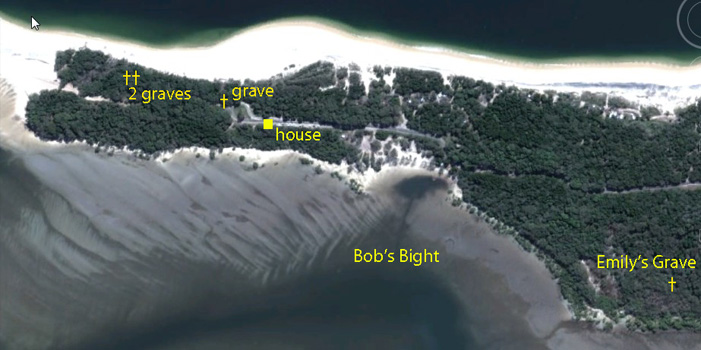 Some of the graves that have been mentioned at Inskip Point over the years.
My father Robert Walding recalls three of the four graves marked here. One of the two graves to the left (marked with crosses above) he said "was in the bushy part leading to Pelican Banks. It was complete with a cross and chain surround on low posts and we used to paint the chain and cross white". "Another grave was next to the coconut palm and fig tree near the house. Old-timers said this was a seaman's grave" (the coconut palm is in the modern-day roundabout). This is the grave of James ("Jim") Straightley Nolan (Gympie) who drowned early in the morning of the 11th February 1893 when the Daphne was wrecked on the Bar. He was buried at Inskip Point on the 14th by Samuel Reilly who telegraphed the Portmaster of the facts the same day.
As for Emily's Grave to the right he said: "In 1934, I remember looking for bush turkeys along the back shoreline at Inskip, about 200 yards past Bob's Bight, and about 100 yards into the bush from the mangroves' high water mark when I came across a grave. It was about 6 foot by 3 foot fenced with sawn hardwood timber about 2" x 1" properly spaced about chest high. There was no headstone - nothing else - to indicate who was buried there. I think the fence was erected to keep dingoes out. My mother said it was grave of her sister Emily - who died in the early 1890s". Charlie MacDonald - who was there from 1926 (as a 6 week old) to 1934 with his parents - lightkeeper Vic MacDonald and his wife Constance - recalls there were two graves on the left near Pelican Banks. Only Emily's grave has been located. On the 8th August 2012 I spent many hours in the undergrowth at the point looking for evidence of graves but none was to be found.
---
INSKIP POINT - 1892 ONWARDS
On the 8th October 1892, Benjamin Nelson was taken off Post Office and Telegraphy duties at Inskip and Samuel James Reilly given the additional task. Reilly continued in this role until Daniel Gorman's 17 year old son Elliot (born 1 April 1877 at Lady Elliott Island; notice the differences in spelling) took over on 13th March 1894 (which he continued to do even when the Post Office was closed in October 1907). For 1893 the staff were: Daniel Gorman (Telegraph Operator and Lightkeeper), Benjamin Nelson (Chief Pilot), Samuel J. Reilly (Coxswain and Boatman Pilot), Capt. John Hopkins (Boatman) and J. E. Halliday (Boatman). The relief lightkeeper at Hook Point was Henry James Sparshott who was down from his normal position as lightkeeper tending the leading lights at Mt Bramston over the south passage to Port Dalrymple at Bowen - and was to return to Bowen in November 1894.
The Argus, Melbourne, Thursday 16 February 1893
BRISBANE, Wednesday. With reference to the wreck of the schooner Daphne in Wide Bay, Coxswain Riley, of Inskip Point telegraphed to the port master yesterday as follows - "One of the crew of the wrecked schooner Daphne landed here on Saturday at 2 p m, after being 12 hours in the water.

His name is Alex. Patience, and he considers that he is the only survivor. The body I picked up and buried was that of a passenger and the only name the informant knew him by was "Jim". There were seven, all told, on board the schooner when it was wrecked.

The cargo consisted of 60 tons of general, 60 tons of coal, and a quantity of kerosene. The schooner was bound from Sydney to Dungeness. The survivor states that she capsized before he left her. She weighed anchor at Double Island at half-past 10 p.m., and struck and capsized at midnight on Friday the 10th inst. Nothing like her cargo or anything of value has been stranded here to date.
The Hopkins family (John, the boatman, his wife Mary and daughter Mary Ann (8) left Inskip in 1894. Mary Ann had been attending school at Inskip and, in fact, John had been treasurer on the school committee. In 1895 J. McDonald was appointed Boatman in place of Capt. Hopkins who had been transferred to the Pilot steamer Llewellyn. Samuel Reilly's oldest son William Walter (now aged 18) was appointed to the crew of the Queensland Government Steamer Llewellyn at £5 per month from 1st Jan 1896.
The wage bill for the month of December 1896 tells the story: S. J. Reilly was Coxswain and Boatman for Inskip Point (£9.16.8) along with J. McDonald ((£8), Reilly was also given a foraging allowance of (£1) while aboard the pilot ship S.S. Norman. The lightkeeper at Inskip was Daniel Gorman (£8.16.8). Samuel James Reilly's son Samuel Stephen Reilly was now 18 and was appointed Assistant Lightkeeper for the Mary River and Sandy Straits (£4) along with C. Hume (£8.16.8) and Lightkeeper in Charge Patrick Farrell ((£14, an engineer). The three of them were also given £2.10.0 per month for attending lights at White Cliff. [Reference: Qld State Archives, Register of Salaries Paid, 1896-1907, Item No. 8797].
---
LIGHTKEEPER'S TASKS
The duties of Lightkeepers has varied over the years but their core responsibilities have remained the same. In brief:
take full charge of the station and all persons residing there; cleanliness and efficiency of the station; and to set a good example; be kind;



ensure the care and efficient maintenance of the lights, towers, dwellings, equipment, roads, boats etc and of the grounds attached to the station; paint towers, lantern, flagstaff and gates as directed by District Officer; inspect and repair fences; signal duties, and the custody and care of oil and stores of every description, and the rendering of assistance in the landing of stores; obey orders from superior officers (District Officer, Harbor Master, Port Master);



keep quarterly statements of stores; make requisitions quarterly or half-yearly as directed; care for stores; use in order provided;



keep record of telegrams, postage, correspondence; keep record of all work done by workmen;



do not erect buildings or extensions without approval;



never allow private interests to come before official duties; misconduct is liable to dismissal or punishment;



light burners at times set by Harbor Master (usually 15 minutes before sunset until sunrise);



keep constant watch (as directed by Harbor master); record in journal;



be thoroughly conversant with making and interpreting flag signals, semaphore or (later) wireless telegraphy;



keep signal flags in good repair and not to be used for decorative purposes;



render assistance to vessels observed to be in distress;



do not receive gratuity from visitors or others;



and so on.....


The lightkeepers at Inskip Point were in contact with the keeper from Hook Point - who at this time was John McMahon. Hook Point was more isolated than Inskip and because there were no pilots stationed there was quite a lonely place. John McMahon asked Samuel Reilly to approach the Department about the state of the lightkeepers cottage which had been erected in 1878. On 4th March 1895 Reilly wrote suggesting that they shift the house as erosion was taking its toll. An inspector visited soon after and suggested a new house be built - which it was done - in 1906. The big news for Samuel Reilly at this time was that he was appointed to be a Sub-Inspector of Fisheries at Inskip - as well as his coxswain pilot duties (from 18 November 1896).
On the 23 November 1896 Reilly was appointed "Pilot Coxswain" at Inskip Point. Samuel Reilly's monthly wage in the 1890s was made up of a base salary as Coxswain & Boatman of £9.16.8, and the following allowances: Attending the lights at White Cliffs £2.10.0; Lightkeeper for Mary River and Sandy Straits £4.0.0; Sustenance Allowance on SS Norman, £1.0.0, making a grand total of £17.6.0 per month or £208.0.0 per annum (which is about $25,000 pa in 2009 dollars). The Lightkeeper at Inskip Point - Daniel Gorman - was getting £8.16.8 pm while his counterpart at Double Island Point - George Byrne - was getting £14.11.8 pm but Byrne had two assistants: S. Kenny (£9.16.8 pm) and John Dewar (£8.16.8 pm).
Other people were working alongside Reilly on various tasks were: Keeper in Charge of the Leading Lights on the Mary River (Heads) and Sandy Straits - P. Farrell (£14.0.0) and assistant C. Hume (£8.16.8). There was no lighthouse as such at the Mary River Heads but an unattended illuminated "Lead" or "Leading Light" that assisted with navigation. As with other leading lights the men attending it would check and refuel it regularly. These men also received an allowance for attending the White Cliff Lights of £5.0.0 and £2.10.0 respectively. Reilly, at Inskip, also had an assistant Coxswain - J. McDonald - who received £8.0.0 per annum. These wages may seem low but, like Reilly's, there would have been other allowances paid; John Dewar, for instance, worked mainly on the Woody Point Light. [QSA Item 8797].
A sad note appeared in the Maryborough Chronicle at the end of 1898. There appeared the obituary for Mary Ann Hopkins, aged 14, daughter and only child of Captain and Mrs Hopkins (formerly boatman at Inskip Point). Mary Ann had died in Maryborough from "scarlatina" (Scarlet Fever). Captain Hopkins eventually became Pilot for Maryborough (1911) and was also Captain of the steamers Albatross, Excelsior and Woy Woy. He retired in 1922 and died on 7th November 1927 at the age of 67, predeceasing his wife Mary. His obituary appeared in the Brisbane Courier 10 November 1927. Back to Inskip Point.
In March 1899 Samuel Reilly's son William was transferred from the Llewellyn to become Lightkeeper at Mary River and the Sandy Straits (and to tend to the White Cliff light for which he received an extra £3.15.0). In September 1899 Reilly's next son Samuel Stephen Reilly (aged 21) was appointed as "Boy" to the Inskip station at £5 per month. In February the next year William Reilly was transferred out of the district. The regulations of the Department forbade any son of a Lightkeeper or Pilot from remaining with the family at a lighthouse or light station after turning 19 years unless permission was granted.
---
A YACHTING CRUISE
In April 1902 the Reilly and Gorman families at Inskip Point had special visitors. The visitors were not anything special to the Inskip Point fraternity but only special because the leader published a booklet on his adventure - "A Yachting Cruise of the Sandy Straits". The visitor was John ("Jack") N. Devoy, secretary of the Castlemaine Brewery and manager of the legal firm Quinlan, Gray, and Co., Limited.
He was born in Ireland and came alone as an eight-year old passenger aboard the British sailing ship Chariot of Fame in 1866. By the age of 20 he was a member of the No. 1 Battery Queensland Volunteer Artillery and became an excellent shot. It was his interest in rowing and boating that eventually lead him to Inskip. At the age of 21 he became am Intercolonial champion rower for the Brisbane Rowing Club, competing successfully in many events held at the regatta bend in the Brisbane River. He was soon the club president and life member. His rowing friends formed a "The Up-the-River Picnic Party" and would go on all sorts of boating adventures.
In 1891 he was appointed as secretary to the Castlemaine Brewery and soon after married Annie Fitzgerald - the niece of the man who was to become Mr Fourex of the brewery - Paddy Fitzgerald. That's a long introduction but it sets the scene for their story. In 2009, I decided it would be good to retrace the voyage of Devoy's boat Ide through the Sandy Straits. With two companions, Alan Marrs (Pilot and Coxswain), John Oates (boatman) and me as photographer, we visited as many of the spots mentioned by Devoy in 1902.
| | |
| --- | --- |
| | |
| Me and Alan Marrs (right) - just near Garry's Anchorage on Fraser Island, south of White Cliff. This anchorage was named after aboriginal tracker Garry Owen in the late 1800s (see report later on). (Walding, 2009) | Commodore Alan Marrs and boatman John Oates passing along Boult's Gutter. Whew, that's not where the map says. (Walding, 2009) |
The Ide was a 26 ft yacht with a 2 ft draught and four berths. The crew was Jack Devoy (logkeeper and photographer), George (Commodore), Alec (scientist, artist and musician), Fred (deckhand), St John "Sin Jin" (chef) and they met on the William Collin & Sons jetty in Brisbane at 8pm on the 23rd April 1902 and watched the 4 ton yacht being hoisted aboard the cargo ship Flinders. The following morning they passed Double Island Point, over the Wide Bay bar ("calm"), past Inskip Point "cypress pines and firs".
| | |
| --- | --- |
| | |
| Looking south towards Double Island Point. Jack Devoy and his party had their boat Ide aboard the Flinders when this photo was taken. (Devoy, 1902) | View of Double Island Point from Rainbow Beach. You can see why Cook thought it was two separate islands. (R. Walding, 7 Dec 1993) |
| | |
| --- | --- |
| | |
| The Ide anchored at Inskip Point as the crew come ashore in a dingy - 24 April 1902. Photo: Jack Devoy, 1902. Annotations by Robert Walding 1934. | The same beach at Inskip Point with Snout Point, Fraser Island in the distance - 4th October 2009. (Walding, 2009) |
The steamship in the distance in the photo to the left is on it's way down the Sandy Straits from Maryborough "running down" the Inskip Point leading beacons for Sandy Straits and would then continue mid-channel to pick up the Inskip Point bar leads about one mile along the beach towards the right of the photo. It would then pick up the Hook Point leads on Fraser Island's east coast which finally would take them through the deepest part of the shifting sands of the Wide Bay Bar, to the open ocean. By the afternoon of the 24th April (1902) the Flinders had reached White Cliff - about half way up the Sandy Straits - where the Ide was lowered into the water. This is where the yachting cruise began and because of tides and winds the Ide's progress was somewhat of a zig-zag. Nevertheless in the 17 days available the Ide visited Mary Heads, Picnic Islands, Bogimbah Mission Station (Fraser Island), Judd's Camp, Inskip Point, Tin Can Bay, Figtree, Leftwich & Sons oyster grounds, Poona, Shell Island, North Cliff, South White Cliff, Mary Heads and home to Brisbane on the 9th May.
| | |
| --- | --- |
| | |
| Launching the Ide off the Flinders at South White Cliff - Sunday 25th April 1902. When the Flinders ceased visiting Maryborough in 1920 the passenger trade almost died (although cargo ships still came). (Devoy, 1902) | Here we are launching our boat at Tuan Creek because the tide was too low at Poonah Creek. On Saturday 4 May 1902 the Ide left Tin Can Bay and headed for Poona but the tide was too low for them to land there. (Walding, 2009) |
| | |
| --- | --- |
| | |
| 30th April 1902: The Pilot & Receiving Officer Samuel James Reilly and his family at Inskip Point. With him is his wife Emily (nee Compton) and some of their 17 children. Back row: Mildred (15), James (14), Ada May (12), Violet (10); Front row: Blanche (19), Myrtle (8), Pilot Samuel James Reilly, Pilot's Wife Emily Reilly (nee Compton), Cornelius (6). Other children include: William Walter (25), Samuel Stephens (24), Maud (22), George (19), Harold Wade (9). By the time this photo was taken three children had died: Amilia ("Milly") Beatrice (1877 at about 10 months old), Herbert Winterley (in 1882, aged 11 months), and Emily Jane (1891 at the age of 16). (Devoy, 1902) | Pilot Reilly's house with Telegraph Office to the far right (1902). The soil in and around the houses was sandy with little grass but a lot of rushes, bracken and hardy ferns. The trees were mostly cypress pine. On 15th June 1891, Reilly's oldest daughter Emily Jane (16) was accidentally shot by her 13 year old brother William Walter Reilly and died in her father's arms next to the tree at the front gate in the photo above. She was buried about 250 m away. The unmarked grave is there today (as described earlier). After 1902 the pilot's and boatmen's cottages were removed and only the lightkeeper's cottage remained (on the far left in the distance). (Devoy, 1902) |
| | |
| --- | --- |
| | |
| The Ide at Leftwich's Oyster Lease - 3rd May 1902. He was one of the first to take up the Government's option of buying oyster leases. (Devoy, 1902) | Leftwich & Sons oyster lease area outside Tuan Creek. Nothing left of the oyster operation now. (Walding, 2009) |
| | |
| --- | --- |
| | |
| Some fishing for the crew of the Ide at South White Cliff at 8am Sunday morning on the 5th May 1902. (Devoy, 1902) | South White Cliff is just to the left of centre, now overgrown. The Ide was dropped off from the Flinders here on 25th April 1902. (Walding, 2009) |
| | |
| --- | --- |
| | |
| The Ide moored in Yankee Jack Creek on 3rd April 1902. The creek was named after Jack Piggott who harvested timber for the Pettigrew's Dundathu Mill near Maryborough in 1863. (Devoy, 1902) | John and Alan - up Yankee Jack Creek. "Yankee Jack" Piggott was speared and killed by an aborigine at Rooney's Point in 1864 where it was suspected that he had gone to engage in blackbirding (the kanaka trade). Alan is telling his wife that he has a flat tyre and is not having fun. (Walding, 2009) |
| | |
| --- | --- |
| | |
| The entrance to Yankee Jack Creek was hard to see. (Walding, 2009) | A small hut on Moonboom Island. (Walding, 2009) |
| | |
| --- | --- |
| | |
| The Ide's crew - fishing at Tin Can Bay - 3rd May 1902. (Devoy, 1902) | Fishing boats today at Tin Can Bay - 2009. (Walding, 2009) |
| | |
| --- | --- |
| | |
| The Ide's crew having a rest at Garry's Anchorage - 30 April 1902. (Devoy, 1902) | We stopped at Garry's Anchorage for morning tea. (Walding, 2009) |
| | |
| --- | --- |
| | |
| The Ide off Poona - Thursday 1st May 1902. They couldn't land because it was low tide. (Devoy, 1902) | Looking over to Fraser Island from Poona at high tide - 2009. (Lee Marrs). |
| | |
| --- | --- |
| | |
| Poona at high tide looking south east to Inskip Point. (Lee Marrs) | You can launch a dinghy from Poona when the tide's in. The Marrs' bungalow in the background. (Lee Marrs) |
---
WHAT DEVOY DIDN'T MENTION - THE DISPOSSESSION OF THE BUTCHULLA PEOPLE
When Jack Devoy visited Fraser Island in 1902 he stopped off at the Bogimbah Mission settlement. This was located on Bogimbah Creek about 10 km north of White Cliffs (about 8 km north of where Kingfisher Bay Resort is today). It could only be accessed by a tidal creek and was skirted by a mangrove, infested with sand flies and mosquitoes. The camp was set up by the Government to intern indigenous (Butchulla) people who had been deemed to have "reached a deplorable stage of degradation, being completely demoralised by drink, opium, disease, and intermittent periods of semi-starvation" from the Maryborough district. By the time Devoy visited the camp it had been handed over to Anglican Board of Missions and had become an incarceration facility for indigenous people from around Queensland. Conditions at Bogimbah were dire, with inadequate shelter and rations. This was a shameful act perpetrated on the indigenous people of the region but perhaps Devoy didn't recognise this. He happily photographed aboriginal people in their awful camp and then he moved on. The captions on the next set of photos are by Jack Devoy.
| | |
| --- | --- |
| | |
| "A typical native residence at Boggimbah" page 20 | "Molly and I and the Baby" page 21 |
"AT THE MISSION STATION ON FRASER ISLAND"

| | |
| --- | --- |
| | |
| "Some of the boys at home" page 29 | "More mission members (one of the men is holding a tow-row, or native fishing net". |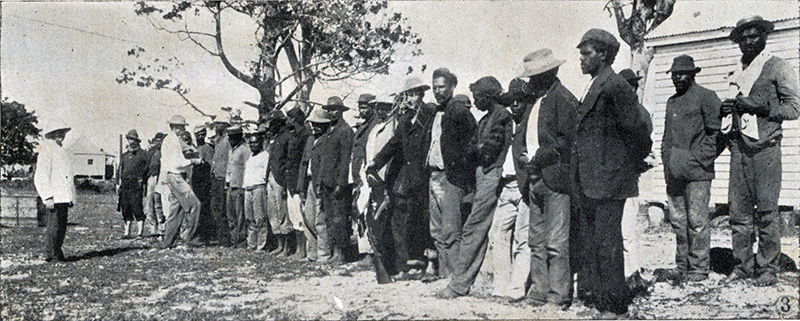 "Serving out the tobacco ration to the mission boys" page 29
Devoy's caption: Some more of the native "residences" page 23
Two years after Devoy's visit, the camp was disbanded when most inhabitants were sent to various other Queensland missions mainly Yarrabah near Cairns and Durundur near Caboolture. However, some Butchulla inhabitants remained on the island, living on the back beach and their descendants are there today.
---
| | |
| --- | --- |
| | |
| Big Woody Lighthouse. The Ide reached there in the afternoon of the 26th April 1902 and did some rabbit shooting the next morning. There were two principal lights on Big Woody Island. (Devoy, 1902) | Big Woody Lighthouse - 2006. (photo courtesy of Marius Coomans) |
| | |
| --- | --- |
| | |
| We didn't make it to Big Woody Light as the strong NE wind was making life difficult so I went back in August 2010. (L. Walding) | The northern tip of Big Woody Island (R. Walding, 2010) |
| | |
| --- | --- |
| | |
| North of Big Woody Island whales came up to the boat. See the barnacles on his flipper. (R. Walding) | They were so close you could easily see the blowhole. (R. Walding, 2 August 2010) |
| | |
| --- | --- |
| | |
| Supplies being taken to Hook Point light and signal station from Inskip Point. The Ide again dropped in on the Reilly and Gorman families on the 2nd May. The Ide's logbook said "Inskip Point - Commodore departs for Brisbane on passing ship. Quiet rest at Inskip for rest of day". (Devoy, 1902) | Two ferries takes cars and supplies over to Fraser Island from Inskip Point. (Walding, 2009) |
NOTE ABOUT GARRY'S ANCHORAGE
In several of the photos above, Garry's Anchorage or Garry's Landing gets a mention. This feature was named after Garry Owens - a full-blooded aboriginal tracker from the Butchulla people - the traditional custodians of Fraser Island. His name was possibly taken from the name for Fraser Island "Kgari". His son Isaac Garry Owens was one of the last full-blooded Butchulla. He died at Hervey Bay in 1977 aged 62, a bachelor like his elder brother. He made a statement on his recollections of Fraser Island to the Fraser Island Environmental Inquiry in 1975 and also accompanied the FIDO veterans tour to Fraser Island in September 1976. Ike Owens loved Fraser Island - his ancestral home. This verbatim and signed statement is one of the few recorded by a Fraser Island Aboriginal with 20th Century island connections. He talks about meeting the lightkeepers of Inskip Point.
---
SCHOOLING AT INSKIP POINT
The Queensland State Government, like governments everywhere, will provide schooling for children if a need can be established. The State Education Act of 1875 established a new Department of Public Instruction, which was charged with the duty of providing free, secular and compulsory education for children between the ages of six and twelve years. Provisional schools were established where an average attendance of between twelve and thirty pupils could be maintained, and required that local people provided a suitable building at their own expense (over 30 pupils and the Department would establish a fully funded "State" School). Such was the case at Inskip Point.
Pilot Samuel James Reilly believed he had met the need for a Provisional School when he advised the Department of Public Instruction in October 1883 that there were eleven students ready for instruction the following year. While the Department paid for the maintenance of State schools, the School Committee was responsible for maintaining a Provisional school. The only expenditure incurred by the Department in approving a Provisional school was in paying the teacher's salary and providing a minimum of expendable supplies to keep the school functioning.
Reilly nominated eleven students with the prospect of more to come from the large families present at Inskip - nearly all of which had under-school-age children that would be enrolled in the not-too-distant future. He named the following children from the five families at Inskip: his own daughter Emily Jane Reilly aged 8 and her siblings William 6, Samuel 5, Maude 4. The others were the sons of Lightkeeper George Byrne, namely George Thomas Byrne 8, Reginald James Byrne 6, Mary Anne Smith (dau of Pilot John Smith) 6; John Anderson 6 and Charles Anderson 4, sons of Charles Anderson; Ellna Peres 5 and Hilda Peres 4, daughters of Frank and Hilda Peres, giving a grand total of eleven students. On 29th October 1883 Queensland Portmaster George Heath in Brisbane wrote to the Minister for Education Samuel W. Griffith (after whom Griffith University was named).
A school room had been built by the residents and he was able to advise that the Lightkeeper George Byrne would provide lodgings. He also told Sir Samuel that the local timbergetters could also take advantage of the school. The Provisional school teacher was usually an unclassified teacher who was not provided with a residence by the Department, and who received a salary less than that of the lowest classified teacher. Such teachers often had a barely adequate education themselves, and little or no training, but some of them were well-educated people who had been unsuccessful in other occupations, or educated women forced to provide for themselves.
These teachers often had to work under very primitive conditions, a roof that didn't leak and a wooden floor in the classroom being above average appointments. Their annual salary, just under ₤40 pa at the time, was less than a labourer's, and living accommodation was basic in the extreme. Yet they educated the pioneers' children, and most of them were women. It was widely regarded that women teachers were better than their male counterparts, and in 1881 District Inspector John Shirley wrote:

The Provisional school teacher has neither the comfortable buildings nor the suitable furniture of the State school teacher; he works under many difficulties and with little encouragement from those among whom he is placed; yet he does cheap, useful work for the State, and work that could not well be done otherwise. For such work a female teacher is much more suitable and more readily obtained than a male teacher, and, as a matter of fact, but few Provisional schools gaining credit by inspectors are taught by men.


John Shirley's use of "he" when it was nearly always "she" in Provisional Schools is meant to be an inclusive pronoun. To the pleasure of the Inskip Provisional School Committee (Reilly, Byrne, Smith and others) new Regulations came into force in 1892, in which the Department had altered its policy, agreeing to pay for up to half the cost of the building and furniture for a Provisional school, if it were built on Crown land. And Inskip was Crown Land.
Their first teacher was 22 year old Mary Garsden from Wagga Wagga, NSW who began teaching as a 16-year old pupil teacher at West End State School in Brisbane. She taught began on 21 Jan 1884 but her "violent headaches" from the sea air were too much for her so she resigned to 30 April 1884 who resigned on 29th March that year to get married. The conditions at the school would prove a disincentive to teachers to stay long as Inspector John Shirley prophesised.
The rapid population growth in Queensland in the 1880s and 1890s saw the number of schools double. This situation strained the colony's limited education budget and created problems of inadequate teacher supply and training as mentioned above, a proliferation of poorly equipped provisional schools, and a perennial teacher housing problem in rural areas. These problems were exacerbated for the isolated lighthouses of Queensland. However, these problems should be kept in perspective: despite the difficulties, Queensland educators achieved the considerable feat in bringing basic literacy to most Queensland children in the last decade of the 1800s.
On 7 July 1884 Margaret Kenny aged 41 was appointed but her services were terminated after 3 months due to poor enrolments (4 boys, 2 girls). She was troubled by a drunken husband, "now dead" which made the Department anxious about her situation anyway. She was shifted to Bustard Head Lighthouse (about 250 km north of Maryborough) before being transferred down to Double Island Point Lighthouse - almost a stone's throw from Inskip.
Next was 22 year old Greta Herley who arrived on 5th Jan 1885 to teach 14 students - 9 boys, 5 girls - (she had arrived from Ireland one year earlier and this was her first teaching job). She left at the end of the year and was sent to Glastonbury Creek State School just west of Gympie - about 100km away.
In this all-too-familiar procession of teachers, next was Mrs Teresa Bridget Sullivan who arrived 1st Jan 1886 to teach 22 children (14 boys, 8 girls). Finally, the Department had provided an experienced teacher and one described by them as an "exceptional teacher, superior to most female teachers". She had arrived from England 10 years earlier and took up teaching at Nudgee Orphanage (just north of Brisbane) and then Tamborine State School in the hinterlands behind the Gold Coast to the south of Brisbane. At this time she married Michael Sullivan in April 1882 and became Mrs Teresa Sullivan.
By now the families providing a steady source of enrolments had grown: In 1888 the Reillys had ten (Emily, William, Samuel, Maude, twins George and Milly, Blanche, Amy; Ethel and Mildred); John Smith still had his only daughter Mary Anne at school; the Gormans had ten including two sets of twins aged 9 and 14 years; the Turpins had three; and Boatman John J Hopkins and his wife Mary were also there. Teacher Mrs Sullivan (nee Flanagan) had a total of 14 students to teach from ages 5 to 12 years old. Committee member John Smith was not happy with her professionalism: he reported her to the Department for being drunk and the committee asked for her dismissal. They changed their minds soon after and blamed "that useless skunk of a husband" on her problems. She left on May 31st 1886 anyway. But they gave her a beaut going-away concert and afternoon tea. Mr Turpin sang a plantation song and was assisted by Mr Gorman, "in negro costume" to perform the farce of "Professor Slocum" and his assistant.
Her replacement - the fifth teacher in 3½ years was Mrs Clara F Cafferky, aged 20, who started on 2nd May 1888 with 19 students (8 boys, 11 girls). She had come from Galway Ireland and was living in Ipswich to the west of Brisbane. The Inspector noted that her teaching was "fairly satisfactory", but there was friction between her and John Smith (wouldn't you know it). The Inspector agreed that her tongue was "an unruly member" but she stayed on until the end of 1889. In that year there were 9 boys and 8 girls enrolled.
Finally - a man - William George Reeve - an Englishman no less was appointed on 24th March 1890 to teach 21 children (8 boys, 13 girls). His annual salary was £54. He didn't last much longer than the other despite being more difficult to obtain (in the Inspector's words). The Inspector wasn't too happy with Mr Reeve; he said that no progress had been made and that the class was "retrogressive". Presumable the inspector meant that the class was going backwards - no easy task for any teacher to have students unlearn things.
It was during this time that Pilot John Smith died. On the 11th February 1891 he had a heart attack or apoplexy (stroke) - they were not sure - and his body was taken by the Government steamer Llewellyn to Maryborough where he was interred in the cemetery. His death was reported in the Maryborough Chronicle. His wife Anne (nee Cullamy) and their daughter Mary Anne - age15 - had to leave Inskip Point forthwith and both travelled to Maryborough it would seem. Then disaster struck again. Former student of the school, Emily Reilly, now 16, was accidentally shot dead by her brother William aged 13 - nearly 14 - on the 15th June 1891 at Inskip. This was on a Tuesday during the mid-year school holidays. At the end of the holidays - on 30 June 1891 - Reeve left the sad and shaken community.
More bad news came a month later when it was reported that young Lilly Turpin - now aged 7 - died in Maryborough. She was a student at the Inskip school a few years earlier - daughter of James and Mary Turpin - and many of the parents and students remembered her. One month later - on 27th July 1891 - 47 year old Margaret Kenny arrived to teach the 18 pupils left at the school (8 boys, 10 girls, including two boys and one girl over the age of 12). Her annual salary was £40 - an immediate saving for the Department. She was an experience teacher having taught with the Department since 1884. The numbers were dwindling and in 1892 there were just 5 boys and 9 girls including two boys over the age of 12 years.
That year Inspector Scott visited the school in November 1892 and made his report. He was not happy with the performance of the teacher or the pupils and he services were dispensed with her services towards the end of the following year (31st October 1893). With such low numbers for 1884 - just 4 boys and 2 girls - the Department was loathe to appoint a new teacher, despite Samuel Reilly's attempts to justify otherwise. Reilly - as Secretary of the Committee (Gorman was Chairman) - named the following students in his letter of 14th August 1895: his own children George 12, Blanche 12, Amy 10, Ethel 9, Mildred 8, James 7 and Ada (my grandmother) 5½; and Flora McDonald 11. As well, the children of the lightkeeper from Hook Point (John McMahon) Ruby McMahon 7 and David McMahon 9 - who would come over by boat - made a total of ten, just shy of the 12 needed. But they were all "waiting for a teacher" (I bet).
In September 1895, the Department gave the go-ahead and young Sarah Isobel Gibson arrived to teach on the 16th. She was only 19. The enrolment was up to 9 boys and 5 girls by then. At the end of the Christmas school holidays Sarah taught for the first three weeks of the 1896 school year. Below is shown her enrolment return for the third week of school, 1896.
After this week she wrote to the Department complaining about the people of Inskip and left the same day - 7th February 1896. No doubt the Inspector was fed up with this situation and decided to close the school; after all it had just 8 students, well below the 12 required for a Provisional School. Samuel Reilly protested on behalf of the committee and the parents but to no avail. He had even added two more rooms to his house which could provide comfortable accommodation for a new teacher; or the teacher could live in the room attached to the school - with one of his daughters. According to author Marian Young, there is a note scribbled on the side of his letter that says "under the circumstances, another female teacher could not be sent here". Thus, schooling at Inskip Point had come to an end after 12 years. Violet, Harold and Myrtle Reilly would have to do their schooling by correspondence right from the start - and their mother Emily would bear the brunt of the groans of dissent.
As I am a Queensland teacher, I asked myself "just what did they learn in that time; what was the curriculum like"? In September 1895 Sarah Gibson did a stick take to see just what was available. It read:
Despite poorly trained teachers and poorly equipped provisional schools, Queensland educators achieved the considerable feat in bringing basic literacy to the most rural and isolated areas of the State by 1900. When you look at the paucity of curriculum materials, you sometimes wonder how it was all done. It should be kept in mind, however, that the basis of this colonial curriculum was the '3Rs'. In addition, object lessons ('show and tell' lessons), drill and gymnastics, and vocal music were supposed to be taught, but in practice these relatively new subjects were often ignored or poorly taught. Geography, needlework, grammar and history were also included in the curriculum at various levels but were frills to the basic education. While some of these subjects were included for their practical usefulness, the main criterion for inclusion of subjects in the curriculum was not their practical value, but their value in disciplining ('sharpening') mental faculties such as 'memory' and 'reasoning'. Hence, at Inskip, the lack of history books (or science books for that matter) was not seen as an impediment to basic literacy and numeracy.
When you look at these books in detail, you can see some excellent materials. For example, the Nelson Royal Readers were miscellanies of prose, descriptive and imaginative, and verse. They had been introduced by the Department to replace the Irish National Readers inherited from New South Wales after Queensland separated in 1857. The Royal Readers were non-denominational and supposedly more secular than the Catholic-based Irish Readers. There were, however, some important changes. The first related to the aim of literacy. There were word tests and questions at the end of passages and later books in the series contained dictation passages. We can also explain the absence of history books in the Inskip collection: historical stories were included in the Readers; mostly British history and not much on Australian history despite the efforts of Inspectors to have the books changed. I should say that the Royal Readers differed little from what I was exposed to in the 1950s as a young primary school student in Queensland. Greater emphasis on Australiana did come with the introduction of the monthly journal, The School Paper in the late 1890s, produced within the Department. However, it was too late for Inskip Point Provisional School as they had just closed. This paper a great change in that the Department now became an educational publisher in its own right and no longer an importer and distributor of overseas text-books. It also addressed the lack of material on the sciences. The earliest Papers dealt with some of the discoveries in the fields of medical science; railways, including a photo of a train "running one mile a minute"; telegraphs, cables, telephones and Marconi's wireless telegraphy.
Lastly, the seemingly low emphasis on arithmetic; two copies of Shilling Arithmetic on the shelves for up to 22 students seems abysmal. The author, John William Colenso DD, Bishop of Natal, was an experienced elementary school teacher and produced an exceptionally good book for the time, admittedly with an overwhelming focus on financial mathematics (hence "Shilling"). The questions were well graded and set in practical and amusing contexts. The Inskip student would have been well served by Colenso's work, despite not having books of their own and having to transcribe questions from the chalk-board to their slates. My grandmother Ada May Walding (need Reilly), daughter of James and Emily Reilly was a student at Inskip Point Provisional School for just one year, but her older brothers and sisters all attended the school. They all became literate and numerate, maybe despite the failings of Inskip Point School.
---
WRECK OF THE ELAMANG 1899
The Brisbane Courier Saturday 18 March 1899


SALVAGE CARGO

Referring to the salvage cargo washed ashore on Fraser's Island Mr A Meston writes as follows-'This appears to have been washed from the deck of the Elamang off the Wide Bay Bar during a gale It was nearly all lying on one spot, about ten or twelve miles north of the south end of the Island. I took thirty men from the aboriginal station to carry it to where it could be loaded opposite Inskip Point. The blacks brought in 114 tins of kerosene, china oil and turpentine. There was also a glass gallon jar of muriatic acid. Ten miles farther north were seven drums of either castor or linseed oil, too far away to be carried. Had I known the kerosene required at least ten miles of carriage I would have left it there. The blacks made one trip each day, carrying a tin of kerosene ten or twelve miles and walking back. On the last day five of the young men actually carried two tins in order to unselfishly relieve five of the old men. A case of kerosene carried ten or twelve miles on a hot day is a burden few white men would care about. The rescued cargo was kindly taken to Maryborough by Captain Boult, the harbour- master, and handed over to Mr Burn, the sub-collector of Customs, who will sell it by auction and hand over the proceeds to the aboriginal settlement after deducting merely the cost of sale and advertising. I desire, on behalf of the blacks and myself, to publicly acknowledge the kindness shown by Mr and Mrs M Mahon, of the Hook Point lightkeepers cottage, and Mr. and Mrs. Riley, of Inskip Point.


---
REILLY FAMILY LEAVE FOR MORETON ISLAND - 1902
In 1902 there were very few vessels that required the services of a Pilot through the Sandy Straits so the Inskip Pilot Station was discontinued in 1902 and Samuel James Reilly and his family left Inskip and stayed at Cape Moreton from 21 July 1902 until 1st October the same year where the children Mildred, James, Ada, Violet, Harold, Myrtle and Cornelius (Con, b 25 February 1896) were enrolled at the Cape Moreton Provisional School.
On July 30, 1902 the Inskip Point Pilot Service was officially abolished and the Pilot Station was closed and the school dismantled. Pilot services were provided from Maryborough providing 24 hours notice was given before departure from Brisbane. River Pilot John Evans retired from Maryborough in 1902 after 39 years with the service, 27 of which was as Maryborough River Pilot. This left just the two boatman pilots at Maryborough. In view of the small number of vessels requiring a pilot, John Evans was not replaced. However, in the interests of shipping, the signal and telegraph station was maintained at Inskip.
In the meantime, the steam launch Norman with a crew of three hands had the task of marinating the 60 odd lights in the Straits burning without mishap. It was even considered that maybe the lights should be withdrawn seeing the channels had become shallower as the years progressed - down to 3 to 4 ft. This would force vessels to use the Breakwater Spit to the north (Hervey Bay), except for small vessels during daylight hours. Wiser heads prevailed and this was not done. On October 1, 1902 Reilly was appointed Lightkeeper at the Comboyuro Point Lighthouse on £96 per year.
Their children attended Bulwer school. In 1915 the Commonwealth Government took over responsibility for all lighthouses. Reilly continued on and remained there until his death on October 21, 1919, of a ruptured heart (at age 80 years - making him the oldest lightkeeper in Australian history). Charles Percival Waye was appointed to replace Samuel Reilly at Comboyuro Point starting on 10th August 1920. Charlie was accompanied by his wife Doris, son Norm and two daughters Joy and Dot. The children studied by correspondence but used to travel to Brisbane once a year for four weeks to catch up on their schooling, visit relatives and have medical checkups. Charlie was born on the 15th June 1893 - the son of Pauline Waye (nee Polzin) and Ernest Waye.
After a lonely four years at Comboyuro Point he married Doris May Hislop in 1924 and was able to have Harold Wade Reilly relieve for him during his absence. They had children soon after: Arthur 1926, Joyce 1928, Doris 1929 and Norman 1932. In 1945 Charlie was transferred to Hook Point as Lightkeeper. But that story will be told later. For details of his service see:
Comboyuro. While on the subject of Comboyuro Point - I cannot find origin of the name. I suspect it comes from kombi - an aboriginal word meaning "head" - as in the head of the island [Rod Milne, Dahs & Bahs - Aboriginal Place Names of SE Queensland, 1993, p17].
| | |
| --- | --- |
| | |
| Comboyuro lightkeeper Samuel James Reilly (age 67, right) and his son James Compton Reilly (17) in front of the lighthouse and oil store in 1906. The lighthouse was built in 1874 and the first lightkeeper appointed in 1877 on a wage of £96 pa. During its lifetime it was shifted twice because of erosion, the last time being 1905 just prior to this photo being taken when it was shifted back 366 feet. Source JOL | The Reilly family shown in front of the lightkeeper's cottage at Comboyuro Point (Mrs Emily Reilly with visitor's child, Mr Sam Reilly lightkeeper, James Reilly 17 and Con Reilly 10). The house also had to be shifted but not until 1906. This is how it, and the lighthouse opposite, appeared for the next fifty years. In 1919, upon the death of Samuel Reilly, Charlie Way was appointed lightkeeper. In 1954 the light was converted to gas automatic, unattended and the services of the lightkeeper were dispensed with. After considerable erosion the lighthouse was discontinued in October 1960 (when it was just 30 ft from high water and in risk of falling in to the sea) and was removed along with the cottage. The channel is now marked using a buoy. |
During the 17 years at Comboyuro Point his son Harold (b 2 July 1893) was appointed Howard Range Lightkeeper (from 1 Jan 1913, aged 20); his other son George (b 20 June 1883) was lighthouse keeper at Lowe Island from Nov 8, 1909 then transferred to Piper Island Lightship on May 1, 1910 where he became Superintendent in Charge from May 1, 1912. He was subsequently posted to Point Archer on Nov 11, 1914. In 1914-1915 he was stationed at Archer Point, Cooktown. A third son - William Walter Reilly, known to me as "Uncle Bill" (b 28 July 1877) was appointed as deckhand on QGS Llewellyn and in March 1899 was transferred to become Lightkeeper for Mary River and Sandy Straits, and attendant on White Cliff light - but this seems to have lasted only until March 1900. He was taken on as master aboard QGS Cormorant from 1 July 1917, and later Mate on the QGS John Oxley.
| | |
| --- | --- |
| | |
| Lightkeepers at Cape Moreton - about 1919 Back: 2nd Assistant Lightkeeper Edwin Thomas Johnson, 3rd Ass. Lightkeeper Maxwell; Front: Cornelius (Con) Reilly, Superintendent George P. Byrnes, Henry Lockhard (1906-19). (Photo: Beth Lawler, grand-daughter of Henry Lockhard) | Harold Reilly (left, aged 31) and Charlie Way (32) in 1925 at Comboyuro Point. (Waye family) |
Lastly, Samuel Reilly's youngest son Cornelius "Con" Reilly (b 25 February 1896) enlisted in the Army on 15 May 1915, was wounded in Gallipoli and France in 1916. He returned to Australia in March 1919 seven months before his father's death (see photo above). He joined Queensland Tug Company and later returned to the Pilot Service in 1924 aboard the John Oxley. Con became telegraphist aboard the chief pilot ship in Brisbane the Matthew Flinders where he graduated to mate then master. He was then appointed to the replacement vessel - also known as Matthew Flinders. He retired in 1962. One son - Harold - was acting lighthouse keeper at Comboyuro Point in September 1924 for Charles Percival Waye but never stayed with the Department (see photo above). One daughter Ada May Reilly (b 30 May 1890) - my grandmother - moved to Brisbane in 1908 to live with her older sisters in Petrie Terrace. She married Oscar Robert Walding on 27 August 1910 and he entered Government Service on 10 Jan 1913 as assistant to T. H. Flint at Bulwer Island at the mouth of the Brisbane River where he was employed for several years. In 1919 Ada and Oscar Walding moved to Cairns and their first son Robert Oscar Walding was born. He was my father. In 1934 they shifted to Maryborough and then to Inskip Point. The story follows later.
---
INSKIP POINT 1902 - 1934
In 1902, upon the departure of Samuel Reilly, the sole remaining person at Inskip was Elliott William Gorman (b 1 April 1877), telegraphist and son of earlier lightkeeper Daniel Gorman. On 1st October 1905, he was appointed Lightkeeper. Down at Double Island Point Lighthouse there were as many changes in staff over the years. The Superintendent until 1900 was George Byrne who had been at Inskip previously but transferred to Double Island Point on 1st February 1886 and moved on in 1900. Nevertheless, there was close contact between Inskip and Double Island Point.
When the Wide Bay Bar was too rough the stores from Maryborough destined for Double Island had to be dropped at Inskip and a horse and buggy sent along the beach to pick them up. When Walter Christoffersen arrived as an Assistant Lightkeeper on 10th February 1913, accompanied by his wife Annie and two children Ivy, 3, and Madeline, 2, he made the trip to Inskip a family outing. The governess for their children was Mary Hinds who taught at the Double Island Point Lighthouse school. She would often accompany them to Inskip where they would socialise with Elliot Gorman. Elliot and Mary must have hit it off because she resigned from teaching on 30th June 1918 and married him on 13th July a few weeks later.
The MacDonalds continued visiting Inskip to see Mr and Mrs Gorman. They had to watch the tides just as we do today driving a car on the beach. The best time is 3 hours before low tide and 3 hours after. That way the sand is hard. Horses (like cars) find the going difficult in soft sand. Vic MacDonald attested to the danger of landslips at Inskip when a whole chunk of beach disappeared from near him and he almost lost his horse and buggy. The family thought he had.
Elliot Gorman also had one other person to entertain: his brother Robert Thomas Gorman ("Bob") who was the lightkeeper at Hook Point on Fraser Island - about a mile (1.6 km) from Inskip Point. Bob had been appointed there on 1st June 1911 at the age of 35. He was the son of Daniel Edward Gorman - formerly of Inskip Point - and Bob spent his early years at Inskip Point. It is not certain where Bob was before he came to Hook Point but this was his first engagement with the Department of Harbours and Marine. To say it was a lonely life at Hook Point is an understatement; it needs a certain quality of character to stand (actually enjoy) the loneliness. Elliot would often row across to visit his brother, and vice versa.
The MacDonalds recall a time - probably early 1918 - when Bob Gorman rowed across to Inskip in the moonlight while they were there. Apparently Bob was ranting and raving and Mr Christoffersen hid Elliot in the flag box and told the children to hide in the bushes. Mrs Christoffersen served Bob tea and cakes and when he calmed down he rowed back to Hook Point in the dark.
---
AFTER THE GREAT WAR - 1919
The Great War - the First World War - had ended in 1919, and passed virtually unnoticed at Inskip Point. However, the Royal Australian Navy started think more about its defensive capability. To that end it engaged the famous British Admiral Viscout Jellicoe of Scapa, GCB, OM, GCVQ to report on Australian (and hence British) naval defence needs. He recommended several new or upgraded naval bases: one at Port Darwin, one on the west coast and one on the east coast. He visited Port Curtis at Gladstone as a possibility and thought it suitable but did not go so far as recommending it. He was advised by Admiral Sir Reginald Henderson that "Wide Bay Harbour, at the southern end of the Great Sandy Island [Fraser Island], is a very fine anchorage, and were it not for the [Wide Bay] bar outside, would possess may of the attributes of a base". Jellicoe reported:

---
Elliot Gorman and his wife Mary continued on at Inskip until about 1923 when he was transferred to Burnett Heads Lighthouse. He died from a stroke on 27th December 1929 at the age of 52. His father Daniel Edward Gorman had died on 19th July 1908 in Maryborough Hospital and buried in the local cemetery. It is not certain when his mother Johanna died but some sources say she died on 7th May 1906 at Inskip Point.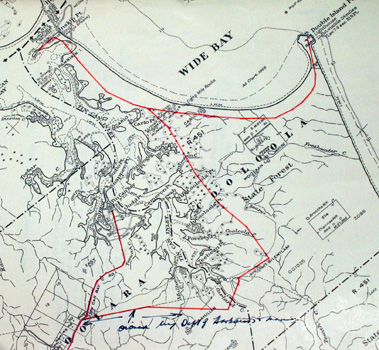 The telegraph line connecting Inskip Point, Double Island Point and Tin Can Bay to Gympie and Maryborough. The section up to the Tin Can Bay Rd intersection was a private line owned by the Dept. of Harbours and Marine.
During Elliott Gorman's time, a telegraph line was connected to Inskip Point (in 1904). It consisted of a line from Inskip Point (8 miles) that met the line from Double Island Point lighthouse (12 miles) at a junction at what is today known as Rainbow Beach (just north of the Rainbow Shores estate). From there it followed the Rainbow Beach Road (17 miles) to make another junction on the Tin Can Bay phone line at the Tin Can Bay Road intersection. The line then joins the Gympie line 4 miles south of Tiaro and runs there on old poles to Maryborough. It was finally finished on September 6th 1904 and said to be "a great convenience in reporting vessels crossing the Wide Bay Bar". [NAA J3111, Inskip Point].
| | |
| --- | --- |
| | |
| Lightkeeper's Cottage with fernhouse on left. About 1926. | Lightkeeper's Cottage - 1926. |
After Elliot Gorman left Inskip in about 1923, Thomas Kelly Gray (from Sea Hill, Rockhampton) took over until 15 April 1926 when Victor Hamilton MacDonald was appointed Lightkeeper and was also appointed Post and Telegraph Operator in place of Gray. The Telegraph Office Keeper (TOK) at Inskip had the following hours of duty: M-F 9am-1pm, 2pm-5pm; Sat 9am-12. The wage was £13 per annum. It is understood that Thomas Gray became the keeper at Burnett Heads. MacDonald's family - Constance (wife), son Charles (6 weeks) and six other children ranging in age from 3 to 13 years arrived at Inskip soon after.
One of the MacDonald children - Alice - recently wrote of an experience at Inskip in 1931 - when she was 11 years old. She talked about Bob Gorman's lonely life as the lightkeeper at Hook Point: "He had been there for 22 years and was going quite senile. Mum was always worrying about him. The Government steamer would drop his stores off on the beach just above the high tide mark and never talk to him. Mum would see him collecting his stores and say 'that man is sick'. and she even saw him crawling along the beach to get his stores."5

| | |
| --- | --- |
| | |
| Vic and Constance MacDonald (Alice Bertram) | Alice MacDonald at Inskip in the late 1920s. The Lightkeeper's Cottage can be seen behind her. (Alice Bertram) |
On the 2nd October 1931 Bob Gorman became ill. He signalled by semaphore 'assistance needed' (up 45º left). Vic MacDonald rowed across to Hook Point with 19-year-old son Edward accompanying and left him there to look after the lights, while he brought Bob back to Inskip. Vic called the Harbour Master and the steamer arrived take Bob to Maryborough. He was so sick he decided to resign.
Two weeks later, on 16th October 1931, while in the Maryborough Hospital, Bob died at the age of 56. He was survived by twin brothers (Francis and Edwin 52) and three sisters (Margaret 66, Elizabeth 56, and Edith 49). His parents died 25 years earlier. His replacement at Hook Point was Joe Woodford. The MacDonalds stayed at Inskip until 17th May 1934 when they left for Bajool Government Explosives Store, 20 miles south of Rockhampton. They eventually came back to Hook Point on Fraser Island in about 1935 to replace Joe Woodford (who had been three for 3 years after the death of Robert T. Gorman).
On 17 May 1934 when the MacDonalds left, my grandfather Oscar Robert Walding of Maryborough was appointed Temporary Lightkeeper and Telegraph Office keeper for Inskip Point. Vic and Constance were at Inskip to welcome Oscar and Ada. Alice recalled the meeting quite clearly, even when I spoke to her, and her own daughter, in 2008.
---
THE WALDING FAMILY AT INSKIP POINT: 1934 - 1949
My great grandfather was Samuel James Reilly - the Inskip Coxswain Pilot from 1874-1902. His daughter Ada May Reilly (my grandmother) married Oscar Robert Walding on 27 August 1910 at St Andrew's Church, Brisbane. Oscar Robert Walding (b 25 Feb 1887) was the son of William Eli Walding, a Queensland Harbours & Marine seaman, who drowned on about 22 December 1899 off Mackay, Queensland. He was a passenger aboard the 49 ton wooden ketch Lalla Rookh (Capt. C. A. Nordstrum) when it struck a cyclone. It was last seen by the schooner Eclipse while passing 'L' Island (as named by Matthew Flinders - now Scawfell Is.) 60 km NE of Mackay. The ship left Inskip Point on Friday 1 December 1899 for Townsville arriving 10th December. It picked up a load of sawn pine from Townsville on the 13th December and was heading south for the Maryborough sawmill.
Captain Boult (Maryborough Harbor Master) took the Government Steamer Llewellyn to Sandy Cape (Fraser Island), then Lady Elliott's Island and on to the Bunker Islands to search for the ship but no trace was found. Eclipse was also a victim of the cyclone. Some months later a piece of timber - 15" x 18' with a brass ring bolt - was discovered on No. 1 Percy Island and was identified as coming from the Lalla Rookh. All hands were lost (E. Tracey, J. Heavenin, F. Green and J. Scott). The Maryborough Chronicle (23 Jan 1900) reported the incident and that "William Eli Walding, a well known Maryborough citizen was a passenger on board". The Queenslander noted that "William Walding was sometimes connected with the dredge Maryborough; he has lately been residing in Townsville, and his family are resident in Maryborough" (27 January 1900). Other passengers were Frank Driess from Maryborough, Charles Valentine and an unnamed cook (a coloured man, as the paper said). Lalla Rookh was named after the ship that brought the second commandant to Brisbane in 1825. The Lalla Rookh was built on the Bellinger River NSW in 1875 and first registered in Townsville by Alpin Brown & Co. It was sold in 1886 to Matthew Rooney (Rooneys Ltd) who had large timber interests.
Oscar Robert Walding became a merchant seaman like his father and worked up-and-down the Queensland coast. He met Ada Walding, who was doing domestic service at a hostel in Ann Street, Brisbane, and were married in 1910. They shifted to Bulwer Island at the mouth of the Brisbane River upon Oscar's appointment as Assistant Lightkeeper to T. H. Flint on a wage of £124 pa from 10 Jan 1913. The lead lights at Bulwer Island consisted of two lighthouses which guided vessels in through the centre of the bar and into Brisbane. The photo belowshows one of the Lightkeepers' Cottages.

In 1917 they headed off to Cairns where Oscar became a house painter but travelled up-and-down the coast for work. He was known as "Robert" in Cairns but not for long. There they had three children: Oscar (Jnr), Edward and Robert. Two of them died (Oscar and Edward), so with his family, Oscar came back to Maryborough in 1925 - still working as a painter - and was given the job as Lightkeeper at Inskip Point in May 1934 at the age of 47. He moved to Inskip with his family - wife Ada (44), son Robert (15) and daughter Betty (6). The position was made permanent later that year. The following story (yellow background) was told to me by my late father Robert Walding, son of the Inskip Lightkeeper Oscar Walding:

"I was born in Cairns on the 5th of March 1919 at the Nurse Herries Private Hospital. My parents were Oscar Robert Walding and Ada May Walding (nee Reilly) - daughter of the Inskip Point Pilot. At that stage their first child Oscar Robert (Jnr) - my older brother - had died of dropsy at the age of 3½ (in 1917) and in 1924 my younger brother Edward George also died of dropsy - at the age of 10 years.

"We lived at Draper Street in Cairns, just near a large swamp which I suspect had the malarial mosquitoes that caused my brothers' illness. In those days mosquito control was unheard of. My parents decided to move south and we landed in Maryborough in 1925 where my father took up house painting. Prior to this he was a painter with the Public Works Department travelling all over Queensland, particularly in the Gulf Country. Both he and his father were Merchant Seamen on the Queensland Coast. His father, William Eli Walding - a Maryborough local - went down on the sailing ship the Lalla Rooke somewhere off the Queensland Coast in Jan 1900 and his body was never found.

"When we came to Maryborough, my parents bought a 10 acre block in Odessa Street Granville on which they built their home. My father's sister, Kate Greaves also lived in Granville with her two daughters Lillian and Kate plus sons Mick (who I remember well), William, Percy, Robert and Douglas. I do not know what happened to our house and land there as we shifted to Inskip Point. I feel that it may have been sold to cover unpaid debts. Some of our neighbours were Tom and Mrs Elwyn; Minnie Cockburn and her sons (in the last house before Walker's Point), "Waddy" Mullins who had TB and used to spit a lot, Mr and Mrs Carswell and their son Allan - my schoolmate, "Dinty" McDougal who had a lot of freckles, and my schoolmates Bobby and James and Peggy (much younger). Other schoolmates included Ted Smith, Brendan Hansen (later a MHR), Les Martin and John Hoyle. Tom Burns (later MLA Lytton) was also from a Granville family.

"I went to Granville State School with other members of the family during the time when Bill Hall and Mr Brennicke were Headmasters. At 13 I worked for H. Rawlinson the local chemist and in addition, carried trays around the bungalow and Wintergarden Theatres selling sweets and ice-creams and eating many free. This was during the Great Depression of the 1930s and as my father was unemployed like many other tradesman. The 13 shillings and 4 pence I earned from the Chemist and the six shillings from the theatre was a big help in addition to the one guinea per week my father received. Before getting these jobs I used to bring home soup from the soup kitchens two or three times a week, carrying it two and bit miles home, barefoot. Couldn't afford shoes. Things were tough.

"My sister Betty was born in 1927. Any strangers entering Maryborough were given a food ration coupon at the local Police Station and told to move on to some other town. They used to walk to Mungar junction and 'jump the rattler' to get a free train ride to God knows where. They were often caught and thrown off."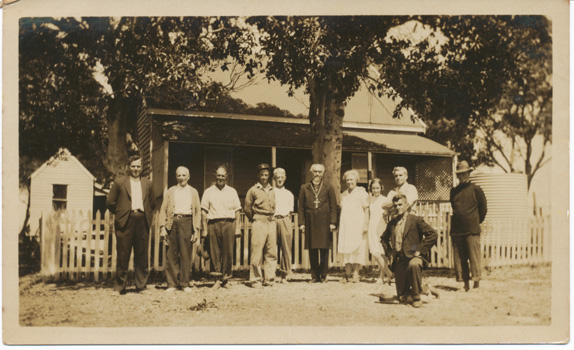 The visit of His Grace the Archbishop of the Greek Orthodox Church of Australiasia to Inskip Point on Wednesday 20 September 1939. From left: Anthony Moriaty (Wondai), John Black (Goomeri), Frank Ellisew (Tin Can Bay), Robert Walding (Ass. Lightkeeper - Inskip Point), Oscar Walding (Lightkeeper - Inskip Point), His Grace Archbishop Timotheos, Mrs Ada Walding, Betty Walding, Mick and John Patrick (Gympie), Sandy Cloherty (kneeling - Tin Can Bay).
"Inskip Point was our salvation. We arrived there in May 1934 for my father to take up his new position as light keeper. I was 14 and shortly met some local net fishermen and subsequently joined them to work the nets on a half-share. I also took a job in Tin Can Bay tending the diesel engine of the ice-plant and fish freezing store at 30 shillings per week plus all you could eat. No set hours to work, only a lot of them with only one day per week off. I was sick of that so it was back to professional net fishing for a few years up and down Sandy Straits at Fraser Island or running Gympie fishing cranks out in my own boat for the day."

| | |
| --- | --- |
| | |
| Running Repairs at Inskip Back Beach. This 10 foot dinghy was originally owned by J. W. Clark, the "Pearl King" of Thursday Island. He discarded it at Double Island Point in 1937 and it was recovered half-submerged, with planks missing, by local fishermen who towed it to Inskip Point where it was given to Oscar Walding. Oscar and his son Robert replanked it all over "with much swearing and arguments" and turned it into a useful boat. It finally fell apart in Manly Boat Harbour in 1970. | |
"Sandy Cloherty came up to Inskip with two Greek brothers Frank and Gus Ellesew from the south. I joined them on a half-share basis. They were both killed in December 1954 when their car left the road on their way north. Some other people I worked with were Bert Port at Inskip aboard Wilfie, and a professional net fisherman named Buller Clark. I think I ruined my back from pulling in those lead weighted nets. Oh yes, I was also with Bally McCarthy on the 30 ft Norman Wright built Emperor at the same time as "Bunny" Bassiere."
| | | |
| --- | --- | --- |
| | | |
| Walding family and visitors. Back row: second from left Mrs Ada Walding (lightkeeper's wife), centre - Lightkeeper Oscar Walding. Front: second from left - Robert Walding (son), Betty (daughter). | Robert Walding - sitting on his boat the "Wee-One" with his single-barrelled shotgun. | On Inskip beach (opposite Fraser Island) 1935 |
"The ocean beach on Fraser Island from Hook Point north was a dangerous place in heavy S.E weather for fishermen's launches and was not attempted in such weather but only in light S. E. or easterly winds. Engine trouble in this area could be disastrous if a S.E. wind should spring up as there is no shelter along the eastern seaboard.

"We, as professional fishermen, often steamed in our 30 ft launches to the lagoon at Double Island Point in the search for net fish in commercial quantities. We used what was known as the "Fisherman's Gutter" - shallow but safe in calm weather - as our course would be practically parallel to the beach that runs from Double Island Point to Inskip Point. But even this was not attempted in doubtful S.E or east weather as we had no radio communication in those pre-war years. When strong to gale force S.E winds had been blowing for a few days the Wide Bay Bar was impassable for even steam cargo ships proceeding south and they would have to anchor for sometimes up to three days until signals at Inskip for a safe crossing were hoisted on the flagstaff at the signal station. These signals were also semaphored to Inskip by the lightkeeper at the Hook Point signal station.

"When strong to gale force winds had been bowing onshore to Fraser Island's east coast for a few days, the view of the bar area from Inskip across to Hook Point was a wall of white breakers and these, as high as a house, crashed on to the ocean seaboard beach of Fraser Island. I remember the cyclone off Fraser Island in 1935 that beached the Maheno. She was being towed from Melbourne when she was caught up in it. A few days later - the 9th July - she drifted ashore and was beached on Fraser Island.

"A year or so later Joe Black from Gympie recovered nine of the lifeboats from the Maheno but his son Fred almost drowned while they did it. Joe put a car engine in one and used to visit us whenever he crossed the bar. They sold them for £5 each. I remember that Oscar Bonney from Tewantin bought one each. We used to go fishing with Norm Laidlaw in the one he bought."
"The lightkeeper's house on Fraser Island was situated on the eastern shoreline some distance from the triangular black and white beacons for the Wide bay Passage. In the late 1930s a large new house was built a mile or so back from Hook Point and 100 yards towards the bush from the beach. I was employed as a builder's labourer on this job."
"As well as net fishing, I also relieved on the 40 foot Q.G. Edith in prewar years. The "Edith" was the Fisheries Inspector's launch skippered by George H. Price out from Maryborough and serviced the Sandy Straits and Tin Can Bay areas. Mr Price often criticised my cooking abilities on these occasions. He said all I could do was boil eggs and not well at that. Usually he gave me the tiller of the launch while he cooked his own breakfast. My job was also to tend the Edith's 3 cylinder Wilson engine which was pretty simple after years maintaining the engines at the iceworks. I heard that the Edith sank off Double Island Point in the Beverley Group."
| | |
| --- | --- |
| | |
| L-R: Snow Dickenson, Nip Hunter, Les Martin, Charlie Revell, Ben Miller and Robert Walding in the passage - about 1940. | Oil Shed at Inskip Point. Lightkeeper Oscar Walding on right. |
"During these pre-war years I also serviced the beacon lights in the Mary River, Sandy Straits and Stewart Island on the Q.G.M.L. Nellie. They were kerosene-fuelled double-burner lights - about 50 in all - some on shore beacons and the rest on sea beacons. I did this in a relieving capacity for 3 weeks at a time when the regular man was on leave. At all lights I would have two clean lamp glasses wrapped in a tea-towel inside my shirt and a half-gallon of kerosene in my hand. I would then jump from the "Nellie" into the small dinghy and row ashore or "scull" by oar, extinguish the light, trim both wicks, refill it with kerosene, fit new glasses (one to each beacon light), wrap the used glasses in the tea-towel and row back to the launch. For this job - with two lamp glasses under your shirt - you had to be sure-footed as a mountain goat."
"There was a special technique used for trimming wicks that my father taught me. He was "lampy" on some cargo ships in his earlier sea-faring days and knew that you never trimmed wicks with scissors as it tempting to do. You rubbed your thumb across the wick in one direction (left to right) after it had been turned down level with the top of the burner. Any other way would have made the flame uneven resulting in a "burn-up". If this happened the glass would become sooted-up and blacked out and this would not be found out for a week.

After trimming the wicks and refilling the lamp you would leave it burn for a few minutes to allow it to reach maximum flame height without smoking. Sooted-up lights are useless as a leading beacons and a real danger for cargo ships. We used to fill and trim lights from Maryborough to the last light in Sandy Straits on the way down and then double check that the lights were working properly on the way back. As well as working on the Nellie, on several occasions I was also the relieving deckhand on the 90 foot steamer Q.G.S. "Relief" skippered by Captain James Wilson.

I remember the feeling of pride as a lad of about 16 to 18 when skipper "Jim" would allow me to take the wheel all the way to the Mary River wharf on leads and signal the engine room movements until the ship berthed at the Maryborough wharf when I would signal "F.W.E." (Finished With Engines). One of our jobs on the Relief was to take steel bottles of gas about 5 foot long from Maryborough to the Harbours and Marine lighthouse on Woody Island. There were nine bottles which landed on the north shore of Woody Island by lifeboat from the "Relief". They were hauled up the steep slope by a horse on a railed trolley to the light. The light keeper in those days was Norm Price, brother of George H. Price (then Inspector of Fisheries) and brother of Eddie Price, fireman on the Relief.

The crew also included: Don McGilvray - Engineer, Mick Teague - Bo's'un, and other deckhands Ernie Dau and Norm Lucas. The Port Master at the time Mr F. F. Roberts and the Harbour Masters were Captains' Walter, Snewin, Murchie and John Douglas Gray. It was common for the crews of the H&M ships QGS Relief, QL Nellie and the Inspector of Fisheries Launch QG Edith to have a few beers at the Port Office Hotel at South Brisbane on a Monday morning before they headed off to Hervey Bay. It was called their "Last Port of Call".

One morning at about 10.45 Captain J D Gray - the Harbour Master - rang Inskip and spoke to my father on a windy S. E. day: "How many seas on the bar Pop" he asked. Dad replied "Two seas down here Capt'n". The Captain said "there's a lot of bloody elbows on the bar down here and I'm going to shift them" - which I was told later he did and they scattered like rats, leaving beers on the bar. I was not there that time but would normally have been if I was releiving on one of the QG vessels."
| | |
| --- | --- |
| | |
| Double Island Point taken from "Eight Mile Rocks" near where Rainbow Beach now is - about 8 miles south of Inskip: "I used to walk to Double Island Point lighthouse from Inskip to help unload the stores. We used a horse and sled to get them up the hill". (Robert Walding, 1935) | Coloured sands between Inskip and Double Island Point (now known as The Coloured Sands): "My mother used to get me to collect the sand and she would sell little bottles of it to visitors". (Robert Walding, 1935) |
"I also relieved my father on the Inskip Point Light and Signal Station when he went on holidays, up to the outbreak of World War II. We had no radio in those days but had a portable gramophone and at night used to play popular records to the telephone exchange switch girls in Maryborough. They appreciated it as it killed monotony - theirs and mine. While I was in charge, in the day time I would go fishing and also trim the beacon lights for navigation across the Wide Bay Bar."

"We used to get our supplies delivered once a week - on a Tuesday - from Maryborough. We would order them from shops in Maryborough. One shop I recall was Brennan and Geraghty's Store in Lennox Street. I am told that our orders are still there to see. They would deliver the supplies to the dock in Maryborough on Monday and the meat was kept cold by being placed beside the blocks of ice we also ordered. The meat was wrapped in newspaper and placed in a hessian bag. It was delivered about lunchtime the next day along with our mail, other groceries and our pay. We would give the delivery boat our order for the following week.

Once my father was relieved by Hans "Honce" Bellert - a dugong fisherman and the last known aboriginal resident of the area we called "Bogimba". In 1934, I remember looking for bush turkeys along the back shoreline at Inskip, about 200 yards past Bob's Bight, and about 100 yards into the bush from the mangroves' high water mark when I came across a grave. It was about 6 foot by 3 foot fenced with sawn hardwood timber about 2" x 1" properly spaced about chest high. There was no headstone - nothing else - to indicate who was buried there. I think the fence was erected to keep dingoes out. My mother said it was grave of her sister Emily - who died in the early 1890s. There were two other marked graves down on the Point. One was next to the coconut palm and fig tree near the house. Old-timers said this was a seaman's grave.

Another grave was in the bushy part leading to Pelican Banks. It was complete with a cross and chain surround on low posts and we used to paint the chain and cross white. Neither grave had any names on them."
| | |
| --- | --- |
| | |
| Robert Walding piloting the 45' MV Miss Gladys to Tin Can Bay in 1938. The boat was owned by brothers Heinrich William Langer and Henry James Langer of Maryborough (proprietors of "Langer's Shoes" ). It was built in the backyard of their home at 119 March Street, Maryborough. | The minesweeper HMAS Vigilant at Maryborough in 1941. Robert Walding worked on this ship while in port. Photo taken from the stern of HMAS Maryborough. (Robert Walding) |

"With the onset of the war, I worked on naval ships in Walkers Ltd Maryborough as an Electrical Assistant for one year clearing £15 per week, mostly in overtime when the normal wage was about £3 or so. At night during 1939-1940 I was a member of the Volunteer Coastal Patrol (from Scarness to Inskip Point which takes in Hervey Bay) - mainly patrols at night. This was commanded by Captain J. D. Gray, the Harbour Master at Maryborough in whose department my father worked. As the crew were from all types of jobs, most had no knowledge of the bay. With my experience at Inskip and as a fisherman I had a good local knowledge of all the channels in the patrolled area. I was given responsibility of an advisory nature. At that time, with the Japanese forces pushing towards Australia, it was all very necessary for early detection of a possible enemy infiltration."


| | |
| --- | --- |
| | |
| Launch of the minesweeper HMAS Maryborough at Walkers Ltd, Maryborough in 1941: "I helped install the ship's wiring. I took this photo from the deck of QGS Relief on which I had worked as a deckhand". (Robert Walding) | Badge of the AOC. Diameter 20 mm. |
"I also joined the Volunteer Air Observer Corps in Maryborough commanded by the Department of Air and administered by the R.A.A.F. We had a spotting telescope with a 4 inch diameter objective commandeered from the University by the R.A.A.F for the duration of the war and this was mounted in the most suitable and highest tower that could be found. This was in the Royal Hotel tower in Kent Street, Maryborough. Our telephone was connected to R.A.A.F. Headquarters in Brisbane and if we rang the codeword through to Brisbane the phone connection was immediate. This of course was to be used only if an aircraft was heard or seen. Needless to say, the telescope commanded a highly magnified view of the goings-on in many hotel rooms in a wide sweep of the city. Many and lurid were the descriptions given by one observer to the other who came at a late hour to relieve and couldn't see anything. We tried to get another telescope but were unsuccessful."
"I joined the Army on the 5th May 1942 with the 56 Australian A/A Battery employed as an electrician/welder and served until 4th September 1946 mainly servicing searchlights at the Bulimba army workshops. During this time I got married (in 1943) and was able to visit Inskip Point when on leave. At war's end I was asked to join the Harbours and Marine Department in Maryborough but stayed in Brisbane engaged in the electrical trade from then on."

"My father Oscar Walding was a chronic smoker and drinker. He was hospitalised at Maryborough on 10th May 1949 for treatment and Cecil Price came from Maryborough as Relieving Officer for a week. My sister Betty went to meet Dad at hospital when he was being discharged and he came out - lit a cigarette and went to the pub for a beer. Betty said to him "you're a bloody fool, Dad". I saw Dad for the last time on 16th November when I called in to the house at Inskip enroute to Bowen in the MV Coral Sea.

He had another attack a week later and my mother (Ada) sent a telegram to Betty in Brisbane "Dad very ill. Not expected to live". Betty was 7 months pregnant when the 'wire' came through to her. Betty said she "shook like a leaf" when she read it. He died on the 24th November 1949, aged 62 at Inskip Point. He had coronary sclerosis and was buried at the Gympie Cemetery the following day. I was on the Coral Sea off Inskip Point when I heard the news.

Mum had to leave Inskip and went to Brisbane to stay with my Aunt Amy. She came to live with us for a while to help out before returning to Amy. She died in 1961 and was cremated with the ashes being buried at Gympie beside Dad. I later served as shipyard electrician with Steamships Trading Company, Port Moresby, and as ship's electrician on John Burke's passenger-cargo M.V. Waiben for a year or two as an electrical engineer on the Thursday Island run. The trip took three weeks and then I had a week off at home. My final maritime job was with the Department of Harbours and Marine. I was dock electrician at both the South Brisbane Dry Dock (now the Maritime Museum) and then the Cairncross Dock."
---
INSKIP POINT DURING THE WALDING YEARS: 1934 - 1949
Life was surprisingly social at Inskip Point for the Walding family. Visitors would arrive at the house just about every day; in fact they averaged 18 visitors a month for the 15 years they were there. The visitors were mostly fishermen, businessmen, family and tourists on short outings around Tin Can Bay and the Great Sandy Straits; however there were also the official visits from the Portmaster T. F. H. Roberts on his yearly visit and the Maryborough Harbourmaster J. D. Gray on his regular inspections. There was also the more pleasurable visits by the QG motor launches to drop off supplies and to call in for other business; these included the Fisheries Inspectors J. Wilson or George W. Price in QGML Edith, E. Price in QGL Beth, Norm Price, E. V. MacDonald and F. W. Anderson (skipper) in QGML Nellie to attend to the beacon lights.
Early in their stay there the Department decided to give the house a lick of paint and J. W. Dean from the Public Works Department in Maryborough arrived in November 1936 to freshen it up. PMG linesmen would be around often to attend to faults on the phone line. It didn't take much for the line between Inskip, Double Island Point and Tiaro to be damaged by falling branches.
| | |
| --- | --- |
| | |
| Mrs Ada May Walding drawing garden water from the well and pumping it into tank. There were three 1000 gallon fresh-water tanks at the house but in the dry season professional fishermen would call and fill several 4-gallon tins of water at a time. Mt family was able to pump up enough for their own use as it was drinkable (just). It was about 9 ft deep with about 2 ft of permanent water. | Lightkeeper's wife Mrs Ada Walding and her son Robert on Inskip outer beach pre-war collecting surf worms. The station dogs were Toby (being carried because of old age, and Mike). The Visitors Book for 27 June 1937 records "Mike, our faithful dog, dies". (Robert Walding, 1937) |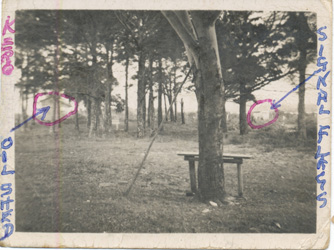 Inskip Point - back yard of the Light and Signal Station in 1937. Ada Walding's fish-cleaning bench is beside the tree; the kerosene shed is on the left, and signal flag shed on the right. (Robert Walding, 1937)
But it was quite a lonely life for the children. Very rarely did younger people come to visit so there was little socialisation between the two Walding children and other families. The children had plenty of jobs helping out their parents and Betty was quite happy to help her mother with domestic chores and (less happy) to get on with schooling by correspondence. Robert had finished schooling at Granville State School at the age of 12 and now - by the age of 15 - was able to visit the lightkeepers at Double Island Point and Hook Point by himself, His socialising was mostly with adults around Tin Can Bay and he learnt skills off them.
---
CROSSING THE BAR: GO OR NO-GO?
In the first few months of every year the Queensland coastline is battered by wild weather in the form of cyclones of storms. Such weather can add to the danger of crossing the Wide Bay Bar.
| | |
| --- | --- |
| | |
| The Flagstaff 1939. The small hut is the "Flag Locker" which was there until 1980. | Signals Chart - drawn by Robert Walding - 9 November 1939 |
The photo on the left above shows the flagstaff. It was used to signal ships proceeding to southern ports as to the state of the sea on the Wide Bay Bar (a shallow area). A No. 3 Flag being 'not-so-good' and Flag 4 a definite 'no-go' South. The flagstaff was also used to signal ships proceeding to Northern ports so as to enable owners to engage wharf labour for unloading at correct time (when ship arrived at port) as labour was expensive. Also used was the Blue Ensign over the Answering Pennant (top-mast hoist) to recall "Inspector of Fisheries" (who had just left Inskip Point) to return there and phone Harbours & Marine Department Office at Maryborough.
The photo on the right is of a chart "Signals from Hook Point to Inskip Point" made by Robert Walding (Assistant Lightkeeper) on 9 November 1939. It was left at the station when the Walding family left at the end of 1949 but retrieved by Kevin Mohr (Dept of Harbours & Marine) and Colin Loney (coxswain at Maryborough) when they visited in 1950. Kevin handed it back to Robert Walding in 1993 after spotting the words "Inskip Point 1936-1949" on a house at the waterfront in Wynnum, Brisbane.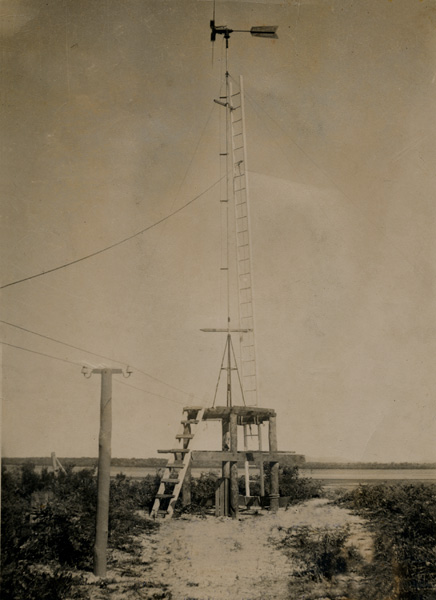 The Wind Generator at Inskip Point 1939. Pelican Bay in the background. Photo taken by professional photographer Irwin White, 192 John Street, Maryborough in 1939 for Robert Walding.
The wind-driven generator was a 12V DC, 300 Watt, "Windcharger" that cost £20. It was erected and wired by Robert Walding in 1939 who had by then completed an International Correspondence School (ICS) course for Electricians and Electrical Fitters while living at the Light and Signal Station ("by kerosene lamp"). The signals were previously lit by kerosene. The distribution board with sub-circuit, main fuses and main isolating switches were located in the house. The generator was wound to cut in at low speeds but the wind speed was rarely as low as shown in the photo above where the blades appear stationary.
The usual wind path was from the SE around to NW with a clear sweep over the water of about three miles totally unobstructed, consequently the speed of the blades in a strong SE wind (which usually prevailed) was such that even with automatic braking, they could barely be seen. The two blades swept out a 4' 6" diameter circle. There were just two 6V lead accumulator batteries and a cut-out located in an adjacent connected. They were connected in series to provide 12V for the house.
---
THE BOPPLE WILL GET THROUGH - 1936
The Inskip Lightkeepers' Log Books recorded the state of the weather daily but all of those log books were lost in the floods of 1974 when the Port Office on the Brisbane River was inundated and a century of records went under. One story of interest concerns the steamship Bopple that traded up and down the east coast of Australia for the first half of the 1900s. It was a 267 tons, steel screw steamer built in Scotland for the sawmillers Messrs Wilson Hart & Co. and arrived in Maryborough on 4th June 1911. It was originally destined for the coastal timber trade but its duties widened and became one of the best known freighters on the Queensland Coast.
The Bopple was a frequent visitor at Inskip Point as it's home port was Maryborough. Every two weeks or so it would cross the Wide Bay Bar and being a sturdy ocean-going ship it crossed the bar with relative ease. When Oscar Walding took over Lightkeeper duties from Victor MacDonald on 13th May 1934, advice was sought and freely given. Vic mentioned the Bopple and how it would always cross the Bar regardless of the weather - 3 seas, 4 seas, 5 seas - it didn't matter. The Captain of the Bopple would take no notice of the signals indicating the state of the bar; he would lash himself on to the bridge and lock his men downstairs and take his ship over the bar. Vic MacDonald said the Captain's words were "The Bopple will get through".
When Oscar Walding took over Lightkeeping duties the Captain of the Bopple was H. Nicholson but by 1936 it was Captain Edward Henry Griffiths - an experienced seaman known Australia-wide.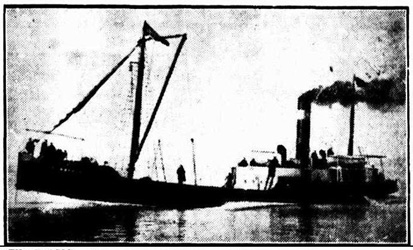 The Bopple. (Brisbane Courier)
There was only one occasion that the bar defeated the Bopple. On the 26th May 1936 she departed Maryborough with a load of sawn timber expecting to be in Brisbane the next day, before heading off to Sydney. A cyclonic depression had developed off Fraser Island and by the time she reached the bar it was at "5-seas" and closed. Normally that wouldn't have stopped the Bopple but outside of Fraser Island there were mountainous seas - some said 50 ft (15 m) high - and a S. E. gale blowing.
For once, the Bopple desisted and anchored for the night in the deep water at Inskip, alongside other Howard Smith Ships: Moruya, Ready and Canonbar. The next morning Capt. Griffiths called in to the house at Inskip to see if all was okay. He headed off and was in Brisbane on the 28th. On his way back from Sydney, Captain Griffiths made his regular call in at Newcastle to bring back pig iron for Walkers (shipbuilders) at Maryborough.
---
THE WRECK OF THE MAHENO
The Maheno was being towed to Japan by the Oonah but the towline broke in a cyclone on Monday 8th July 1935. The lightkeepers at Inskip Point, Sandy Cape and Double Island Point kept a watch throughout the day for any signs of the ships but their vigilance was unrewarded. The Inskip lightkeeper Oscar Walding was quoted in the newspapers as saying "It will be a miracle if a ship without engines can live in a sea like this. There is a tremendous swell, and the wind is driving the sea up in a frightful way". He said that the visibility had been particularly bad throughout the day (Tuesday) and it had been impossible to see more than a couple of miles out to sea.
Contact with Sand Cape lightkeeper was lost. During the day conditions improved an aeroplane spotted the ships. A few weeks later Robert Walding found life jackets on the Inskip beach which were later identified as being from the Maheno. Early reports said that three lifeboats was ashore but this was a spelling error in the newspaper. A year-and-a-half later Joe Black from Gympie bought some lifeboats from the Maheno to use one for himself and to sell the rest. He came to Inskip Point on the 9th February to show off his newly-acquired boat.
The story he told was that a fortnight earlier - Monday 25 January 1937 - he fitted a petrol engine from from an old motor car to one of the lifeboats and with his 12 years old son he set off to the wreck on Fraser Island. He pulled out another lifeboat from the wreck and began to tow it back to Tin Can Bay. In the heavy sea the engine stalled and while he was trying to throw an anchor out his son fell overboard between the two boats. Just as the two boats were about to smash together Joe hauled his son aboard just as the boats crashed, the gunwale of one being smashed. He went back to the Maheno and fitted a larger propeller and made it back to Tin Can Bay in 9½ hours. He went back the next day to get more. He got nine in total and sold them for £5 each.
Another cyclone struck the sub-tropical Queensland coast about 150 miles ESE of Bowen in late March 1938. Two ships, the Canonbar and the Buranda sought shelter inside the Wide Bay Bar at Inskip Point. On the 25th March the senior crew of the SS Canonbar visited the lightkeeper for supplies. The crew consisted of E. Hansen (Master) and H. G West (1st Mate - late of Gympie). On the 27th the crew of the Buranda landed and visited the lightkeeper for stores too. They included A. J. Collins (1st Mate), R. Gormley (Fireman), H. E. Hannell (2nd Mate) and A. H. James (3rd Engineer). The lightkeeper's son Robert Walding (my father) headed off to Tin Can Bay in his boat M. V. Swan for supplies for both crews.
Little did he know it but Robert would work with Harry Hammell aboard the coastal freighter Waiben (John Burke) in the 1960s. On 5th May 1938 the Canonbar went ashore on Fraser Island, 7 miles north of Inskip in a cyclone reminiscent of that which beached the Maheno. This was the fifth grounding alone the Queensland coast in about six weeks.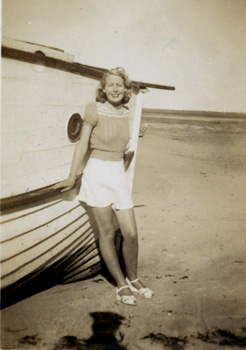 Heather Zalet (later Walding) beside Norm Laidlaw's boat in 1942. This was one of the Maheno's lifeboats wrecked during a SE gale on Fraser Island in 1935.
---
JOE BLACK NEVER SAYS DIE
Joe Black was often getting himself into trouble in the waters around Fraser Island. He was a regular visitor to Inskip Point - whether for fishing, or trying to sell a Maheno lifeboat, or telling stories of his last adventure. He did visit in late 1938 and told of his recent adventure. He left Tewantin - about 74 km (46 miles) to the south of Inskip - at 3.30 p.m. on Tuesday, August 2, in an ex-Maheno lifeboats which bad been fitted out with a sail and a Overland 15 h.p. car engine, and intending to go to Bundaberg. It had been his intention to proceed across Wide Bay bar and through the Great Sandy Strait to Bundaberg.
Oscar Walding knew he was coming and kept an eye out for him crossing the bar. However, there was a strong south-westerly blowing and all efforts to reach Wide Bay bar were abortive so Joe decided to square away an run up the length of Fraser Island with a view to reaching Bundaberg via Sandy Cape. Oscar saw him clear Hook Point at 7.15 on Wednesday morning, with a strong following wind. A sudden change in the wind direction to the south-east was encountered two hours later and not expecting such a sudden change Joe was caught by the boom swinging suddenly and striking him over the eye. He was thrown into the water and only saved himself by being able to catch hold of the sail. The sail was so taut that he was able to pull himself back again into the boat without the main rope of the sail bending.
At this stage Joe was still carrying full sail and passed his old nemesis the Maheno, less than five hours after leaving Hook Point, a distance of 60 miles away. At 1.30 p.m. the wind velocity was still increasing.
| | |
| --- | --- |
| | |
| Humpback whales are quite common off Fraser Island from July to November. I photographed this one just inside Hervey Bay on August 8, 2010. (Richard Walding) | The humpbacks come up close to boats. Is this what Joe Black would have seen from his Maheno lifeboat in 1938? (Richard Walding) |
A pod of whales made their appearance next to him, some being right ahead and others on either side. Needless to say, not all was well with his boat. The rudder, was not functioning well and this made Joe's position all the more dangerous. Gauging his speed from Hook Point to the Maheno, Joe estimated that he should pass Indian Head at the top of Fraser Island about 3 p.m. but the reefing of the sail had its effect and it was 6 p.m. before he did pass it. Joe was thoroughly unprepared for this journey. He had no compass or charts and was relying on dead reckoning.
All he had was his wristwatch that his mother gave him when he joined the Airforce in WW1. He had been informed that Breaksea Spit Lightship was 17 miles from Indian Head and so his next objective was to round this lightship and then return into Sandy Straits. Joe allowed himself three hours to make the distance from Indian Head, but he did it in less time, and actually passed inside the lightship and across the treacherous spit, where he experienced mountainous seas - all without knowing. Seeing the Sandy Cape light, he realised he had crossed the spit and so headed off in a north-westerly direction, steering by the wind. This was at 8 p.m. on Wednesday and he expected that by morning he would have sighted the coast in the vicinity of Bundaberg.
However, unknown to him the wind was continuously changing and, after steering by the wind for a night and a day Joe still found himself completely surrounded by water with no land in sight anywhere, having apparently continued to sail round and round in circles in Hervey Hay owing to the changing winds. As he crossed Breaksea Spit his water barrel was capsized so that was the end of his fresh water. Realising his plight, Joe Black decided to steer in an easterly direction with the hope of again sighting Fraser Island and working out exactly where he was. He ultimately sighted the island and ran its length again on the inside until be reached Sandy Cape, with the idea of getting another bearing and continuing his journey to Bundaberg. lt was at this stage that Black was sighted by the steamer Canberra, and, in response to a signal from her, Joe waved his hand to indicate that everything was all right.
Later, he regretted that he did this and had not asked for advice or assistance with food and water. Joe then decided to set off in what he considered to be a north-westerly direction in the hope of sighting some landmark which would indicate to him where he was. Sailing all that night, he found himself in the morning still out of the sight of land und so decided to steer what he considered to be due west, thus realising he must strike Australia somewhere. Continuing on this course, he was successful in picking up the Bustard Head light and crossing the bar at about 4 p.m. on Sunday 7th. Joe didn't know it was the Bustard Head light until after he had grounded his boat, but at this stage he was dehydrated and was determined to get ashore by any means and secure a drink. He ran his boat ashore at Bustard Head and walked to the lighthouse to ask for help. Joe, who is a WW1 veteran, was well received by the lighthouse keepers who are returned soldiers.
Joe now tells everyone of the hospitality of Mr Casey, the head lightkeeper, and his wife, and also to Mr Cousins, the assistant keeper. They helped him repair the damaged rudder and with weather conditions apparently favourable Joe got everything ready to head off for Bundaberg on the night tide on Tuesday 9th. He crossed the Bustard Head bar at 8.30 p.m. on Tuesday as planned, feeling very happy to be on his way home to Bundaberg. Joe tells that it was a glorious moonlight night without a ripple on the water and, with the engine functioning well, he anticipated leaching Bundaberg the following forenoon (Wednesday 10th). His troubles, needless to say, were not over, for at 10 p.m., just after clearing Round Hill, a southerly wind sprang up and gradually increased in force. By midnight it was blowing strong. Sea spray caused the engines to stop on three occasions. When it stopped the third time Joe could not get the engine started again and so hoisted the sail, and managed to hold his boat into the wind until 4 a.m. on Wednesday morning.
Realising he was making no headway he decided to turn and run back to Bustard Head. He deliberately gave the rocks off Bustard Head a wide berth and then found, after four hours tacking, that he could not make the calm water at Bustard Head and decided to run away and hope to find some inlet where he could take shelter. He next saw one of the navigating buoys leading into the Gladstone Harbour and ultimately reached Gatcomb Head, not knowing what point it actually was. Joe anchored at Gatcomb Head on Wednesday night and learning from the pilot staff the direction of Gladstone, he proceeded to Gladstone, to the peaceful waters of Auckland Creek. He eventually made it to Bundaberg.
---
THE WAR COMES TO INSKIP: 1939 - 1945
The outbreak of the war in Europe in September 1939 went largely unnoticed at Inskip. It wasn't until Japan entered the war in late 1941 that anything different started happening. It wasn't the bombing of Darwin on the 19th February 1942 that saw the army launch into action on the Queensland coast; things were starting to happen earlier in anticipation of further Japanese aggression. Lt Colonel Eric Ewen Paterson (47th Battalion Wide Bay Regiment) arrived on the 7th February with Capt. J. D. Gray, Maryborough Harbour Master.
Like many of the senior officers in the AIF, Paterson was a WW1 veteran having spent four years in the militia in Maryborough before joining the 47 Bn and heading overseas to Europe. He fought in France and suffered multiple gunshot wounds during an attack at the Somme in September 1918, for which he received the Military Cross in March 1919.

Now he was at Inskip as part of the plans by Northern Command to set up defensive position at Hervey Bay against possible seaborne and submarine attacks by the Japanese. The 47 Bn Voluntary Defence Corps (VDC) soldiers had been training around Maryborough part-time for much of the previous year and now they were being prepared for action. Most were Maryborough locals who had farming and work commitments (and many in reserved occupations) but, nevertheless, all leave was cancelled and they assembled in the Maryborough Showgrounds.
Paterson and Gray were undertaking reconnaissance of the area for deployment of the troops - particularly as coastwatchers on Fraser Island ("Frazer's Island") and other positions at Pt Vernon (Hervey Bay), Urangan and North Head on Fraser Island.
Troops began to arrive at Inskip soon after. Soldiers visited the Lightkeeper's house where they were given scones and cups of tea by the Lightkeeper's wife Ada; and the men recorded their appreciation in the Visitors Book. We can see the entries of soldiers such as Pte Otto Balthes Q106880 - a Gympie local now with the Brisbane Anti-aircraft Group; Pte Archie Muir Q106902 from Nambour, Pte Bill Connor Q106883 from Gympie, and Lt Ron Egerton QX34374 from Water Transport RAE.
Hundreds of men visited the Lightkeeper's house during the war and were always warmly welcomed. One particular was of interest; he was another WW1 veteran Lt Col Hugh Lambert Marsland, originally from Mt Morgan. He had served at Gallipoli and Egypt as a distinguished officer with the 11th Light Horse Regiment. He was Mentioned in Despatches in France and later awarded a Military Cross for his part in the capture of Jerusalem. He was at Inskip as Assistant Adjutant and Quartermaster General of the VDC in the Queensland Lines of Communication area.
About this time - 5 May 1942 - the Lightkeeper's son Robert Walding (my father) left Inskip Point for military service in Maryborough - then Brisbane - with the 56 Anti-aircraft Battery. After this a variety of army, navy and airforce people came to the Point: some were surveyors, some medical men like Dr Richard "Dick" Row, a Radiologist from Wickham Tce Brisbane, now Captain R. Row - the Control Officer for No. 4 Zone. He came several times during the war (16 December 1942, 4 April '43 and 1 June '43) and became a family friend (in fact I was named "Richard" after him). He was accompanied by a Government Medical Officer - Dr G. J. Benedich of Bazaar St Maryborough. But not only that, there were others of importance: the Governor of Queensland, Sir Leslie Wilson, accompanied by Brigadier Robert Nimmo (Commander of the 1st Armoured Brigade) arrived on the 29th October 1942 to inspect preparations.
Even during this time things carried on at Inskip pretty much as normal. Oscar and Ada's son Robert - my father - was to be married in Brisbane on 20th May 1943 but leave was not forthcoming for the lightkeeper. Four days later Robert and his wife Heather (nee Zalet) - my mother - arrived for a short honeymoon. Oscar and Ada Walding took 14 weeks leave to Brisbane on 1st October 1943, to visit family and spend some time with the newlyweds. They were relieved by Eric John Turton and his wife Winifred Jane. Hook Point lightkeepers Vic and Connie MacDonald left Hook Point for transfer to the Bajool Powder Magazine (south of Cooktown) on 3rd May 1944. They dropped in for one last time to see their good friends Oscar and Ada at Inskip Point. Tears were shed all round.
| | |
| --- | --- |
| | |
| Hundreds of Japanese tuna fishing floats washed up on the beach at Inskip. They were very popular with visitors to the station. | Cpl Robert Walding's meat Ration Card 1948. |
The use of the Point for training really didn't begin until 1944. In April the army sent a convoy of trucks, men and gear and set up camp and train for a month. The Lightkeeper's wife recorded on 15th May that year that:





The last soldiers to come through Inskip were those of the 29th August 1944, with two POWs in tow.
---
AFTER THE WAR: 1945 ONWARDS
On 2nd January 1946 Charles Percival "Charlie" Waye (aged 52) was appointed lightkeeper at Hook Point with his 12-year-old son Norman Albert Waye to assist. Charlie's wife Doris (nee Hislop) and their two daughters Joyce ("Joy") aged 17 and Dorothy ("Dot") aged 14, had elected to stay with their son Arthur (20) in Maryborough for the six-month duration. On their way to begin duty Charlie and Norman dropped in to Inskip Point to see Oscar and Ada Walding and to get a lift over to Hook Point. They had come from lightkeeping duties at Comboyuro Point on Moreton Island. Even though they had not met before there was a strong family connection.
Comboyuro Point was where the Reilly family were sent in 1902 (from Inskip Point). The younger children went with them (Con 6, Myrtle, 8, Harold 9, Violet 10, Ada 12, James 14, Milly 15). As the children became too old to stay they shifted to Brisbane to live with their older sisters at Paddington or board privately. Ada Reilly was there for some time before she left for Brisbane. Her father Samuel Reilly died in 1909 and Charlie Waye (and his family) took over but employed Harold Reilly (then 16) to assist. The next year Ada married Oscar Walding at St Andrew's Church, South Brisbane (on 27 Aug 1910) to become Ada Walding. Ada and Oscar Walding were now meeting Charlie Waye some 36 years later. Life at Comboyuro Point was certainly discussed. Norman said later that he was terrified being rowed across the passage to Hook Point in a 12 ft dinghy.
Over the next few months Oscar and Ada would socialise with Charlie and Norman at Hook Point. The stores for Hook Point would be dropped off by the QG supply ship at Hook Point and they'd get them up to the house on a sand sled pulled by their horse. The horse was also used by Norman to ride out to the back light to trim the wicks. He recalls carrying 2-gallon bottles kero in the saddlebags. Norm was still schoolage so he was forced to study by correspondence. Charlie or Norman would also row over to Inskip for a visit. Norman admitted later that he like to visit when the lightkeepers' 19-year-old daughter Betty was home. Norm said "they had a lovely daughter; she was a real darling". On the 5th June time for the Wayes at Hook Point was up and Charlie was off to Bulwer lighthouse, followed by a stint at the South Brisbane Dry Dock. He was hit by a cab as he was leaving work and died in hospital that day (in 1955).
The next visitors to arrive at Inskip was Mervyn Alfred Town, the new lightkeeper for Hook Point. He arrived on 5th June 1946 and met with Oscar to discuss lightkeeping duties and to get rowed to Fraser Island. Five days later - on Victory in the Pacific Day (VP Day) - his wife Elsie Isobel (nee Neilsen, b1921) and their daughter Denise arrived and they had to discuss their duties with Mrs Ada Walding. Although lightkeepers' wives and children received no pay for their services it was considered a part of the job to maintain the cottage and look after their family stationed there.
Their role is one of the great unsung contributions to the safety of mariners the world over. Merv was born in Maryborough on 31 December 1915 (and was no doubt peeved that he had to celebrate his birthday on New Year's Eve). He was a Lieutenant in the 49th Batallion AIF and served at Port Moresby during the worst times of late 1942. He was discharged in July 1944. Now he is at Inskip two years later to take up lightkeeping duties.
RELIEVING LIGHTKEEPERS
Several Relieving Lightkeepers were stationed at Inskip during the time Oscar 'Pop' Walding was in charge. Whenever he was granted leave a temporary keeper would be sent. One was 34-year-old Thomas John Henson who was was sent there on 18 June 1947 for a 6-month stint while Oscar Walding took leave after 10 years service. Tom Henson arrived with his wife Olive (nee Herrenberg) and their youngest daughter Carmel who was not yet school-age. Their other two daughters stayed with relatives as they were attending primary school: Fay boarded with her Aunt Ida in Brisbane and her sister Gloria boarded with her Aunt Lil and Uncle Norm Feldman at Freshwater Street, Hervey Bay. Tom's wife Olive had visited Inskip previously (on 20 January 1944) and wrote in the visitor's book "spent a lot of time here in my early days". Olive did grow up in the Hervey Bay area and spent a lot of time around the Great Sandy Straits, particularly Fraser Island.
Tom's time as Relieving Lightkeeper there was recalled by his grand-daughter Sharon:
"They referred to Inskip Point as really beautiful and a paradise. My Grandad got along quite well with the local fisherman. They loved the time they spent there. Fay can remember her Dad Thomas talking about his role in reporting and recording the weather. The only momento she has is a timber box made to store pictures of cloud formations that he could identify for his reports. This little timber box has been passed on to Fay's grandson.
Fay said she remembered the Lighthouse Keeper Thomas relieved was called Mr Walding. Mr Walding had been instructed to take either long service leave or the like, and that is why my Grandad took on the role. According to my Aunt Fay (Berry, nee Henson), Mr Walding was happy that Thomas was only going to do a relieving stint and not be permanent as Mr Walding loved his role at Inskip Point and was very keen to return as soon as possible. [My thanks to Sharon, daughter of Gloria Blanchard (nee Henson), 8 February 2015].
The local newspaper - the Maryborough Chronicle - reported on 14 August 1947: "Mrs Herrenberg, senior, and grand-daughter Miss Gloria Henson, are spending the school holidays with Mr and Mrs Tom Henson, Inskip". The visitor's book records them as arriving on 10th August 1947. Gloria later married and became Gloria Blanchard; Carmel became Carmel Field.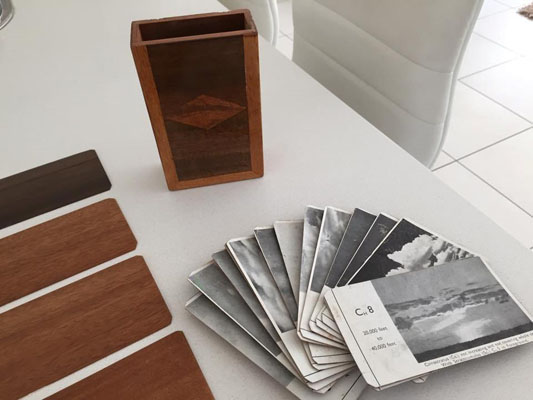 Thomas Henson's daughter Fay remembers her father talking about his role in reporting and recording the weather. He made a timber box to store pictures of cloud formations that he could identify for his reports.
This little timber box has been passed on to Fay's grandson who lives in Brisbane.

A close-up of one of the cloud formation cards.
(Sharon Beresford)
---
THE PROBLEM OF LANDSLIPS
On Sunday morning 26th June 2011 - over just a few hours - a section of Inskip beach the size of two football fields disappeared into the sea without any warning. Cars and people were lucky not to disappear with it. Onlookers who watched the natural phenomenon were amazed and had to keep moving back as more and more of the beach disappeared.
Queensland Parks and Wildlife Ranger Ross Belcher, who patrols the area, said the erosion was a natural event and the sand would eventually reclaim the sea again. "It's up to about 200m of beach and it took a couple of hours to fall away" he said. "After a while the sand will return and rebuild. It could take months but may even be back in weeks." Mr Belcher said. My father Robert Walding often mentioned landslips at Inskip in his time there from 1934 to 1949. He said that every five years or so the sand banks at the end of Inskip Point - "an area of four acres or so" would slip away without warning leaving the light about 15-20 ft from the shore - in water 20-30 ft deep.
| | |
| --- | --- |
| | |
| Inskip Point campers cautiously check out the land-slip. Photo: Glenn Barnes, Courier-Mail 26 June 2011. | Inskip Point campers Jack Red and his grandfather Darryl check out the land-slip. Photo Glenn Barnes, Courier-Mail 26 June 2011. |
| | |
| --- | --- |
| | |
| The area is barricaded off until the sand returns. Nothing can be done except let nature take it's course. (R. Walding - 7 August 2012) | Snout Point on Fraser Island is visible in the distance. |
This is not a new phenomena; it has probably been happening for thousands of years and seems to happen every 5 to10 years or so. Such an event happened on Jan 22, 1873. The Brisbane Courier of 22 Jan 1873 reported that the sea broke and undermined the ground at Inskip Point and "swept away all the boats, boat-shed, tents and provisions at the station. The men had a narrow escape with their lives". Val Herbert (nee Price) the daughter of Inskip Lightkeeper Norm Price lived there from 1950 to 1956. She said she never felt safe living at Inskip Point: many times she had seen the beach just disappear and a huge hole take its place (a few times in six years shows how frequent it was). Rockhampton Bulletin, 15 February 1873.

EXTENSIVE LAND SLIP AT WIDE BAY BAR

Referring to the salvage cargo washed ashore on Fraser's Island Mr A Meston writes as follows-'This appears to have been washed from the deck of the Elamang off the Wide Bay Bar during a gale It was nearly all lying on one spot, about ten or twelve miles north of the south end of the Island. I took thirty men from the aboriginal station to carry it to where it could be loaded opposite Inskip Point.

The blacks brought in 114 tins of kerosene, china oil and turpentine. There was also a glass gallon jar of muriatic acid. Ten miles farther north were seven drums of either castor or linseed oil, too far away to be carried. Had I known the kerosene required at least ten miles of carriage I would have left it there. The blacks made one trip each day, carrying a tin of kerosene ten or twelve miles and walking back.



On the last day five of the young men actually carried two tins in order to unselfishly relieve five of the old men. A case of kerosene carried ten or twelve miles on a hot day is a burden few white men would care about.

The rescued cargo was kindly taken to Maryborough by Captain Boult, the harbour- master, and handed over to Mr Burn, the sub-collector of Customs, who will sell it by auction and hand over the proceeds to the aboriginal settlement after deducting merely the cost of sale and advertising. I desire, on behalf of the blacks and myself, to publicly acknowledge the kindness shown by Mr and Mrs M Mahon, of the Hook Point lightkeepers cottage, and Mr. and Mrs. Riley, of Inskip Point.
The Brisbane Courier, 3 July 1901
LANDSLIP AT INSKIP The harbour-master at Maryborough (Captain Boult) has Informed the Port master that the coxswain at Inskip had advised him that a land-slip has occurred there, by which a truck and part of the boat tram gear was lost, but the boats and a spare bar buoy were saved with difficulty. The beacon and light-stand near the boatshed are liable to go at any time. There is now 14ft. of water near the beacon, and the next spring tides will show whether any more trouble may be expected.
Cairns Post - 2 December 1938

HUMAN SKULL FOUND AT INSKIP POINT. DISCOVERY FOLLOWS LANDSLIDE.

A landslide extending over an area of two or three acres occurred recently close to Inskip Point, and the water has steadily washed away the debris until only a bank now remains. This occurrence brought to light a human skull, which was picked up by a fisherman and brought to the Maryborough police station. According to medical opinion, the skull is that of a female aborigine and had apparently been buried for a period of between 50 and 100 years. It was at first thought that the skull was that of a Chinaman, as a ship was wrecked near the spot some 50 years or so ago, and a number of Chinese were drowned. The Chinese leapt into the water wearing belts containing their hoardings in sovereigns, and the weight of the gold dragged them to watery graves. One old-timer recollects that one Chinaman was found with about 700 sovereigns in his belt The broken lower jaw was found near the skull, which otherwise is intact and well preserved.


---
INSKIP BARGE
Gordon Elmer operated a car barge from Inskip Point to Hook Point on Fraser Island since the 1960s. His neice Karenn said "I remember Gordon building the first barge on their family farm in Amamoor [20km SW of Gympie] in the early 60s. It was like building a space ship in those days! It was made of cement and everyone said he was mad and it would sink! It didn't. And he made history. They ended up moving to Rainbow Beach and settled there and made their fortune taking all matter of vehicles and people over to Fraser Island. Drop off point Inskip point. He really did put Fraser Island back on the map for people again".
| | |
| --- | --- |
| | |
| The Fraser Dawn I is seen here in service circa 1970. Gordon Elmer is driving the land rover as his brother Stan guides him. Stan Elmer's son Mick is at the wheel. Mick later went on to skipper barges across the straight for several years. | As you see, prices were better in 1970. Photos courtesy of Stan's Elmer's son Tony. |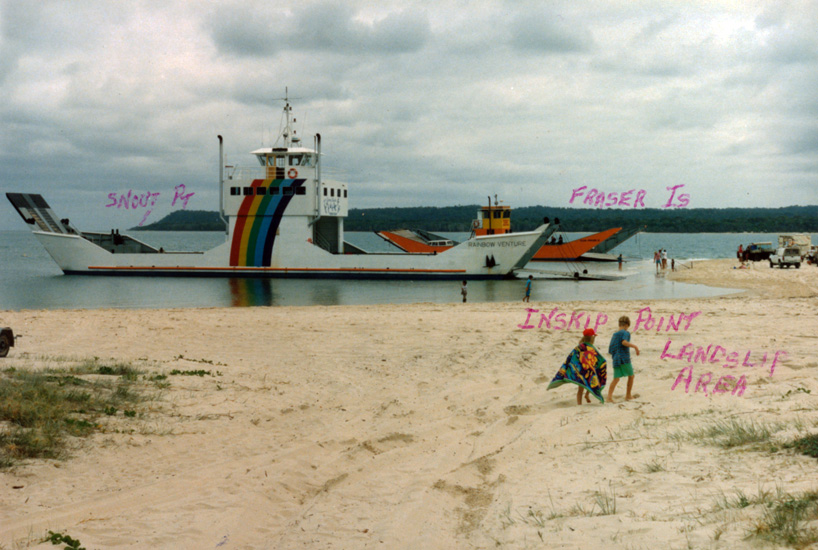 Photo taken in September 1993 and annotated by Robert Walding in 1996. Note that the area labelled "Landslip Area" was exactly where the 2011 landslip occurred. He wrote "... a large area of sand - about 2 acres - would subside every few years, leaving deep water to approximately 30 feet (10 m) shelving up to the front beacon. The vehicles in the position shown would have all gone under in a land-slip. The cause of the land-slip was the gradual build-up of fine sand carried by the tidal "swirl" around the point on every flood tide, assisted by the prevailing S. E. winds, causing every small wave along about 1 mile of beach to shift a quantity of sand (minute though it may be) towards the point. In heavy S. E. weather of near gale-force winds in summer, the sand build-up would be accelerated and you could stand on the wave line and observe small quantities of sand shifting towards the point where it would curl round and build up into a huge bank of loose sand. This would, without warning, collapse into deep water off the point. (R. Walding, 1993)


Channel 9 News report

The slip area is shown at the bottom of the map below.
---
ROUGH MAP OF INSKIP POINT
The following map (shown here in two parts) was drawn by my father Robert Walding in 1997 to show the relative locations of the buildings, the beach and the leads. The first map shows the location of Emily's Grave. Robert Walding had not seen the gravesite since he left Inskip to join the Army in 1942. He died in 1998.
The heavy line on the left represents the bottom end of Fraser Island. Directly opposite the Lightkeeper's House on Inskip was the Fraser Island Lightkeeper's House owned by the H&M Department. Robert Walding helped build this house in 1937. It was about 10 squares (90 sq m approx.). The walls were of first-class 4" x 1" VJ walls and floors, galvanised iron roof and hardwood stumps "and built by real tradesmen".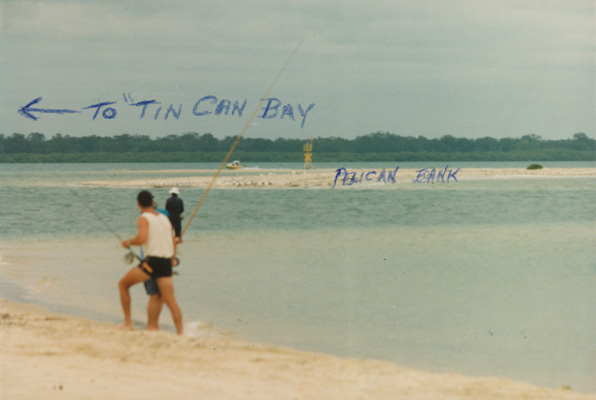 Looking west from the tip of Inskip Point to Pelican Bank. Annotations by Robert Walding, 1995. In the background is an area of very soft mud and mangroves on the mainland. The area in the centre distance was known as "Big Mick Flats" and to the right of that is the entrance into Cowrie (Kauri) Creek. Steamships would come in from the right and head up to the Great Sandy Straits past Kauri Creek. The beacon lights are clearly visible in the centre of the photo. When the seas were heavy due to S. E. winds the Wide bay Bar would become very dangerous and steamers would anchor here. Robert Walding saw soundings here of 120 ft (40 m). (Richard Walding, 1993, perspective compressed from using 200 mm telephoto lens)
| | |
| --- | --- |
| | |
| Pelican Bank at low tide - 7 August 2012 - with the mainland in the background. (R. Walding) | A yacht sails through the Wide Bay passage on its way to Tin Can Inlet. The sandy beach of Inskip peninsular can be seen jutting out from Inskip Point on the left. Pelican Banks is just behind the sand at the right. Photo taken from aboard the Mantaray ferry (R. Walding 8 August 2012) |
| | |
| --- | --- |
| | |
| The Inskip Peninsular Recreation Area is popular with day trippers. Most of the peninsula has been set aside as a recreation area managed for nature-based recreation. Inskip is protected to ensure the valuable coastal ecosystem remnants are conserved. (R. Walding) | The coastal banksia, Banksia integrifolia, is a common sight at Inskip and throughout Cooloola. Aboriginal people valued the flower for its sweet nectar, released when soaked in water. Snout Point, Fraser Island is in the distance. (R. Walding - 8 August 2012) |
| | |
| --- | --- |
| | |
| "Back Beach" at Inskip Point - 20 September 1993 - about 250 m from the tip. This is a good anchorage for launches of shallow draught of about 3 feet. | Looking SE along "Back Beach" towards Bob's Bight in October 2009. Not much has changed as it is not subject to any slip. This is the beginning of the Pelican Bank Spit which continues on the right back towards the Point. |
| | |
| --- | --- |
| | |
| Bob's Bight - about 250 m along "Back Beach" south-east of Light Keepers House site (1932-49). This was a good anchorage for launches of shallow draught of about 1 m. Emily's grave is off to the left. The area to the right consisted of shallow mud flats, the outermost edge next to the deep channel was known as "Shag Point". The deep anchorage is in the distance. (Walding, 1993) | The palms shown in this photo were not there in the1932-1949 years as there was only one lone coconut palm anywhere on Inskip Point. (Richard Walding, 1993) |
| | |
| --- | --- |
| | |
| Lightkeeper's Shed (above). A new high-set house and a shed were built for the lightkeeper in 1960 by Gympie builder Ron Burgess for £5697. It took 20 weeks. The house was removed first but on 7th December 1988 the Store and Radio Room shed was still there. Good place for squatters so knock it down. (Richard Walding, 1988) | Original plan for the shed (drawn 1958). On the left was the 14' x 12' Store Room. On the right was the Radio Room (8' x 8') and behind that - the soundproofed Battery Charging Room (8' x 6') accessed from the Store. It had AC (asbestos cement) roofing and adjustable glass louvres. |
| | |
| --- | --- |
| | |
| Photo of the back yard taken from where the house was located. To the right is the outdoor toilet. The fence was a 4' high galvanised 12 gauge wire mesh on 2" steel posts and 1½" steel rails. (Walding 1988) | Within 5 years it was knocked down by Reg Nelson in 1992. He paid $50 for it and carted it off to his home (minus the roof) at Rainbow Beach. The asbestos cement was later removed I am told. (Richard Walding, 1993) |
| | |
| --- | --- |
| | |
| The house was a 3-bedroom high-set chamferboard building 44' x 29' in size. It had a dining room, lounge, kitchen with wood stove, bathroom and WC. Underneath, there was a small laundry. Again, the roof was asbestos cement "Super 6" corrugated sheeting. | The first lightkeeper to move into the new house was Stan Birtles. He and his wife Irene started at Inskip in 1956 and left in 1974. The small building to the right in the old outdoor toilet which became a tool shed. (S. Birtles) |
| | |
| --- | --- |
| | |
| Wild brumbies were still at Inskip Point in 1988 when I paid a visit. There were three of them happily grazing. (Richard Walding, 7 December 1988) | This is the only coconut palm on Inskip during the period 1932-1949. It bore about half-size nuts which always died on the tree. There was also a fig tree several metres to the south of the coconut palm (closer to the camera) and both trees were close to the kerosene shed (kero for four lights and for domestic use). (Richard Walding, 1993) |
| | | |
| --- | --- | --- |
| | | |
| 1. The only coconut palm at Inskip Point in 1902 showing Pilot's cottage. Devoy photo. | 2. The fig tree and coconut palm in 1925. The Pilot's Cottage has been removed and only the Lightkeeper's Cottage remains. Bauer photo. | 3. The same fig and coconut palm taken in 1949 with the kerosene "oil shed" to the right. The Lightkeeper's Cottage is just visible in the centre distance. Robert Walding photo. |
| | |
| --- | --- |
| | |
| 4. Still only one coconut palm tree on the Point in September 1993. The fig tree is long gone. Richard Walding photo. | 5. In the roundabout - October 2009. Richard Walding photo. |
Photo No. 3 (above) shows the palm tree with the kerosene "Oil Shed" in the background. The white posts at the lower left are part of the fence surrounding the signal flagstaff and flagshed. To the left of the lower part of the palm is the Lightkeeper's house and cypress pines. There was also a fig tree several yards to the south of the coconut palm and both trees were close to the kerosene shed (for lights and domestic use).
---
GREEN TURTLE ON BACK BEACH
Green Turtles that have been stranded and die on the beach are a not uncommon sight at Inskip (see photo below). Queensland Parks and Wildlife Service Rangers see about 1-2 turtle standings per week on average in the area. They have a Strandnet online database to record the details. Some they place in a freshwater tub for a rest and purge of any parasites, and then tag and release them if they recover (which some do). Some turtles may go to Underwater World, Mooloolaba, for more specialised rehabilitation. Some are euthanized. Green Turtles are by far the most common. They strand at all sizes, alive and deceased.
Many autopsies reveal plastic in the gut which causes blockages and slow starvation. Ingested plastic leads to bloating and starving and then floating and/or boat strikes. A lot of parasites and green moss on the shell is the quickest way to tell it's a "floater". QPWS Ranger Grant Phelan said "It's a horror story really and reflects the amount of plastic waste in our oceans. We did a big beach cleanup recently at the Teewah corner of Double Island Point and got truckloads of flotsam, but it tends to return pretty quickly." A QPWS report on the cleanup is available for
download.
| | |
| --- | --- |
| | |
| Barnacles on its large paddle-like flippers. (R. Walding 7 August 2012) | It's carapace was about 60 cm long. Adult green turtles have an average carapace length of 78 - 112 cm although one has been found with an 153 cm carapace. (R. Walding 7 August 2012) |
| | |
| --- | --- |
| | |
| The lit-leads at Inskip during the 1930s and 40s were this type. The back lead was largest and highest. It had horizontal boards painted white with a central black stripe. The front lead was the lower one. | The front and rear leads at Inskip - October 2009 |
VISITOR'S BOOK The Lightkeeper's wife - Ada Walding - kept a visitors book from 26 March 1936 to her last day there on 16 November 1949 - a few days after her husband Oscar Walding's death. The first entry was from Capt. J Brass of the SS Ready. The first page is reproduced below. Some annotations were made by Robert Walding - the Keeper's son. A total of 2383 visitors were welcomed at the station in this period. It is now available on-line as a service to researchers. The last page is particularly poignant as it mentions the death of the lightkeeper Oscar Walding.
---
VISITOR'S BOOK ON-LINE
The Visitor's Book is now available on-line to researchers. The links below take you to each of the 83 pages.
Inside Front Cover
Page 0 - 26 March 1936 to 22 May 1936
Page 1 - 22 May 1936 to 8 July 1936
Page 2 - 3 August 1936 to 2 November 1936
Page 3 - 10 November 1936 to 4 Jan 1937
Page 4 - 4 Jan 1937 to 10 Jan 1937
Page 5 - 10 Jan 1937 to 31 Jan 1937
Page 6 - 9 February 1937 to 15 April 1937
Page 7 - 15 April 1937 to 31 July 1937
Page 8 - 31 July 1937 to 4 October 1937
Page 9 - 26 October 1937 to 7 November 1937
Page 10 - 7 November 1937 to 5 Dec 1937
Page 11 - 5 December 1937 to 26 Dec1937
Page 12 - 5 December 1937 to 31 Dec 1937
Page 13 - 1 Jan 1938 to 6 March 1938
Page 14 - 1 Jan 1938 to 3 April 1938
Page 15 - 5 April 1938 to 20 April 1938
Page 16 - 5 May 1938 to 8 August 1938
Page 17 - 29 August 1938 to 28 Sept 1938
Page 18 - 18 October 1938 to 4 Dec 1938
Page 19 - 4 December 1938 to 28 Dec 1938
Page 20 - 1 Jan 1939 to 4 Jan 1939
Page 21 - 7 Jan 1939 to 9 April 1939
Page 22 - 9 April 1939 to 17 July 1939
Page 23 - 20 June 1939 to 29 July 1939
Page 24 - 10 August 1939 to 20 Sept 1939
Page 25 - 31 October 1939 to 24 Dec1939
Page 26 - 26 December 1939 to 30 Dec 1939
Page 27 - 30 December 1939
Page 28 - 1 Jan 1940 to 10 Jan 1940
Page 29 - 20 Jan 1940 to 1 February 1940
Page 30 - 6 March 1940 to 31 May 1940
Page 31 - 22 March 1940 to 28 March 1940
Page 32 - 29 March 1940 to 26 May 1940
Page 33 - 16 June 1940 to 8 September 1940
Page 34 - 8 September 1949 to 10 Oct 1940
Page 35 - 21 October 1940 to 29 Dec 1940
Page 36 - 30 December 1940 to 11 Jan 1941
Page 37 - 20 Jan 1941 to 2 March 1941
Page 38 - 4 March 1941 to 13 May 1941
Page 39 - 30 May 1941 to 23 August 1941
Page 40 - 28 August 1941 to 12 October 1941
Page 41 - 26 October 1941 to 23 Feb 1942
Page 42 - 13 Jan 1942 to 14 March 1942 >
Page 43 - 16 March 1942 to 28 April 1943
Page 44 - 10 May 1942 to 9 July 1942

Page 45

- 19 July 1942 to 16 August 1942

Page 46

- 14 September 1942 to 22 Nov 1942

Page 47

- 24 November 1942 to 29 Dec 1942

Page 48

- 17 Jan 1943 to 2 March 1943

Page 49

- 20 March 1943 to 28 March 1943

Page 50

- 29 March 1943 to 24 April 1943

Page 51

- 1 May 1943 to 18 June 1943

Page 52

- 18 July 1943 to 5 Jan 1944

Page 53

- 5 Jan 1944 to 2 February 1944

Page 54

- 29 February 1944 to 7 April 1944

Page 55

- 18 April 1944 to 15 May 1944

Page 56

- 1 June 1944 to 27 July 1944

Page 57

- 13 August 1944 to 14 Sept 1944

Page 58

- 15 September 1944 to 24 Sept1944

Page 59

- 30 September 1944 to 12 Dec 1944

Page 60

- 15 December 1944 to 4 May 1945

Page 61

- 4 March 1945 to 14 June 1945

Page 62

- 3 July 1945 to 12 December 1945

Page 63

- 18 December 1945 to 25 Dec 1945

Page 64

- 26 December 1945 to 2 Feb 1946

Page 65

- 17 February 1946 to 3 June 1946

Page 66

- 5 June 1946 to 6 September 1946

Page 67

- 14 August 1946 to 11 December 1946

Page 68

- 21 December 1946 to 6 February 1947

Page 69

- 19 February 1947 to 18 May 1947

Page 70

- 31 May 1947 to 6 October 1947

Page 71

- 21 October 1947 to 23 December 1947

Page 72

- 26 December 1947 to 28 December 1947

Page 73

- 30 December 1947 to 13 April 1948

Page 74

- 15 April 1948 to 27 June 1948

Page 75

- 4 July 1948 to 18 August 1948

Page 76

- 22 August 1948 to 9 February 1949

Page 77

- 5 December 1948 to 14 December 1948

Page 78

- 19 December 1948 to 31 December 1948

Page 79

- 2 Jan 1949 to 15 April 1949

Page 80

- 10 April 1949 to 11 June 1949

Page 81

- 11 June 1949 to 19 July 1949

Page 82

- 1 August 1949 to 16 November 1949.

Page 83

- no entries. Death of Lightkeeper.

Letter re telephone accounts Last Page Inside Back Cover Back Cover
---
INSKIP POINT - AFTER THE WALDINGS LEFT
In May 1949 Oscar and Ada Walding took annual leave from Inskip and the Relieving Officer was Cecil James Neilson from Maryborough. On 1st October 1949 the Inskip Lightkeeper Oscar Walding became ill and was taken to Maryborough Hospital with a chronic lung condition. The Relieving Light Keeper at Inskip was Eric Turton. Oscar Walding was discharged from hospital and returned to lightkeeping duties. In the morning of 25 November 1949 Oscar had a severe heart attack at the Inskip light station. His wife Ada Walding (the only other person living there) phoned the Harbour Master at Maryborough who relayed the message to the Maryborough Police. They sent a message to the Gympie Police who organised several constables to accompany Dr Leslie Outridge by motor launch the 12 miles from Tin Can Bay to Inskip Point. The doctor found that Oscar Walding had been dead for several hours due to the heart attack.
Mrs Ada Walding had to leave the station and went to live with her sister Amy in Brisbane. James Neilsen ("Nip") Hunter took over that day and relieved until Walter Henry Lofts stepped in for a month (25 November to 21 December 1949) followed by Cecil James Neilson until Norman Price (b 20 April 1902) arrived as permanent lightkeeper on 20th October 1950.
Norm had been the lightkeeper at Woody Island in the Great Sandy Straits since August 1945. Norm tells a good story about the time he was coxswain aboard the QG steamer Edith. He was on a routine trip through the Sandy Strait to service navigation aids early in WW2. The crew spotted a mine and Norm, having served in WW1, knew of their danger. He decided it was too dangerous to be left so he lassoed it and towed it out of the channel and secured it.
The Navy later disposed of the mine and gave him a letter of commendation. Story told by his son Graham Price, Superintendent of Fisheries Patrol. Graham has now retired to Bribie Island but his son Lindsay continues the family tradition as a coxswain in Maryborough (in 2003 when the story was told). A thorough survey of the bar was carried out in May 1951 and a least depth of 20ft 6in at MLWS obtained. In 1952 (5 August) the telegraph office at Inskip was closed as a radio telephone service was instigated to allow communication with Brisbane and other coast stations.
However, the lightkeeper continued his duty caring for the lights. Norm and family were relieved for 12 weeks in 1952 when Bob Peaker arrived from Hervey Bay. Bob and his wife Beth and children Janice and Robert arrived on their 19ft sailboat Bobrusco. Having a boat made it easy for them to duck over to Tin Can Bay for supplies. They though life would be fairly easy at Inskip Point until a severe storm lashed S. E. Queensland that year. The waves came so far inland that it washed away the footing of one of the lead lights.
After Inskip they were asked to relieve at Hook Point where Lightkeeper Hans Bellert had become very sick. Hans had not been well for some time and the lightkeepers of Inskip used to flash a torch at him every evening to see if he was okay. He would flash back if he was. The Department was after a keeper for Hook Point and 42-year old Stan Birtles heard about it while working on QG steamer Coral Sea. He was the successful applicant.
The Inskip light station was provided with radio in 1957 and was then able to communicate with Brisbane and other coast stations. By 1958 the depths of the bar had changed so much that no directions could be given as to where the best water was available. The only advice which could be given was:

Crossing of the Bar should not be attempted by anyone not familiar with it and then only by light-draughted vessels during daylight when sea and swell were slight.


Permanent closure of the Inskip telegraph office was not until 1 August 1958 and Norm Price retired on 31 December that year. In 1959 the front leading beacon had to be shifted owing to the erosion of the foreshore. After Norm's retirement, Charlie Connors - a seaman in the Merchant Navy from Scotland - arrived to relieve at Inskip. Norm Price died in May 1959 and the following year Hans Bellert was found dead in his bed at Hook Point having suffered heart failure. The Master of the QG vessel Coral Sea Bernie Schribrowski found Hans at the Hook Point cottage on 16th August 1960 and said that he had been dead for a few days. Charlie Connors then swapped positions with Stan Birtles who was transferred to a permanent position at Inskip Point from Hook Point, leaving Hook Point for Charlie Connors to man.
Back at Inskip, a new high-set house with a detached engine room was erected for Stan Birtles and his wife Irene. In 1970 the Inskip Point leads were again relocated to mark the southern opening of the Wide Bay bar for the use of fishing vessels and other small ships. Cyclone "Daisy" in 1972 devastated the channel markers at both the Wide Bay Bar and Inskip Point but were soon repaired. Stan and Irene Birtles stayed on until 1974 when Roy Major took over. Roy stayed until 23 February 1982 when he was transferred to the Pilot Crew at Cairns. The buildings were removed in the 1980s - the main house being shifted to a local Primary School.
---
END NOTES:
1. Goodman, Jordan (2005). The Rattlesnake: A Voyage of Discovery in the Coral Sea. London: Faber & Faber (ISBN 0571 210732).
2. The National Library of Australia Manuscript Collection: G. H. Inskip - Records Ref MS 3784 Description - Journal kept from 8 March 1849 - 3 November 1850. For much of this period Inskip served on HMS Bramble the tender to the Rattlesnake. 260 pages.
3. Outridge Publishing, 1902. Available State Library of Queensland.
4. Lights of Cooloola. Marian Young:
| | |
| --- | --- |
| | The book collates the history of the lightkeepers, their families and associates, together with the events relating to the light stations of Double Island Point, Inskip Point and Hook Point. The structures at Inskip and Hook Points are long gone, but the lighthouse tower at Double Island Point remains the same as it was built in 1884. Available in the Maryborough City Council Library, and the Sunshine Coast Regional Council Library, Noosa. |