LIGHT KEEPERS OF QUEENSLAND
This is the story of some of the men and their families that were indirctly associated with the light and signal station at Inskip Point - just next to Fraser Island, Queensland, Australia. It was a lonely way of life for a succession of men, often with families, as they responded to the call of people in need.
---
Henry James Sparshott
Henry James Sparshott was a lightkeeper in Queensland from 1878 to his death in 1920. He spent most of his time at the Mt Bramston lights at Bowen but did some relieving work at Inskip Point most notably in 1893-94. This is his story.
Henry James Sparshott was born in Deptford, England on 3 December 1837 to parents James and Margaretta Sparshott. His father James (b 1778, d 3 Oct 1854) was a Purser/Paymaster in the Royal Navy. His mother was Margaretta Symons Sparshott (nee James, (d 5 Jan 1884 Surrey, England). Henry attended school in St Alphage's Parish, Greenwich.
Henry James Sparshott married Alice Margaret Brockman (b March 1853 Sheerness, Kent) in February 1878 at Croydon, Surrey. Her father James Brockman was a Captain in the Royal Navy. He was master and commander of HMS Wildfire - a paddlewheel tender to HMS Waterloo. Her mother was Margaret Jane Jackson.
Henry and Alice left London for Brisbane and arrived in 1878. [He is not the unmarried man H. James Sparshott, aged 37, who arrived in Brisbane aboard the Winefred on 14 April 1875 as some genealogies suggest].
Henry Sparshott obtained employment with the Department of Harbours and Marine upon arrival and was sent to superintend the leading light at Mt Brampston (Bowen). Mrs Sparshott followed aboard SS Leichhardt departing 22 June. On the 2nd January 1879 their first child - a daughter Charlotte Margaret - was born at Mrs Lowden's "Hope Cottage" Archer Street, Rockhampton. On 22 July 1880 their second child - Alice Louisa - was born in the very same place, followed by Edwin George on 29 March 1882.
Henry and family were sent to Great Sandy Island (Fraser Island) most likely as a relief lightkeeper at Hook Point. In this time Henry George was born (15th December 1884) on the island.
Other children soon followed: Samuel Jackson was born on 2 March 1885. His older brother Henry George died two months later (21 May - at the age of 5 months). Samuel, himself, died 8 months later - on 17 Jan 1886 at the age of 10 months. A similar fate awaited the next child - Henry James (Junior). He was born on 14 March 1887. Mrs Sparshott brought him to Brisbane on 11 April 1887. He died on 13 Aug 1888 at the age of 17 months. Jennie Ruth was born 8 February 1890.
The family was back at Hook Point tending the leading lights in 1893 and most of 1894.  On 9 November 1894 they departed Brisbane - Mr and Mrs Sharspott and their four children - Charlotte, Alice, Edwin and Jennie - and headed back to Bowen.
Next was Charles who was born on 1 May 1895 but only survived nine days finally succumbing on 10th May. This left just Charlotte, Alice and Edwin [Ted] and Jennie still with them. A daughter - Mary Elizabeth - was born on 21 September 1896.
In 1905 they family consisted of Henry (Lightkeeper), Alice (his wife), daughters Alice (25), Charlotte (26), Jennie (15), Mary (9), and son Edward (23, labourer at the lights). In 1913 Edward was appointed assistant Light Keeper.
Head of the family - Henry - died at Bowen 3 Feb 1920 while employed at the Mt Bramston lights. His son, Edwin [Ted], was appointed as his replacement. In 1922 Mary Elizabeth left Bowen and married Victor Ross (15 September) but she died on 11 March 1925 and that left just Alice (mother), daughters Charlotte, Alice and Jennie and son Edwin (the lightkeeper) at the lighthouse. It seems that he may have added in his mother's maiden name at this stage to become Edward [Ted] Brockman Sparshott.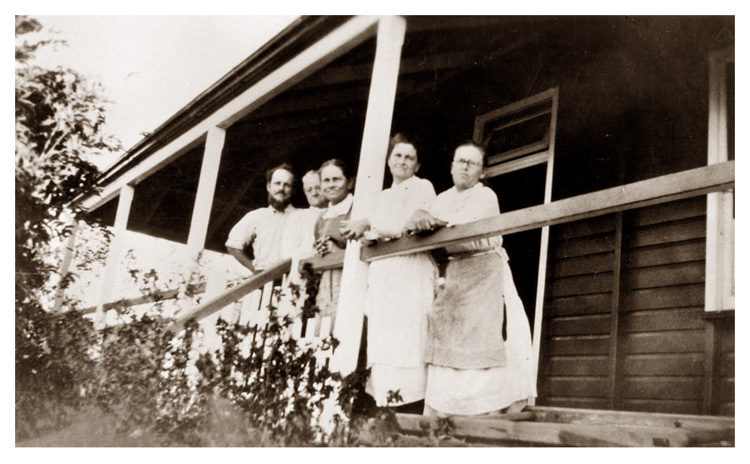 The Sparshott family on the verandah of the lightkeeper's cottage at Mt Bramston, Bowen. This photo seems to have been taken in about 1930. The people are probably (L to R): Edward (48) the lightkeeper, his mother Mrs Alice Sparshott Snr (77), and his sisters Charlotte (51), Jennie (40) and Alice (50).
In 1931 their mother Alice died. The Townsville Daily Bulletin, Thursday 3 December 1931, wrote in their Bowen Notes column, November 30, 1931:
This sketch of Mrs Alice Sparshott (Snr) was created by Rev. F. W. Palmer (rector of Holy Trinity), in about 1930 whilst Mrs Sparshott was visiting Mt. Bramston Light at Port Denison. SLQ 25425

BOWEN NOTES

Death of Mrs Alice Sparshott.

Mrs. Sparshott, came to Bowen in the early days, was the head of a most devoted family. Her husband died a few years ago. The family have been in the light-house service for many years, and are now in charge of the leading light at Adelaide Point. Not possessed of too much of the world's goods, they have always been noted for their generosity, giving with a good grace to every good cause. Mrs. Sparshott was the daughter of a captain in the English Navy. She made a romantic marriage and came to Australia many years ago. She was a well educated, cultured lady. On one occasion, when a French boat called in, her services were requisitioned to act as interpreter. She was nearly 79 years old at the time, of her death. She leaves a son [Edwin] and three daughters [Charlotte, Alice and Jennie] to mourn for her. Her husband and one daughter (Mrs. Mary Ross) having predeceased her.
Edward (now aged 49) was left as lightkeeper and head of the family.
In 1935 Charlotte died. Her death was reported in the Townsville Daily Bulletin, Monday 21 January 1935, page 4.
BOWEN NOTES
The sad death occurred (17 Jan 1935) at Bowen on Thursday of Miss Charlotte Sparshott, daughter of the late Mr. and Mrs. J. H. Sparshott. Miss Sparshott who was 56 years of age, was born at Mt. Bramston [Bowen] and spent her whole life there. Her father was in charge of the leading light until the time of his death when his son, Ted, was appointed, and they have been in constant attendance on this important guide into Bowen Harbor. The family are well-known and respected for their kindly generous nature, and only death can divide them. As the Rev. Prentice was absent in Townsville, the service was read by Mr. C. Bensted, who had known the family for a great number of years.
In 1935 Jennie Sparshott left the lighthouse and married Charles Clayton. This just left Alice Louise (56) and her brother Edward (53) - the lightkeeper - at the Mt Bramston light. This continued for two years and then Alice died (18 February 1937). Edward was left alone. However, this was not to last long for he died soon after. The following appeared Townsville Daily Bulletin, 27 January 1944, page 3.
BOWEN NOTES
Death of Edward Sparshott - 19 Jan 1944.
The Sparshott family have always been known for their generous support of any charitable or patriotic function. They never had to be asked but always gave very willingly. Ted, who was in the sixties [62], was always a very keen member of the Church of England, and. though it often involved several miles of a walk, seven each way, he very seldom missed attending service at least once a week. He was up until the time of his death, a member of the Parochial Council of The Church of England.
This then is the end of the Sparshott family's association with the lighthouses of Queensland.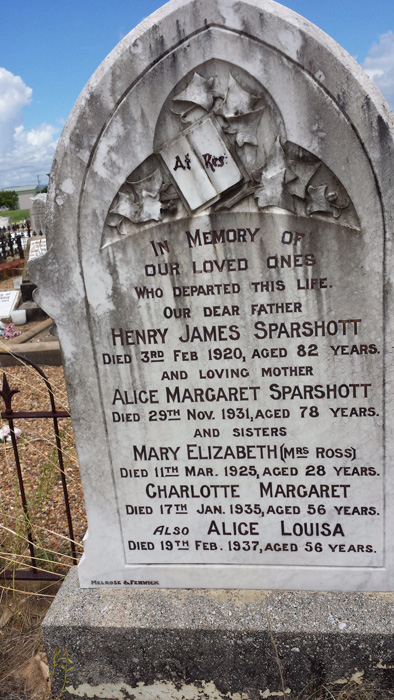 Sparshott gravestone in cemetery at Bowen.
(Marian Young)