UNITED STATES HARBOR DEFENSES

USN Naval Training School (Harbor Defense) - Fishers Island, NY
Fishers Island is a small island approximately 9 miles long and 1 mile wide, in Suffolk County, New York, 2 miles off the southeastern coast of Connecticut across Fishers Island Sound. During WWII, the the Navy took over a number of buildings for a Naval Training School (Harbor Defense) and the Joint Harbor Entrance Control Post at Fort Wright on Fishers Island. The Commanding Officer of the Training School was Lt Cmr Owen Oakley Carpenter and the Senior Instructor and supervising engineer was Lt G. Burnett Mason. This page is more than just a tribute to these men; it honors not only their memory but acknowledges the thousands of other Americans that pulled together during the darkest hours of World War 2.
---
LINKS TO SOME OF MY RELATED PAGES:
---
LT CMR OWEN OAKLEY CARPENTER
COMMANDING OFFICER
All images courtesy of Jim Carpenter unless otherwise indicated.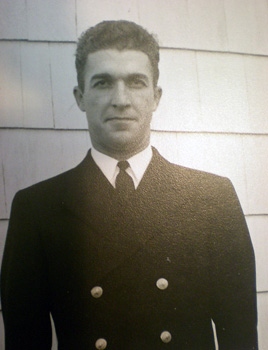 Lt Cmdr Owen Carpenter USNR
Owen Oakley Carpenter was born on July 29, 1911 in the very small town of Waitsburg, Washington. His father was a druggist who later moved to another small town: Harrington, Washington where he attended Junior and Senior High Schools - engaging in football, tennis, and track. He was a graduate of the University of Idaho in Moscow, Idaho with a degree in Electrical Engineering. He had a brother, Gordon, who served in the US Army during WWII.
After his college graduation in 1933, he worked for Pacific Power & Light Co. in Yakima, Washington. During the mid-1930s, he was a local and statewide champion tennis player. Since age 12, he was an avid and exceptionally skilled hunter. He co-designed/co-authored the hunters firearms safety course in Washington State.

Just prior to his entering active service in June 1942, he married Lallooh Splawn - the daughter of a historic pioneer figure of the Yakima Valley. She was with him during (at least a portion of) his time at Fishers Island. Owen has several relatives in his lineage who fought in both the Revolutionary War and the Civil War.
He received commission as a Lt. (j.g.) in the US Naval Reserve in April 1942 and began anti-submarine harbor defence training at the Harbor Defense School, Key West, Florida (Fleet Sound) on 8 June 1942 for 6 weeks. He then attended service schools Fishers Island NY (Harbor Detection Training Centre, 14 weeks) and San Pedro California (Harbor Defence, 8 weeks). After this initial training he saw service as Officer in Charge of Harbor Detection in New Caledonia, Assistant RMO Navy Yard, NY, and Commanding Officer, Navy Training School, Fishers Island, NY. He left active service with an honourable discharge on 20 December 1945 as a Lt. Commander.
Following the war, he returned to work with Pacific Power & Light. He also served as Finance Commissioner of the City of Yakima. He was also Commander of the local American Legion Post.
His son James Owen (Jim) Carpenter said "My father died in 1958 when I was 12 years old; my brother, Jerry, was 10. I do not remember him speaking of his military service. My mother spoke briefly of it saying (a) they were based at Fishers Island, NY, and (b) he had something to do with sonar. My mother died in 1997. Until 6 months ago, that was all my brother and I knew. In going through some old trunks, I found his Notice of Separation from the US Navy." (see below):

---
THE HERALD
The "Herald - Harbor Echo Ranging And Listening Device - is a special sea-bed mounted form of the ship-borne sonar. It was developed by the Royal Navy towards the end of WW1 and first used in 1939. In the USA, experiments continued at Columbia University which lead to the formation of research teams combining the US Navy, the Submarine Signal Company, General Electric and Western Electric at Nahant, MA. In the US it was called a "Herald" - instead of the British name "Harbour Defence Asdic" (HDA). As with modern sonar, an operator at the shore station causes the oscillator (set in 'transmit' mode) to send out a short pulse of sound at about 15 kHz ( a 'ping') which would reflect off any large object in its beam. The resulting echo could be detected by the underwater oscillator (in 'receive' mode) back at the control station. The pattern of echoes could indicate position and speed of a ship.

| | |
| --- | --- |
| | |
| US Navy pontoon barges are usually used at advanced bases in transporting supplies from ship to shore. They are also very helpful when supplied with a crane, in planting Herald sea units (1944). Photo taken from the Naval Harbor Defense Operations Manual (OP-1) prepared by Lt Cmdr Owen Carpenter. | Herald shore terminal unit being tuned by student watchstanders at the National Training School, Fishers Island, NY - 1944. Photo taken from the Harbor Defense Operations manual. |
---
PHOTOS FROM THE OWEN CARPENTER ALBUM

| | |
| --- | --- |
| | |
| The Barge at Fishers Island | The "figure-of-eight" pattern for coiling the cables ensures they won't twist and kink when being run out into the water. |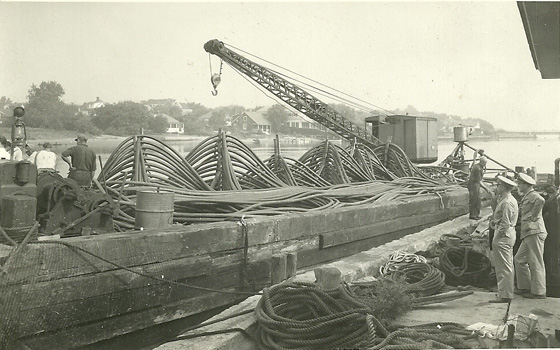 The Herald can be seen on the far end of the barge in NY Harbor.
| | |
| --- | --- |
| | |
| . | The building in the background is the Fishers Island Club |
| | |
| --- | --- |
| | |
| Fishers Island Club in the background. | Preparing to run-out the cables to shore. |
| | |
| --- | --- |
| | |
| | Dragging the cables up the beach |
---
GEORGE BURNETT MASON
HARBOR DEFENSE INSTRUCTOR AND ENGINEER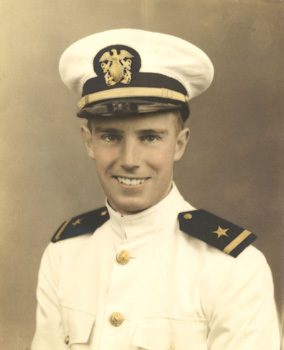 Ensign G. Burnett Mason 1942
Lt George Burnett Mason was Harbor Defense Instructor at Fishers Island during WW2, teaching both enlisted men and officers. This is his story.
George Burnett Mason was born in San Antonio, Texas in 1915 and became the youngest ever to graduate from Nathaniel Hawthorn Junior High (at the age of 11). At Main Avenue High School, from which he graduated in 1930, he was a member of the National Honor Society. He was also concertmaster of the school's band and orchestra, and was honored to be selected (at age 14) to attend the Interlochen, Michigan, National Band and Orchestra Camp, where he played trumpet under John Philip Souza. (He worked nights and weekends at a San Antonio root beer stand, and used the money he earned from tips to buy the trumpet, which his daughter, Kathryn, now has.) "Until I went away to college I was busy with Boy Scouts, rising to Eagle rank with many merit badges," writes Burnett. "Later, after I had a family and settled down, I paid my dues for all that my Scout leader had done for me by becoming, in turn, a Scoutmaster of a strong troop in Glendale, taking a contingent to the Scout Jamboree in Colorado, seeing to it that my son, George, my stepson, Wayne, and all my Scouts worked hard on their Scouting skills and their advancement toward Eagle rank, with plenty of leadership training and moral development thrown in."
Burnett had turned 15 one month before graduation from high school. At that time a student had to be 16 to enrol at Stanford, and so Burnett stayed in San Antonio for a year, entering Stanford in the fall of 1931. In his senior year he was elected president of his fraternity, Alpha Kappa Lambda, the top scholastic fraternity on campus. After earning a degree in electrical engineering (1935) and a master's degree in business administration (1937) from Stanford University, Burnett went to work for Columbia Steel, a subsidiary of U.S. Steel Corp., in San Francisco. There he met Florence Pierce Brown (born August 27,1918). Together they started the first employees' activities club, called The Columbians, of which Burnett was the first president and Florence the first secretary. They were married in Palo Alto, California, on August 18, 1940. Columbia Steel transferred Burnett in 1940 to Seattle to handle the burgeoning stainless and alloy steel requirements of the Boeing Aircraft Company as the nation prepared for war.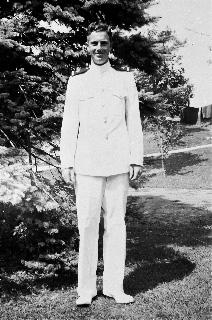 Ensign G. Burnett Mason 1942
Late in 1941 the draft expressed their interest in Burnett's services, but he had other ideas, and promptly volunteered for Navy duty. He completed Navy Indoctrination School at Dartmouth, then Harbor Defense School on Fishers Island, New York. He served most of the next three years as a Harbor Defense Instructor at Fishers Island, teaching both enlisted men and officers. Along the way, wanting to be more closely involved in the war effort, Burnett had submitted three written requests to be assigned to either Europe or the Pacific; his requests were denied because his skills were needed for the installation, operation and maintenance of radar on Fishers Island.
His final assignment on active naval duty was to supervise the setup of a harbor defense installation off the beach near Fort Lauderdale, Florida, where Navy representatives from Washington D.C. tested the equipment's ability to detect the small German and Italian submarines which had been captured complete with their two-man crews. The tests were successful. "The foreign crew members," recalls Burnett, "were very co-operative and enjoyed being our prisoners of war. They said they ate better and were much better treated than when they were in their own navies, and there were no attempts at escape."

Burnett was also a keen tennis player like Lt Cmr Carpenter mentioned above, and no doubt they enjoyed many games together. Burnett Mason was fortunate to have his family with him throughout this period. His son George Mason recalls "My older sister Polly Mason was born on Fishers Island and I came along two years later but there was no doctor on the island on that particular occasion (June 3, 1945), so a Navy boat took my Mom ashore and I was delivered at Lawrence Memorial Hospital in New London, CT."
When he was released to inactive duty in 1945, Burnett returned to civilian life in the San Francisco Bay area with his wife Florence and family. G. Burnett Mason passed away in 2000. The photo and family history were supplied by his son George and daughter Kathryn Mason Hermansen.
---
Wreck of WWII German U-boat found off North Carolina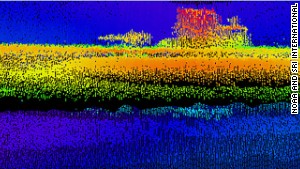 U-576 sonar image from bottom of Atlantic off North Carolina coast. (CNN)
George Mason wrote that his father - Burnett Mason - would have taken great interest in the story about finding a German U-Boat off the coast of North Carolina and announced on 21 October 2014. The German sub, the U-576, was found at the bottom of the Atlantic 30 miles off Cape Hatteras and just 240 yards from an American merchant ship, the merchant tanker Bluefields, which was part of a 24-ship U.S. convoy heading from Virginia to Key West, Florida, on July 14, 1942. It was on its way back to Germany up the US East Coast when it was sunk. The story was written by by Brad Lendon, CNN October 22, 2014.
---
Click here to go to the Indicator Loops Main Page.