The Royal Australian Air Force was responsible for the operation of a number of radar stations in the Brisbane area during WW2. This webpage deals specifically with the Toorbul Radar Station No. 210 and the family that owned the site on which it was constructed and stayed there for the duration of the war: the Parry-Okedens. Follow this link to go to the main Toorbul Radar Station webpage.

---
LINKS TO MY RELATED PAGES:
Moreton Bay Defences
How an indicator loop works
---
SIGNIFICANCE
The former RAAF Radar Station No. 210 at Toorbul, comprising remains of the RAAF radar installation is a significant example of Queensland's participation in the WW2 network of air warning radar, established in strategic locations along Australia's coast during World War II. It is one of nine 'Advanced Chain Overseas' (ACO) radar stations established on mainland Australia using British imported ACO radar. Its setting demonstrates the importance of Brisbane's industrial region, as a major port for US submarines and as the training ground for forces prior to and during the south-west Pacific campaign against Japan. A narrative concerning the family that lived at this station during WW2 has potential to yield further information about the social impact of the war on citizens and how relations between the families and the military developed in this period.

THE CONTEXT
The Toorbul Unit itself was formed at Sandgate on 20 September 1943 and moved to its radar site at Toorbul on 27 October 1943. The radar equipment had arrived at the site on 7th October 1943 and on 4th March 1944 the station became operational. Operations ceased at No. 210 Radar Station on 31 August 1945 on a care and maintenance basis and the unit closed on 13th February 1946. The unit was disbanded on 21st February 1946.



the parry-okeden family


The Parry-Okeden family that lived at Toorbul during WW2 consisted of (Captain) Uvedale Edward Parry-Okeden, his wife Auburn Jessie May and their daughter Elizabeth. Uvedale's father, William Edward Parry-Okeden was born on 13 May 1840 at Marranumbla station, Snowy River, New South Wales, the only child of David Parry-Okeden (1810-1895) and his wife Rosalie Caroline, née Dutton (1814-1874). The arrival of David in Australia marked the first contact of the Parry Okedens with Australia. In 1830 Lt David P-O at the age of 19 decided to leave the Royal navy and seek his fortune in Australia. His father suggested a commission in the Canadian Mounted Rifles would be more fitting but it so happened that he was one year to old for this. David left Liverpool for Sydney and upon arrival took command of the Clementine, a cargo ship of 130 tons plying her trade between Newcastle and Hobart. After commanding ships through the Timor Sea, Batavia, Cape Colony (South Africa) he ended up again in Sydney. In 1833 David's father died leaving him a sum of £6000 enabling him to leave the sea and become a pastoralist. In 1936 David's sister Catherine died and left him a further £5000. In 1870 William began thirty-five years' work in the Queensland Public Service being appointed inspector of customs and officer-in-charge of a patrol to curb lawlessness and smuggling along the New South Wales border. He was police magistrate for Cunnamulla (1872-75), Charleville (1873-81) and Gayndah (1881-86) simultaneously with other positions, especially in lands administration.

David P-O
(1810-1895)

William Edward P-O
(1840-1926)

Uvedale Edward P-O (1874-1961) at Ningi in 1942. Copyright
On 16 October 1873 at St Paul's Church of England, Maryborough, he married (Elizabeth) Gertrude Wall (1848-1918), recently of the West Indies. Soon after their arrival at Charleville William and Gertrude had their first child – Uvedale Edward P-O (born on 27 July 1874) named after William's cousin Colonel Uvedale Edward Parry Okeden (b 1845, d 1928) of the 18th Hussars TP Coy from Dorset, England. The couple played a central role in the district: he as president of the jockey club, judge of bloodstock, all-round cricketer or life and soul of an entertainment. The Charleville Times later wrote of the time 'when Parry-Okeden was king'. He was not above delivering judgments in verse – but none was ever reversed. In 1881 William departed Charleville to become Police Magistrate at Gayndah. They travelled there, not by Cobb & Co Coach, but in a special buggy William had made in Melbourne. Uvedale, then 7 years old and fitted out in riding breeches, leggings and sombrero, rode beside his father behind the fine team of four horses the 400 miles to Gayndah. Even at this early stage Uvedale was characterised as "a veritable son of the Western Plains". In 1886 his father William was appointed to positions dealing with migrants, including Pacific Islanders, and the family moved to Brisbane. By this stage seven of their eight children had been born: Uvedale (1874), Rosalie (1875), William (1877), Charles (1878), Hilda (1880), Evelyn (1882) and Violet (1883). Their third child, William, had died of diphtheric croup at the age of 11 months. Their last child, Herbert, was to be born in 1889.
At the request of (Sir) Samuel Griffith he drew up plans for a labour bureau to register the needs of employers and employees. In 1887 William Parry-Okeden was on a board of inquiry investigating penal establishments, which recommended reforms to avoid both the 'harsh and cruel treatment' of early times and the 'feeble and nerveless' condition into which gaols had fallen; the Prisons Act of 1890 followed. Another member of the board W. K. Rose described 'Parry' as 'a regular specimen of the cornstalk … spare of flesh, but hard as nails, as active as a kangaroo, and the best horseman and whip I have ever met … his companionship was a never failing delight'. On 23 July 1889 William Parry-Okeden was appointed to the chief public service post—under colonial secretary (renamed principal under secretary): Premier (Sir) Hugh Nelson told him, 'We want you to be the eyes and brains of the Government'. Heart and sinews were needed, too, in the crises: the floods in Brisbane in 1893, and the shearers' strikes of 1891 and 1894. In 1891 members of the Shearers' Union called strike over a disagreement with the pastoralists but sufficient labour was recruited by the pastoralists to break the strike. The enraged shearers set up camps at Clermont, Barcaldine, Blackall and Charleville in order to encourage, cajole and intimidate the strikebreakers from their work. The Peace Preservation Act of 1894 gave special powers of arrest and examination to district magistrates of 'proclaimed districts'. William Parry-Okeden, as under secretary had much to do with administering the Act and a party of 60 Mounted Infantry with a Gatling Gun and a nine-pounder left for Clermont to quell the disturbance - which they did. It was haoever only a truce and the problems flared again in 1894. This time, William was gazetted Special Magistrate for the disturbed district, able to take arms for whomever he pleased and able to arrest troublemakers for up to two months. Fifty special constables were sworn in; one company from the Downs was placed under the command of Captain Chauvel (afterwards Lt Gen Sir Harry G. Chauvel GCMG, KCB) who took his men to the centre of trouble at Longreach. The other company was placed under the District Magistrate's son Lt. Uvedale P-O) who went to Winton where his father had already established his headquarters. In three months peace was restored. The shearers recognised that the District Magistrate was one of great courage, one who knew the west, who visited their camps alone, played cricket with them, who understood their grievances, and who could take his place beside them in the sheds. This made a great difference and the shearers came to respect his authority who would make allowances for their difficulties so long as they didn't break the law. It would seem from the records that William's trust and pride in the work of his son Uvedale was not misplaced.
About this time Uvedale moved overseas. He spent 10 years in North America as an adventurer visiting Canada (theYukon the Calgary Stampede) and competing in dog-sledding in Alaska. He then travelled south to the Wild West where he spent a few lively years often in the company of Wyatt Earp and Bat Masterson. On 1 July 1895 Uvedale's father – William - was appointed commissioner of police, a post unsought but loyally accepted. Many reforms ensued: reorganization of Queensland's police into seven districts; appointment of a chief inspector; the institution of a criminal investigation branch; more comfortable uniforms; the use of bicycles; better horses; finger-printing; a police museum; and facilities for 'police benefit and recreation'. Parry-Okeden and his family's social gifts contributed to morale. In 1896 William spent two months on Cape York investigating complaints about the Native Police after Archibald Meston had recommended their abolition. Parry-Okeden's knowledge of Aboriginal languages was an asset in a strenuous tour which resulted in a reasoned defence of the force and moderate but wide-ranging recommendations. His Report on the North Queensland Aborigines and the Native Police (1897) became the basis of the Aboriginals' protection and the restriction of the sale of opium Act 1897, which set up the first government-controlled Aboriginal reserves. As commissioner of police, William Parry-Okeden became protector of Aborigines. Failure to detect the murderers at Goodna and at Gatton led in 1899 to a royal commission into the criminal investigation branch. Parry-Okeden, who insisted on being judged with his men, was criticized by two of the five commissioners for treating the police like soldiers, for certain appointments, and for lacking police experience. More congenial were social, ceremonial, and patriotic duties: the diamond jubilee of Queen Victoria, the dispatch of Queensland Bushmen to the South African War, the inauguration of the Commonwealth and the presence in Brisbane of the Duke and Duchess of Cornwall and York were occasions that displayed the commissioner's fine presence.
In June 1903 he was awarded with the Imperial Service Order (ISO). He retired from the public service on 1 April 1905, but in 1906-07 served on the Commonwealth royal commission investigating conditions and methods of government in British New Guinea, which recommended an Australian administrator and European settlement; the travel involved had been strenuous. William Parry-Okeden and his wife lived successively at Kangaroo Point, Toowong and Kedron, though much of William's retirement was spent at Redcliffe. Survived by three sons and four daughters whose lives were similarly long, adventurous and public-spirited, William Parry-Okeden died in Brisbane on 30 August 1926 and was buried beside his wife in Bulimba cemetery. Their youngest son Flight Commander Captain Herbert David (1889-1950), of Bingleburra station, Chinchilla, served in the 6th Light Horse, the Imperial Camel Corps, the Royal Flying Corps, the Australian Flying Corps and the Royal Australian Air Force.
The oldest son, Uvedale, was employed as a station manager at the Mt Morris Station in 1903 and by 1905 he was managing a property – "Normanby" - at Boonah, in SE Queensland where he won two cups for steeple-chasing. Upon the outbreak of the Great War Uvedale joined the AIF. He enlisted in F Coy, 4th Btn, 1st Infantry Bde. AIF. Army Service Corps, 1st Aust. Divisional Park. [1st Div Amm Sub-Park]. On the 11th September 1914 he was appointed Lt 1st Aust Div Amm Pk, 9th ASC. Prior to embarkation for the Middle East he was transferred to 301st (Motor Transport) A.S.C. (17th Divisional Ammunition Park) 8th A.S.C. and they trained at the Domain Camp, St Kilda Rd. Melbourne (in the grounds of Government House) from September to December 1914. Parry Okeden departed Sydney aboard A40 Ceramic on 22 December 1914 for Gallipoli (and smuggled aboard his dog "Red"). The Australian Ammunition Park aboard troopship Ceramic A40 began a newspaper Honk! aboard the ship in January (Edition 1), then at Gallipoli. It was a printed paper each issue running to 6-10 pages. In addition to the basic trench paper requirements of verse, furphies and humour, Honk! included snippets of 'News from Down Under', AIF and sporting competition news and results even practical articles such as how to purify water. Honk! was a relatively sophisticated paper, able to print snippets of news from Australia less than two weeks old, letters from personnel on Anzac and back home, and to reprint patriotic verse from the Sydney Sun newspaper. Honk! also carried literary items of the type common to all trench journals. Honk was known as The Voice of the Benzine Lancers. A Lancer is a soldier mounted on horseback (Mounted Infantry). Benzine is a fuel. So a Benzine Lancer is a soldier riding in a motor vehicle (ie in 301st (Motor Transport) ASC). He arrived in Alexandria, Egypt (31 Jan 1915) and trained at Gabbari Camp in charge of about 40 men.

Capt. Parry Okeden

(UEPO) t

rained at Domain Camp, St Kilda Rd. Melbourne (in the grounds of Government House). The red collie dog Red came with him from 'the back of beyond' - November 1914.
"On my "Yacht" with Cpl Watson and the Arab Captain behind me, 30 March 1915"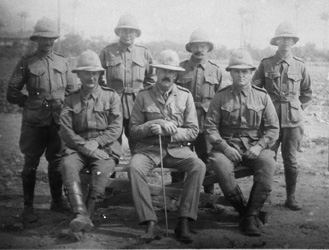 Capt. Parry Okeden and his sergeants at Cairo - February 1915

In May 1915 he embarked from Alexandria on Transport Franconia for "unknown destination" which turned out to be Gallipoli and arrived at Helles (Lancashire Landing) 16th May beside the stranded River Clyde. Parry Okeden travelled by trawler up to Anzac Cove and there he was appointed CO of ammunition dump on the beach just to the north. He had Red with him for 3 days and then put him on ship to Mudros (on Lemnos). At Anzac, he took charge of the Anzac ammunition and bombs and constructed a bomb factory, using explosives packed in bully beef and jam tins, and "cricket ball" bombs, on the beach.
Anzac Cove - April 1915
Parry Okeden wrote: "The cross marks Cape Helles, "Q" is Queensland Point and in the bottom right corner is my ammunition dump on the beach".

Parry Okeden's "liitle dugout" on the right (which he marked with a cross in his scrapbook) at Galllipoli, April 1915
He was thanked by General James Gordon Legge, commander of the 1st Australian Division for his work as instructor in bomb throwing. Parry Okeden was awarded a Military Cross (Nov 1915) and "Mentioned in Despatches" MID (Nov 1915) for conspicuous gallantry [London Gazette 5-11-15]. "With the object of destroying the ammunition supply, the Turkish guns had maintained their bombardment of the stores which were exposed to the fire. On three separate occasions the enemy succeeded in causing dangerous fires, which were extinguished by Captain Parry-Okeden and six men at the imminent risk of their lives. For this he was mentioned in dispatches, and subsequently received the Military Cross". (Weekly Times, 26 Feb 1916).

| | |
| --- | --- |
| | |
| UPO's Military Cross (donated to Brisbane Grammar School by his daughter Elizabeth in 2004). | UPO's Service Medal also now in possession of Brisbane Grammar School. |
Capt. Parry Okeden was badly injured and admitted to hospital in Alexandria with bronchitis and severe wounds on 12 Jan 1916. He returned to Australia aboard HT Runic on 11 April 1916 and discharged from the army. He re-enlisted as a private on 11 July 1917 embarking Sydney per SS Feldmarschall on 19 June 1918. He was promoted to Acting Sergeant and served in England until his return to Australia aboard Marathon on 19 April 1919. He returned to pastoral life; he captained the Queensland cricket XI in 1896 and the A.I.F. XI in Egypt in 1916 and was a noted amateur steeplechase rider.

| | |
| --- | --- |
| | |
| Sue Rigby and Lizzy in front of the mango tree at Ningi - on holidays - about 1944 | Elizabeth ('Lizzy') Parry Okeden with her father's scrapbook. Taken in 2009. |
Uvedale bought Bravinia Station in the Mundubbera-Chinchilla area immediately after the war. His wife-to-be, Auburn Jessie May Hayes lived at the nearby Auburn Station. They met and married and their only child, a daughter Elizabeth, was born on Bravinia Station in 1926. Uvedale bought Wells Station at Mundubbera and he, May and Lizzie moved into a small house there in the late 1920s. In 1930 Uvedale shifted to the house 'Ningi' on the Toorbul property where the radar station was built in WW2. The property had been owned by the well-known local – Capt. Whish – but had been left to his widow after his death. The Parry-Okedens settled into Ningi and as soon as Lizzy was school-aged she was sent to the Toorbul School (age 5) where her teacher was Miss Tillie Harriot Beutel. She would walk or ride a pony to school, then located next to the Bishop's "Elimbah Park" property. Her classmates were from the families of Bishop and Duke. To remain open the school needed six students but the numbers declined and the school was closed in 1935. Remaining pupils then had to enrol in the Correspondence School. Lizzy thus did her studies by correspondence, most of which was done while sitting under the huge mango tree on their property. At age 10 she was sent to board at St Margaret's School, Albion, in Brisbane and when this closed for the war she was sent to stay with her uncle and aunt in Goulburn and attended the local Catholic school. In 1942, at age 16½, Lizzy returned to Toorbul.

| | |
| --- | --- |
| | |
| Lizzy & schoolfriends 1944 | Manny (Uvedale), friend Clare and Lizzy, 1945. |
In 1948 the family left Ningi for D'Aguilar and in 1953 they moved to Brisbane. In 1961 UEPO died on the 5th July at Greenslopes Hospital and his wife Jessie May died on 28 Dec 1964. Lizzie passed away on Sunday 12th August 2012 and her funeral was held at St Mary's Anglican Church, Kangaroo Point, Brisbane the following Thursday.
Richard Walding, Brisbane, Australia.
---