ROYAL NAVY HARBOUR DEFENCES - SUDA BAY, CRETE
| | | |
| --- | --- | --- |
| | | |
| Suda Bay - Old Moorish Fort | Suda Bay - Inner Harbour | Suda War Cemetary |
The Royal Navy installed a number of harbour defences at Suda Bay (Souda Bay) Crete, Greece, at the outset of World War 2. These consisted of three sets of nets. The outer net defences consisted of two sets of nets running either side of Suda Island to the shore on either side. A gate in the middle could be opened by a boat. About three miles west of these lines was the inner defence - an anti-torpedo baffle net protecting the inner anchorage at the head of the bay.
Indicator loops
were planned for Suda Bay in November 1940.
If you have any feedback please email me:

Dr Richard Walding
Research Fellow - School of Science
Griffith University
Brisbane, Australia
Email: waldingr49@yahoo.com.au
---
LINKS TO MY RELATED PAGES:
SUDA BAY LOOPS
On the 4th November 1940, the British Admiralty gave permission to install anti-submarine indicator loops at the entrance to Suda Bay. However, the Germans captured Suda Bay in May 1941 before the loops could be installed. At the time of the daring Italian raid on the Bay in late March 1941, the arrangement of harbour defences was as shown below: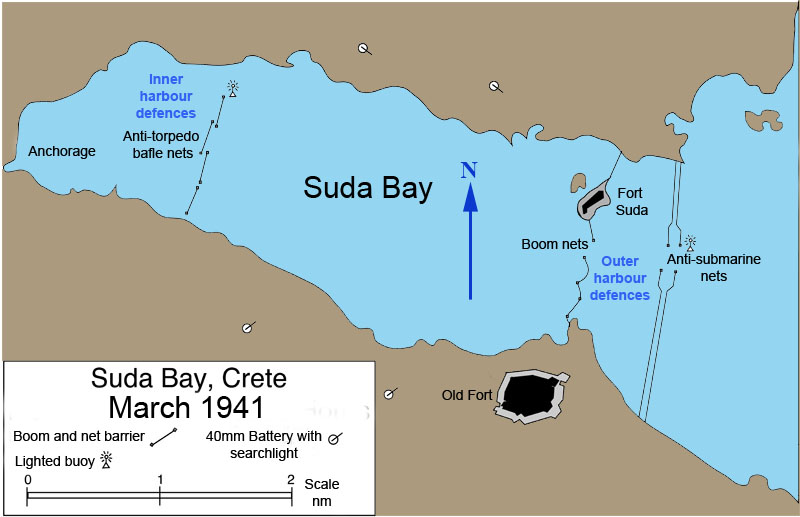 ---
If you have any further details of Suda Bay harbour defences or antisubmarine harbour defences in general (Indicator Loops and Harbour Defence Asdic) that may help with this research project please email me at the address at the top of the page.