THE 23 AUSTRALIAN HEAVY ANTI-AIRCRAFT BATTERY - PORT MORESBY WWII

483 TROOP - HANUABADA
This is a webpage about the Royal Australian Artillery 483 Heavy Anti-Aircraft Troop stationed at Hanuabada just outside of Port Moresby, Papua New Guinea. The story is a first-hand account by WWII gunner Laurie Ward.
LINKS TO SOME OF MY RELATED PAGES:
---
HANUABADA
The early history of Hanuabada is quite uncertain but when Europeans arrived in the area in the 1870s they found a cluster of three villages which are now collectively called Hanuabada. Much of the village was built on stilts over the water and housed a population of about 600-800 people [Oram, 1976, 4]. The area became a famous historical landmark when Papua was proclaimed a protectorate of the Queen of England there in 1884. When war came in 1941, the Hanuabaduans knew little about it until it was upon them. The administration had publicised the war in the Papuan Villager but circulation was limited to a small number of Papuans with knowledge of English. By mid-1941 Hanuabada was being visited by officials and instructed the villagers to dig slit trenches [Robinson, 1975]. Soon after, anti-aircraft emplacements were being built: 438 Troop set up their guns (Harry 2) on the flat mainland beside Hanuabada village, and 432 Troop set up their emplacement (Harry 1) on the nearby Touguba (or Toua Guba) Hill. The Hanuabada clans used Touguba Hill as their traditional gardening lands although it was rocky and conisdered very poor quality for growing anything.Today the differences could not be more stark: Touguba Hill boasts million kina real estate with 24 hour security, water and backup generator support while Hanuabada remains in poverty and neglected.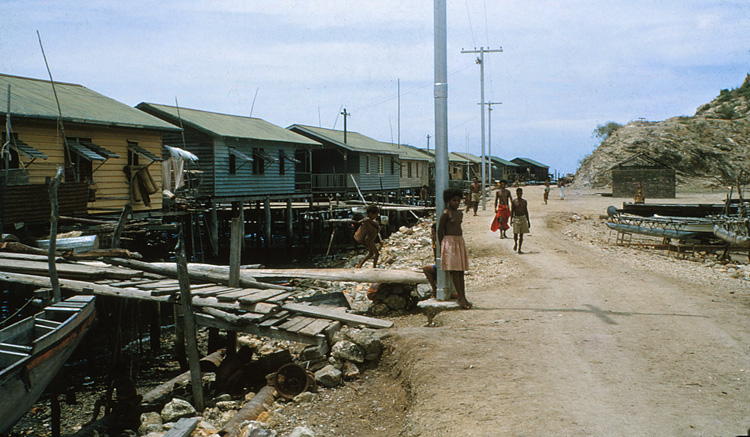 Hanuabada Village photographed in 1956 by Robert Walding, dockyard electrician for Steamships Trading Company. It was here on the flat foreshore beside the village that the 483 Troop of the 23 Heavy Anti-aircraft Battery of the Australian Army, established their emplacement and living quarters during World War II.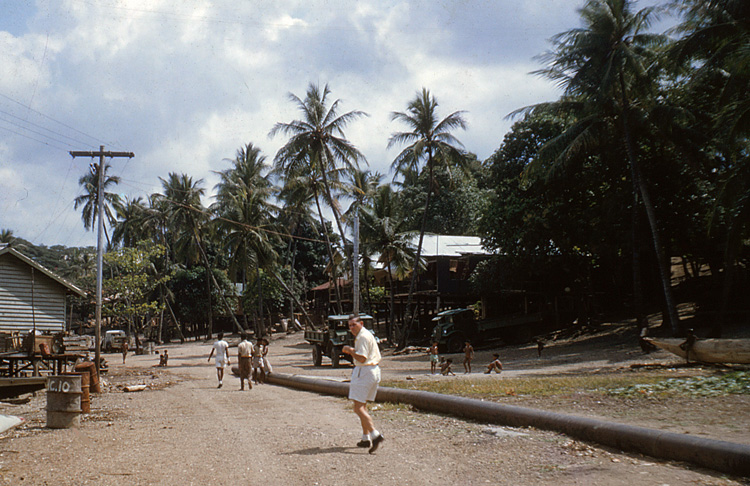 Another photo of Hanuabada Village foreshore photographed in 1956 by Robert Walding.