THE AUSTRALIAN 53RD BATTALION - PORT MORESBY WWII
This webpage is about the Australian Infantry 53rd Battalion stationed at Port Moresby, Papua New Guinea during the early part of WWII. Most of the first-hand account that follows is courtesy of 53Bn soldier Peter Hayman.
---
LINKS TO SOME OF MY RELATED PAGES:
---
INTRODUCTION
Port Moresby lies on the southeast shore of Papua New Guinea and is built around two major harbours - Fairfax Harbour, the island's largest harbour, and Port Moresby Harbour right next to the central township. As the city capital and administrative centre of PNG, it has the greatest population density in the country. During World War 2 Port Moresby was coveted by both sides for control of the Coral Sea and the South Pacific Ocean. The Allies turned back the Japanese naval forces destined for Port Moresby in the 1942 Battle of the Coral Sea. The area became a major American and Australian staging area and airfield complex in support of the Allied push to the north of New Guinea. Japan suffered a further blow in 1943 when they were routed on the Owen Stanley Range. This webpage is mostly concerned with the role of the 53 Battalion CMF/AIF in providing labour for the loading and unloading wartime supplies of ships in the harbour; and with providing local defence and construction of defence works there. The 53rd Bn were at Port Moresby for most of 1942.
---
LOCATION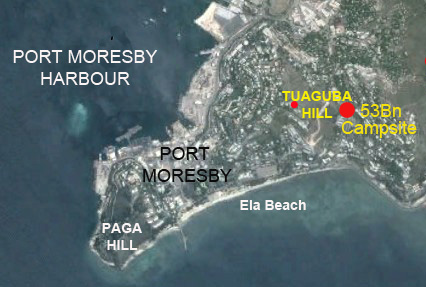 The location of the 53 Bn campsite is shown to the right. In the centre on the the peak of Tuaguba Hill is the location of the 23 Heavy Anti-Aircraft Battery shown by the red dot. This hill was also known as "Ack-ack Hill". To the left on Paga Hill is where the 6" guns of the Paga Heavy Battery were located.
---
THE ARRIVAL OF THE 53RD BATTALION
In October 1941, it was decided that the 53rd Battalion CMF - who were training at Bathurst, NSW - would be sent to act as a garrison force in Darwin, Northern Territory. The battalion was brought up to full strength from other Militia units, but by December as they were due to embark for the trip to the north they were still below strength and in order to meet this shortfall they received a draft of 104 conscripts. Taken at short notice from units in the Sydney area, many of these men had just turned 18 and had received little or no formal military training. They embarked upon the Aquitania, but instead of being sent to Darwin they were diverted to Port Moresby, arriving there on 3 January 1942 and becoming part of the 30th Brigade. Japan had entered the war the previous month and the battalion was to form part of the garrison for the port in case of a possible invasion.
Suffering badly from malaria and other tropical diseases, the men were mainly used to provide work parties instead of undertaking the training that they would require for the fighting that would come.
---
PETER HAYMAN'S WAR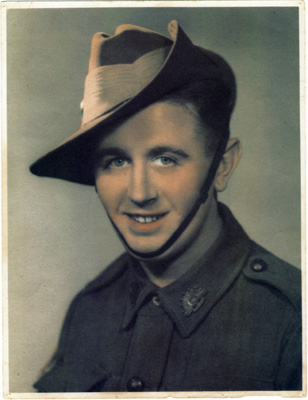 Lance Corporal Peter Henry James Hayman
Lance Corporal Peter Hayman N281927 was born in London in July 1922 and came to Australia when he was six years old. His father worked on ships between Australia and England but upon becoming sick when stopped in Melbourne decided to stay in Australia. Peter's mother packed up the family belongings in England and migrated with their two sons to Melbourne to join the father. After six months the family moved to Sydney where job prospects seemed better. At the end of his schooling Peter obtained a job as a metalworker with an Italian firm in Sydney.
Peter enlisted in the CMF (Militia) in 1940 and attended his first camp at Greta, NSW (Australia). After 3 months he was back to work and awaited call-up which came on 5 November 1941. While undergoing training at Ingleburn with the 53 Bn CMF the men were told to prepare to leave for Darwin. On Christmas Day 1941 they had a Christmas dinner at the camp and were all given leave until 10 pm. A roll call at 10 pm found 275 men were missing (AWL - absent without leave). They straggled in by dawn on the 26th. The troops were sent the 50 km to Sydney by train and departed for Darwin aboard the Aquitania on the 28th. Once aboard the ship they were told that plans had been changed and they were actually going to Port Moresby to garrison the town and defences. As they sailed up the coast they celebrated New Year's Eve aboard the ship. A total complement of 3817 troops (according to the War Diary) was aboard the ship and this included not only the 53rd Bn but also the 39th Bn and various other units such as dental, ambulance, anti-aircraft, and field regiments.
The ship arrived in Port Moresby on 3 January 1942 to a basically empty town as most of the civilians had been evacuated a week earlier.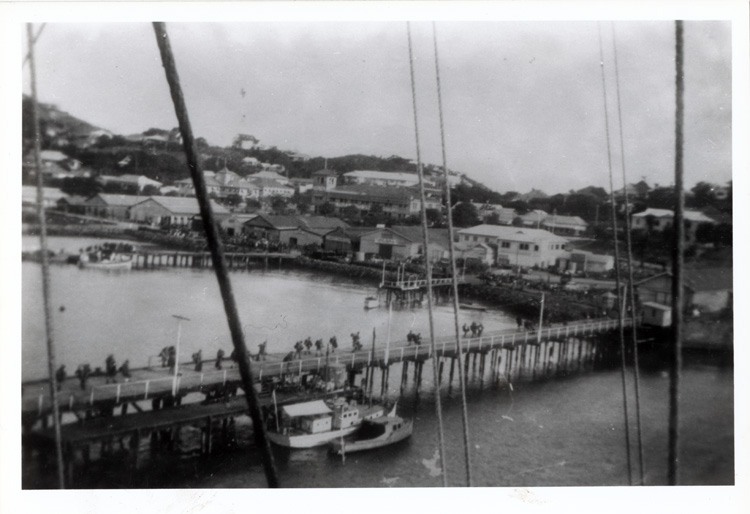 Men of the 53 Battalion landing at Port Moresby - 3 February 1943.
This photo was taken from the cruiser HMNZS Achilles (formerly HMS Achilles of Battle of the River Plate fame)
that transferred the men from the Aquitania to the wharf.
The Aquatania was too large to berth at the wharf so it anchored a little way out and several boats ferried the men ashore. The 53 Bn were the first to disembark - at 4.30pm into the light cruiser HMS Achilles. Other boats being used were the destroyer escort HMAS Swan, and the lifeboats of the Aquatania and Achilles. Upon arrival, it was discovered that the bedding for the 53Bn had been loaded first on the ship and wouldn't be unloaded for several days.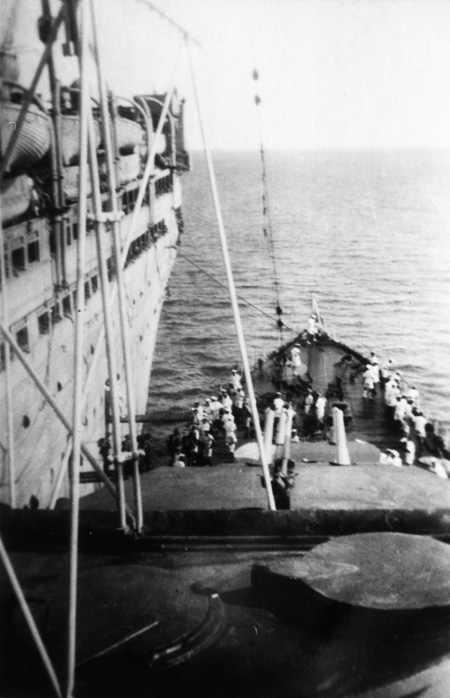 Transferring from the Aquatania to a corvette
Peter and his fellow troops were told to leave their kit bags on the wharf and they would be brought to their camp later that night. All 4 companies of the 53 Bn departed the wharf and turned inland for about a mile to vacant land at the base of Tuaguba Hill known as "Simpson's Gap" or just "The Gap". This was to be their campsite. It was dark and they had marched towards lights which they assumed was their camp. But they marched past the lights and didn't really know where they were. The kits never arrived so the men spent the first night on bare ground. There were no cooking utensils so meals were improvised. Fortunately, it was summer and it didn't rain. No-one knew where the other companies were camped. Their Commanding Officer was Colonel Arthur Key - CO of 2/14 Bn (whom they saw little of).
WAR DIARY 3 JANUARY 1942


An interesting account of this first night was also written by 53 Bn soldier Neil Robinson from Strathfield, Sydney. He was 19 years old.
"We arrived at Moresby on 3 Jan, 1942. We trudged with loaded kit bags, packs, haversacks, rifles and bayonets, some load. We tramped in the heat out of Moresby to a hill alongside the high hill which held the ack-ack guns and searchlights. This was just one of the works of genius from General Basil Moorhouse Morris, the idiot in charge of Moresby. "The hill was rough and stony, with light scrub. We had no tents or mosquito nets, no food or provision for toilets. We dug individual holes where we could for toilets and settled down on the hard ground trying to protect ourselves against the mosquito hordes, no doubt they all carried dengue and malaria. The native village of Hanuabada was nearby. "Everything we lacked was packed in the hold of the ship. We borrowed food and cooking utensils...." [26 August 2006]
| | |
| --- | --- |
| | |
| | |
The following day, A and B-Coys sailed across the Harbour to the village of napa Napa where they were tasked with the job of preventing landings in the area. Raymond Paull tells the story in his 1958 epic, Retreat from Kokoda. Paull's book, written from the official war histories, support's Hayman and Robinson's account: "The battalion's tools, cooking utensils and mosquito nets, loaded at Sydney before embarkation, were not delivered [ashore] for 10 days. Until they arrived, the cooks improvised. Day and night the men attacked Port Moresby's voracious mosquitos. Latrines had to be excavated with borrowed picks and shovels. Meanwhile, dysentery depleted the battalion's strength by one-third in the first five weeks..".
WAR DIARY 9 JANUARY 1942


| | |
| --- | --- |
| | |
| Athol the C-Coy cook did the best he could. Mainly meat and vegetables (M&V) and bully beef. | C-Coy men at Port Moresby |
For the next few weeks the job of the C and D-Coys 53 Bn was to unload the boats in the harbour. Peter Hayman found a blank bank-book in town and decided that would make a good diary. It is from that little diary that the following excerpts have been taken.
Late January 1942 [Diary entry]
They woke us up at 5.30 am to go and unload one of the boats that was in the convoy with us. The boat had been unloading for a week before it was our turn. It certainly had a load on it. As we marched onto the wharf the party before us passed us going off duty. Some had full sacks over their shoulders and nearly all had suspicious bulges in their shirts. Getting onto the wharf we were divided into four parties. Two parties on each winch each end of the boat. While one party unloaded the other party was resting (and eating). The cases of food were unloaded in slings, each carrying about twenty cases. One would slip out and would burst on the wharf. Of course the boys could not let the loose cans go to waste so they promptly took care of them. I then noticed our friend L. Cpl. H. row up in a small boat. They had a plan engineered between themselves. Also the cases of beer which had burst open were quickly disposed of. Getting back to the boat they soon had it full up with canned fruit, several cases of beer, one case of tea and a couple of bags of sugar. This left a freeboard of about two inches. They then had to row right round Paga Pt. to Ela Beach where they buried the loot in the sand. This was done twice. The point that annoyed me was that one clique took all the fruit and stuff worthwhile and left the rest in the sand including the tea and sugar. The natives probably got the rest of it. The C. would not touch the stuff and the organisers of the whole plan would not have anything to do with it after the stuff had been dumped. No wonder the newspapers said "the troops of Port Moresby didn't give the beer the chance to leave the wharf'.
Peter said "It was obvious that ships had to be unloaded quickly as they were very vulnerable at the wharf and as transport was at a premium cargo was moved around to a sports oval in the Ela Beach vicinity for temporary storage. It was piled high in the middle of the oval. To guard against pilfering a middle aged lieutenant with a party of men were on hand to watch the stores and this was done by continuously roaming around the perimeter of the pile. What they didn't apparently realise was that the troops were also going around the pile at 180 degrees which put them out of sight and there was plenty of loose stuff lying around from broken cases." [Pers. Comm. 2014]
WAR DIARY 13 FEBRUARY 1942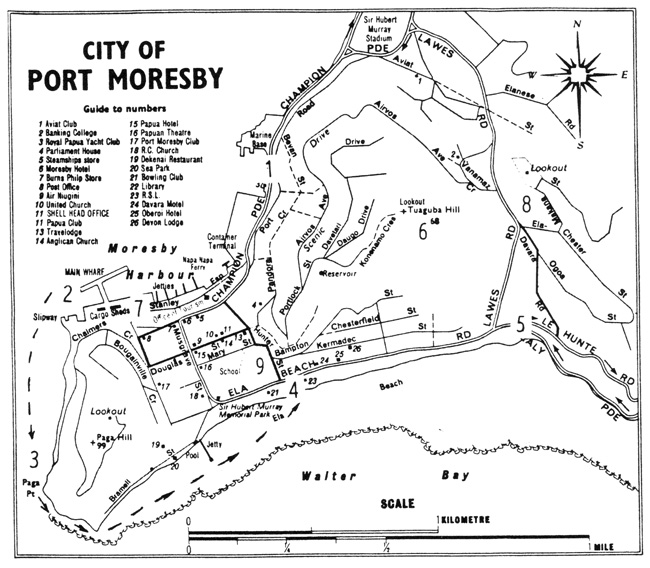 Legend: 1. Road we marched around; 2. Wharf labouring; 3. Route of rowing boat; 4. Burial of loot; 5. Lorry dumping area - 12th March 1943; 6. Ack-ack Hill - 23 March 1943; 7. Air Raid - 29 July 1943; 8. Approximate site of our tent camp; 9. Temporary food dump.
FIRST AIR RAID -3rd February, 1942 [Diary entry]
I was awakened about quarter to three Tuesday morning by everybody shouting to get out of bed. I got out in my pyjamas cursing. Planes were roaring around and I stood there with the others trying to pick up planes as they crossed backwards and forwards in front of the moon that lit up the place like daytime. Reports that came out later said that there were seven four-engined flying boat bombers. All of a sudden I heard a swishing sound that one could never forget and saw a flash and earth shoot skywards over the bay to the left. It was followed by an explosion. Even then I wasn't convinced that it was an air raid until the others yelled out that they were Japs and it was an air raid. We didn't need telling twice and were soon crouching in the bottom of four slit trenches. Altogether there were about thirty bombs dropped, most of them falling along Ela Beach starting from a hundred yards from Barrett's tent, two hundred yards from us and in direct line with us. Lucky for us they didn't start dropping any sooner than they did. They also machine gunned our area riddling a forty-four gallon drum and kerosene tin with bullet holes. These were only twenty yards from Barrett's tent. The ironic part about it was that the day before we were groaning because we had to go flat out and dig slit trenches as we had just arrived in the new camp site on the Sunday.
| | |
| --- | --- |
| | |
| Peter does his washing. | Hotel Papua - "The Pap". |
3rd February, 1942 [Diary entry continued]
Needless to say the slit trenches went down twice as deep next day and the white tents were soon blackened out with mud and leaves. One bomb had landed very close to one of the houses. It blew the chap out of bed and next morning he was more concerned about his lost false teeth than his house. Like all other houses it was made of fibro and the explosion had cracked it all. Another bomb had landed a few yards from a native shop and just about demolished it. Next few days saw all the natives leaving town making for the hills.
There was an ack-ack battery at Tuaguba Hill near his camp but Peter never saw it. During air-raids he could hear the men cheering and laughing - and someone playing a piano. Yes, playing a piano during air raids.
6th February, 1942 - Friday [Diary entry]
Another false alarm at two a.m. We were digging our defensive position just above my tent when a captain came down the hill. He asked us what we were digging for and when we told him he said he was putting in a searchlight on top of the hill directly above us and also advised us not to dig there as it would draw bombs and bullets from the raiding planes. We promptly downed tools and reported to Platoon Commander. Then the searchlight was dumped at the bottom of the hill preparatory to be put in position. We were then taken over the hill and told to dig a new lot of slit trenches and a new campsite. Then, owing to a part of the searchlight being broken the installing was delayed and we never shifted. The searchlight crew came and took the light away, much to our relief. We had the ack-ack hiB one side of us the A F. on the other so we didn't want a searchlight on the other side. The bombs dropped near enough now without more targets around us.
| | |
| --- | --- |
| | |
| 53 Bn: 24-year old officer Lt Rowland (Rolly) Leslie Logan NX 127634 at the searchlight under Tuaguba Hill. | Colonel Ken Ward CO 53Bn and Lt Rowley Logan. Ward was killed at Efogi on the Kokoda Track - 27 August 1942. |
8th February, 1942 -Sunday [Diary entry]
Generally on Sundays we have the day off. Some do washing and others write letters. The only drawback is carting water up to do the washing. This week we were lucky, owing to heavy rain the slit trenches were full of water and it was used for washing. We had to bail them out but in the case of J. R.'s trench as fast as we bailed it out it came in just as quick. A little spring spouting out of the side was filling it up. I have even drunk the water. Being on the side of a hill the water was seeping through the earth. In one air raid alarm they were sitting up to their waists in the water.
| | |
| --- | --- |
| | |
| Shower time at Port Moresby | Nice view! |

16th  February, 1942 -Monday [Diary entry]
Reccie planes had been coming over nearly every day and been getting away with it, but to-day the ack-ack went off the first time. Must have given him a nasty shock and was soon scooting back home. We are all wishing we had air support. We don't want another Malaya episode here.

28th February, 1942 - Saturday [Diary entry]
It is marvellous how keen our ears have grown. One can pick up planes now very easy. The drone of the lap bombers is very distinguishable. To-day the sirens were very faint. We stood outside our slit trenches ready to duck in when they arrived. One of the fellows yelled out that there was a dogfight on in the hills to the left and that one was crashing. One turned around to see one falling into the hills. We were sure then that we must have fighters and had shot one down. Then five planes tore across the sea and we didn't know if they were our planes chasing Japs or Japs chasing ours. They turned out to be Jap fighters. As they flashed by the wreck they gave it a burst to warm up their guns. They tore into the harbour, machine gunning and cannoning. They set two Cats on fire which went to the bottom and seriously damaged a third. Meanwhile two waves of five and six Jap bombers crossed over us dropping sixty to eighty bombs. They were soon driven off by ack-ack fire. By this time we had our slit trenches covered over as a protection from ack-ack shrapnel and bullets. We used two doors from the bombed native shop and covered them with rocks and earth. On top we camouflaged with tufts of grass and round the entrance we built up with sandbags. Our tally for to-day was two bombers and a fighter which crashed itself.
| | |
| --- | --- |
| | |
| How not to eneter a trench. A staged photo to lighten the mood at Port Moresby. | During an air raid. Peter Hayman posing for the camera. |
5th March, 1942 -Thursday [Diary entry]
Had an alarm about 11.30pm and the planes were over the top of us by the time we were out of bed. The spotter must have been asleep, he put over the excuse that he didn't want to wake the boys up as he wasn't sure if they were lap planes. The bombers passed right over us and dropped bombs at the aerodrome and three mile camp. The all clear was given and we were back in bed for awhile when the alarm went again about 2 a.m. Friday. We tumbled out again and dived into the slit trenches, and weren't the mossies fierce. I had always said that the day raids would be worse as they could see their target, but after this night raid I'll have the day raids anytime. These damned laps drone backwards and forwards dropping a bomb here and there, mostly on the Air Force. Soon they made off and we found that we were in the slit trenches for an hour and a half. I sat there shaking like a leaf. I couldn't help it as I felt calm, being used to the raids by now. I think it had something to do with the shock of jumping straight out of a sleep and hearing the planes overhead.
| | |
| --- | --- |
| | |
| One of our Dive Bombers | The C-Coy Lewis Gun at Port Moresby |
7th March, 1942 -Saturday [Diary entry]
As usual we crawled out of bed about 6.30 and we were called on parade as we were. I thought straight away that something serious was wrong and I was right. Lt Valentin told us that a Jap convoy was on its way and would be here by Sunday sometime and that the Navy and Air Force were co-operating with us. We were then detailed different jobs. Some were on the wiring party to finish putting up the fence that had been started and that had been interrupted by the ridiculous six day bullring. Others were carting water to the Post, others were collecting food. I was fixing up the Section Post where it was needed. We were working like Trojans. We went on all day Sunday which was our rest day. We found out later that we were the only mob told all this baloney. Saturday we had a raid often planes. A second raid later in the afternoon took place over Seven Mile. That night we went on with our little Saturday night concert.
| | |
| --- | --- |
| | |
| Playing Two-Up during a lull. | Band Practice. Peter played the E-Flat Bass. |
Peter Hayman was a drummer before the war so naturally he joined the army band. The Bandmaster said to the men "get an instrument and whatever makes a noise is yours". A sergeant later asked the men "is anyone interested in music" and when Peter put his hand up the sergeant said "put that piano on the truck". [Interview 22 May 2014]. Peter also said in a letter [8 July 2014] "Early days in Port Moresby saw many of us (lower ranks) wandering around deserted town and houses with nothing else to do. With all the civilians evacuated, they had just left their houses intact with all their belongings except what they could carry. The troops had an open go. One chap had a great delight in telling me that he found a full set of drums in an empty hall, knowing I was a drummer."
9th March, 1942 -Monday [Diary entry]
On wiring in the morning when we were caught in a raid. We all dispersed and sat among some rocks under some trees. I felt safe there as I would anywhere else. Planes circled around. One then detached from the formation and circled back He was very cunning in this move because when the ack-ack opened up he went straight for the gun and let his deadly load go. We heard them come down over our heads as we crouched among the rocks. When we got up to the top of the hill we saw the ack-ack hill enveloped in a cloud of dust but luckily no damage was done. The planes being so high up makes it look as if they are directly over us and when they drop their bombs it makes one believe that the bombs are intended for him. But I felt reasonably safe as the bombers aim their bombs at a military objective such as the ack-ack hill. In that afternoon we heard planes again whilst on the wiring and again took shelter in the rocks, when we saw two small planes come flying in very fast. We are always wary of fighters as they will tear in and out before one is aware of their presence. As the planes came nearer we could distinguish the stars and stripes on the wings and tail. They were Douglas Pursuit planes and were piloted by Yankees. We gave them a rousing cheer as they passed over thinking that our fighter support was at last beginning to arrive. But as we found out later they were off an aircraft carrier and were returning. They assured us though that help was on its way.
| | |
| --- | --- |
| | |
| Japanese bombers as seen from the ground at Port Moresby | Small bomb in simulated exercise. |
10th March 1942 -Tuesday [Diary entry]
Boat arrived to-day with two hundred A.I.F. specialists. An alarm was sounded but no planes were seen. I think they bombed somewhere else. This afternoon after work I decided to make some toffee. We had plenty of sugar having scrounged a sack full. Also plenty of butter. All tinned stuff. I made the toffee and had four plates full. Well the night after there wasn't a bit of toffee left. I have a three and half pound tin of butter here so I might try making some more another day.
| | |
| --- | --- |
| | |
| Guard duty at Port Moresby. Posed photo. | "Mates together" - men of C-Coy, 53Bn |
11th March, 1942 -Wednesday [Diary entry]
We were told that we would be paid at twenty to eight outside Lt. Valentin's tent. We lined up when the alarm went off. We decided to stay and wait. Lt. Valentin sent the runner down to C. H. Q. to tell the O. C. we were ready. Lt. V. told the runner to use a bit of initiative and not go straight to the slit trench after him. We certainly laughed at that. Anyway he came up very uncertainly looking around the sky. When he got here he told Lt. V. to disperse half the men. He was paying us when a plane was heard overhead and he ordered all the men away but as it turned out to be a Hudson we all came back. The all clear sounded then and the O. C. grumbled "they ought to be shot" really meaning ''they ought to be shot for frightening me like that". I was picked again for beach piquet. This duty meant patrolling Ela Beach all night from 6 pm to 6 am. We did three hours on and three hours off. Had to sleep in the day but I could never sleep in the day anytime. The alarm went again at dinner time. We lined up as usual for dinner but as the planes came overhead we went for our holes not wanting to take unnecessary risks. Twelve planes came over in close formation. It was a cloudy day and they probably couldn't see the ack-ack and were scared of coming down low. They finished up by dropping ninety-six bombs on an old copper mine. We went back to dinner and Lt. V. was dishing out the pie when the all-clear blew.
"I think this must be the time when the Jap radio reported that they had bombed the Port Moresby "railway line". It was obvious that they had only bombed ore carrying trucks and lines of an old copper mine." [2014]
| | | |
| --- | --- | --- |
| | | |
| | The 53rd at Moresby | |
12th March 1942 -Thursday [Diary entry]
Received boat mail. The letters were all old dated and should have been received -about a month ago. Also received a slab of chocolate from Sylvia. It was melted but I soon drank it. The night before, we had on piquet, between us all, scrounged two dozen two pound tins of coffee. I grabbed a frying pan and a saucepan. This night whilst on the beat I noticed the trucks were pulling up outside a desel1ed native shop and dumping a few cases of tucker. Later on a lorry pulled up and loaded the dump on. I stood there and after the driver had offered all sorts of excuses I grabbed a case ofpears which had two dozen tins. It certainly was a job carting it up the hill. Altogether we had four cases of fruit and on another night we grabbed two bags of sugar. We might as well take it. We never get sugar in our tea. The same night we saw five Flying Fortresses come in. They certainly are huge things. They were not the same type that I had seen before.
| | |
| --- | --- |
| | |
| Bruce Ashbrook - July 1942 | At the C-Coy Camp |
19th March, 1942 -Thursday [Diary entry]
Usual raid about 10 a.m. Bombs dropped. Good ack-ack shooting. They certainly can place them well. We heard to-day that a large force had left Lae and were coming, coming overland to Port Moresby via Markham Valley. Before they got here they would have to cross over fifty miles of mountains from nine to thirteen thousand feet high. From latest reports from a chap who just returned from Markham Valley with native prisoners, the Japs only penetrated about six miles led by missionaries and natives.

21st March, 1942 -Saturday [Diary entry]
Jap reccie plane over very early to-day 7.30. The ack-ack let him have two shots which, had they been on the same elevation would certainly have brought him down.

This day was the day that everybody had been waiting for. Because our fighter support started to come in. Four Kittyhawks (Curtiss P40) came in about dinner time. We being on the sea could see that they were our planes as they gave the right signal as they flew in over the reef. But as they came over the land they were greeted by machine gun fire. The 49th Bn thought they were Jap fighters coming to strafe the airfield. We were always told that the planes would be in on a certain day and they would never turn up so no one can blame anybody for not recognising them. The Squadron Leader just missed being hit as the bullet passed in front of and behind him. It just goes to show how the boys are prepared for the Japs. The Squadron Leader was just about to let them have a burst when they ceased fire. Later that evening as we were messing we sighted a flight of planes coming in from the west. There were thirteen Kittyhawks and one Hudson. They were (as the boys called them) the To-morrowhawks coming in at last. And could they move across that sky.
WAR DIARY 21 MARCH 1942



21st March, 1942 -Saturday [Diary entry continued]
The same day two hours after the first four arrived a Jap reccie plane was seen around. Would the fighters go up after him? The ack-ack opened up and the shells were bursting all around him. He then disappeared from sight as it was a very cloudy day. What was that? more Japs? Another roar of motors are heard and we strain our eyes. I am lucky. The goggles that Sylvia sent me have proven their use. They enable me to stare into the sky and avoid sore eyes. We are all standing by our slit trenches with tin hats and respirators but we never get it unless it is necessary. They are too hot. The roar of motors are heard and at sea now just out past the reef. Next minute a Jap bomber is seen tearing from cloud to cloud. Then out of the clouds burst two of our Kittyhawks. We all give a cheer. The bomber is low down and doing plenty of dodging around. Our planes dive at him repeatedly from underneath. The roar of cannons and the rattle of machine guns are heard above the motors. What's up! One of our planes is in a dive - no! he's all right. He levels out a few feet above the water and is into the attack. If only it was a clear day so that we could see it all. The bomber is moving very slow from cloud to cloud. Something must be wrong with it! Then flash! up in the clouds a flash of flame is seen and then a plane is seen falling to land with a huge splash into the sea. A cloud of thick black smoke and flames reach slowly up and join the low hanging clouds. Then it gradually disappears. The boys all cheer then check themselves. It might have been one of ours and not the Jap. Two fighters were seen during the fight but we didn't know how many were up. They circled around a few times and then came in. The official report received before says ''two fighters going out to intercept bomber back within an hour", did we cheer! It will do us if they keep that good work up. The night after whilst on piquet I walked up and down Ela Beach looking for anything that might have floated in. But nothing was seen. But when the next piquet went on one chap M. H. found a little canvas bag with a rubber float in it in the shape of water-wings. It definitely came off the plane. But to his luck the Intelligence claimed it and it was sent back to Australia. No one will ever know if I ever get any souvenirs.
| | |
| --- | --- |
| | |
| C-Coy had to patrol along Ela Beach at Port Moresby. You can see the barbed wire they installed. | Another photo of the barbed-wire at Ela Beach. Peter recalls doing lots of 'wiring'. |
SOUVENIRS & PASTIMES - Peter's recollections 2014.

When circumstances allowed and time hung heavy, many fellows took to making souvenirs out of anything that came to hand. A popular material was Perspex, a clear plastic, mostly acquired from wrecked aircraft windscreens. It was always said that if ever a plane crashed, the rescue teams arrived to find it stripped of all the Perspex. I remember that if one shaped something (hearts were popular) it could be sent by courier to another area to someone who had the expertise to dye it a nice deep red, of course for a fee.

Rings were quite often made from silver. In those days, the coinage was mainly silver and a two shilling coin was mostly used. To do this, one needed a small hammer and a steel block or something similar. With the coin on edge it was continuously tapped as it was rotated. This spread the metal and decreased the diameter to the necessary size. The centre was cut out, the ring shaped and polished. The only thing was that being silver it made the wearer's skin go black.
Another popular souvenir was the ashtray. The base, a cut down shell case, varying in diameter, a bullet standing up in the centre, topped by an aeroplane built from a bullet for the body and wings made from flattened brass also from a shell casing. One chap was a real craftsman; he could shape sheet brass into the true form of aeroplane bodies and wings and then solder the assembly almost invisibly.
One man rigged up a primitive lathe driven from a bicycle wheel. He made cup type trophies from reshaped shell cases for various sports meetings.

A ex-AIF sergeant joined our battalion and wore an Africa Star ribbon from the North African campaigns. The colours of these ribbons discoloured in the hot and humid conditions. Someone came up with the idea of making a "ribbon bar" from Perspex -I got the job. The source of material was old toothbrush handles, which I was able to obtain from Stores. The rule was that we had to put in an old toothbrush to get a new one.  I found a curious thing if you heated up the handle, it reverted back to a round shape, apparently the material had a 'memory'.
I was lucky to have some very small needle files and very small diameter drills that Dad had sent up to me. I would have liked a small "egg beater" type drill but one was not available. I had to drill by twisting them in my fingers, a long and tedious task.
The Africa Star had a yellow background with a light blue, a dark blue and a red stripe. This was constructed by filing dovetail shaped slots into the yellow base and sliding small coloured strip into them. They were held in place by very small plastic pins of the same colour. A pin was fashioned from wire for the back.
Later on when we were in Bulolo, our brigadier must have heard about my so called talents and gave orders that I get a half-day ''No Duties" to make him two imitation medal ribbons, no charge of course was coming from that job.

The finish of these souvenirs was of course important and it was soon found out how to achieve an acceptable appearance. Getting to a rough stage was done with a fine grade of sand paper and then for the finish stage, toothpaste from our canteen was ideal followed by a polish with Brasso, which was sent up, from home. Being in the Band had its advantages as we had to have Brasso to clean our instruments.
Acetone was normally used to glue Perspex but when this was in short supply we used Mosquito Repellent. At the end of the war when we were waiting to come home from New Britain, two campaign medals had been awarded and we were issued with lengths of ribbon and ordered to wear them - but how? Once again several of us put on our thinking caps. Being Bandsmen, we were also stretcher-bearers and had access to medical stores, which included strips of malleable aluminium sheet that could be bent around broken bones as splints. We cut strips a half inch wide by twice the width of the ribbon, be it one or two. After the ribbon was wrapped around the strip it was bent in half over the ribbon. A fixing pin was fashioned from signal wire and threaded through holes in the back. I don't remember what we charged for them but it was a "captive" market. I was in hospital when a mate called in with my share - £9-0-0, a princely sum then!
Although it was a shame, chaps used to catch butterflies. There was quite an abundance of brightly coloured ones. The wings were wrapped in cellophane (from cigarette packets) and fashioned into strips. These were then plaited into belts. The belts could be sold or sent home to girl friends or wives. They were purely decorative as they were not all that strong. Brass plates from Japanese machinery or vehicles were popular as these could be cut up, bent and made into matchbox holders. Japanese samurai swords were made from old Jeep springs by American soldiers and sold to unsuspecting customers. Jap flags were made from parachute silk with the red dot painted in with medicinal Mercurochrome. Japanese characters were copied on to articles to make them look authentic -even if they might have meant "Gents Toilet" which I believe did happen!
With grog unavailable or being in short supply, it was amazing to what extremes blokes went to, particularly the Yanks. It was said that some drank the alcohol out of compasses with drastic results. I once saw in a grass hut, a 44-gallon drum full of an evil looking liquid topped with scum and floating debris. Someone was brewing Jungle Juice. Another trick was to bore a small hole in a coconut and empty a little of the juice. Then it was stuffed with raisins, rice and whatever was handy. A tapered wooden plug was tapped in and wired to stop it blowing out. It was then buried out of sight for weeks or months to mature.
Having a Japanese gas mask, I took out the eyepieces, which consisted of two rings that screwed together onto the face piece. The two glass inserts made nice little picture frames by sandwiching two photographs back to back between the glass.

Realising the possible danger of the troops sending home explosive material, the authorities ordered that anyone wanting to send things home would have to forward them to a specially set up section who would check the safety of the material and delouse it if necessary and then send the item to the owners home address.
I think most blokes were on the lookout for a Japanese rifle for a souvenir. I was amongst a group who were last to leave a position, which was subsequently taken over by the Americans. To return to our unit meant travelling for several days via a number of camps for food and accommodation. One morning a couple of our group decided to go put with an American patrol to check up on the sighting of a Japanese patrol. They were mad, of course, as we were on our way out from operational areas. However, I asked one, if possible, to bring me back a Japanese rifle. Arriving back, he handed me a rifle saying, "Sorry about the blood on it, I had to kill him to get it!"
WAR DIARY 15 MAY 1942


I carried that rifle plus my other gear all the way back to Port Moresby where I contracted malaria again. I finished up in hospital. You had to leave all your personal gear in the hospital Gear Store and as you might guess on my discharge from the hospital the rifle was missing! No wonder base troops weren't popular!
I heard that our doctor had come straight from university to our unit. Being Stretcher Bearers meant being only that but he decided to give us lectures to the extent of almost to doctor training level. We were camped in a relatively quiet area. The enemy had been pushed back and this gave us the opportunity to retrieve the remains of our unfortunates. We were requested to bring back enemy remains (bones) if possible as they could be used for anatomical lectures. I always thought that type of behaviour was internationally illegal but feelings were high against the Japs due to the way they treated our prisoners.  I got the job of sawing off the top of a skull. Another chap had the macabre idea of taking home a shoulder blade as he thought it would make a good ash tray!
Unknowingly we did silly things. We found ammo dump, so we whacked some large cartridge cases against a tree to loosen the projectile and then emptied a trail of cordite to a larger pile of cordite. We lit the trail and watched it bum to blow up the pile of propellant. Ifs a wonder that we ever made it home!

Being in the band gave us the opportunity to make our own entertainment and also entertain others. The officers made use of our talents to play at dances when nurses were available. With our talent, we were able to form a swing band and were able to give concerts for hospitals and convalescent camps. Someone found a gramophone and some records and they got quite a bashing. One chap had a record sent to him of Lena Horne singing Cow Cow Boogie. Unfortunately it didn't survive the journey. Undaunted, we stuck it together on one side with sticking plaster which resulted in Cow Cow Boogie with a lot of simulated horses hooves! Finally the gramophone spring broke but we kept on using it by rotating the table with our finger. This gave quite an unusual dimension to the music!
It amused us to think that we were forward patrol in New Britain, within contact distance to the Japanese and we were able to bake sponge cakes and doughnuts in the jungle! We were always trying to get a bit of variety into our diet and at that time some of our rations consisted of powdered egg (yuk) and tinned butter which one poured out of the tin! A lot of the food was packed into five-gallon drums so using the empties, the tins were propped up on rocks, covered with dirt and a space under for the fire ergo -an oven. We had access to some flour -our cakes and bread went down very well.
Whenever possible, we tried fishing, the true and tried method being a grenade lobbed into the creek or river which usually gave a good catch. On the previously mentioned patrol, a mate and I, being bored decided to try and catch some fish with spears in a nearby creek. Because of the position we were in, the camp was surrounded by booby traps to eliminate surprise attacks at night.
During the day the traps across the main track were taken down. We were heading towards the creek and had left the main track when my mate said "I think you've tripped something!" I turned around to see a trickle of smoke arising and my mate flat out through the bush.  All I could do was go down with fingers crossed. Up it went, luckily no harm done but it did scare the daylights out of the camp -they thought that they were being attacked! This adventure cost us a one pound fine and the end of our fishing trip.
23rd March, 1942 - Monday [Diary entry]
I decided to make a bed to-day as nearly everybody else had one, scrounged or otherwise. The only wood I had was a plank nine foot long by two inches thick hardwood so I set to work and cut it right down the centre. Made the frame and fitted legs in slots and even if I did make it myself. I reckon it was a good job considering the tools I had. As I was in the middle of the carpentry the alarm went about ten to two. I kept on sawing until I saw nine bombers overhead then I went to the slit trench. I soon jumped in when I saw ten more coming the other way. These were accompanied by four Zeros. The bombers as usual had a smack at ack-ack hill but as usual did no damage. They put bombs all around it but never seem to hit the top. The hill was blotted out with dust caused by "daisy cutters". We all thought at first that the top was hit until we heard a voice yell ''you dirty stinking little yellow b's" at that we knew they were all right. Just down from the top there were two m. g. posts. One bomb landed between the two. An anxious voice yelled from the top "are you all right machine gunners?" the reply came back ''what the bloody hell do you think would be wrong with us?" Nine of the bombers concentrated on the hill and the other ten concentrated on the aerodrome. Four Zeros also machine gunned the drome. The only damage was to two Kittyhawks already grounded. Three of the Zeros were brought down by gunners around the drome, some ofwhich were members of this Platoon. The trouble found mostly in the guns were faulty mags. The raid didn't last very long but it was our biggest raid. The Jap wireless had warned us to expect pepping up of the raids, so it looks like they have started the week off.
Peter explains: The term "daisy cutter" was given to bombs which were designed to explode above ground level with the blast spreading outward with disastrous results. Usually a bomb penetrated into the ground with the result of an upward blast.

24th March, 1942 -Tuesday [Diary entry]
About 7.30 a.m. just after breakfast we spotted a column of black smoke miles out to sea. It turned out to be another reccie plane shot down by one of our fighters. The alarm went at 10.30. This time eighteen bombers came over. Two lots of eight and ten crossing each other. Six of our fighters went up and could have wiped out six bombers in one swoop but they were ordered to land.

I think there must be fifth column at work here. Not many bombs were dropped and the raid only lasted half-hour. Back on piquet that night and as usual, went to the Navy Barracks for the news. The wireless was out of order as the bombs had blown down the wires coming from the powerhouse.
| | |
| --- | --- |
| | |
| C-Coy soldier manning the Bren Gun | Gas masks on at Ela Beach |
25th March, 1942 -Wednesday [Diary entry]
Another raid this morning at 9.15. We only saw three bombers, four others believed intercepted. One drops out of formation over the wreck and drops six bombs in the water. He must have been hit by ack-ack ftre which is very accurate, and jettisoned his bomb load so he could get home. According to reports, whether they are true or not I don't know, six K. H's are left out of the seventeen, six serviceable planes. They have either been shot, crashed or done up. This is only within five days. Three boats are sighted on the horizon. It is a boat convoyed by two corvettes. It is carrying troops. Unloads at night and sails early next morning, it got stuck on the reef and all day the two corvettes were trying to pull it off.
| | |
| --- | --- |
| | |
| Nothing like a swim after an air-raid. Peter Hayman bears all. Peter is not sure where this was taken (he did it all the time). Thinks it could be on the northern coast of New Guinea | Camp at 3-mile Valley just outside Moresby. |
28th March, 1942 -Saturday [Diary entry]
An alarm went at 1.30pm and three bombers and five fighters were reported.  We soon heard that distinctive drone of the Jap bombers and we saw them heading for us towards the sea. At the same time we saw the fighters engage with our fighters in a dog fight against the white clouds over the drome. They were like little dots up there as they dived and twisted. We could hear the cannons and machine guns banging away. Although our planes are by far the superior, the Japs can out-manoeuvre them. I kept my eyes on the bombers for awhile then lost sight of them. I yelled out to B. M. and asked him where the bombers were. He yelled back "bugger the bombers I'm looking at the dog-fight over there". We are all getting a bit cocky now we are used to the raids. I then picked up the three bombers out at sea heading straight over the boat which was still stuck on the reef. I thought it was in for it then, but apparently the bombers had released their load over the drome. They passed right over it and after circling the town made off home. Our fighters soon drove the Zeros off with the loss of one to their two.
30th March, 1942 -Monday [Diary entry]
Two Flying Fortresses left early this morning and were joined by five more.
Someone is going to cop it to-day. The boat, which had been pulled off the reef, had returned to refuel and it left this morning at 9.15. About 12.30 when we were lined up for mess we heard a plane very low and took no notice, thinking it was one of ours. But when it came out of the clouds it was a new type Jap bomber. It looked nice shining in the sun. I couldn't help running for the slit trench, nor anyone else as it was directly above our area and could have strafed the lot. It certainly was a game pilot as he circled the ack-ack four times and they let him have fifty-six shells. He then made off home. Later on in the evening five more K. H's arrived accompanied by a Hudson. Over the wireless the big-wigs predicted big air battles over Port Moresby to decide the supremacy of the air. I know who I think are supreme.
31st March, 1942 - Tuesday [Diary entry]
Not doing much these days. Most of the platoon is away on different duties. I am O.
C. of the spotters, we do two hours on and fourteen (?) off. About dinner time, the plane that was over yesterday, returned and after circling once the wing just fell off as the plane was over Three Mile Valley. The plane jettisoned its bombs and then dived down to earth. Twenty minutes later an armed party found what was left of the plane and its crew of five. There must have been an explosion of some particular kind as not one of the bodies was intact and the men were picking up pieces of the body and trying to piece them together like a jigsaw. Not one of the faces were there and one half of a face was found in a tree two hundred yards from the wreck. When they dug the tail out of the ground, they pulled out the cannon and found one shapeless mass which was the gunner. We all think that there must be sabotage somewhere because about this period we had reports of planes collapsing in other parts of the Japs' taken-in territory.  I only hope that it keeps up. Eight dive bombers arrived 7.15 this evening. Twelve more coming Doug. Pursuits.
3rd April, 1942 - Good Friday [Diary entry]
Attended Church Parade this morning. Was attended by the Bishop of New Guinea. His area is mostly north around Lae and Salamaua. On his way to Port Moresby his yacht was machine-gunned by the Japs. Luckily he wasn't hit but his luggage was riddled by machine gun bullets. Next day at an officers conference the G. O. C. said that he was confident in his troops and their morale was high. But the only thing that spoilt them was the pilfering. He said that when the Bishop arrived at the church, he found it ransacked. He set to work and fixed everything up and coming to work next day found it ransacked again. I think the culprits ought to be shot.

Getting back to the G. O. C's speech, he said that Port Moresby would never fall and that the tide was turning against the Japs. They had made three attempts to invade but had been destroyed each time. More dromes had to be built and as fast as they were completed the planes would arrive to fill them. Already Kela Drome (which can be seen from my tent) was finished and was for the dive bombers. It was a well known fact that twenty per cent of Jap planes were grounded owing to shortage of pilots. The air bases taken in Markham Valley were under four feet of water. Never before has it been known to rain so heavily. It must be an act of God. Also the troops in tropics would be relieved every six months so I am still keeping my fingers crossed that 1 can celebrate my birthday at home with my family which I miss very much.
"Being within sight of Kela Drome, this must be about the time when an American bomber taking off over our camp cleared its guns a bit early and we were sprayed with a burst of5 bullets right down the middle of two rows of tents. How lucky can you be sometimes." [2014]


5th April, 1942 - Easter Sunday [Diary entry]
I am getting a bit fed up lately because my duties caused me to have the day off and with nothing to do it gets very monotonous. Anyway about 11.30 a.m. seven bombers and three Zeros came over. Our fighters are engaged with the Zeros and the bombers dropped their load on the drome. The result of the fray was two Jap bombers and one Zero with no losses on our side. The Jap fighter pilot was at large. I was a bit glad they came over, but only for the reason that it provided an exciting half hour and broke the monotony. But that wasn't the finish of the excitement for the day because during the afternoon seven huge bombers, namely Martin Marauder B26 came in. These planes are on the same design as the Hudson 6 Flying Fortress. They are twin engine and single tailed with tricycle landing gear owing to the length of the body which sticks out in front.

About 5.30, tea time, a lot more planes began to pour in. R S sighted a plane then it was five then it went up to ten then it went up to about twenty-five. Would they never cease coming! This lot included seven or eight Bell Air Cobra fighters. They can outdo any other plane with a speed of 460mph. Four two-seater planes, probably Curtis pursuit planes. This was followed by an Empire Flying Boat, probably our mail. Another Martin Marauder followed by three Flying Fortresses. Then there was another Flying Boat came in then five North American bombers (N A 40As). These are twin-engined, twin tail and tricycle landing gear. To end this flight two more Martin Marauders glided in. What an Easter Egg. The boys certainly let their heads go. But why get excited over thirty planes. That's only chicken feed. But as the G. O. C. said there were more planes coming. They had better come soon.
| | |
| --- | --- |
| | |
| Peter Hayman's bed | His tent |
6th April, 1942 -Monday [Diary entry]
Decided to build a table for the mess. Went down to Koki  Village to see what wood we could find. While we were there we noticed a lot of planes flying around and thought there was something on. Ten dive bombers were flying around in circles with K.h.'s above them. Then the ack-ack went off and as we saw the bursts we picked up seven Jap bombers coming straight over us. We were under a tree near some shelters but I didn't feel like diving in six inches of mud which was on the bottom of them. As the bombers passed over our heads we heard them unload, they must have let everything they had go in that salvo. We heard them swish, swish over our heads and involuntarily we ducked. I just kneeled behind the tree, knowing that bombs were directed -on the airfield which was on the other side of the mountain.

The boys lost all confidence in the air force for letting the bombers get away with it. Still I suppose there is a reason for everything that is done unless there is fifth column at work. It is reported that two fifth columnists were found at the drome. After dinner we had a truck for awhile, so we went to a timber yard and found all the wood we needed for our mess table. Back about 3.30pm and had a fifteen foot table built by tea time.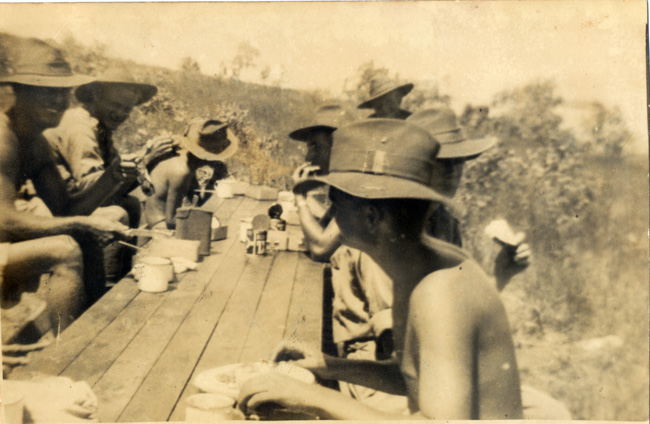 Men of 53 Bn enjoying lunch. Mess table at Suicide Gap, 1942
7th April, 1942 -Tuesday [Diary entry]
Awakened at 5.00am this morning, we have to be at the wharf at 7.00am to unload a boat that hadn't even been sighted at sea yet. At 6.00am our bombers were flying around in formation preparatory to going on a raid at Lae. Look out Lae! The boat is sighted at 7.15am. Lt. Valentin had offered five shillings to the first one to spot it. R S saw it first. We left for the wharf at 7.30 and like all the Army arrangements we had to wait hours before anything was done. After getting up 5.00am! While waiting for the MALAITA to arrive I had the opportunity to examine the bodies and motors of three wrecked Kittyhawks. The number of dials and levers just took my breath away. The fuselage from the cockpit to the tail was a mass of cables, wires and rods. One of the K.h's had been shot down and two had run into another. They were going back to Wagga by the boat. We started unloading cases of apples and oranges, K.h. ammo, trucks, beer, canteen stores. I had a taste of the first decent bread since I've been on the island (the stuff we get is always mouldy or rancid).

The Captain is a good old chap and practically allows us the run of the ship. I went down into the galley and had a nice drink of iced water, gee I wish I was going home on it. I found there was no chance of getting my drums home yet. There were some A. I. F. landed from the boat. We keep calling them A. I. F. although we are all the same now. Whilst we were waiting that morning, an American dive bomber pilot strolled onto the wharf. He looked a dreary sort of a fellow and was soon surrounded and being bombarded with questions. He had a revolver holster slung low on his hip and a wicked looking knife sheathed at the back of it. The bombers that left in the morning did up nine bombers and six fighters at Lae. According to the news brought back by some of the boys we expect to have Rabaul. They also brought back two bags of sugar.
| | |
| --- | --- |
| | |
| C-Coy men on a Bell P39 Aircobra | A wrecked Kittyhawk. Rather blurred. |
8th April, 1942 - Wednesday [Diary entry]
Nothing much to-day. Finished off the wiring at last. The boys went for the news and besides bringing that back, also brought back a case of milk and a case of apricots. If they won't feed us too good in the army, we will have to feed ourselves.
10th April, 1942 -Friday [Diary entry]
Started on another small stretch of wire. An alarm about 10.00am with seven bombers over and three zeros. Eight K.h's were up and we could just see little dots in the sky as they were engaged in a dogfight. I saw one Zero come down in smoke and the tally for the day is two bombers and one fighter. I heard some news to-day which came from brigade through our O.C. We would be camped in Wollongong by the end of July. The Anny decided to relieve us every six months and give some others a go. There were forty-two thousand returned A.LF. II and one hundred and fifty to two hundred thousand Militia at home so it was only fair that here, that on the 16th we are going for a forty mile march into the bush and staying there for a fortnight. They call it a vacation. When we get back home they will probably have the hide to say that it was a part of our leave. We have to work in the morning and have the afternoon off. What annoys me (and everyone else) is that we have to take our tents also. We are all settled down here and have beds and a lot of gear we have collected that we can't take. It will all be pinched by the time we get back, most likely. I think we ought to jack up on them.
11th April, 1942 -Saturday [Diary entry]
Still wiring. Another alarm at 9.30am. We kept on working as we were always told to but nothing came off. It's funny what one gets used to. We don't give a damn when we hear there are planes on the way, just the usual routine, as it seems. A few months before one couldn't get us out of our slit trenches. Received a tin of biscuits from Sylvia, boy am I going to gorge. Things have been looking black for us in the Philippine Islands but according to the news they are still holding their own. The wireless is certainly boosting up the men of Moresby. I believe from reports that we are the talk of Sydney. According to the casualty list at home, Teddy Morecroft our Sergeant has been wounded. We have also driven back the Japs and goodness knows what else we haven't done.
When I think of all the wiring we did. Trenches cut into solid rock and not very deep at that. Each section post was so scattered from others. All defences facing the sea. Haven't we had that experience before? Sneak in the back way while everyone is looking the other way!
| | |
| --- | --- |
| | |
| The cargo and passenger MV Macdhui being unloaded at Port Moresby wharves - April 1942. The ship was sunk by Japanese bombs on 17 June 1942. | Truck unloading ships at Port Moresby - 1942 |


12th April, 1942 -Sunday [Diary entry]
Yesterday another boat pulled in called the Macdhui. I have been expecting them to put us on wharf party for Sunday. Well it came and we had to go at 4.00pm until twelve that night. I missed out as I was on duty as a spotter. I was sitting here talking to Sergeant M. when one of the chaps came back with a cut thumb which happened while unloading barbed wire. He said he had seen and spoken to about one hundred and sixty fellows who had escaped from Rabaul after it had been taken by the Japs. Some of them had surrendered when asked by the Japs and had been tied up then bayoneted and shot and then left for dead. One had eleven bayonet wounds in his back and came out of it. Another had been shot at by five Japs. Two missed one hit him in the wrist, one in the shoulder and one in the leg. That was at twenty yards distance.

According to them, the Japs seem dull witted; they didn't seem to realise they were being shot and didn't duck down. Their weapons and accuracy were very poor. Most of the men were bare footed, including a major, their clothes were filthy and what got most of them down, was ulcers, malaria and dysentery. The natives helped them a lot and when they were taken on the rescue ship they enjoyed a meal of luxury, bully beef and bread! Their one ambition is to get well again and have a smack at the Japs again for bayoneting their cobbers. Fourteen hundred men at Rabaul accounted for about seven thousand Japs at the first landing. They ran out of ammo or they probably would have held it. From what I hear of the Japs method of fighting, I am convinced that if they ever attack this place (which I think for certain they never will) they will be wiped out like flies. They have to get here first, having already made three attempts. I can sit here in my tent and look out across the Bay onto Kela drome. It's a great sight to see the planes come swooping in. They swoop down very low over my tent as they come into land and we can see the pilot and the gunner sitting up there. The gunner is sitting with his back to the pilot ready behind the wicked looking twin machine gun.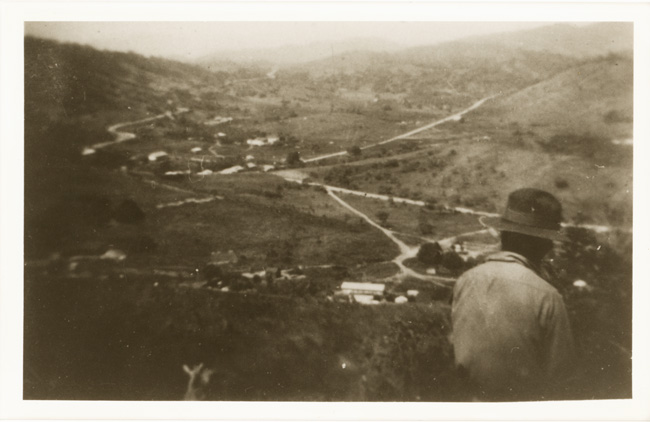 Camamity Corner 1942 - just outside Port Moresby
14th April, 1942 -Tuesday [Diary entry]
Nothing doing to-day except we were issued a comfort in the fonn of a bottle of cordial each. But there is no water. The drum has been empty for the last four days. To-day is one of those days grey, windy and raining miserably. It is the kind ofday when one would like to be at home seated snugly on the lounge in front of a nice fire, a good book in one hand and your best girl on the other arm. But who would want a book when you've got your girl with your cheek nestling against her soft hair shimmering with the reflection of the dancing flames, a faint sweet perfume drifting up and tingling your nostrils, her cool white hands clasped in yours as you both gaze at the glowing coals at the bottom of the grate. What is the future for us?

The 53rd on a 15 mile route march near Port Moresby
16th April, 1942 -Thursday [Diary entry]
We set out about 8.30am to go on a fifteen mile route march. The plans were that next Sunday we were to march forty miles out and stay there for a fortnight doing bullring most likely. Nobody was in favour of this and I don't blame them, going on route marches on active service when we are in a defensive position. I still think there is a fifth column at work somewhere. We were to do twelve miles the first day, sixteen the second and fourteen the next. Anyway it was cancelled so we set out to-day instead. It was alright going along the road even if it was rough, but when we branched off into the tracks! Phew. This country is certainly bumpy. One moment we were stumbling up and through dense scrub and the next moment we're travelling through barren country. As far as I'm concerned there is nothing tropical about the country we're travelling through, it just looks like any part of the good old Aussie bush. I guarantee that one hill we came down or rather slid down was about 89 degree angle. After that we walked mile after mile through flat country with six foot tall grass on each side of the track. Away in the distance the tall ridge of hazy blue mountains stood out, capped with a mantle of snowy white clouds. For all appearances they looked like our Blue Mountains. It doesn't matter what one looks at up here it will remind him of something at home. Anyway when we finally staggered back into camp we found that we had travelled twenty-one miles all told and even if I am a tee-totaller I welcomed a glass of beer. I had brought three bottles only to sell them again to the more hardened drinkers.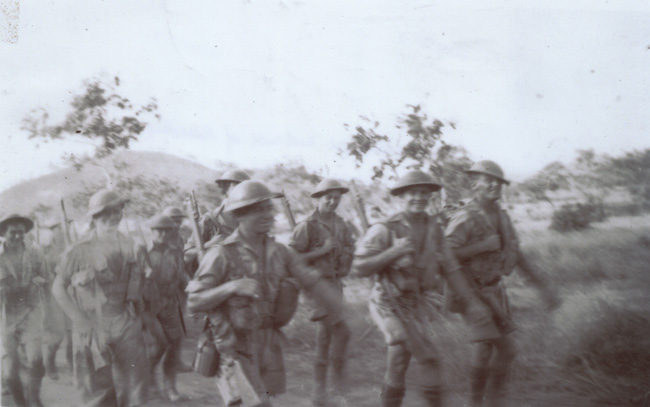 "On exercise outside Moresby".
The three men in the front row are: Jack Wilde, Arthur Knapp and (possibly) Merv Rixon.
18th April, 1942 -Saturday [Diary entry]
Had an alarm about 1 0.30am just as we were making coffee. The Kittyhawks went up as usual, seven this time. The word came down that seventeen bombers were coming instead of the five that were reported. Later we heard the roar of many planes, and being used to planes by now we knew they weren't ours. Although they seemed overhead we couldn't pick th m up at all. Then someone said something about paper falling and I immediately thought of leaflets. I found out later that they had picked up three small pieces of paper, pages out of a Jap calendar. It was cheap paper and the months and days were in English and the rest of the writing was Jap. There might have been some meaning to them but I couldn't attach anything significant to them. They say the Japs dropped leaflets two days before they attacked Rabaul, but they were in English and these were in Jap. Anyway the all clear went an hour and a half later at twelve.
21st April, 1942 -Tuesday [Diary entry]
For the last few days we have been discussing the news that we were moving down the coast about fifty miles as ack-ack personnel to a secret drome. It was a paradise. Fruit and crystal clear river. Anyway we were awakened as usual at 5.00am this morning and were at the wharf at seven. The boat was to be loaded and away by nine. While we were loading the alarm went and eight bombers passed overhead. The ack-ack shooting was the best I have ever seen and the shells were bursting right amongst them. I found out later they tried to bomb Kela drome, which could be seen from our old tent, but it missed by a mile. We would have seen a show that day. The fighters accounted for three bombers and the ack-ack one. We finally got under way. An eighty foot ketch loaded with stores and about a hundred men. I sat right at the bow. The sea is very smooth owing  to the reef stopping the breakers but as soon as we passed through Basilisk Passage, the opening in the reef, did the boat rock and dip. Being up in the bow I was soon drenched, so were the rest of the fellows and the equipment. But being salt water I didn't worry and soon dried out. When lunchtime came we were given packages containing three doorsteps of jam and cheese. The sea made me hungry and I soon tucked into them. The other chaps were over the side most of the time. We were then told that the sandwiches should have lasted for at least a day as we were informed that we would be on the boat for a day and a half. We all thought we would be on the boat about seven hours but as we missed the tide because of a late start we couldn't get over the sandbar at the mouth of a river called Galley Reach. We anchored in Red Scar Bay for that night. Luckily we were able to open the hold and get to the stores or we would have gone hungry till we reached our destination. That night I settled down between the anchor chain and the bowsprit and every time the boat turned I would get squeezed by the tightening chain.
22nd April, 1942 -Wednesday [Diary entry]
At daybreak we started off again after asking the natives who were fishing, the direction and we were soon chugging up the river. We spotted a crocodile and one of the boys let fly at him and he soon made off. That was a signal for everybody to stand at alert hoping to see a croc. But luckily for the crocs we never saw any. We passed a few native houses on the bank full of gins and did the boys howl. About midday we reached as far as the boat could go and after a lot of mucking about we were normally transferred to a smaller boat and taken up a smaller river or creek. We got off at Kanosia, a rubber plantation run by a Mr Mackenna. He allowed us all to sleep in a smoke-room for that night as it was raining. There wasn't one mossie in it and we all slept without nets.
23rd April, 1942 -Thursday [Diary entry]
Set out to march seven miles to the drome. They were passing out all along the road owing to the heat. I was left behind with eight others as a loading party for the stores but the natives did it all. Anybody with experience will tell you not to spoil the natives by mixing with them or paying too much for anything. But the natives were spoilt that day as the boys traded left and right with bully beef for water melons and paw paws. Did I tuck into those paw paws. About 9.30am we heard aircraft and soon picked up eight bombers and eight fighters on their way to do up Moresby. Later some plane swooped over the drome and the man who saw them reckons they were Zeros. It goes to show how secret the drome is. The word came by truck to send out more tents but as we had sent out all the tents, numbering four, we decided to stay at the plantation that night because there were four tents for about eighty men. There is certainly a lot of organisation in the Anny, I don't think! They had gear belonging to fellows who couldn't get on the boat and fellows who couldn't get their gear on the boat. On the whole it was a big muck-up.
24th April, 1942 Friday [Diary entry]
We left the plantation about 11.00am and joined the others who were camped in a coconut plantation. I have never seen such looks of misery on faces as I did that morning. They were clothed from head to foot and were continually swatting the mossies which were there in millions. It was a night of hell as they described it. The C. O. set out to see if he could find a better spot. He decided on an area, about a mile away, near a house. The mossies were fierce there (and while I'm writing this too) and not being settled properly we all slept in the house.
25th April, 1942 -Saturday [Diary entry]
Next morning the boys decided that they weren't going to stay in a place where even a native wouldn't stay. The natives said that we were doomed. We soon told the officers what we thought. Just then we heard aircraft followed by machine gun fire coming from the drome and we dived into the bushes at the side of the drome. Then three zeros dived down over us about fifty feet above the ground and I could see the pilot and the big red dots on the planes. The officers who were with us at first then turned against us and ordered us to set to work on slit trenches. But the boys held firm. They agreed to man the ack-ack at the drome for protection to the graders but they wouldn't stay at the camp. We went to the drome and by the end of the day the big strike seemed to fade away. We set our nets up in the tent and just settled in when it started to pour. The tent had no fly on it and also had holes in the top. The water dripped (or poured) through the holes and collected in the concave of my net. Then it started to drip through. Then the water ran underneath me and after wetting all the thickness of the blankets I had I finally (about 5.00am next day) went to sleep.
"Our main job on the drome was to be as lookouts for Jap planes. The bulldozer drivers could not hear them coming over the noise of their own machines. lfwe were to see them, we were to fire our rifles which the drivers could hear and that gave them a chance to get down behind the bulldozer blade for protection. As soon as the drome was operable all the American fighters would leave Moresby when a raid was imminent and fly down to us! Damned if I know why. It gave us a chance to see some of the planes close up." [2014].

26th April, 1942 -Sunday [Diary entry]
The C.O. worked out a roster and it was: One day on drome, one day on camp duties and one day off to go where we liked i.e., a crystal clear river about five miles away. This day was my day off including my tent mates, so we decided to shift the tent. The ground in our tent was a veritable mud pool. The mossies worry us to death and if any of us get out of it sane, we will be lucky. My platoon Commander said he didn't wish us any harm, but he hoped we all got sick. It was the only way to get out of this place. Anyway getting back to the tent. We started to clear another possie as the grass was about four feet tall. Then we heard aircraft. Nine Jap bombers coming back from Moresby were heading directly over us. One of us jumped into twelve inches of mud in the bottom of a half finished slit trench.. lay down in the grass. We all thought we were going to cop a packet because just before they reached over the top of us we heard the swish swish, but they landed near a native village about a mile away. We thought we would cop it because the house was near us and that the Japs might think it would hold stores. It will probably get a bashing before long. After they had gone we finished our tent off. That night we had a more comfortable than the one before although I was lying on a rock I didn't level off.
| | |
| --- | --- |
| | |
| Life in tents at Port Moresby | Tentmates at Moresby |
27th April, 1942 -Monday [Diary entry]
Up till the day we left Port Moresby, we had had about thirty raids with approximately three thousand bombs dropped. Very few casualties were caused and very little damage. We had accounted for twenty-four Jap bombers and twenty-one fighters with a combined effort of ack-ack, and fighters and machine gunners. Now we have left Moresby we won't be able to keep check.
21st May, 1942 - Thursday [Diary entry]
I was only thinking to-day of the number of different types of aircraft, allies and enemies. I know the name of ours but not of the enemies. When I first came here we had quite a decent lot of planes, I don' t think. About two Wirraways and five Lockheed Hudsons and a few Catalinas.
Wirraways:  not suitable now for fighters but I believe they make good dive bombers, not in the race at Rabaul.
Lockheed Hudsons: used quite a lot for bombing but I think they are now used for reconnaissance since the arrival of the latest American bombers. Catalina two engine flying boat, have done a lot of damage to the Japs but far too slow, 180mph.
Flying Fortress: huge planes bristling all over with guns.
Kirtyhawk: Fighters put on a good show but are outmanoeuvred by Zeros.
Bell Air-Cobra:  the latest so far in fighters. Outdo Zeros ifwe had enough of them. Engine at rear, cannon in prop.
Martin Marauder: twin engine single tail and tricycle landing gear. Big like the Fortress. I pity the Japs when they go over Lae, Salamaua and Rabaul.
North American Bomber: another huge bomber twin tail, twin engine and tricycle landing gear.
Short Sunderland Flying Boat: four engines. These bring out mail and sometimes bring troops. Plenty of armament on them.
Douglas Dive Bombers: twin seater planes. Machine gunner at rear.
Other planes I have seen include a Sikorsky Sea Plane owned by Shell Company, I think. I have heard it once belonged to Errol Flynn who lived up here. The old Faith in Australia type made several trips backwards and forwards. Glen Martin bombers landed here once.
17th June, 1942 - Wednesday [Diary entry]
As I sit down to write this, I am watching eighteen Jap bombers come out from behind a cloud. They are very high and they are glistening snowy white against the blue sky. They are extended out in one long line and up above them smaller still are nine silvery fighters. As they slowly come on, they are to the left of me and they gradually swing around. Then the ack-ack open up from the left and right of me but did not touch them. They are now out of sight and still turning in a wide circle. Over the Tokyo news, the Japs have said there would be a large force leaving Port Moresby about this date and that they would give them a fitting farewell. Perhaps that is the reason they are over to-day. Also there were twenty-two yesterday but they went straight over and away. This is the first raid since we arrived back in Port Moresby. I can't understand though, why our fighters haven't gone up after them. The sound of their engines have died away and that's the last of them. I thought it funny them coming over Like that, but the news I heard later wasn't funny. They landed a bomb on the Macdui, killing five and injuring six, the eleven having been medically boarded out and on their way home. Poor devils. I never heard any bombs falling or exploding. This afternoon two reccie planes over. I suppose they were looking for damage done.
30th June, 1942 -Tuesday [Diary entry]
Out to-day doing exercises bringing in platoon attacks. Just about to do one when a fire is started in front of us to burn out long grass. Told to attack through flames as if in action but walked around it. After the stunt was finished we made our way home and stopped for a spell in June Valley. We noticed smoke coming over ridge from direction of our camp. We thought our camp was burnt out. Then the flames leapt over the ridge and swept down the valley from one side to another. There was fire in front and fire at the back of us. The flames were about twenty foot high and it was getting hotter. We stayed on a little knoll which had very little grass. The fire swept passed and we made for home expecting to find the camp burned out. All of June Valley was black. Our camp had just escaped the fire, except for a few patches. That night the area looked like a city what with all the glowing timber. Next day we burnt off the grass around our camp area. Instead of the green hills of Papua it's the black hills of Papua.
To keep the troops entertained a number of sporting events were held. Here is a report on a sports meeting held at the golf club on 5th July 1942. It was reported in the Moresby Army News Sheet, 20 July 1942, p2.
| | |
| --- | --- |
| | |
29th July, 1942 - Wednesday [Diary entry]
Left camp to-day to be in at wharf by 5 o'clock for more unloading. My platoon was left as a relief so a few of us wandered around town. Saw a few wrecked planes, air-cobra, Kittyhawk and Beaufort bomber. Quite a lot of scrap steel and iron and machinery around. Then three big short Sunderland flying boats landed in the harbour, probably full of mail. Just about seven o'clock the alarm went and grabbing our steel hats we went around to the shelters at the docks. These were dug into the side of a cliff and as safe as anything. The searchlights picked up three big planes. Then all was quiet. Got sick of being in the shelter and although the all-clear hadn't gone went back to the wharf. Stood talking for awhile until we heard them coming back. The lights picked them up after the ack-ack bad opened fire. The ack-ack was firing by predictor. Three planes were coming over directly above and thought they would have a crack at the wharf. But they passed over the harbour and let fly at a searchlight that stayed on too long, and missed. It was nearly three quarters of an hour between the two shows. They must have gone out to sea for a while to wait until the moon came up. The ack-ack bursts were all over the sky and then I heard that swish. We all dived into an empty shop and then the shrapnel from the shells came tearing down. It was hitting the roofs with a fearful clatter. All clear went a quarter of an hour later and work was resumed on the boat The boat was a new one and wasn't finished, they were still riveting it forty days off the slips. The Negroes certainly go when they hear the alarm. The place is deserted after a few minutes. We left the wharf and returned to camp about 2.00am next morning. At 3.30 there was another raid, probably the same three as before. I woke up to hear the ack-ack going flat out but immediately went back to sleep. I certainly must have been tired to sleep through all that racket.
WAR DIARY 30 JULY 1942
At the end of July B and C-Coy were sent to the area around Kokoda to reinforce the 39th Battalion, while the remainder of the battalion remained around Port Moresby in preparation to move up the Kokoda Track.


There were no further entries in Peter Hayman's diary for a month as the men of the 53rd Bn stationed at Port Moresby undertook training and moved towards the front line where they were to replace the 39th Battalion. On 10 August the 53rd Battalion was ordered to relieve the 39th, which was at the time positioned around Uberi. On 12 August the two detached companies (B and C-Coy) were on their way to Uberi by truck and were issued with 8 Bren guns and emergency rations. The War Diary noted on the 14th August that there was "too much straggling". They were to find they were quite unprepared for combat against the battle-hardened Japanese soldiers that they were about to come up against.
WAR DIARY 17 AUGUST 1942
C-Coy at Templeton's Crossing


WAR DIARY 20 AUGUST 1942
Lt Logan reports platoon lost for some time.


For next four day the battalion encountered the enemy many times and lives were lost on both sides. C-Coy under Lt Parsons made patrols in to the forward area on each of the four days.
WAR DIARY 27 AUGUST 1942
Officers of the 53 Bn Colonel Ken Ward and Lt Rowley Logan were both killed this day.
Ward was killed at Efogi on the Kokoda Track, and Logan at Aburai.



As a result of this loss of senior commanders, communications between the companies broke down rendering co-ordinated action impossible and 53rd began to fall back. This came at the worse possible moment for the Australians, as it left a gap in their defences along the Kokoda Track, one which left the way open for the Japanese to march straight through to Alola.
29th August, 1942 - Saturday [Diary entry]
Moved into front line at 5.30pm without our tea which was already cooked. Withdrew later in night because we were outflanked. Canying mortar bombs all night.
This is where Peter Hayman and his Company gets cut off and lost.
30th August, 1942 - Sunday [Diary entry]
Made runner at BHQ. Stand-to at 2.30pm. Japs all around us. Attacked on all sides
5.15pm cut off from main body. Joined six AIF tried to get back to brigade. Slept because too dark for travelling.
The first thing we did was to abandon our tin helmets. With Japs so close we didn't want our position given away by them rattling. Decided to try and reach main track further along by going around the back of a mountain spur as the Japs were ahead of us on the main track. Unfortunately it didn't work out as unknowingly at that stage we kept getting further away from our main objective. One of the party was an old bushie from outback so I thought it prudent to let him lead the party even though I was the only N.C.O.

31st August, 1942 - Monday [Diary entry]
Left AIF and joined party of mates, six of us altogether. Reached brigade and found it deserted with Japs up above us and some ahead of us. Crawled through them under cover of bushes. Intend to go on to Ora Creek. Found track and followed it. Two cold to sleep at night so walked by light of moon. Rations carried are two tins of bully beef and two emergency rations.
Peter writes (2014): "Through all the years, the events of 30th August 1942 have always been hazy in my memory. I knew that I had been made runner at BHQ for messages to the AIF. It has become obvious that I had been at the 211 4th BHQ, as I know I was in the withdrawal with the AIF down into the Eora Valley. In recent times it has become clear as to the actual events. Patrick Lindsay's book, The Spirit of Kokoda, relates what actually happened:
"Just as Colonel Rey and the battalion headquarters were on the Track near the Rest House and about to withdraw, they were caught in a hail of cross-fire. Key, Bissett and about fifteen others leapt for their lives over the side of the Track and plunged into the Eora Valley. Phil Rhoden, the 2IC was nearby: "We were on the Track waiting to go back when this fire came .in from all sides. Something broke in front of us and then the whole thing collapsed like a house of cards. The next thing we knew, we were down on the low side of the Track sheltering from the fire. We just jumped over the side. It took us by surprise. I can recall being a bit like a policeman on point duty telling people 'Go that way. Keep an eye on the main Track and get back to Alola' otherwise they may have gone the wrong way."
31st August 1942 [Diary entry continued]
Left group of AIF to join up with some 53rd Bn, one of the 2/14th decided to come with us. Colonel Rey had been cut off, some days later he was captured and apparently executed by the Japanese.

1st September, 1942 -Tuesday [Diary entry]
Still following same track. Saw footprints of natives freshly made. Crossed river and started climbing. One tin of bully for the whole day between six. Found native shelter. Lit fire and went to sleep on an empty stomach. What a feeling.

2nd September, 1942 - Wednesday [Diary entry]
Had one ration for breakfast. Caught up with natives. Plenty of food on ahead. Found a dump of spuds and took enough for dinner. Reached village about 4.00pm and given food. Paid ten shillings for a but and food for three days. Didn't see food or ten shillings after that.
"We often found native gardens and small dumps of food (mainly spuds or yams) left on tree stumps. Obviously for travellers so we would never take it all, even though we were hard pressed at times." [2014]
| | | |
| --- | --- | --- |
| | | |
| | Villagers near Port Moresby | |
3rd September, 1942 -Thursday [Diary entry]
Finished up first day's food so went up for more spuds. Also tried to buy pig but wasn't lucky. Old but full of fleas.

4th September, 1942 - Friday [Diary entry]
Had to go after more food. Enough for to-day and some to take when we leave. All the gear we have is clothes we stand in and our weapons with ammo.

5th September, 1942 - Saturday [Diary entry]
Set out again carrying spuds. Crossed a river and I fell in. Started climbing, raining in afternoon. Shot guinea fowl. Reached top at end of day, and slept in rain under log. Freezing cold and hunger did not make us too comfortable.

6th September, 1942 - Sunday [Diary entry]
Still raining in morning. Found a dry but just after dinner. Made fire and dined on roasted fowl and spuds. Stayed night which was better than previous night.
"This must be the time when one of us leant over the fire and didn't realise that some bullets fell out of a pocket and next thing they were exploding all around us. Luckily no one was hit. About this time we must have been a bit blase about our situation, lighting fires at night and shooting birds, I don't recall considering the possibility of meeting Jap patrols." [2014]

7th September, 1942 - Monday [Diary entry]
About 11.00am saw a village in distance that we thought was on the main track, but just another native village. Received food and a but to sleep in. Shown track that led north. We wanted to go south.

8th September, 1942 -Tuesday [Diary entry]
Set out heading south. Two natives came part of way. Crossed big river with the aid of natives. Wasted time by catching fish with grenades. Caught seventeen big fish. Raining in afternoon so preparing old shelter we stayed the night under it.

9th September, 1942 -Wednesday [Diary entry]
Crossed the river and track faded out. We eat our last tin of bully. Recrossed river looking for track. River flooded and barely make it back across. Lost one boot in process. Made a slipper out of my leather legging.
"It must have been a flash flood for the river to come up so quickly. The only way across was over a six inch diameter log and I'm no tightrope walker. Decided to do it in bare feet and one of the boys was to throw my boots over, but one fell short. I fell off the log half-way across but managed to grab hold and pull myself out. We had all been wearing leather leggings. These had been dug out of archives (WW1) and were the type worn by tight horsemen. The idea was to protect us from picking. up scrub typhus mites as we walked through the bushes and jungle. I cut up one of mine for a sandal so I more or less hopped the rest of the journey." [2014]
10th September, 1942 -Thursday [Diary entry]
Had last ration. Decided to return to village and food. Reached river and was helped across by natives, gave us a bit of pig. How lovely after sweet potatoes and yams.
10 SEPTEMBER 1942
Their Commanding Officer 36 year-old Colonel Arthur Key (VX148) was executed by the Japanese at Isurava this day.

11th September, 1942 -Friday [Diary entry]
Resting at village. Not much tucker. Don't think the chief likes having us here. Offers bit of pig fat now and then.

12th September, 1942 -Saturday [Diary entry]
Set out early without kai (food). Hard travelling all day. Reached big valley with plenty ofvillages. Heading north. Very welcome. Had kai for first time to-day. Natives communicated to other villages by shouting across the valley.

13th September, 1942 -Sunday [Diary entry]
Stayed at village. By signs it seems like the only place we can get to is Kanosia by the river. About time we reached somewhere. Police boy arrives and is going to show us the track to next village where we will pick up guide to take us further on.

14th September, 1942 -Monday [Diary entry]
Started early with plenty ofkai. Struck many villages and got plenty ofkai when we all got pains. Mr. MacKenna is well known to natives. Slept in but with about a dozen natives. Woman often fixes fire for baby pig she cuddles. Oh! the fleas.
15th September, 1942 -Tuesday [Diary entry]
Left police boy and new guide takes us to next village by mid-day. Stayed rest ofday and got plenty ofkai.
16th September, 1942 -Wednesday [Diary entry]
Made early start and fmished about 2.00pm. Five boys with us carrying food. Probably take about five days to reach the flats and next village. Looks like one boy intends to trade when we reach Kanosia.
17th September, 1942 -Thursday [Diary entry]
Shot cockatoo for breakfast. Left fairly early. Waste plenty ofshots at birds but can't seem to hit anything. Pull up about 3.30 for night under rocks. Natives seem worried about food. H ave gone fishing in river and catch several small fish and yabbies.  
18th September, 1942 -Friday [Diary entry]
Left early. Old bloke seems worried about food. Will reach Corocco to-morrow. Stopped early to make shelter. I shot big pigeon. Native carrying rifle brings back tail of crocodile he shot. Also one leg, insides and other delicacies (to them). Big feed of meat and spuds to-night.
The natives with us who were mostly young lads took great delight in carrying our rifles. Wasn't all that surprised when they shot a crocodile but was amazed that they cut the tail off with an old army penknife. I thought crocs were tough. The meat tasted like a mixture slightly offish and pork. Very tasty to some hungry soldiers.
19th September, 1942 -Saturday [Diary entry]
Breakfast ofspuds and crocodile. Left early. Hear planes a lot. Should make Corocco to-day. Very flat going. Shot biggest pigeon in the world. Came on village about 4.0Opm. Police boy arrives after tea, speaks English. Kanosia about two days away. Had a bit more pig.
20th September, 1942 -Sunday [Diary entry]
Left early. Police boy takes us down river by boat to Mission for food. Had wonderful breakfast off tablecloth. Omelette, meat, spuds, bananas, salt, cup of tea. Listened to music. Set out for Veimauri Rubber Plantation. Arrived about 4.00pm. Australian owner with mixed patrol of Yauks and Aussies. Had shave, bath and change ofclothes and wonderful oh wonderful feed.
"Knew we were getting close to civilisation by meeting natives on the track. They have a habit of saying "lik-lik" meaning not far to go, but you are still going hours later. On arrival at the plantation we were surprised to find we bad walked through an ambush of American and Aussie soldiers. One of the natives we had met previously had tumed around and gone back to report a party of soldiers coming down the track, but couldn't say what nationality. The group had been stationed there to see if the Japs were likely to come through that way and if they did, they were to inform Port Moresby and then get out the best way they could." [2014]
21st September, 1942 -Monday [Diary entry]
Left 8.30am met launch which leaves about 4.30. Travelled down big river to Kanosia Had good feed at Mr. MacKenna's. Slept like logs in beds.
22nd September, 1942 -Tuesday [Diary entry]
Up early and transferred to old lugger. Engine playing up. Might get to Moresby to-morrow (thirty miles). Stopped all day at mouth of river. Big village of Mana Mana. Did a bit of trading for bananas. I think they got the best of the deal. All the natives evacuated from Moresby to Mana Mana when the raids started.
23rd September, 1942 -Wednesday [Last diary entry]
Made early start. Engine not so hot. Arrived Moresby about 4.00pm. In filthy state from engine's black smoke.
Peter writes [2014]: "Arriving in Port Moresby we walked up the main street from the wharf. What a sight we must have been, dirty, unshaven and me with one boot and one home-made sandal. Who should we meet first but our old battalion. A group, as usual, on their way to do a bit of wharf labouring. Regardless of protocol they all broke ranks and surrounded us. Very surprised as we had all been reported missing in action.
"That actual day our company Commander had letters written to send to our parents stating that all hope had been given up for us. We were really relieved for our parents sake that they weren't sent. Our first task was to send cables about our return to unit with letters to follow. My mother received my cable one day and on the following day received the usual telegram from the Government saying I was missing in action. It was a bit confusing but my mate, Bill Moore, was able to work it out and comfort my mother.
"Having been short on food for all those weeks, from then on it was backing up at every meal and I soon put on several stone.
"We had to interview the authorities whose main concern was whether the Japs could possibly come round the same route as we had. Our opinion was that we thought it would be very difficult, though thinking back, they possibly could have, but as it was proved on the Kokoda Trail their lines of communication would have really been forced to the limit."
BACK AT PORT MORESBY
When the men of C- and D-Coys of the 53Bn returned to Port Moresby they found that their gear that they had left behind had been taken. Peter said "When we came back from the mountains we wern't popular. The Base wallahs got stuck into our gear while we were away". On 27 October 1942 the 53rd battalion was amalgamated once again with the 55th Battalion (as it had been when training in Sydney in 1941). Peter Hayman was transferred to the 36Bn and became a stretcher bearer but this allowed him to become a member of the band. He is pictured below in the band "The Soputa Stompers".
| | |
| --- | --- |
| | |
| "The Soputa Stompers" - New Guinea 1942. They were a brass and swing band who used to perform for officers and nurses for their entertainment. | One of the men was a pianist but as you couldn't haul a piano around Papua and New Guinea he was given a trombone and told to learn that. |
WE LEAVE PORT MORESBY HERE
Peter Hayman came back to Australia on leave and was destined for Darwin. They realised he had malaria so sent him back to New Guinea - in the Lae area, He was off to keep an eye on the Japanese in Rabaul. Finally, he was back to Queensland - for a rest at Atherton - and a quieter time until the war ended.


General Peter Cosgrove signs a copy of "War on Our Doorstep" in which some of Peter Hayman's reminiscences are reproduced. (Mark Graham, The Australian, 2004). Peter Cosgrove laughed (above) and said "you're the fellow with the funny shoe" referring to the incident where Peter was crossing a river on the way back from Kokoda and his shoe fell in to the river and he fashioned a new sandal from his leggings.