INDICATOR LOOPS OF OF THE UNITED STATES NAVY AT
OCRACOKE, NORTH CAROLINA, USA
Another of the US Navy Loop Stations was operated on Ocracoke Island - located at the southernmost tip of North Carolina's Outer Banks, part of the Cape Hatteras National Seashore. It is a part of almost 16 miles of pristine, undeveloped beaches and is accessible only by ferry, private boat or plane. Today Ocracoke is popular destination for the family day-tripper, eco-tourist, nature lover, angler, or recreational boater.
---
LINKS TO SOME OF MY RELATED PAGES:
---
World War 2 Anti-submarine defences.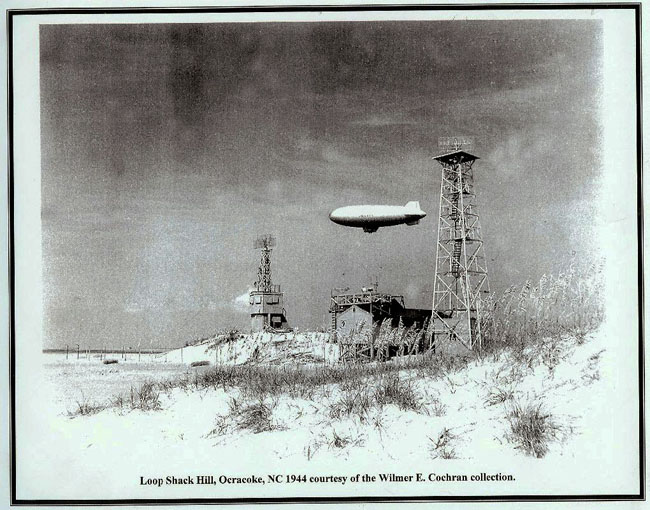 My thanks for the photo to Ellen F. Cloud, author, local historian, and artist from Atlantic, NC 28511.
During World War II, Ocracoke first served as a location for a Navy Section Base (6th Naval District) from 9th October 1942 to 1944; later as an Amphibious Training Station between 1944-1945 and as a Combat Information Center. Although the war was primarily focused on the European continent and the Pacific, Ocracoke and the rest of the Atlantic Seaboard became the prime hunting ground for the German U-Boats. Throughout both the first and second World Wars, the single most effective weapon targeting merchant shipping off the British and American coast was the U-Boat. At a conservative estimate, from January 1942 to the end of April 1942, over 200 ships totalling just over 1 million tons were destroyed on the Eastern seaboard (over 60 of these ships alone off the North Carolina coast).
About a mile to the northeast of Ocracoke Village was located the top secret "Loop Hut" (or loop 'shack') which employed new underwater magnetic indicator loops used to detect submarines by electromagnetic induction. As usual with all US Navy Harbor Defenses sound modulated radio sentinel buoys, listening equipment controlled from shore (HERALDs) and radio direction finding technology were also employed. Along with other stations along the coast, including Poyners Hill near Corolla, RDF receivers could intercept and triangulate the location of the U-boats when they transmitted their daily reports back to France.
Ocracoke Naval Base including the Loop Shack. Probably taken in 1944-45. (Ellen Cloud)

The last piece of the building that was still there in the 50s.
(Ellen Cloud)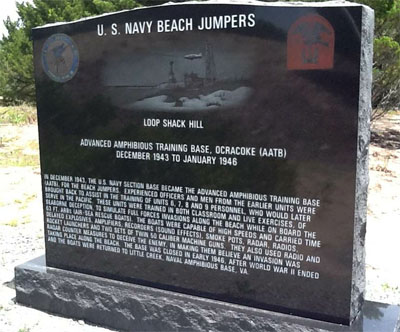 Memorial to the US Navy servicemen of the Ocracoke Advance Amphibious Training Base 1943-1946. The "Beach Jumpers" as they were known carried out highly secretive missions. Their mission was to create an illusion that one enemy beach would be invaded, when in fact the invasion would take place on a different beach.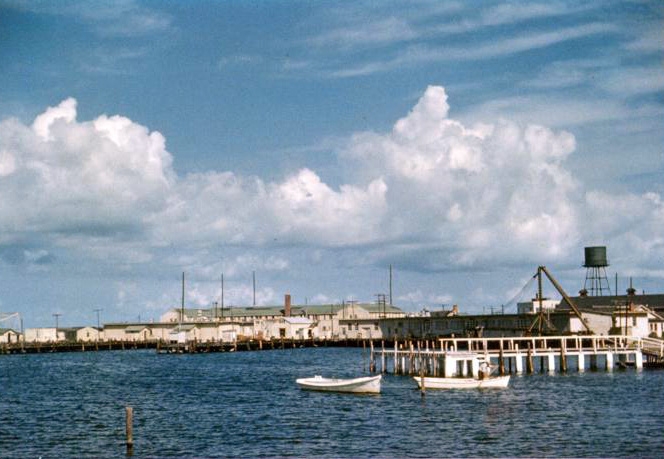 This photo of the Ocracoke Naval Base was taken from Silver Lake by LCDR Henning A. Rountree, Jr. USNR RET, in September 1947.
---
GLENN COX'S WAR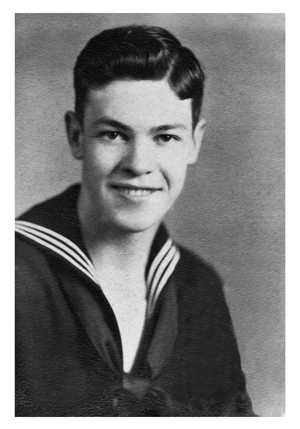 Glenn Marshall Cox, Sr., Radioman 3rd Class, Ocracoke Loop - about 1945.
Radioman Glenn Cox was stationed at the Amphibious Training Base on Ocracoke Island NC during WWII. He operated out of the "Loop Shack" from where the underwater loop was monitored. His story below is told by his daughter Cynthia Cox Cleland, from Clarksburg, West Virginia, USA [October 2016].
Dad was one of 21 children (yes, 21) of William Calvin and Faye Johnson Bickerstaff Cox, born in Clarksburg, WV (North View) July 30 1925. They grew up a bit on the poor side as even though my grandfather was gainfully employed in some capacity for the local streetcar company, the responsibility of feeding such a large family even with the provisions from a small farm was slim pickins for all. His siblings all grew up working hands on in every aspect of home and family care be it farming, butchering, childcare, cooking and cleaning. They were totally self-sustaining growing and preserving their vegetables and meats. My Grandmother Faye Cox made their butter, cheese, cottage cheese, everything. My aunts and uncles all cook and bake to some degree, some more than others, but they were all great cooks. My Grandmother and aunts all sewed their own clothing and quilted. Quilting was not just a "female activity" and many of my uncles also quilted right along with their mother and sisters. My Dad taught me to crochet as a child, and he also French Braided my long hair which my girlfriends found amusing and very much unlike their own fathers.
Dad was a good student and at Bristol High School studied typing, shorthand, accounting earning a scholarship to the local WV Business College upon graduation in 1943. Everyone was being drafted as soon as they graduated high school or were enlisting. He opted to enlist as several of his brothers were serving and he never made it to that Business College. Perhaps his clerical skills slotted him into radioman school as he was a very fast typist and he did tell me learning Morse Code was very easy for him.

| | |
| --- | --- |
| | |
| Betty (18) and Glenn (20) in about 1945 when Glenn was at Ocracoke Island. | Glenn and wife Betty Jean Morgan Cox and first child (Glenn M. Cox, Jr.) born during his deployment. Betty still has the telegram Glenn received advising him his son had been born (as well as his reply telegram). |
My parents met when Mom [Betty Jean Morgan Cox] was approximately 13 years of age and Dad about 15 as a result of his older brother Paul Loutrell dating my mother's older sister Madeline Morgan. Paul and Madeline didn't pan out as a romance but Glenn and Betty Jean did. They were head over heels in love. When Dad received his draft notice they decided to marry immediately before he left for basic training at Great Lakes Naval Station. This was November 26, 1943. They were married in the living room of my grandparent's home with my mother's older brother Rev. Ray Morgan officiating. It was a match made in heaven.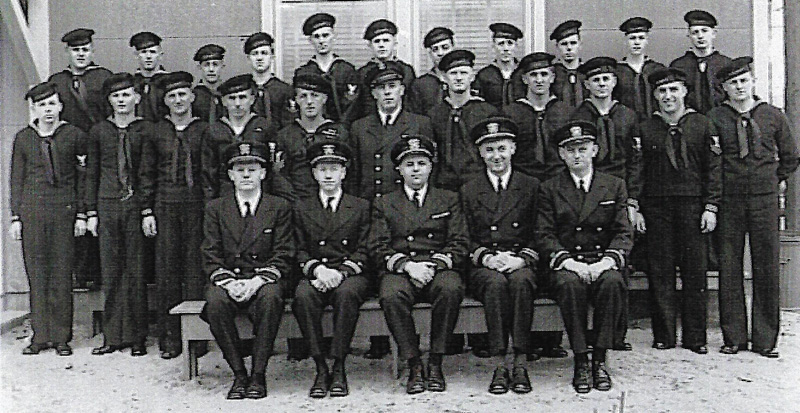 Glenn Cox is located back row, #2 from right. Group photo hand written date 1944.
Upon call-up, my father was trained as a radioman and stationed on Ocracoke Island, NC. He had described to me the underwater loop cable and it's function and the location of what he referred to as "the Loop Shack" from where he operated. He had the honor of receiving and transcribing the radio code message announcing the end of WW II to his Amphibious Training Base on Ocracoke Island.
| | |
| --- | --- |
| | |
| Photo of Glenn Cox with group of unidentified fellow sailors on Ocracoke Island Naval Base. Glenn is back row, center. | Glenn Cox formal photo. |
One image is of an article featured in our local newspaper during WW II, date unknown to me. Dad told me repeatedly he requested overseas duty but was denied because he had "too many brothers already serving". This photo just scratches the surface of his family military heritage as most of his brothers served with several being career soldiers and airmen. I love the photo of my Uncle Paul (the Marine). I always thought he looked like a movie star. Uncle Vaughn Cox was with the 101st Airborne, jumped in the D Day Invasion; shot several times before he hit the ground; picked up by burial crews who discovered he was alive, hospitalized; returned home and worked into his 70's...a glass eye and three Purple Hearts! They really were the Greatest Generation!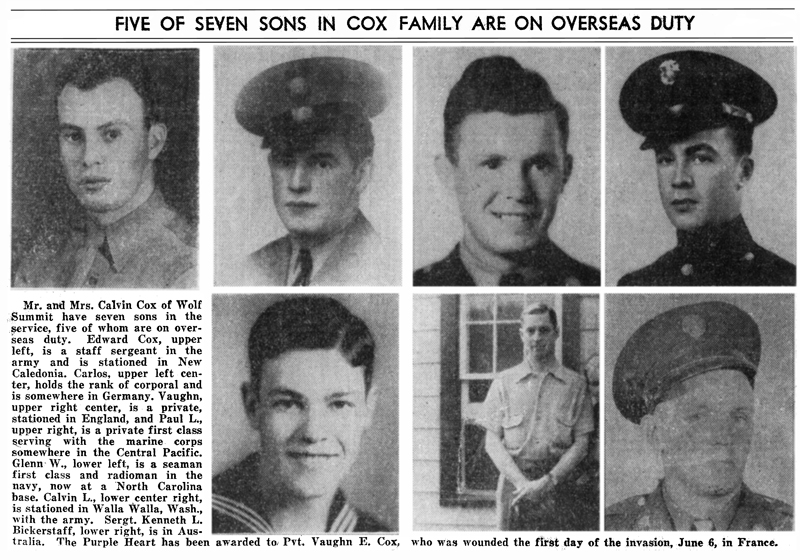 Newspaper clipping about the service of seven of the Cox brothers.
Every one of them returned home though Vaughn suffered serious injuries.
After the war Dad became a amazing pastry chef and an outstanding cook, eventually supporting our family as a baker until the early 1960s. He was hired by the US Postal Service where he worked as a clerk in Clarksburg Office from 1959, having served as a clerk, dock supervisor and finally, Postmaster of the Gypsy, WV Post Office. He took medical retirement in 1978 (heart issues) which ended his career. All the postal clerk years he continued to work on a call basis for friends who owned area bakeries when they had heavy work loads, holidays and such. He also was a gifted gardener and loved flowers. He worked part time for an area florist, Weber's Florist in Clarksburg, WV, arranging flowers and making corsages during peak business times such as prom season, Mother's Day, Valentine's Day. He taught himself to play guitar and piano, and he loved to pick his guitar and sing to us. He obviously was an artistic man! My father was smart, complex and a delight. He was politically astute, witty, and fun.
My husband and I honeymooned on Ocracoke Island. Dad could not conceive of it being a place anyone would "choose" to go, much less for fun and leisure. His memories were of a very tiny island inhabited by villagers who for the most part were fishermen. He recalled mosquito infestation and biting insects, heat and nothing entertaining.
In the late 1990s my husband Alan and I were able to take him back to visit Ocracoke for the first time since he left there at end of WW II. He was quite moved and it was the experience of a lifetime for us and our daughters. He remembered and described to us the locations of different Navy buildings. When we pulled into the ferry docks and walked around a bit he indicated that "the Loop Shack" where he worked had been located very near that area. The base buildings, etc. were on the opposite end of the Island.
He told us that what is now known as Silver Lake was a swamp that the Navy dredged out enough to harbor boats and it was nothing special to see; not at all like tourists view today as lovely. He recalled Styron's store, a version of same still standing. While stationed there he weathered a hurricane. He said many of the islanders took refuge in the lighthouse. He described using axes to chop holes into the floor boards of the Navy buildings in attempts to alleviate suction from the waves that were flooding the island. He told us about the burial of British Seamen whose bodies washed ashore.
Each time we visit Ocracoke we visit the British Cemetery and are overcome with grief for the great losses they represent and the fact they are buried so far from their loved ones; a place of enormous respect and reverence. He shared the story of sailors being shark bitten while swimming in the waters off the ocean-side beach. He told us the locals told them to swim only in the Sound, not the Ocean side. Said locals swam in the Sound to avoid sharks. I found that peculiar logic and wonder how well it worked for them?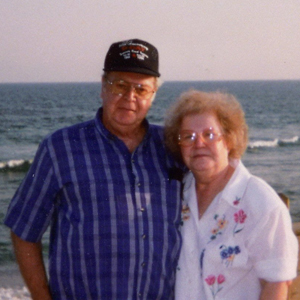 Glenn and Betty - 50 years later. This photo was taken at the water's edge near the Coast Guard Station which is close to where most of the Navy buildings, barracks, etc. had been located.
He told us that at low tide one could drive a Jeep across the area between Hatteras Island and Ocracoke, that area on the end of the island where The Loop Shack stood. Quite the contrast to the ferry ride husband and I shared the week of October 2 (2016) taking 65 minutes of rough, wet ride due to approaching Hurricane Matthew! We witnessed his astonishment at seeing the tourist attraction and "fancied up" Ocracoke he saw when we took him back 50 years later! He truly was amazed it had been turned into a playground for tourists.
We visited the island Visitor's Center and when the hostess learned he had been stationed there during the war she invited us into a private area where they housed information and memorabilia from WW II. She asked him to sign their registry of sailors who had been there during that time and record any information he wanted. She treated him like royalty as one of the returning Ocracoke Naval Base members.They were at that time attempting to establish a authentic historical record of the Navy presence during WW II. She pulled from her files a letter received in response to an inquiry of the Navy asking for assistance in documenting the Ocracoke Navy Base during WW II. The reply informed her that the Navy has NEVER HAD A BASE OR PRESENCE ON OCRACOKE ISLAND! We were stunned and Dad was amused. He laughed and told us he knew he had a top secret clearance, but didn't realize everything was quite that secret.
The photos don't lie. I guess in recent years they decided to open up and tell the story of the Beach Jumpers, the training and that amazing (at the time) underwater "loop" he was monitoring. He told me that at that time it was state of the art technology.
OBITUARY
Glenn Marshall Cox, age 78, of 40 Melrose Road, Clarksburg, WV passed away at 10:00 A.M. Saturday, July 10, 2004 at United Hospital Center following a brief illness. A born-again Christian, Glenn was a member of The Liberty Addition Church of God since May 1952. He was a life time member of the Disabled Americans Veterans and a Master Mason with membership in Hermon Lodge # 6 A.F. & A.M. Clarksburg, WV.
Until his death Dad recalled his Morse Code skills. My mother survives and at age 89 is independent, maintains her home and still drives and does all of her own business.
---
Any other information on Oracoke is most welcome.
Return to our US Navy Loop Receiving Station web page