OF THE ROYAL NAVY AT FREETOWN, SIERRA LEONE

Freetown is the capital and largest city of Sierra Leone. It is a major port city in the Atlantic Ocean. In World War 2 it became the main port of call on the convoy route to and from the Far East, particularly after the Mediterranean route was closed by the Germans. To equip Freetown for its role as a convoy assembly point and major operational naval base, the Royal Navy needed to install a number of anti-submarine harbour defence measures. These included controlled minefields and their associated guard and indicator loops. This webpage is about these defences.
---
If you worked there or have any feedback please email me:

Dr Richard Walding
Research Fellow - School of Science
Griffith University
Brisbane, Australia
Email: waldingr49@yahoo.com.au
---
LINKS TO MY RELATED PAGES:
---
The Freetown area was first settled in 1787 by African slaves who had been granted freedom in Britain and sent there from London, England. The British eventually took control of Freetown, making it a Crown Colony in 1808. This act accompanied expansion that led to the creation of Sierra Leone.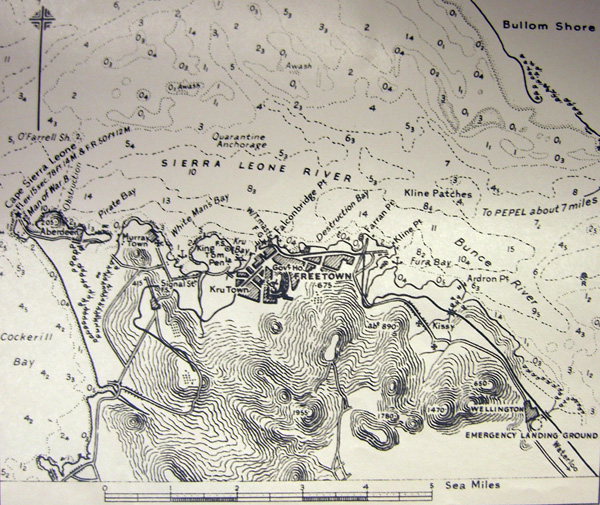 Freetown Harbour. Harbour defences such as as booms, minefields and the indicator loop would have been placed on the seaward side of the port - to the left.
From 1808 to 1874, the city served as the capital of British West Africa. It also served as the base for the Royal Navy's West Africa Squadron, which was charged with enforcing the ban on the slave trade. By WW1 it was a fortified coaling port. During World War II, Britain maintained a naval base at Freetown. The base was a staging post for Allied traffic in the South Atlantic and the assembly point for SL convoys to Britain (3500 miles). It was one of the main ports of call on the convoy route to the Far East, having a large natural harbour with a large Royal Navy presence, depot ship HMS Philoctetes, barracks at Kingtom and Kissy, with workshops, stores, and fuelling of both coal and oil. In September 1939 the first overseas convoys left Freetown, Sierra Leone (SL), for the UK, a distance of 3500 miles.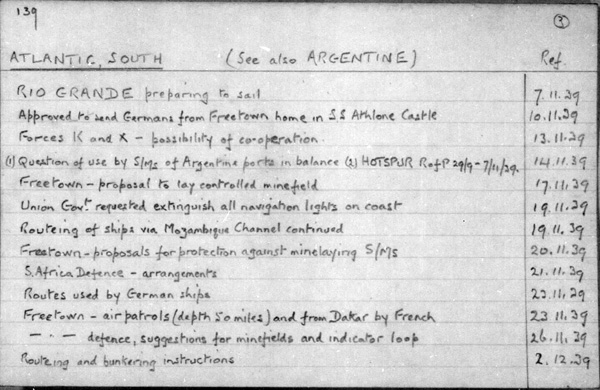 Index card detailing some of the plans for harbour defences at Freetown. [Admiralty War Diaries - www.fold3.com. Courtesy of Martin Briscoe].
Harbour defences at Freetown included the Depot Ship HMS Eland, five A/S Trawlers, and 15 or so Harbour Defence Motor Launches (HDML) from the 17, 26, 104 and 108 Flotillas. Controlled mining and loop vessels included the trawler HMS Corbrae for deperming and mine retrieval, the Base Mining Ship HMS Alca, the Controlled Minelayer HMS Snakefly (CO Lt OH Pullman RNR), a Base Repair Ship, the Cableships HMS Noss Head and HMS Village Belle, 14 Naval Auxiliary Boats, the Boom Defence boats HMS Barcastle and HMS Bownet, and five Boom Defence tenders. The Commanding Officer for 1941-42 was Vice Admiral Sir Algernon Willis CB, DSO ashore. The port was also defended by the Sierra Leone Heavy Battery RA with two 6" guns.
War Cabinet on 16 July 1940 considered the disposition of French forces after the fall of France. The British government was concerned that French bases and ships would be lost to Germany and that French industry would be diverted to German and Italian purposes. This included 2 battle cruisers (one damaged, one 77% complete), an aircraft carrier, 4 cruisers 8-inch, 9 cruisers 6-inch, 24 Tribals, 10 destroyers and 61 submarines and 11 armed merchant cruisers; a formidable fleet. Admittedly, a number of French ships had been seized including 3 battleships, 5 cruisers, 5 destroyers and a submarine.
As far as security of shipping routes off West Coast of Africa, Cabinet was worried that allied shipping would be attacked by the French, and that they would also attack Freetown although not immediately (Para 24). The whole of the British trade with the East, a large volume of the Australian and New Zealand trade, as well as all reinforcements and supplies for India, the Middle East and the Eastern Mediterranean was routed through the Cape, and thus Freetown was vital. The most important commitment was to maintain Freetown as a link of first importance in Imperial sea communications. Failure to hold Freetown would mean the use of the undefended harbour at Takoradi as a convoy assembly port.
To bolster the defences of Freetown Cabinet was advised to despatch AA guns, develop better accommodation for white troops, despatch troop reinforcements, and to improve air facilities and increase the number of planes.
To equip Freetown for its role as a convoy assembly point and major operational naval base, the RN built a 'Young Devonport' employing 25000 Africans in its construction. When the Mediterranean route had been closed by the Germans, the Cape route became more important for refuelling and gathering of convoys for merchant ships and RN escorts. The port could now accommodate about 180 ships (typically 80 ships present at any one time) and about 50 ships per day would enter the port at its busiest.

---
If you have any more information about Freetown harbour defences please contact me at the email address above.
Thanks,
Richard