BOMANA WAR CEMETERY- PORT MORESBY
Port Moresby lies on the southeast shore of Papua New Guinea and is built around Fairfax Harbour, the island's largest harbour. During World War 2 Port Moresby was coveted by both sides for control of the Coral Sea and the South Pacific Ocean. Those who died in the fighting in Papua and Bougainville are buried in Port Moresby (Bomana) War Cemetery, their graves brought in by the Australian Army Graves Service from burial grounds in the areas where the fighting had taken place.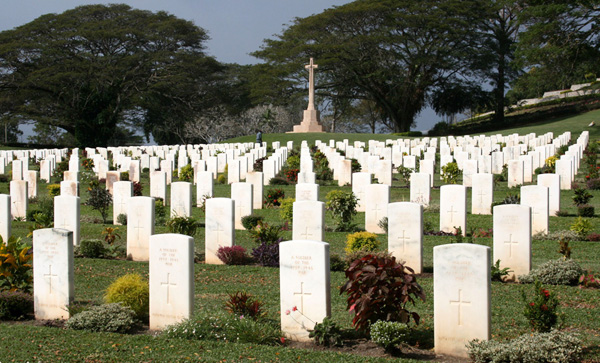 On gently rising ground, lie the graves, and above them, dominating the setting, rises the Cross of Sacrifice. (Kell Nielsen, 2007)
---
---
RELATED WEBPAGES

Port Moresby Antisubmarine Harbour Defences
Gun emplacements of Port Moresby
---
BEGINNINGS
Today, the Bomana War Cemetery contains 3,823 Commonwealth burials of the Second World War, 700 of them unidentified. It began in 1942 when a small war cemetery was established at Bomana about 19 kilometres north of Port Moresby. The first grave to be dug there was for Brisbane-born Sgt. William Baskerville Townsend (Q192320) of the Australian Army Service Corps who died on 3 February that year - during the first raid by Japanese planes over the town.
As the war progressed, soldiers who died in action were being buried where they fell in makeshift graves with simple bush crosses, usually unnamed. These makeshift graves continued to be dug all during the war. For example, Brigade Hill on the Kokoda Track was the site of a temporary burial ground where 52 Australian soldiers were buried in 1942. A further 20 Australian soldiers were buried on the nearby Mission Hill. Such graves came under the responsibility of the graves registration units controlled by the Army Directorate at Victoria Barracks, Melbourne. Bodies were disinterred from all of these outlying graves in 1943 and brought to centralised and newly-constructed cemeteries at Port Moresby, Milne Bay, Kokoda, Brigade Hill, Mission Hill, lora, Soputa, Cape Endaiadere, Gona and Wau. Temporary memorials were placed over all graves: a cross for Christians, a wooden Star of David for Jews, and a triangle for those whose records show they professed no religious beliefs. A photograph was taken of each grave after burial. One copy was retained for Army records and one free of charge, was sent to the next-of-kin. By agreement among chaplains general there are no denominational divisions in service cemeteries, and no distinction was made between members of the forces. The dead were buried side by side, irrespective of denomination, rank, or the service in which they were enlisted. At the end of 1943 it was proposed that temporary memorials should be replaced later by headstones.
The army decided that it would be easier for relatives to visit graves if they were in centralised locations instead of where the men fell - at such impenetrable locations like Mission Hill and Brigade Hill in the Owen Stanley Ranges. Thus all 72 bodies from Brigade and Mission Hills were exhumed and reburied at Bomana War Cemetery on 1-2 May 1944, while a further 12 bodies were recovered from the battle area, the line of retreat and the general area, and were buried at Bomana. The centralised war cemeteries were to be located at Port Moresby (Bomana), Lae and Rabaul.
---
THE DEDICATION

Major General B. M. Morris speaks at the Dedication of the War Cemetery (AWM 074985)
The Bomana Cemetery was to be officially dedicated at 11 am on Saturday 5th August 1944 by Lt-General Stanley Savige (Commander New Guinea Force) but bad weather grounded the plane which was supposed to transport him to Port Moresby so Major General Basil M. Morris, General Officer Commanding the Australian New Guinea Administrative Unit (ANGAU) stood in. He said:
Let us remember that the mortal remains of heroes be here
- but the mortal remains only.
Their spirits still live and rejoice in the victories achieved.
They contributed and they gave their lives.
They are returned to their Maker and we salute them.
The Royal Papuan Constabulary (Native) provided the band and buglers and a guard was a composite one of the Navy, Army, Air Force and Papuan Infantry Battalion (Native). Side by side with the Australian soldiers were laid members of the R.A.A.F. fighter squadron, a member of the Royal Australian Navy (the late Chief ERA R. Jansen of HMAS Beryl II), members of merchant marine, British Army and Papua Infantry.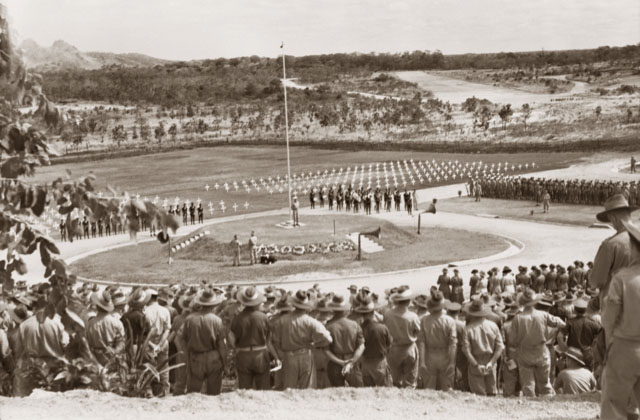 Dedication Ceremony - 5 August 1944 (AWM 074984)
Initially, names of the fallen were inscribed on simple wooden crosses, without reference to the units in which they served (for security purposes). These crosses were changed to headstones, complete with unit names, before the official dedication in August 1944. [MP 150/1]. Many Australians died in the jungles of New Guinea and have no known resting place. All these men are commemorated on the Port Moresby Memorial to the Missing at Bomana Cemetery. Burial ceremonies were held after the war as bodies were recovered from far afield. The photo below shows one such ceremony held 21 years after a fatal air accident in the war.

Pall Bearers and Bearer Parties enter Bomana Cemetery in slow time for the funeral service of two airmen on 5 March 1965. Group Captain Frederick Wight (see below) and Wing Cmr Walter Hammond died when their Anson crashed in bad weather at Mt Kenevi on 30 January 1944. The plane could not be found even after extensive searches but was finally located and recovered on 21 February 1965. They were interred with full military honours. The Pacific Islands Regiment provided the funeral party. [NAA 3057214]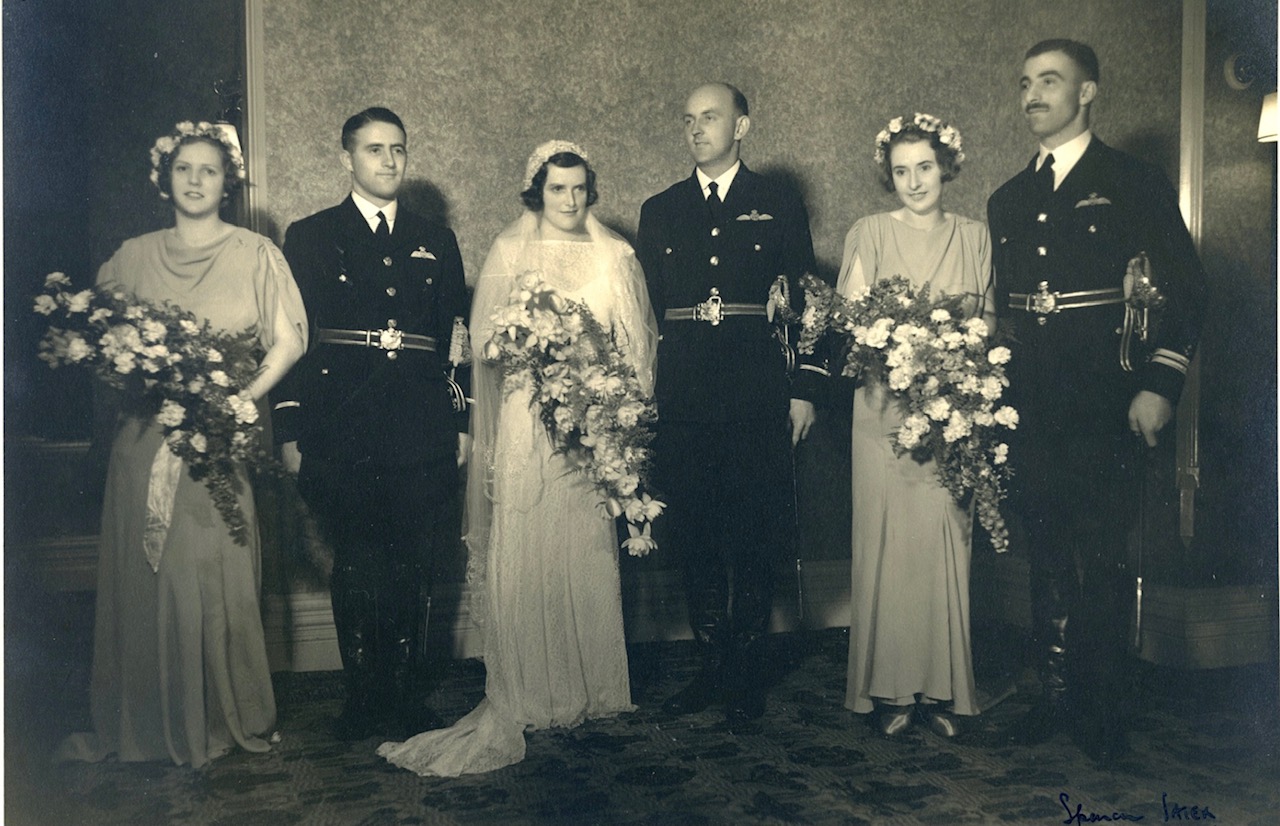 Group Captain Frederick 'Wig' Wight (right) was a groomsman at the wedding of Group Captain G E (Eric) Douglas (centre) in 1934. On the left is the Best Man Alister Murdoch, later Sir Alister Murdoch, Chief of Air Staff, RAAF. Photo provided by Eric's daughter Sally Douglas (email negundo@tpg.com.au)
---
BOMANA WAR CEMETERY DETAILS
The Port Moresby (Bomana) War Cemetery lies approximately 19 kilometres north of Port Moresby on the road to Nine Mile, and is approached from the main road by a short side road called Pilgrims Way.
| | |
| --- | --- |
| | |
| This is the turn-off to Bomana. The so called highways around Port Moresby are very poorly maintained since Independence (1975) as can be seen from this picture. | A plaque well worth looking for. Who would have thought South Africa, India and Pakistan would be represented here ? |
| | |
| --- | --- |
| | |
| These two men were photographer Kell Nielsen's minders for the day. | Kell Nielsen inspects the Cross of Sacrifice in 2007 |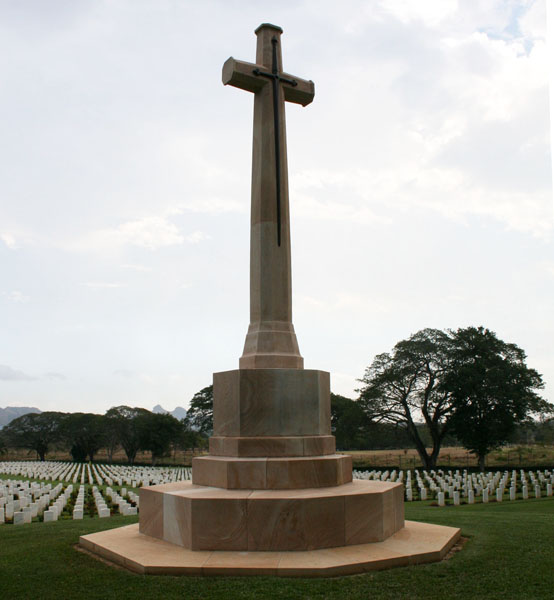 On gently rising ground above the graves is the Cross of Sacrifice. (Kell Nielsen, 2007)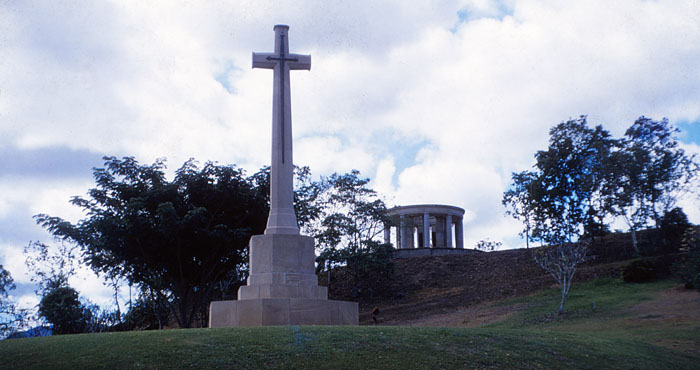 Fourteen years after the war - The Bomana War Memorial in May 1956 (Robert Walding)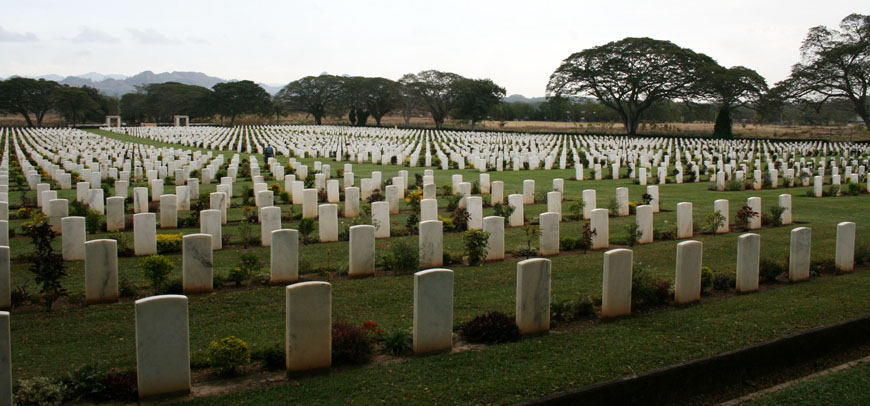 This war cemetery was started in 1942 by the Australian Army and is the only Papua New Guinea cemetery to contain white marble headstones and a Stone of Remembrance. (Kell Nielsen, 2007)
| | |
| --- | --- |
| | |
| Headstone of Charles George Hedlund. Photo taken by Kell Nielsen in 1979. You can see from the photo to the right that they have been cleaned up since then. | The cemetery contains 3,823 Commonwealth burials of the Second World War, 700 of them unidentified like this one. (Kell Nielsen 2007) |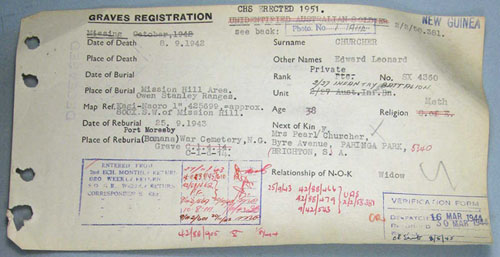 Record Card for Private Edward Churcher from South Australia. These cards are now in the National Archives [A 8234]. Private Churcher was killed in the Mission Hill area of the Owen Stanley Ranges on 8 September 1942 and buried in a shallow unmarked grave - and reported "missing". When his body was disinterred in March 1944, a gold cross bearing the inscription "Pearl Tredrea, Byre Avenue, Brighton, S. Aust" was found around his neck thus allowing him to be identified and his wife (Pearl) to be notified.
---