SCAR ROAD MOUNTAIN BIKE TRACK - KATHMANDU, NEPAL
| | | |
| --- | --- | --- |
| | | |
| Driving out of Kathmandu | Outside the Ranger's Hut | Sachin - ready to go |

The Scar Road in the Shivapuri National Park at Kathmandu, Nepal, is considered one of the great mountain bike rides. Well, Lonely Planet makes this claim. It is not that hard to find if you know where to look but most guidebooks make a mess of the directions and also seem to be a bit out-of-date. With this in mind, I collated the latest information and photos after three of us did the one-day ride over Christmas 2009.

From Dr Richard Walding, Brisbane, Australia. Email waldingr49@yahoo.com.au

My son, Sam, and I were sitting in a restaurant in Thamel - the tourist ghetto of Kathmandu - flicking through Lonely Planet guide to Nepal and reading about the Scar Road mountain bike ride. It sounded okay and when the Canadian guy sitting nearby heard us talking he got up, grabbed our book, and said "Oh, I'd love to do that. I've heard so much about it. I've got three mountain bikes at home. I'm doing a 17 day trek but I wish I was going with you guys. You're so lucky. I'm so f*cking envious." Well, after that, we had to go. The advice in Lonely Planet and on the internet is to ride your bike north out of Kathmandu (usually from Thamel) and head for the hilltop village of Kakani some 17 km away. It is a fairly steady ascent of 1000 metres over the distance. Well, this may be fine for a trained mountain bike rider but for someone who hasn't ridden a bike for 45 years - like me - no thank you. Experienced riders can do this in about 3 hours but it would have taken me twice as long as it is just plain hard uphill work and I'd have to walk most of the way. My very fit young son said it would have taken him a couple of hours. Admittedly, you do ride past the picturesque Nagarjun Reserved Forest but you also have to ride out of the dust, dirt, congestion and awful traffic of northern Kathmandu. Also, once you finish the Scar Road track at Budhanilkantha you then have another two hour bike ride back to Thamel - through the dust, dirt and bad traffic. Admittedly, Lonely Planet says you can have an overnight stop at the guest house at Kakani - so that's an alternative for the determined.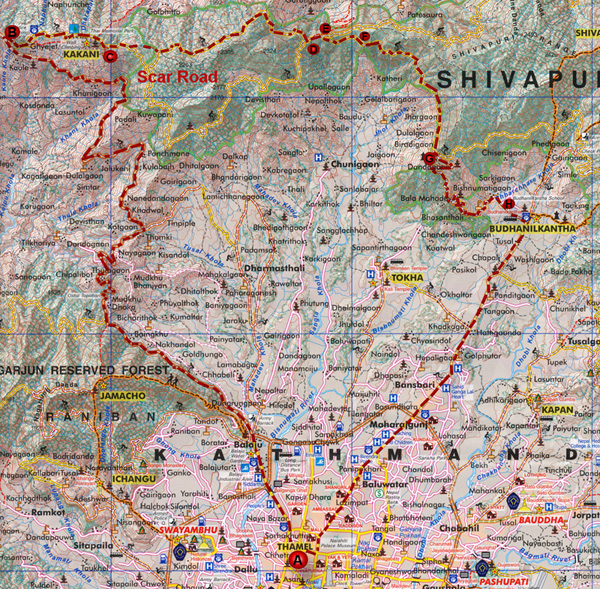 Double click the above map to get a full size one (1.2 MB).
Map of route shown as a red dotted line. Start at Thamel "A", turn off at Kakani "B" and head for the Ranger's Hut "C". Go along Scar Road to the north of the crest until you hit T-junction at D; then take the right fork at "E" and go straight through the confusing intersection at "F". The army checkpoint is at "G" and then there is 7 km of winding bitumen road down to Budhanilkantha School at "H" - then back to Thamel "A". The above map provided by Nepal Map Publisher Pvt Ltd, GPO Box 7819 Kathmandu. Copyright.
It seemed more logical to get a taxi from Thamel to Kakani (see map above) with the mountain bikes on the roof rack of a taxi - and then do the Scar Road track while you were fresh - and then get the taxi to collect you at Budhanilkantha and drive you back to Thamel for an Everest Beer and a review of your photos. Well, that's what we did. We bumped into a young guy from Bristol, England - Sachin - who agreed to come along and share the costs.

| | |
| --- | --- |
| | |
| Sunday 27th December 2009. We hired three mountain bikes from the Motor Bike and Mountain Bike Hire Centre in Thamel. It's next door to Le Bistro restaurant (see the card below). Bikes were strong and newish, with hydraulic suspension and disc brakes for just Rs 500 per day (that's about A$7 or US$7). Make sure you check that they will let you put them on a hood rack and provide padding and ropes. They gave us all of this, plus helmets. Only a pink one left for me. | We asked our hotel to book a taxi and driver to meet us at the bike shop at 9 am. Makes sure the driver agrees that he will carry bikes on his hood rack. We paid Rs 2700 (about A$45, US$45) for the two trips (out to Kakani, and back from Budhanilkantha). Altitude at Thamel is about 1400 m. |
| | |
| --- | --- |
| | |
| This is the one we used (cheap but good) but there are plenty of others in Thamel. This one was Rs500/day and we paid Rs2700 for taxi transport. | This is one of the oldest as best known bike hire shops and the owner prepared the biking map we used. They wanted Rs 1000 per bike per day and Rs 4000 for bus transport. |
| | |
| --- | --- |
| | |
| Six bystanders gave suggestions about the best way to tie the bikes on. | We left the bike shop at 9.11 am and passed the Bong House (opposite the Hemp House). |
...and were on the outskirts of Kathmandu at 9.30 am.
Imagine the fun on a push bike.

We were soon heading up the road past the Nagarjun Reserved Forest.
| | |
| --- | --- |
| | |
| The road past the Nagarjun Reserved Forest is good and the views over the Kathmandu Valley are even better. But look at that incline. Whew! | The soldiers with their AK-47s had a road-block set up as they were training with UN peacekeepers (thankfully). They smiled and waved us on. |
| | |
| --- | --- |
| | |
| We reached the Kakani Guest House and Restaurant at 10.43 am. This is the place you have to find. If you don't then you are lost. The owner agreed with the taxi driver that this was the track to the bicycle rides. Altitude 2200 m. Lonely Planet said you could stay here. | Unloading the bikes outside the Kakani Guest House. You can't drive any further. Well you can - and we did miss the turn - but had to come back. Told the driver to meet us at the Budhanilkantha School at 2.30 pm. Everyone knows where the Budhanilkantha School is so it's a good place to meet. |
| | |
| --- | --- |
| | |
| You ride on for about 500 m down a dirt track past a few cottages and the Ranger's Hut is up a small incline. | A view of the road taken from the Ranger's Hut. The Kakani Guest House is around the bend in the distance to the left. |
| | |
| --- | --- |
| | |
| Permit | Permit conditions |
| | |
| --- | --- |
| | |
| Pay you money for the permit (good for one day only). Costs Rs 250 (a few dollars). The Ranger at the time was a polite and helpful guy. He gave us another map and instructions. The southern branch of Scar Road was closed (as we already knew from the guy at the "Himalayan Mountain Bike" shop). The Ranger had never heard of Scar Road - he just called it the Shivapuri National Park forestry road. | All set to go. Time 11.00 am. |
| | |
| --- | --- |
| | |
| Walk/ride up an rutted rocky incline for 20 minutes "until you pass two red roofed huts" so said the Ranger. It was a walk. Arrived 11.23 am. | "Go past an old hut" (yes, check) until you see a arrow on a tree (no, missed that) - then you're on the northern branch of the forestry track." |
| | |
| --- | --- |
| | |
| Sam took it fairly easy as the track is washed out in parts and quite rocky. It got worse and worse. We soon learnt what Lonely Planet meant by "technical". To me it meant "sore arse". | Oh yes..."technical" must also mean muddy. He went over the edge but luckily there are plenty of vines to stop you falling too far. I crashed on top of him. Oh we laughed and laughed but it doesn't seem very funny now. Actually the track goes very close to the edge in parts and there is quite a big fall - maybe 20 metres. So we were a bit more cautious after the fall. Time 11.37 am. |
| | |
| --- | --- |
| | |
| Eventually the two branches of Scar Road meet at a T-junction. Go downhill to the left. Time 12.55 pm. Photo taken from the road we came down. The road to the right goes uphill and down dale back to the Ranger's hut via Ponchmane (but I believe the road is closed). | Head downhill until you meet a fork in the road after about 5 minutes. |
| | |
| --- | --- |
| | |
| The fork in the road. Take the road to the right. There is a sign on the tree that makes no sense to anyone but a local. The men on the side of the road just pointed vaguely in the direction of the right fork and said "Budhanilkantha". Time 1.07 pm. | A few hundred metres on we came across an intersection of two major roads which was not as it appeared on the map. These were new forestry roads. You have to head directly across the intersection towards those power poles. |
| | |
| --- | --- |
| | |
| Looking back from where we came. Luckily a delivery guy on a motor bike helped us. The "minor track" is now a big road. | The road to the left in the photo goes to a temple (hence the prayer flags); the road to the right where the bikes are goes down to Kathmandu, and the road opposite is the one we wanted. |
Eventually - after about another 3 km of rough road - you'll come to the army check point and the beginnings of the army road down to Budhanilkantha. It is an excellent bitumen road and winds for 4 km down, dropping altitude of about 800 m. It is very fast and very exhilarating. You hit a dirt track past some homes and a school before you get to Budhanilkantha High School and 100 m further on - Budhanilkantha School.
| | |
| --- | --- |
| | |
| We arrived at Budhanilkantha School at exactly 2.30 pm and our taxi was waiting for us. The Budhanilkantha High School is about 100 m to the left. Don't get them mixed up. | There are shops opposite the school. Had a Sprite and loaded the taxi with the bikes. |
| | |
| --- | --- |
| | |
| The main street past the school. Headed off about 2.45 pm. | Drove back through the rubbish (there was a strike on thanks to the Maoists). Arrived at Thamel at 3.15 pm. |

Richard Walding: waldingr49@yahoo.com.au