Margaret Enid Crichton Mitchell
(Dr. Margaret Stewart)


I am preparing a biography on Margaret Enid Crichton Mitchell - and in particular her father Professor Alexander Crichton Mitchell. Details are scarce on the family so this web page hopes to provide some basic information and hopefully draw out contacts from people who may have known Margaret.
If you have any feedback please email me:

Dr Richard Walding
Research Fellow - School of Science
Griffith University
Brisbane, Australia
Email: waldingr49@yahoo.com.au



Dr Walding
Margaret was born on 28th February 1907 in Trivandrum, Travancore in southern India. Travancore is now known as Kerala. She married John Anderson Stewart in 1936 in Edinburgh and died on 3 June 1986 at the Royal Infirmary in Perth, Scotland, of heart disease.
In 1914, Professor Mitchell's 24-year contract in India concluded so, with two years' leave owing, in 1912 he returned to live with his family back in Edinburgh (they had left India soon after Margaret's birth). He was on a sizable life-time pension from the Travancore Government. Margaret was now five years old and was enrolled at St George's High School for Girls in Melville Street, Edinburgh. This later became known as the prestigious St George's School for Girls. Her father had started in India in 1890 as a Professor of Physics and Mathematics at His Highness the Maharaja's College in Trivandrum, followed the next year as Principal. He was so successful that he was appointed Education Secretary as well, and , in 1909 Director of Public Instruction for the state, a position he held until his retirement in 1912. He became highly respected for his work and knowledge in Education - both with the British and the Indian populations in Travancore.
Prof. Mitchell developed the Travancore Education Code for 1911 - a policy so successful that it remained largely unchanged up until the mid-1900s. He based it on the developments in Scottish education and his own philosophy developed from working at Edinburgh Academy and with some of the finest lecturers at Edinburgh University (particularly his supervisor Prof P. G. Tait, as well as Chrystal and Crum-Brown). To this he added knowledge developed from years of working in a less-than-ideal school system in India. Mitchell was particularly taken with the philosophy of St George's School in Edinburgh - those based on the ideas of the German philosopher, Friedrich Froebel. The school founders were determined to create a school where girls developed all their talents and worked to the best of their ability, but did not have to compete against each other or feel any sense of failure. Mitchell enrolled his daughter here in 1912 and those ideas are quite evident to anyone who reads Margaret's life-story. Her brothers Alan and Steuart were educated at the nearby Edinburgh Academy - a school that Prof. Mitchell was very fond of, having taught there in 1889.

A beautiful gold necklace sent to Margaret by her father from India. It is made from gold Fanams (coins).
Margaret's early years and those of her brother, later Sir Stewart Mitchell, OBE, CB, KBE, RN, were spent at the Eskdalemuir Magnetical Observatory in southern Scotland where her father was Director of the observatory. Their older brother Alan had received his military commission in 1914 and served at the front in France where he was severely wounded in 1917, and the North West Frontier (Afghanistan) in 1919. Margaret progressed to Edinburgh University where she studied archaeology under the irrepressible Gordon Childe, graduating MA with Honours and going on to gain her PhD. Her thesis, entitled 'A New Analysis of the Early Bronze Age Beaker Pottery of Scotland' not only marked a fresh approach to the subject but also confirmed her own major interest in the early prehistoric which persisted throughout her life. The artefacts she uncovered in the Aberfeldy area near Perth (standing stones, cup-marked stones) are still there today. In 1933 she was elected Vice President of the Edinburgh League of Prehistorians. The years of the Second World War were spent in Admiralty Intelligence, and in a strange twist, she was involved in the decryption of German Ultra codes intercepted by the British which involved the campaign in North Africa where her brother Alan was fighting (early 1942; and captured by Rommel's troops and imprisoned in Italy).
Dr Gordon Barclay, the Head of National Policy at Historic Scotland recalls her fondly: "I was a very junior member of staff here, in 1977, when I was sent to excavate sites on the Perth western bypass route - the case had been a cause celebre and Margaret had been prominent in the criticism of the state service that had not arranged excavation of supposedly important sites in the way of the road. I often went for lunch with Margaret and [her husband] John - John introduced me to the Renaissance Scots poet Dunbar on one of these visits. I remember John declaiming the refrain of one poem 'timor mortis conturbat me' over lunch".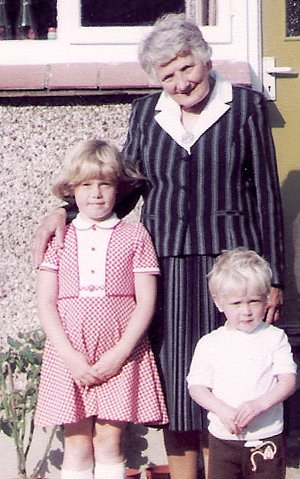 Margaret on a visit to her Great Niece and Nephew in Currie, Edinburgh in 1984.
One colleague who speak highly of Margaret is Dr Sandy Gerrard who was inspired and mentored by Margaret. He worked in the various (archaeological) sectors, most of the time being spent scheduling monuments for English Heritage but is now freelance. Here is his story:
Margaret was an incredible woman who was respected in every quarter. I very much enjoyed the time I spent with her during my formative years.
I was at Strathallan School, Forgandenny, near Perth from 1970-1977 and in 1976 expressed an interested in doing the Duke of Edinburgh Award Scheme with archaeology as my interest. I had always been interested in archaeology and asked that I study archaeology as part of this scheme. The master in charge of the Scheme organised for me to meet with Dr Stewart and indeed took me to her house in Dupplin Terrace where we discussed what I could usefully do. I was hooked. She was so enthusiastic about archaeology that I decided there and then that this was the career for me. From this time on we corresponded regularly and I would visit for an afternoon chat with tea and cakes about once every three months.
In the summer after I have left school she arranged for me to go on my first dig excavating a souterrain she had discovered under the directorship of Trevor Watkins (Edinburgh University). Dr Stewart was also mentoring another young student called John Sherriff who I understand now works for RCHAMS who at that time was a student at Cardiff but lived in Perth. I prepared an essay on souterrains for a school essay prize which I won and Margaret helped point me in the right direction.
During my University years I would visit and talk archaeology with Margaret every vacation showing her what I had been up to. My BA dissertation was on beaker burials, rather than the pottery, looking at the form of the associated cairns. She was very impressed with the result and I believe had great pleasure in reading it. The delivery of the dissertation to Margaret was certainly eventful. I had said that I would bring it in on my way home to Arbroath from Wales and normally this would have involved popping in about 6 in the afternoon. Unfortunately my car's petrol pump imploded and after I had it repaired I had to stop every 20 miles to release the pressure on my petrol cap. So when I arrived at Dupplin Terrace at about 5 in the morning the following day I expected to leave my parcel on the door step I was invited in as both Margaret and John had stayed up to see me and make sure I was OK. I was so touched.
Every year John and Margaret would go on an extended motoring holiday often putting the car on the train for the first part of the long haul. On two occasions they looked me up. Once at University where I showed them around the department and introduced them to some members of staff and in 1979 or 1980 they came to visit a site I was supervising on in Cornwall. It was so wonderful, particularly as it was a post-medieval tin mill and way beyond her usual sphere of interest.
I knew [her colleague] Gordon Barclay - I excavated with him at Strathallan Cairn.
Margaret did speak to me about her war work and Gordon Childe, but as is the way with the young I am afraid I have not retained any of the detail. Perhaps she was wise enough to know that this would be the case. She did from memory however speak much more about Stuart Piggott. But much of the time was spent talking about the most recent exciting developments rather than the past and she always wanted to know what was going on south of the border. She took a real genuine interest in developments and was always looking to the future rather than the past. I always enjoyed the time I spent with her and was always re-invigorated after our meetings to go and do new years. Her enthusiasm was infectious.

Dr Sandy Gerrard,
Ammanford, South Wales - February 2012.
Margaret was awarded an MBE and was honoured by St Andrews University when the degree of DLitt was conferred upon her. She was later elected by Society of Antiquaries of Scotland as an Honorary Fellow (FSA Scot) , the first woman to be accorded this distinction. Margaret was he first recipient of the Edinburgh University's Class Medal in Archaeology in 1928-29 and then in her Will endowed the Dr Margaret Stewart Bequest for the study of European Beaker pottery and related topics, naming the Abercromby professor as chair of its Trustees. Upon Margaret's death in 1986, her husband John ensured the bequest was provided to the University. Margaret never had any children.
Some of the more notable papers are:


Mitchell, M E C (1933) 'An Irish food vessel of the megalithic period', MAN, 33, Jan 1933, 106-7. Published by the Royal Anthropological Institute of Great Britain and Ireland.


Stewart, M E C (1934) 'A new analysis of the early bronze age beaker pottery of Scotland', Proc Soc Antiq Scot, 68, 12 Feb 1934, 132-189. This was the basis of Margaret's PhD.

Stewart, M E C (1949) 'Glencochill, Perthshire', Discovery Excav Scot, p 10.


Stewart, M E C & Henshall, A S (1954 ) 'Clach na Tiompan, Wester Glen Almond', Discovery Excav Scot, 1954, 12.


Henshall, A S & Stewart, M E C (1956 ) 'Excavations at Clach na Tiompan, Wester Glen Almond, Perthshire', Proc Soc Antiq Scot, 88, 1954-6, 112-24.

Stewart, M E C (1958-9) 'Strath Tay in the second millenium BC - a field survey', Proc Soc Antiq Scot, 92, 72-84

Stewart, M E C (1966) 'Dull', Discovery Excav Scot, 35-6

Stewart, M E C (1967) Dunning; Crieff; Glencarse, Discovery Excav Scot, p40, 41, 44 respectively.


Stewart, M E C (1967) 'The excavation of a setting of standing stones at Lundin Farm near Aberfeldy, Perthshire', Proc Soc Antiq Scot, 98, 1964-6, 126-42.

Stewart, M E C (1968) Dull, Rhynd (note), Draw-well (note), Discovery Excav Scot, pages 28, 35, 36 respectively.

Stewart, M E C (1969) Rhynd, Discovery Excav Scot, page 39.

Stewart, M E C (1969) 'The ring forts of Central Perthshire', TPS (Trans. & Proc. of the Perthshire Society of Natural Science), p 12.


Stewart M E C & Barclay, G (1997) 'Excavations in burial and ceremonial sites of the Bronze Age in Tayside', Tayside And Fife Archaeological Journal Volume III. Abstract: The excavation of seven burial and ceremonial sites in Perthshire, originally investigated by the late MEC Stewart, is reported upon, together with associated finds of Beaker and Food Vessel pottery, and two disc-and-fusiform-bead jet/cannel coal necklaces.


Stewart, M E C, Atkinson, J., Barclay, G. & Cox, A. (1999) 'Excavations at Allt na Moine Buidhe and Allt Lochan nan Losgunn, Perthshire' Tayside And Fife Archaeological Journal, Volume V.

I am particularly interested in contacting anyone who may have known Margaret or worked with her and can add to the above.
---
The following obituary has been taken from the Proceedings of the Society of Antiquaries, Scotland.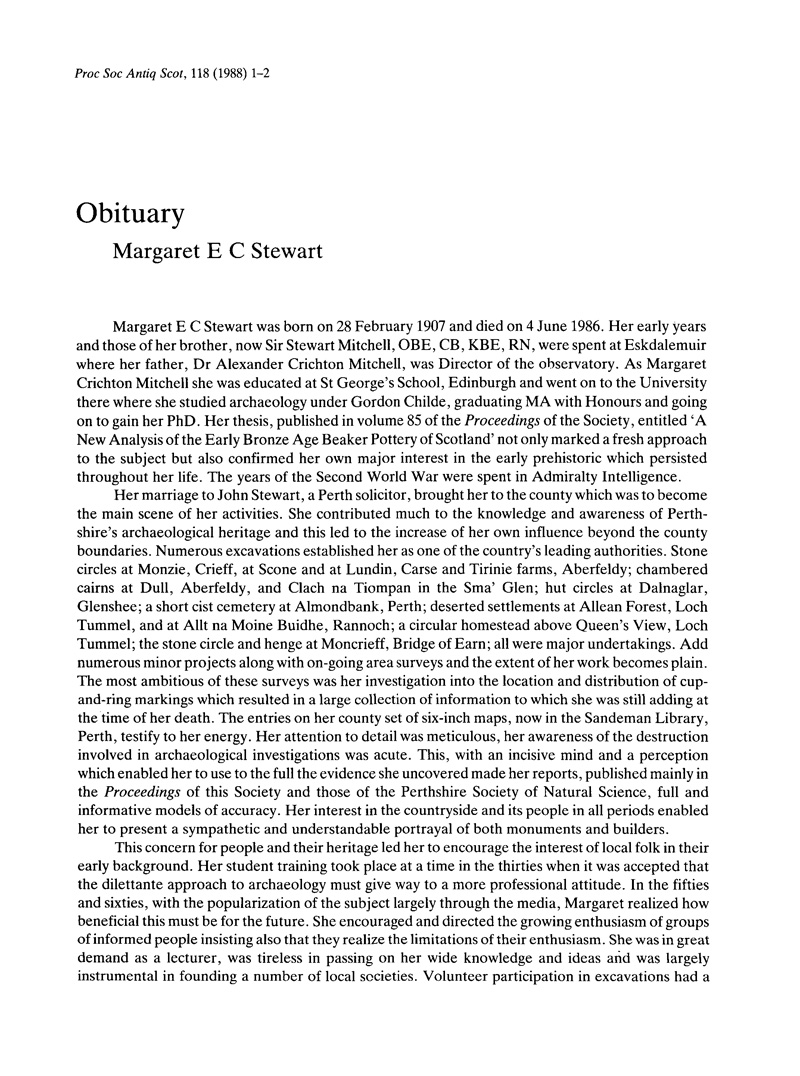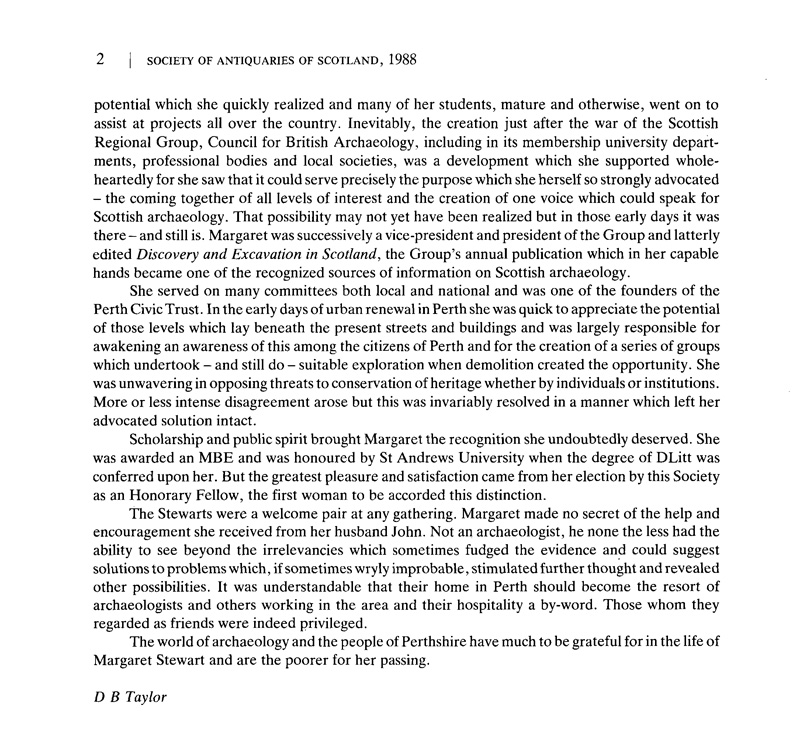 ---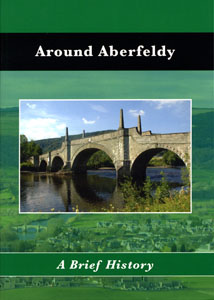 Around Aberfeldy: a brief history is a book written by Clare Thomas of Breadalbane Heritage Society and David Strachan of Perth and Kinross Heritage Trust. It is a fascinating account of the changing landscape and lives of those who have occupied upper Strathtay since the end of the last Ice Age. The booklet is richly illustrated with historic maps, reconstruction drawings, and early photographs which provide a vivid and varied backdrop to the text, which includes a gazetteer of all the important sites and monuments in the area. Website has details.