Alan Crichton Mitchell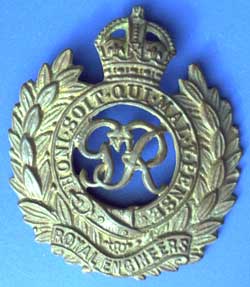 I am preparing a biography on Lt Colonel Alan Crichton Mitchell RE OBE - and in particular his father Professor Alexander Crichton Mitchell. Details are scarce on both men so this web page hopes to provide some basic information and hopefully draw out contacts from people who may have known Alan.
If you have any feedback please email me:

Dr Richard Walding
Research Fellow - School of Science
Griffith University
Brisbane, Australia
Email: waldingr49@yahoo.com.au



Dr Walding
Alan Crichton Mitchell was born in the town of Trivandrum in the erstwhile Indian state of Travancore (now Kerala) on 14 December 1897. He was the first son of Professor Alexander Crichton Mitchell FRSE and Agnes Farquharson Mitchell (nee Robertson). He became a border at George Watson's College, Edinburgh (1906-1909) and then Edinburgh Academy from 1909-1915, later to be joined by his brother Steuart Seton Crichton Mitchell. He also had a younger sister Margaret Enid Crichton Mitchell.
Alan was a cadet at the Royal Military Academy, Woowich, from 1915-1916, becoming a 2nd Lieutenant in the Royal Engineers in 1916. He saw active service in France in 1917 and was gassed and invalided out on 6 August that year. After the war he was sent to India to join the Queen Victoria's Own (QVO) Madras Sappers & Miners and saw active service in the North West Frontier in 1919 and then Mesopotamia 1920-22. He attended Cambridge University from 1922-23 for engineering studies as part of his army training but did not stay to qualify for a degree. Alan married Enid Dickson on 9th April 1926 in London. He returned to India (NWF) from 1935-1939.
At the outbreak of WW2 he became an instructor (GSO II) at the Senior Officers' School, Sheerness but in May 1940 he was transferred to the 7th Armored Division Engineers and until October that year helped defend southern England during the Battle of Britain. In October his 4th Field Squadron RE he left for North Africa aboard the Orontes and arrived in Suez in mid-November 1940. Lt Col Alan Crichton Mitchell (Commander, Royal Engineers) was taken into the 2nd Armored Division and sent to Libya to hold the territorial gains by the Allies against the Germans. He was captured 15 km south of Antelat in Libya alongside his commander General Gambier-Parry and was escorted away with Lt Generals Neame and O'Connor and General Combe as Prisoners-of-War on 8th April 1941 and sent to a POW camp in Italy. Mitchell escaped to Switzerland at the Italian armistice in 1943.
Alan stayed in Switzerland until the end of 1944 and returned to London in 1945 to join the War Office (AAG, AG7). He received an OBE in 1945. Alan was with GHO Second Echelon MELF Mesopotamia until his war wounds brought about a retirement in 1949.
He divorced his first wife in March 1947 and then married Elizabeth Bever in Geneva in 1947 and died on 29 December 1951. Alan had no children. His decorations include OBE, GS Medal, Victory Medal 1918, Indian GS Medal (NWF) with bars 1919 & 1935, GS Medal (with bar, Iraq 1920), 1939-45 Star, Africa Star, Victory Medal 1945.
I am particularly interested in contacting anyone who may have known Alan or served with him in the RE.
---
TECHNICAL
---